Logistic Management
Unlocking the Potential of IoT in Logistics Management
10 March 2023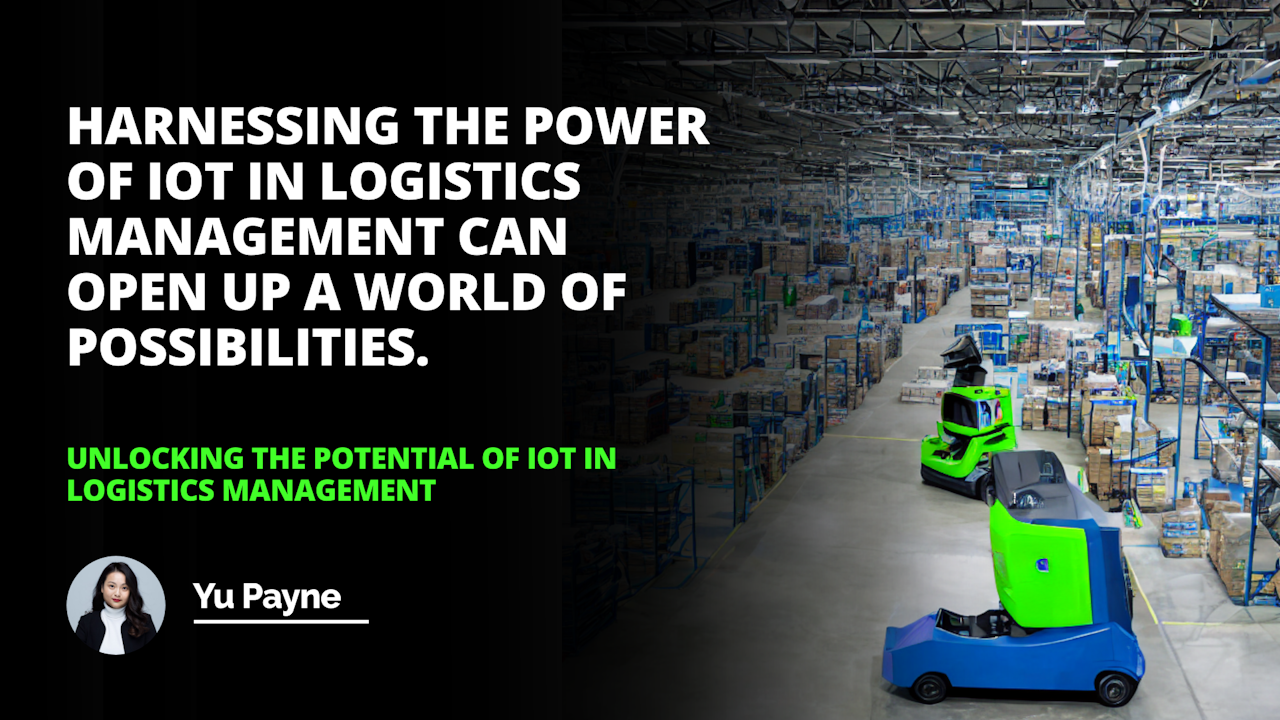 | Aspect | Insight | Example |
| --- | --- | --- |
| IoT in Logistics Management | Revolutionizes business operations with improved efficiency and cost-saving. | Increased visibility and control over supply chain operations. |
| Benefits of IoT in Logistics Management | Greater visibility and control over supply chain operations. Reduction in manual processes, improved accuracy and efficiency in data collection. | Prediction of customer demands, anticipation of supply chain disruptions, optimization of inventory levels. |
| Challenges of Implementing IoT in Logistics Management | Cost associated with implementing IoT technology. Need for experienced professionals. Lack of standardization across IoT systems. Security concerns. | Difficulty in integrating with existing operations due to lack of standardization. |
| Successful IoT Implementation | Several businesses have seen great success in utilising IoT in logistics management. | Amazon's use of IoT-enabled robots in their warehouses. |
| Future of IoT in Logistics Management | Continuing growth with improved capabilities and reduced costs. | More accessible for businesses of all sizes, primarily due to decreasing implementation costs. |
| Amazon's case | IoT-enabled robots have automated warehouses, leading to increased efficiency and cost savings. | Greater efficiency in logistics and supply chain processes. |
| UPS's case | IoT-based system for tracking and monitoring the performance of their delivery vehicles. | Improved customer satisfaction through accurate tracking of deliveries. |
| DHL's case | Used IoT-connected devices to monitor temperature and humidity levels in their warehouses. | Ensured goods are stored correctly and safely. |
| Security Concerns | The data collected and transmitted is susceptible. | Protection of data in IoT systems has become a major concern. |
| Standardization Need | There may be a need for more standardization across different IoT systems. | A unified standard would make integrating different IoT systems into existing operations easier. |
Introduction to IoT and Logistics Management 

Benefits of IoT in Logistics Management 

Challenges of Implementing IoT in Logistics Management 

Case Studies of Successful IoT Implementation in Logistics Management 

Future Outlook for IoT in Logistics Management
Related Course: Logistics Certification Online
The Internet of Things (IoT) has opened up a new world of possibilities for businesses worldwide. It has revolutionized how businesses function and operate, with significant advantages for those who have embraced the technology. Logistics management, in particular, has greatly benefited from using IoT.
Logistics management is the process of planning, controlling, and executing the efficient transportation and storage of goods and services. IoT has enabled businesses to more effectively and efficiently manage their logistics operations, resulting in increased efficiency and cost savings.
Benefits of IoT in Logistics Management 
IoT in logistics management has enabled businesses to gain greater visibility and control over their supply chain operations. This improved visibility and control allow businesses to predict customer demands better, anticipate supply chain disruptions, and optimize inventory levels. IoT also helps to reduce costs associated with logistics operations by reducing the need for manual processes and improving the accuracy of data collection.
Additionally, IoT-enabled devices can be used to track shipments and monitor the performance of vehicles, leading to improved customer satisfaction and reducing the risk of lost or damaged goods.
Challenges of Implementing IoT in Logistics Management 
Although IoT in logistics management has many advantages, several challenges must be addressed. One of the primary challenges is the cost associated with implementing IoT technology. Another challenge is the need for experienced professionals knowledgeable about the technology and can implement it effectively.
Additionally, there may be a need for more standardization across different IoT systems, making integrating them into existing operations difficult. Finally, security is a significant concern regarding any IoT system, as the data collected and transmitted is susceptible.
Case Studies of Successful IoT Implementation in Logistics Management 
Despite the challenges, there have been many success stories of businesses that have embraced the use of IoT in logistics management. Amazon, for example, has used IoT-enabled robots to automate their warehouses, leading to increased efficiency and cost savings.
UPS has also implemented an IoT-based system for tracking and monitoring the performance of their delivery vehicles. Moreover, DHL has used IoT-connected devices to monitor temperature and humidity levels in their warehouses, helping to ensure that goods are stored correctly and safely.
Future Outlook for IoT in Logistics Management 
IoT in logistics management is only expected to grow in the coming years. With the continued development of IoT technology, businesses can take advantage of new capabilities to further improve their operations. Additionally, the cost of implementing IoT systems is expected to decrease, making them more accessible to businesses of all sizes. As a result, more businesses will likely embrace the technology and take advantage of its many benefits.
Conclusion 
IoT has significantly changed the way businesses manage their logistics operations. It has enabled greater visibility and control over the supply chain, allowing businesses to reduce costs and optimize their operations. However, there are still challenges associated with implementing IoT systems, including cost and the need for standardization. Nevertheless, many businesses have successfully implemented IoT in their operations, and the technology is only expected to become more prevalent.
Harnessing the power of IoT in logistics management can open up a world of possibilities.

IoT
Logistics Management
Supply Chain
Customer Demands
Supply Chain Disruptions
Inventory Levels
Manual Processes
Data Collection
Shipments
Vehicle Performance
Customer Satisfaction
Lost Goods
Implementing IoT
Cost
Professionals
Standardization
Integrate
Security
Yu Payne
Blogger
Yu Payne is an American professional who believes in personal growth. After studying The Art & Science of Transformational from Erickson College, she continuously seeks out new trainings to improve herself. She has been producing content for the IIENSTITU Blog since 2021. Her work has been featured on various platforms, including but not limited to: ThriveGlobal, TinyBuddha, and Addicted2Success. Yu aspires to help others reach their full potential and live their best lives.
Related Posts
Our team of experts is passionate about providing accurate and helpful information, and we're always updating our blog with new articles and videos. So if you're looking for reliable advice and informative content, be sure to check out our blog today.