Logistic Management
Maximizing Customer Service Through Order Postponement
26 February 2023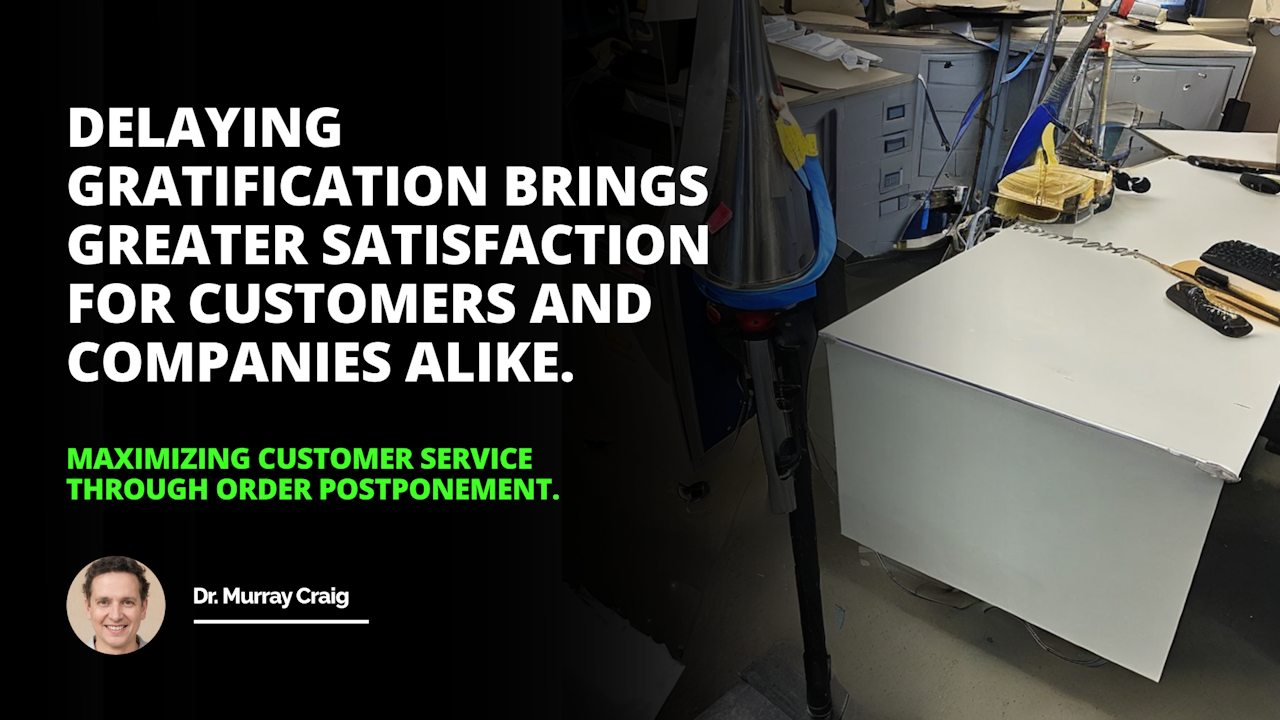 | Overview | Details | Examples / Implementation |
| --- | --- | --- |
| Benefits of Order Postponement | Reduces production and storage costs, minimizes waste in supply chain. | Businesses can save on costs associated with excess production and inventory by only ordering the exact amount of goods needed. |
| Design & Order Process Optimization | Important strategy for optimizing order postponement. | By understanding customer demand and product cycles, businesses can accurately forecast quantities needed, thus avoiding excess. |
| Real-Time Supply Chain Monitoring | Allows businesses to accurately track production and inventory levels. | Companies can order and postpone goods as per fluctuating customer needs, ensuring efficient stock management. |
| Improving Customer Service | Enhancing transparency and information flow within the supply chain. | Businesses can provide customers with complete visibility into their orders, enabling better communication and customer satisfaction. |
| Automated Support Systems | Essential for efficient and timely order postponement. | Enterprise resource planning or supply chain execution systems can provide real-time updates on inventory and production levels,ensuring prompt fulfillment of customer orders. |
| Supply Chain Efficiency | Order postponement contributes to overall supply chain management. | By closely monitoring and controlling order quantities, businesses can improve their supply chain operations and cost-efficiency. |
| Mitigate Overstocks | Order postponement helps avoid unnecessary overstocks. | By ensuring businesses only order the exact quantity of goods needed at a particular time, less storage space is required. |
| Reducing Waste | Order postponement contributes to waste reduction in the supply chain. | Only producing and ordering goods when necessary avoids unnecessary waste produced due to excess. |
| Enhance Collaboration | Information transparency in the supply chain enhances business-customer relations. | Clear communication and improved understanding of customer needs and demand patterns can lead to better business planning. |
| Demand Forecasting | Understanding and analyzing customer demand patterns are key to effective order postponement. | By using data analytics and predictive models, businesses can more accurately estimate future demand and plan their production and orders accordingly. |
Benefits of Order Postponement

Strategies & Tactics for Implementing Order Postponement

Best Practices for Improving Customer Service
Order Postponement is the deliberate delay of orders and inventory until they are needed. The process of order postponement generally enables organizations to maximize customer satisfaction and service while reducing production and inventory costs. By postponing orders and inventory, companies can use the most efficient production and supply chain resources while reducing unnecessary over-stocks.
Benefits of Order Postponement
Order postponement creates several benefits for businesses, notably lower production and storage costs. By postponing a product order until the exact quantity is known, business owners can reduce the amount of work-in-progress inventory that must be stored and produced. As a result, businesses save on keeping and making the extra list. Additionally, postponing orders can reduce waste within the supply chain by ensuring that companies are only ordering and having the exact quantity of goods needed at a particular time.
Strategies & Tactics for Implementing Order Postponement
Design & Order Process Optimization: Design and order process optimization are essential strategies for businesses seeking to optimize order postponement. By understanding customer demand patterns and product demand cycles, companies can more accurately predict the exact quantity of goods needed. As a result, they can postpone orders until only the same amount is necessary.
Real-Time Supply Chain Monitoring: Real-time supply chain monitoring enables businesses to track production and inventory levels accurately. By monitoring supply chain activity in real-time, companies can quickly order and postpone goods as customer needs fluctuate. With real-time supply chain monitoring, companies can also gain insight into customer buying patterns and demand cycles, allowing them to adjust quantities and postpone orders as necessary.
Best Practices for Improving Customer Service
Enhancing Information Transparency: Enhancing transparency within the supply chain is critical to improving customer service through order postponement. By providing customers with complete visibility and traceability into their orders, businesses can ensure customer orders are timely and timely. Additionally, enhancing information transparency allows for closer collaboration between companies and customers and a better understanding of customer needs and demand patterns.
Automated Support Systems: Automated support systems, such as enterprise resource planning or supply chain execution systems, can be a great way to ensure order postponement is done efficiently and on time. Automated support systems give businesses real-time updates on inventory and production levels, allowing companies to adjust their order postponement strategies as customer needs change quickly. Additionally, mechanical support systems can streamline the order and production process, ensuring customer orders are fulfilled promptly and efficiently.
Conclusion: Order postponement is a valuable strategy for businesses seeking to optimize customer service and reduce production and inventory costs. Companies can ensure order postponement is done efficiently and accurately using design and process optimization, real-time supply chain monitoring, enhanced transparency, and automated support systems. Ultimately, order postponement is an excellent way for businesses to reduce costs, optimize customer service and improve overall supply chain efficiency.
Delaying gratification brings greater satisfaction to customers and companies alike.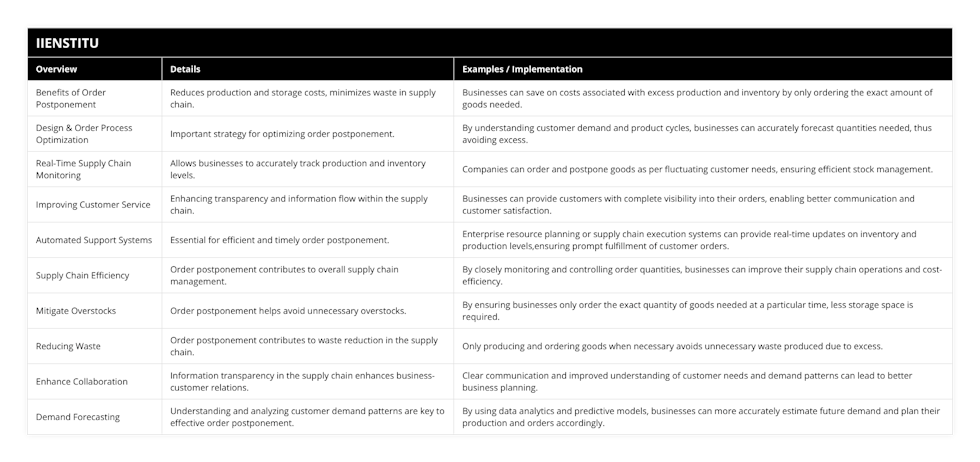 Order Postponement
customer satisfaction
production costs
inventory costs
work-in-progress inventory
supply chain
design
order process
customer demand
real-time supply chain monitoring
traceability
collaboration
enterprise resource planning
supply chain execution systems
automated support systems
customer service

Dr. Murray Craig
Academic
Dr. Murray Craig is an academic and researcher who has dedicated his life to the study of human behavior. He has a particular interest in how people interact with their environment, and how that interaction can be used to improve their lives. Dr. Craig has spent many years teaching and conducting research at universities all over the world, and he is widely respected for his work in the field of behavioral science.
Related Posts
Our team of experts is passionate about providing accurate and helpful information, and we're always updating our blog with new articles and videos. So if you're looking for reliable advice and informative content, be sure to check out our blog today.