Digital Marketing
Tips For Earning More Money As A Freelance Digital Marketer
16 March 2022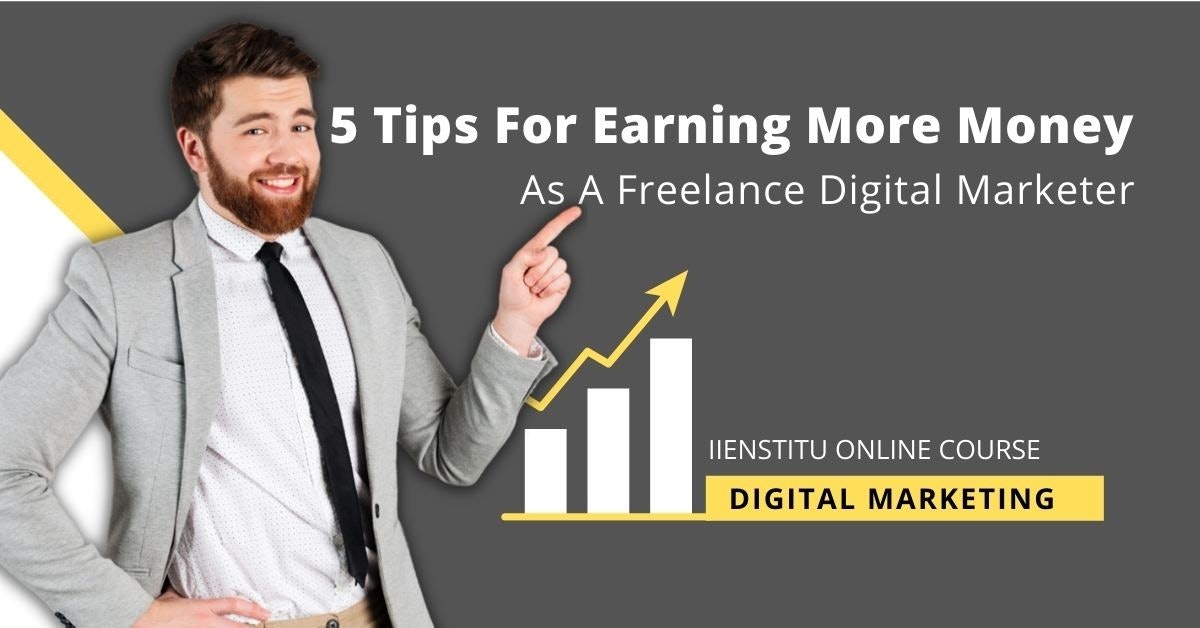 | Tip | Explanation | Benefits |
| --- | --- | --- |
| Portfolio Creation | Collect samples of your work to showcase to prospective clients | Illustrates professional capabilities and confirms legitimacy |
| Maintain a Personal Brand | Attempt to establish a unique identity or image in the digital market | Increases visibility in the saturated market, and sets apart from competition |
| Niche Selection | Select a specific area of expertise to focus on | Significantly reduces competition and enhances your credibility |
| Continuous Learning | Stay updated with the latest trends and technology in digital marketing for relevant skills and knowledge | Stays competitive in dynamic market and increases value to prospective clients |
| Networking | Connecting with other professionals and potential clients in the field | Opens new business opportunities and gains valuable insights from industry peers |
| Leverage Social Media | Utilize various social media platforms for publicity and showcasing work | Enables connection with a larger audience and potential clients |
| Client Retention | Provide excellent customer service to retain existing clients | Ensures consistent income and builds a stable client base |
| Offering Extras | Provide additional services or benefits to clients such as round-the-clock-support or quick turnarounds | Adds more perceived value and helps win more contracts |
| Pricing Strategy | Have a clear and flexible pricing model for your services | Attracts more clients and maximizes earnings |
| SEO Knowledge | Have a deep understanding of Search Engine Optimization | Improves the visibility of your clients' websites and increases your potential earnings |
As a freelance digital marketer, there are a few things you can do to ensure you're earning top dollar for your services. By following these five tips, you can maximize your earnings potential and bring in more clients. Whether by social media marketing, search engine optimization, or email marketing - take your pick and get started today!
1. Start by creating a portfolio of your work to show potential clients
2. Negotiate your rates and be willing to adjust them depending on the project
3. Stay up-to-date with the latest digital marketing trends and techniques
4. Get involved in online marketing communities and collaborate with other professionals
5. Offer value-added services such as SEO, social media management, and website design
Related Course: Digital Marketing Course Online
Read on for the full blog post to learn more. Earning more money as a freelancer doesn't have to be complicated - follow these simple tips and start seeing results!
Start By Creating A Portfolio Of Your Work To Show Potential Clients
If you're looking to get into digital marketing, one of the best things you can do is create a portfolio of your work. This will show potential clients that you're knowledgeable and capable in this field, and it can help you land projects or gigs down the road.
Gather up any past digital marketing work, whether it's for school assignments or professional projects. If not, create mockups or hypothetical campaigns to show what you would do for a client. Once you've got a few pieces together, start putting them online in a place where potential employers or customers can see them. A simple website or online portfolio will do the trick.
If you don't have any experience in digital marketing, now is the time to start building up your skills. There are plenty of free online resources that can teach you the basics of web design, social media marketing, and more. Use these to create some small projects of your own, and add them to your portfolio as well. Then, with a bit of effort, you'll be well on your way to impressing potential clients and landing great jobs in digital marketing!
Negotiate Your Rates And Be Willing To Adjust Them Depending On The Project
When working with a digital marketing agency, it's important to negotiate your rates upfront and be willing to adjust them depending on the project. This way, both parties can be happy with the agreement! If there are ever any issues or changes regarding the scope of work, be sure to communicate and make adjustments as needed. By doing so, you'll maintain a good working relationship with the agency and avoid any potential misunderstandings.
Stay Up-To-Date With The Latest Digital Marketing Trends And Techniques
As a digital marketer, it's important to stay up-to-date with the latest trends and techniques. This year has been a big year for changes in technology and strategies, so it's more important than ever to be on top of the latest trends. Here are some tips to help you stay ahead of the curve:
1. Stay active on social media channels
Social media is constantly evolving, so it's important to stay active on all the latest channels. This will help you reach more customers and better engage with them.
2. Create compelling content
Content is still king when it comes to digital marketing. Creating high-quality, engaging content will help you attract more attention from customers and keep them coming back for more.
3. Use the latest technology
Technology is constantly changing, so it's important to use the latest tools and platforms in your marketing campaigns. This will help you reach more customers and be more effective in your marketing efforts.
Get Involved In Online Marketing Communities And Collaborate With Other Professionals
If you're looking to promote your business online, it's a good idea to get involved in online marketing communities. These communities are full of professionals who can help you promote your work and get more clients.
LinkedIn is a great example of an online marketing community. It has dozens of professional groups, where business owners and marketers can connect with each other, share ideas, and collaborate on projects.
Other great online marketing communities include forums and social networks like Twitter and Facebook. By getting involved in these communities, you'll have easy access to a wealth of knowledge and experience that will help you promote your business effectively.
So if you're serious about marketing your business online, make sure to get involved in online marketing communities and collaborate with other professionals. It'll make a big difference in your success.
Offer Value-Added Services Such As SEO, Social Media Management, And Website Design
If you're looking to offer value-added digital marketing services to your customers, consider services like SEO, social media management, and website design. You can help your customers reach their marketing goals and grow their business by providing these services.
SEO is an essential part of any digital marketing strategy. By optimizing a website for search engines, you can help it rank higher in search results and attract more visitors. Social media management is another essential aspect of digital marketing. By creating and managing social media accounts for a business, you can help them reach a wider audience and connect with potential customers. Website design is also essential for any digital marketing strategy. A well-designed website can help businesses attract more visitors and convert them into customers.
And if you want to learn more about how to provide these services yourself, we've got the perfect solution for you. IIENSTITU offers an online digital marketing course that will teach you everything you need to know about providing valuable digital marketing services for your clients. So enroll today and become a part of the new generation of digital marketers!


Monica Bourbon
Blogger
She describes himself as someone who loves to write about digital marketing, social media and public relations. His personal development special interest lies in self-improvement through reading books on the subject of human behavior; she also has an eye for how these topics apply outside just business or career settings too!
Related Posts
Our team of experts is passionate about providing accurate and helpful information, and we're always updating our blog with new articles and videos. So if you're looking for reliable advice and informative content, be sure to check out our blog today.