Digital Marketing
What Are Effective Digital Marketing Strategies?
23 December 2021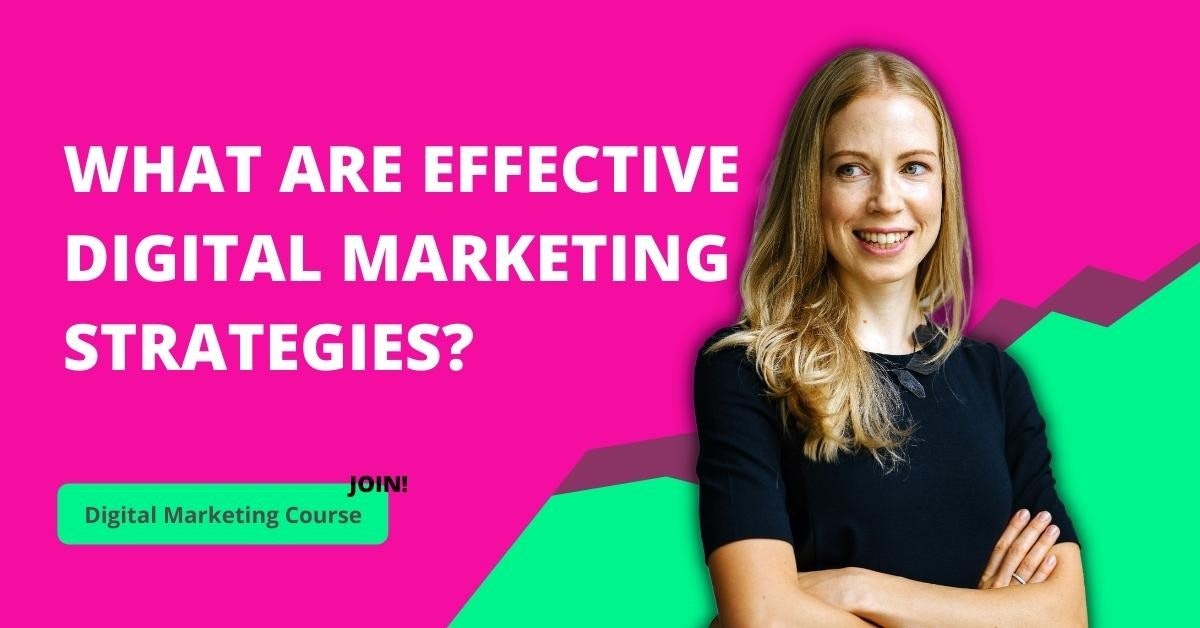 | Digital Marketing Strategy | Importance and Benefits | Examples |
| --- | --- | --- |
| Content Marketing | Increases brand visibility, customer engagement, and credibility. | Blogs, Articles, Infographics, Videos, Podcasts |
| SEO | Improves website visibility and ranking on search engines like Google or Bing. | Keyword Optimization, Link Building, On-Page SEO, Local SEO |
| Social Media Marketing | Enhances brand awareness, facilitates direct customer communication, enables targeting and retargeting. | Facebook, Instagram, Twitter, LinkedIn, YouTube |
| Email Marketing | Delivers direct communication with prospects and customers, boosts sales and customer retention. | Newsletters, Drip Campaigns, Transactional Emails, Promotional Emails |
| Paid Search Advertising | Helps reach a wider audience quickly, facilitates measurable marketing. | Google Ads, Bing Ads |
| Online Display Advertising | Promotes brand awareness and visibility. | Banner Ads, Video Ads, Mobile Ads |
| Affiliate Marketing | Access to wider audience, high return on investment (ROI). | Influencer Marketing, Bloggers Partnerships |
| Influencer Marketing | Enhances brand authenticity, increases trust and credibility. | Collaborations with popular bloggers, YouTubers or celebrities |
| Mobile Marketing | Direct access to customers using smartphones. | SMS Marketing, Mobile Apps, QR Codes |
| Video Marketing | Increases engagement, improves SEO, builds trust and credibility. | Promo Videos, How-to Videos, Testimonials, Webinars |
Digital marketing is a strategy whose goal is to reach customers with information via digital media. It involves using websites, email campaigns, and advertising on social networks such as Facebook or Instagram, among other things like search engine optimization (SEO).
Related Course: Digital Marketing Course
Digital Marketing can explore many different channels, but it needs to grow its customer base to have an effective online presence. Hence, people know where you are going!
One of the most critical aspects of digital marketing is understanding the different available channels. There are many different ways to reach your customers, and depending on your business, some will be more relevant than others. Some of the most common channels include:
Email Marketing

Paid Search (Google Adwords, Bing Ads)

Social Media Marketing (Facebook, Instagram, Twitter)

Online Display Advertising (Youtube pre-roll ads, etc.)

Blogging marketing 
Each of these channels offers its unique advantages and disadvantages, and it's essential to understand which ones will work best for your business. For example, if you're a small business that only sells products locally, then paid search advertising might not be the best use of your marketing budget, as most of your customers will likely already be searching for the product.
In this case, you might want to consider reaching out to your local chamber of commerce and asking them if they'd be willing to partner with you on a sponsored post to reach new customers through word-of-mouth marketing. In that scenario, you might split the cost of a sponsored ad with another business, and place it on a relevant blog, website, or social network.
Another advantage to digital marketing is that you can measure how much traffic a specific channel drives to your website, which platforms generate the most sales for you, etc. This allows companies to constantly adjust their strategy to impact each campaign's most significant impact.
You can measure the number of sales generated through email marketing, for example, or you might want to track how many people are clicking on your ads. These metrics help you see which channels are helping your business grow so that you can focus your budget there instead of wasting money elsewhere.
So if you're looking to expand your customer base, it's essential to have a solid digital marketing strategy in place. Then, you can explore the different channels available to you and then allocate your budget accordingly, depending on which ones work best for your business. That way, your company will constantly grow its customer base while staying within a reasonable budget.
What Are The Types of Digital Marketing Strategies?
There are many different digital marketing strategies that companies can use to reach their target consumers.
The first type is known as content marketing. Businesses create valuable articles or blog posts on topics relevant to their industry and post them across various platforms, including social media networks such as Facebook. This helps build trust with consumers because they know what values make up your company's product by reading how it was created; plus, this builds community which increases brand awareness even further! 
Another popular strategy nowadays would be called SEO (search engine optimization). It entails increasing the visibility of a particular website or blog through search engines like Google and Bing. You can do this by using specific keywords and phrases that people interested in your product or service are likely to use when searching online.
A third digital marketing strategy is known as social media marketing. This involves creating and managing social media profiles for your company on sites like Facebook, Twitter, and LinkedIn. By doing this, you can connect with potential customers and followers interested in your product or service and share valuable content and information with them. 
Finally, another common digital marketing technique is email marketing. This involves collecting customers' email addresses and potential customers and sending them periodic emails containing information about your product or service. This is a great way to stay in touch with customers and keep them updated on your latest offerings.
So, these are some of the most common digital marketing strategies that businesses can use to reach their target consumers. By choosing the right one or a combination of strategies, you can create a successful digital marketing campaign that will help you achieve your desired results.
What Are The Importance of Digital Marketing Strategies?
Digital marketing is not a fad but rather the way of the future. It's predicted that by 2021, 70% of internet users will be browsing and researching products online with their mobile devices. In 2017 it was 54%. To reach this vast customer base, you need to automate your efforts because people's attention span has decreased from 12 seconds (2000) down below 7 seconds 4G data limits force us all into making quick decisions about where we should spend our precious resources when there are so many competing interests vying for those same limited goods.
What does this mean for your business? First, it means that if you don't have a digital marketing strategy in place, you are missing out on a large chunk of the market. To stay competitive, you need to be where your customers are online. This doesn't mean you have to go it alone, though. You can use a digital marketing company to help you reach your target market.
As we move forward and more people join the digital world, it will become even more challenging for businesses to reach their target market without an online presence. So don't let your business be left behind by reaching out to a digital marketing company today and giving your customers what they want: information at their fingertips.
How To Develop A Digital Marketing Strategy For Your Business?
Once you know what you want your target audience to see, it's time to start planning your digital marketing strategy. This will involve creating a mix of content and channels that will best reach and engage your target audience.
One of the most important aspects of any digital marketing strategy is developing a solid content plan. This means creating a mix of content that will work across all the different channels you're using. It's a good idea to get a plan in place before you start anything else, as this will guide how people find out more about your company and what they see from you on different platforms.
Your content plan needs to include information about your target audience members, what they're interested in, and what you want them to do next. You'll also need to think about the tone of your content and how it will fit in with your company's overall branding.
Once you have a content plan in place, you can start creating individual pieces of content that will be used across different channels. This could include blog posts, ebooks, infographics, tweets, and Facebook updates. Make sure you share this content on your website and social media platforms.
It's a good idea to plan a mix of evergreen, time-sensitive, and trending content to make the most of every piece of content you produce. But, of course, you'll also need to make sure your content is engaging, relevant, and timely.
One thing you may want to consider if you're starting with a blog is whether someone can subscribe to it. This will help drive visitors back to your website regularly, giving your company's name or brand the best chance to be seen.
Once you've put together your content plan and planned some individual pieces of content, it's time to start thinking about the channels you'll be using. This will involve considering where your target audience members are most likely to find out more about your company and what they're looking for when they get there. In addition, different platforms (such as Facebook or LinkedIn) will work better for different types of content.
It's essential to tailor your digital marketing strategy to each platform and not just use the same content across them all. For example, tweets should be short and snappy, while blog posts can be more in-depth. You'll also need to think about what time of day you post to each platform.
It's a good idea to track how well your digital marketing strategy works by regularly reviewing your analytics. This will help you see where you're getting the most engagement and what changes you need to make to your content or channels.
By following these tips, you can create a digital marketing strategy to reach and engage your target audience members, helping you achieve your business goals.
And if you want to learn details digital marketing and strategies, you can attend Digital Marketing Course for free at IIENSTITU.

digital marketing course
digital marketing
digital marketing strategies
what are effective digital marketing strategies

Monica Bourbon
Blogger
She describes himself as someone who loves to write about digital marketing, social media and public relations. His personal development special interest lies in self-improvement through reading books on the subject of human behavior; she also has an eye for how these topics apply outside just business or career settings too!
Related Posts
Our team of experts is passionate about providing accurate and helpful information, and we're always updating our blog with new articles and videos. So if you're looking for reliable advice and informative content, be sure to check out our blog today.