Interview Questions
Interview Question: What Challenges Your Problem Solving Most?
25 August 2023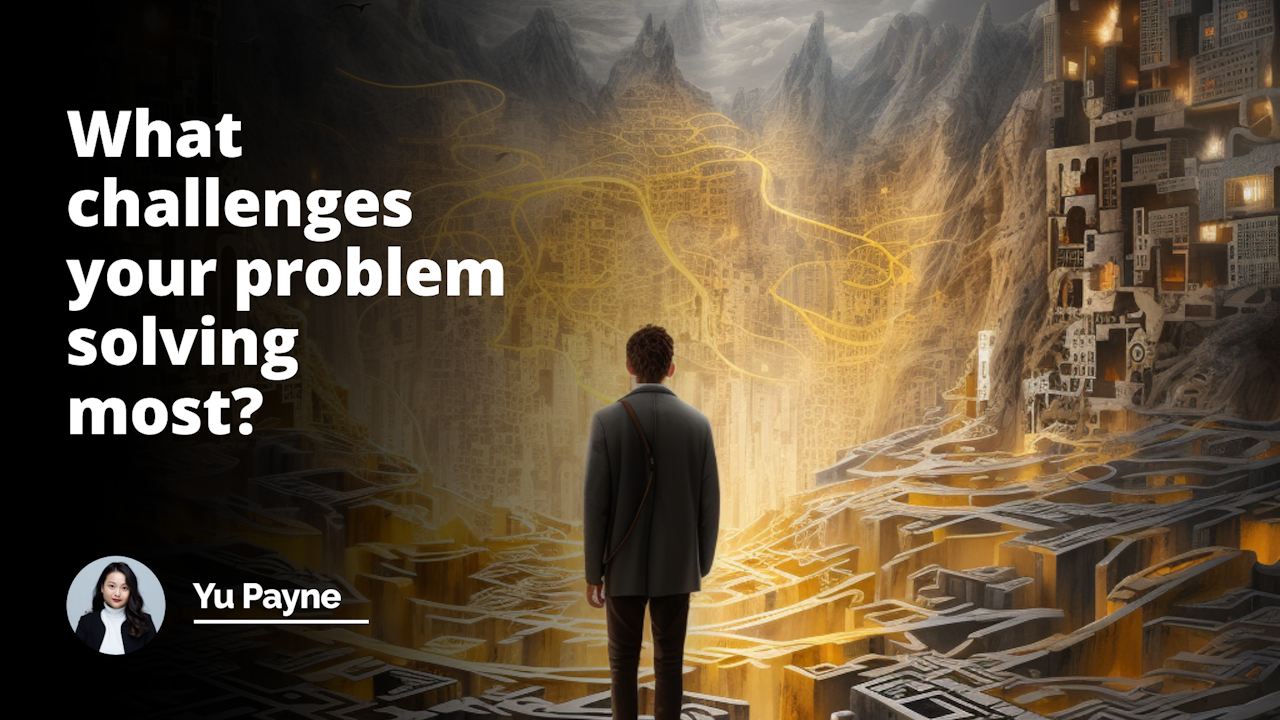 | Interview Question Theme | Purpose of Question | Expectations from Candidate |
| --- | --- | --- |
| What challenges your problem solving most? | To assess a candidate's problem-solving abilities and challenges faced | Honest, reflective responses; Ability to identify own strengths/weaknesses |
| Lack of information or data | Understanding candidate's approach in situations with limited data | Show systematic approach and ability to find additional information |
| Time Constraints | Assessing ability to solve problem under time pressure | Prioritization skills, ability to break complex problems into manageable steps |
| Dealing with conflicting perspectives | Determining how well a candidate can handle conflicting views | Ability to listen, communicate, and navigate differing viewpoints |
| Fear of making mistakes | Assessing a candidate's approach towards failure | Growth mindset, acceptance of failures, learning from mistakes |
| General Considerations | Evaluating how well a candidate reflects and provides examples in their responses | Authentic, reflective answers, specific examples |
| Growth Opportunities | Understanding a candidate's dedication to continuous improvement | Commitment to personal growth and development |
| Problem-Solving Abilities | Analyzing a candidate's understanding and application of problem-solving skills | Demonstration of effective problem-solving skills in real-life scenarios |
| Intended Interview Level | Determining the depth and complexity of answer according to the level of interview | Higher level candidates expected to provide detailed examples and insights |
| Self-Awareness | Gauging a candidate's understanding of their own strengths and weaknesses | Demonstration of strong self-awareness and honesty in their responses |
Problem-solving skills are considered essential in the workplace, regardless of the industry or job position. Employers value individuals who can identify, analyze, and find effective Solutions to various challenges. During job interviews, employers often seek to assess a candidate's problem-solving abilities by asking questions like "What challenges your problem solving most?".
This article aims to delve into why this Interview Question is asked, the purpose behind it, the intended interview level, the expected answer from candidates, and provide possible answers along with considerations to keep in mind when responding.
Why is this interview question asked: What Challenges Your Problem Solving Most?
When an employer asks, 'What challenges your problem solving most?' during an interview, they want to gain insights into a candidate's problem-solving abilities and the specific challenges they may face when approaching a problem or finding solutions.
This question helps the employer assess the candidate's critical thinking skills, resilience, adaptability, and ability to handle complex and demanding situations.
The purpose of the question:
The purpose of asking this Interview Question is to gauge a candidate's self-awareness, honesty, and ability to reflect on their own strengths and weaknesses. Employers want to understand a candidate's potential limitations and how they handle challenges, as this can be a crucial factor in their effectiveness as problem solvers in the workplace.
At what interview level is it asked?
This question can be asked at various interview levels, ranging from entry-level positions to senior Leadership roles. The level at which it is asked may influence the depth and complexity of the expected answer. Candidates at higher levels may be expected to provide more detailed examples and insights into the challenges they face.
Related Course: Leadership Development Course
What kind of answer is expected from the candidate?
Employers expect candidates to provide honest and self-reflective answers when addressing the question, 'What challenges your problem-solving most?' They are looking for candidates who can demonstrate a clear understanding of their own problem-solving strengths and weaknesses.
An effective answer would include specific examples, strategies for overcoming challenges, and a growth mindset that shows a willingness to learn and improve.
Possible answers to consider:
Lack of Information or Data: One common challenge in problem-solving is insufficient or ambiguous information. Candidates may face obstacles when they do not have access to all the necessary data or when the information they have is incomplete or contradictory.
However, a strong problem solver can work around this challenge by adopting a logical and systematic approach to gather additional information, consult relevant sources, and make informed decisions.
Time Constraints: Another common challenge in problem-solving is time pressure. Candidates may encounter situations where they need to find solutions quickly, leaving limited time for in-depth analysis and contemplation. Effective problem solvers can manage their time wisely by prioritizing tasks, breaking down complex problems into manageable steps, and making efficient use of available resources.
Dealing with Conflicting Perspectives: Problem-solving often involves collaborating with diverse teams or stakeholders who have different perspectives and opinions. Balancing these conflicting viewpoints and reaching a consensus can be a significant challenge. Candidates who can demonstrate their ability to navigate through differing perspectives, actively listen, and foster open communication are highly valued in problem-solving roles.
Fear of Making Mistakes: The fear of making mistakes can hinder problem-solving abilities. Candidates who are too cautious or afraid of failure may struggle to take Risks and explore innovative solutions. Overcoming this challenge requires a growth mindset and the willingness to learn from mistakes. Candidates should emphasize their ability to embrace failure as an opportunity for growth, learn from their experiences, and adapt their problem-solving approach accordingly.
Considerations when answering the question:
When responding to the question, 'What challenges your problem-solving most?' candidates should consider the following points:
Be Authentic and Reflective: Employers value honesty and self-awareness. Candidates should provide genuine examples and insights into their own challenges rather than trying to give an idealized response. Reflect on personal experiences and growth opportunities to showcase a commitment to continuous improvement.

Provide Specific Examples: Supporting answers with specific examples makes them more impactful and demonstrates the ability to apply problem-solving skills in real-life scenarios. This helps employers gauge the depth of a candidate's problem-solving abilities and their contextual understanding.

Emphasize Strategies for Overcoming Challenges: While discussing challenges, candidates should also highlight the strategies they employ to overcome these obstacles. This demonstrates their problem-solving mindset, resilience, and adaptability. Including specific strategies, such as seeking feedback, collaborating with others, or engaging in continuous learning, can leave a positive impression on employers.
The question, 'What challenges your problem solving most?' provides an opportunity for candidates to showcase their problem-solving skills, self-awareness, and ability to adapt to various challenges. By addressing this question authentically, providing specific examples, and highlighting strategies for overcoming obstacles, candidates can impress employers and demonstrate their value as effective problem solvers in the workplace.
Remember to approach the question with confidence, self-reflection, and a growth mindset.
Types of problems that require creative problem solving techniques
| Problem Type | Examples | Creative Problem Solving Techniques |
| --- | --- | --- |
| Innovation | Developing a new product or service, finding alternative solutions to existing problems | Brainstorming, Mind Mapping, SCAMPER technique |
| Conflict Resolution | Resolving disputes between team members, negotiating with stakeholders | Mediation, Collaborative problem solving, Win-win solutions |
| Decision Making | Selecting the best investment option, choosing between competing projects | Decision matrix analysis, Cost-Benefit analysis, Six thinking hats |
| Process Improvement | Streamlining manufacturing processes, optimizing supply chain operations | Value stream mapping, Root cause analysis, Kaizen |
| Marketing and Advertising | Creating a memorable ad campaign, increasing brand awareness | Storyboarding, Empathy mapping, Mindset shifting |
Common obstacles that hinder effective problem solving
| Obstacle | Description | Solution |
| --- | --- | --- |
| Lack of information | Not having enough data or knowledge to fully understand the problem | Conduct research, gather more data, and seek expertise |
| Lack of creativity | Difficulty in generating innovative ideas or thinking outside the box | Engage in brainstorming, mind mapping, or other creativity-enhancing techniques |
| Emotional biases | Allowing personal emotions or biases to influence decision-making | Practice self-awareness, logical reasoning, and seek diverse perspectives |
| Time constraints | Limited time available to analyze the problem and explore potential solutions | Prioritize tasks, delegate when possible, and use time management techniques |
| Lack of collaboration | Working in isolation without input or assistance from others | Involve stakeholders, assemble teams, and encourage open communication |
| Fear of failure | Being afraid to take risks or make mistakes while problem-solving | Embrace a growth mindset, learn from failures, and view mistakes as opportunities for improvement |
Strategies for overcoming challenges in problem solving
| Challenge | Strategy | Example |
| --- | --- | --- |
| Lack of clarity | Seek clarification | Ask questions to better understand the problem |
| Limited resources | Find alternative solutions | Use open-source software instead of expensive proprietary tools |
| Complexity | Break down the problem into smaller parts | Divide a large project into manageable tasks |
| Lack of experience | Research and learn from others | Read books or seek advice from experts in the field |
| Time constraints | Prioritize tasks and allocate time effectively | Create a timetable or schedule to manage time efficiently |
| Resistance to change | Communicate the benefits and involve stakeholders | Conduct meetings and presentations to address concerns and gain support |
Similar interview questions:
Which factors challenge your Problem Solving Skills the most?

Which obstacles affect your Problem Solving Skills the most?

What are the situations in which your Problem Solving Skills are most challenged?

What are the issues you struggle with the most in the problem solving process?

Can you share the moments when your Problem Solving Skills were most tested?

What challenges do you face when solving problems in your mind?

What factors challenge you the most in the problem solving process?

Which factors hinder your problem solving ability the most?

In which situations do you feel that your problem solving ability is most challenged?

Which mental obstacles affect your problem solving process?

What challenges your problem solving most?
what challenges your problem solving most
what challenges your problem solving most?
Yu Payne
Blogger
Yu Payne is an American professional who believes in personal growth. After studying The Art & Science of Transformational from Erickson College, she continuously seeks out new trainings to improve herself. She has been producing content for the IIENSTITU Blog since 2021. Her work has been featured on various platforms, including but not limited to: ThriveGlobal, TinyBuddha, and Addicted2Success. Yu aspires to help others reach their full potential and live their best lives.
Related Posts
Our team of experts is passionate about providing accurate and helpful information, and we're always updating our blog with new articles and videos. So if you're looking for reliable advice and informative content, be sure to check out our blog today.