Problem Solving
Unlocking the Secrets of Da Vinci: A Comprehensive Guide
03 March 2023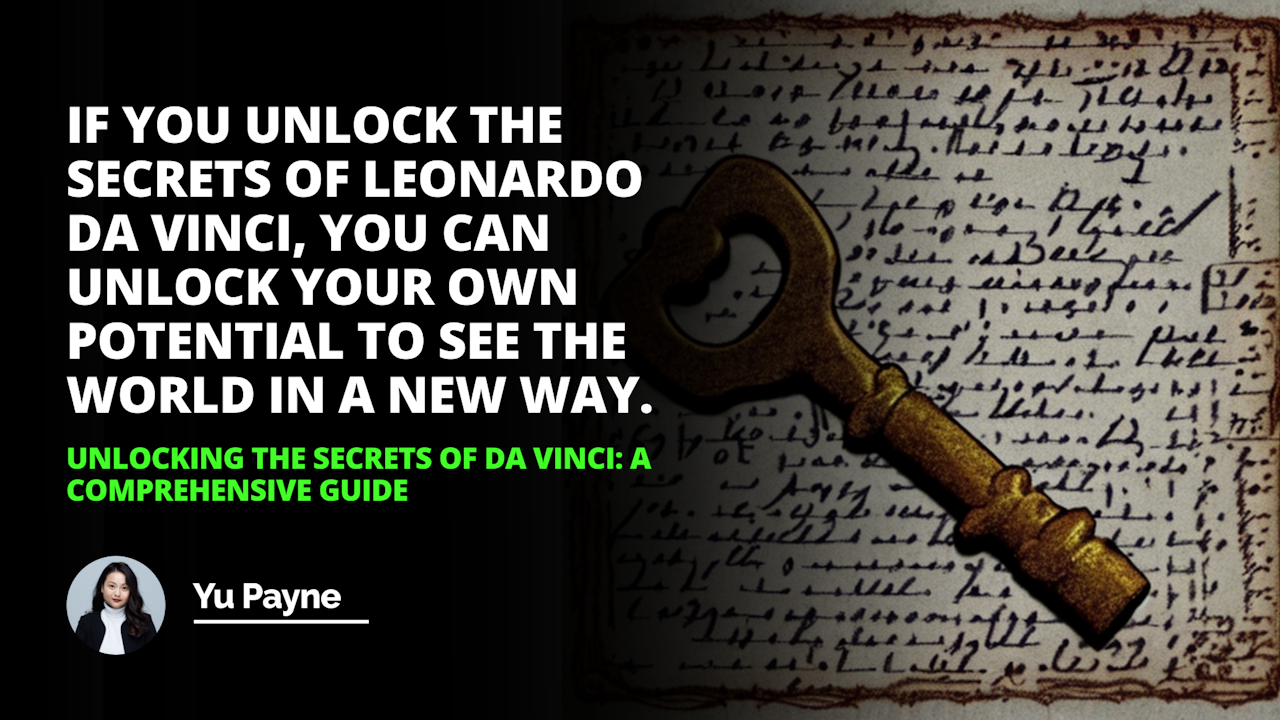 | Aspect | Details | Significance |
| --- | --- | --- |
| Early Life & Education | Born in 1452 in Vinci, Tuscany; apprenticed under Verrocchio. | Early exposure to painting, sculpture, goldsmithing sparked his lifelong fascination in these fields. |
| Influential Artworks | 'The Last Supper', 'Mona Lisa', 'Vitruvian Man', etc. | Revolutionized the portrayal of light, shadow and human form in art |
| Scientific Contributions | Explored anatomy, physics, and mathematics; invented machines and gadgets. | Inspired future scientists like Galileo and Copernicus; some of his inventions are still in use today. |
| Folded-Time in Milan | Hired by the Duke of Milan; created some of his most famous works. | Brought renaissance ideals to the court, influencing art, culture, and politics of the time. |
| Life in France | Invited by King Francis I, lived in France till his death. | Many of his unfinished works, drawings, and scientific studies were discovered during this period. |
| Legacy in Art | His masterpieces continue to inspire generations of artists. | Defined the standards of art, and continues to be the benchmark for artistic excellence. |
| Legacy in Science | His scientific drawings and inventions continue to inspire modern science & engineering. | Paved the way for future development in various fields of science and technology. |
| Influence on Pop Culture | Features in movies and books; his birthplaces and artworks are popular tourist spots. | His life and legacy continue to capture the imagination of the global audience. |
| Mysterious Aspects | Intriguing personal life; potential secret messages in his art. | A subject of speculation and mystery which adds a layer of intrigue to his legacy. |
| Overall Influence & Relevance | Leonardo Da Vinci's influence on art, science and culture | His creativity and visionary ideas continue to shape our world, hundreds of years after his lifetime. |
Life and History of Da Vinci

Relevant Events of His Lifetime

Notable Artworks

Influence on Art and Science
Leonardo Da Vinci was a remarkable historical figure whose impact on art and science still influences us today. His legendary accomplishments have made him one of the world's most celebrated individuals. For centuries, scholars and historians have attempted to unlock the secrets of Da Vinci, exploring his life, works, and legacy. In this blog post, we will answer the age-long question of who Leonardo Da Vinci was and what he contributed to the world.
Life and History of Da Vinci
Leonardo Da Vinci was born in 1452 in Vinci in the region of Tuscany in Italy and was the son of a Florentine notary. From an early age, he showed an interest in painting and drawing and a flair for science, mathematics, engineering, and anatomy.
When he was 16, Da Vinci was admitted to the Florentine court of Lorenzo de Medici, and his apprenticeship began under Andrea del Verrocchio's tutelage. As a result, he gained a wealth of knowledge across numerous studies, including sculpture, painting, and goldsmithing.
At 30, he was hired to create a mural in the Salone del Pagliazo to celebrate the Tuscan state's politics, wars, and philosophy. His painting, now known as 'The Battle of Anghiari,' is believed to be the origin of Da Vinci's signature style.
Relevant Events of His Lifetime
During Da Vinci's life, several significant events shaped his success. First, in 1481, he became an independent artist. Then, the Duke of Milan employed him. Finally, two years later, he moved to Milan and worked on numerous projects commissioned by the Duke.
He spent the next two decades in the court of the Duke, and it was during this period some of the world's most admired works of art were produced, such as The Last Supper and the Mona Lisa. He also conducted a variety of medical and scientific experiments.
In 1519, Da Vinci moved to France at the invitation of King Francis I and remained there until he died in 1519. During this time, he gained immense fame. Many of his errors, drawings, and scientific studies were discovered during this era.
Notable Artworks
Throughout his career, Da Vinci has produced countless artworks, some of which are now considered priceless. He is known for his masterful paintings, such as the 'Mona Lisa' and 'The Last Supper,' as well as drawings, such as 'Vitruvian Man,' 'The codex of Leicester' and 'The Virgin and Child with St. Anne and St. John the Baptist.'
One of Da Vinci's most acclaimed sculptures is 'David,' which was created using a traditional block of marble as a canvas to represent courage and strength. However, his most famous engineering project is his flying machine, which is believed to have been constructed with springs and gears, allowing the pilot to control the four wings attached to the gadget.
Influence on Art and Science
Da Vinci's work was revolutionary, causing massive changes in the art and science worlds. For example, his revolutionary paintings used light and color, creating unparalleled realism. Similarly, in his drawings and sketches of anatomical structures and his depictions of the human form, he precisely explored the intricacies of life.
His contributions to science have also been unparalleled; he explored the boundaries of physics and mathematics beyond the knowledge at the time and inspired the likes of Galileo and Copernicus. He was also a great innovator; many of his engineering projects have been repeated by modern engineers, and some of his inventions have been put into practice even today.
Exploring Da Vinci's Legacy in Contemporary Times
Today, the legacy of Da Vinci is still alive through his work and achievements. His artworks continue to inspire new generations of artists and scientists. At the same time, pieces of his anatomy and engineering projects are being recreated by modern engineers.
His influence is also evident in pop culture as movies like 'The Da Vinci Code,' as well as countless books, have explored his legacy and the plethora of theories surrounding his life and work. Moreover, visitors from all over the world journey to Florence and Milan to explore his birthplace and his masterpieces.
In conclusion, Leonardo Da Vinci's impact has truly been felt in the modern era. From Michelangelo to Steve Jobs, the creativity and tenacity of Da Vinci have inspired countless individuals around the world. By unlocking the secrets of Da Vinci, we can gain insight into the life and accomplishments of this revolutionary genius and continue to be inspired by his genius.
If you unlock the secrets of Leonardo da Vinci, you can open your potential to see the world in a new way.
Leonardo Da Vinci
Tuscan
Florence
Andrea del Verrocchio
Battle of Anghiari
Last Supper
Mona Lisa
Vitruvian Man
Codex of Leicester
Virgin and Child with St. Anne and St. John the Baptist
David
Flying Machine
Pop Culture
The Da Vinci Code
Michelangelo
Steve Jobs
Yu Payne
Blogger
Yu Payne is an American professional who believes in personal growth. After studying The Art & Science of Transformational from Erickson College, she continuously seeks out new trainings to improve herself. She has been producing content for the IIENSTITU Blog since 2021. Her work has been featured on various platforms, including but not limited to: ThriveGlobal, TinyBuddha, and Addicted2Success. Yu aspires to help others reach their full potential and live their best lives.
Related Posts
Our team of experts is passionate about providing accurate and helpful information, and we're always updating our blog with new articles and videos. So if you're looking for reliable advice and informative content, be sure to check out our blog today.