Problem Solving
A Comprehensive Guide to Root Cause Analysis
15 March 2023
| Concept | Description | Example |
| --- | --- | --- |
| Root Cause Analysis (RCA) | Systematic process of identifying the primary or underlying cause of a problem, event, or failure. | In a manufacturing plant, if machinery breaks down frequently leading to low production, RCA would mean identifying the root cause as insufficient maintenance time in the schedule. |
| 5 Whys Method | A simple root cause analysis technique that asks 'why' repeatedly until the root cause of a problem is identified. | Problem: High employee turnover. Repeated 'Why' questioning leads to the root cause being 'management team not prioritizing employee career growth'. |
| Root Cause | The fundamental reason for the occurrence of a problem. | In a case of high employee turnover, the root cause was determined to be lack of career advancement opportunities due to the company's insufficient employee career development plans. |
| Problem Identification | The first step in root cause analysis, which involves defining the problem or issue. | Recognizing that a company's high employee turnover rate is a significant problem that needs addressing. |
| Data Collection | Gathering all relevant data and information related to the problem. This can include documentation, interviews, observations, or analysis of existing records. | Collecting employee exit interviews, HR reports, and other relevant data to analyze high employee turnover. |
| Problem Analysis | The process of analyzing the collected data to identify patterns, trends, or common factors contributing to the problem. | Analyzing the data collected from employee exit interviews and HR reports to establish patterns and trends in reasons for leaving the company. |
| Root Cause Analysis Report | A document that outlines the problem, the root cause, the methodology used, and the proposed solutions to prevent recurrence. | A report detailing the issue of high employee turnover, the discovery of the root cause relating to career development, and proposed solutions like creating a robust career progression plan. |
| Preventive Measures | Steps taken to prevent the recurrence of the problem in the future, based on the identified root cause. | Instituting a solid career development plan to prevent high employee turnover rates in the future. |
| Continuous Improvement Culture | An organizational ethos that values constant improvement and learning, often facilitated by root cause analysis. | Creating a work environment that values problem-solving and encourages employee feedback to continuously improve processes. |
| Use of RCA | Application of root cause analysis to solve problems and challenges in diverse industries and sectors. | Organizations ranging from manufacturing plants to corporations, healthcare facilities to IT service providers, all use RCA to address and prevent problems. |
Our world is full of complex challenges and problems that often require a deep understanding of their causes to be effectively solved. Identifying the root cause of a problem is a critical step in addressing these challenges, allowing for the implementation of long-term solutions that prevent the same issues from arising again. In this article, we will explore the concept of root cause analysis, its meaning, the 5 Whys method, examples of root cause analysis, and how to create a root cause analysis report. With an academic tone, this comprehensive guide will provide insights into the process and application of root cause analysis as a problem-solving tool.
Root Cause Analysis and Its Meaning
Root cause analysis (RCA) is a systematic process of identifying the primary or underlying cause of a problem, event, or failure. It is a fundamental aspect of problem-solving that aims to address the core issue rather than merely treating the symptoms or consequences of the problem. By determining the root cause, organizations can devise and implement effective solutions that eliminate or reduce the likelihood of the problem reoccurring.
The 5 Whys Root Cause Analysis Method
The 5 Whys method is a popular and straightforward root cause analysis technique that asks "why" repeatedly until the root cause of a problem is identified. The central premise of the 5 Whys technique is that asking "why" five times, in most cases, will be sufficient to uncover the root cause. The process is as follows:
State the problem clearly and concisely.

Ask, "Why did this problem occur?" and note the answer.

If the answer does not lead to the root cause, ask "Why?" again and repeat the process until the root cause is identified.
This iterative questioning process helps to peel away the layers of a problem, enabling a better understanding of the underlying cause.
Root Cause Analysis Examples
Example - 1: Production Delays
Problem: A manufacturing company experiences frequent production delays.
Using the 5 Whys method:
Why are there production delays? The production line is often stopped for unscheduled maintenance.

Why is unscheduled maintenance required? The machinery is breaking down frequently.

Why is the machinery breaking down frequently? The machines need to be adequately maintained during scheduled downtime.

Why are the machines not adequately maintained? There needs to be more time allocated for maintenance tasks during scheduled downtime.

Why is there insufficient time allocated for maintenance? The production schedule needs to account for the necessary maintenance time.
Root cause: The production schedule must account for necessary maintenance time, leading to frequent breakdowns and delays.
Example 2: High Employee Turnover
Problem: A company is experiencing high employee turnover.
Using the 5 Whys method:
Why is there high employee turnover? Employees are leaving for better job opportunities.

Why are employees finding better job opportunities? They are unhappy with their current work environment.

Why are they unhappy with their work environment? There need to be more career advancement opportunities.

Why is there a lack of career advancement opportunities? The company still needs to implement a clear career development plan.

Why does the company need to implement a clear career development plan? The management team still needs to prioritize employee career growth.
Root cause: The management team must prioritize employee career growth, resulting in high employee turnover.
Root Cause Analysis Meaning and Importance
Root cause analysis is a valuable tool in problem-solving as it promotes long-term solutions and continuous improvement within organizations. By understanding the underlying cause of a problem, organizations can avoid applying "band-aid" fixes that only address the symptoms, not the core issue.
This leads to more efficient and effective solutions, saving time and resources and fostering a learning and continuous improvement culture. In addition, root cause analysis helps organizations identify areas of vulnerability, prioritize problem-solving efforts, and implement preventive measures to avoid future occurrences of similar issues.
The Root Cause Analysis Process
The root cause analysis process typically involves several steps to ensure a comprehensive understanding of the problem and its underlying cause. These steps include:
Problem identification: Clearly define the problem or issue that needs to be resolved. It is essential to understand the problem to identify the root cause accurately.

Data collection: Gather all relevant data and information related to the problem. This may include documentation, interviews, observations, or analysis of existing records. The data collected should be accurate, relevant, and unbiased.

Problem analysis: Analyze the data collected to identify patterns, trends, or common factors contributing to the problem. This can be achieved using various root cause analysis techniques, such as the 5 Whys, fishbone diagrams, or fault tree analysis.

Root cause identification: Based on the analysis, determine the root cause of the problem. This should be the primary factor that, if addressed, would prevent the problem from occurring.

Solution development: Develop and implement solutions that address the root cause. These solutions should be well-considered, practical, and sustainable.

Monitoring and evaluation: Regularly monitor and evaluate the effectiveness of the implemented solutions. This step ensures that the root cause has been successfully addressed and no new issues have arisen due to the implemented changes.
Root Cause Analysis Report
A root cause analysis report is a formal document that outlines the findings of a root cause analysis, including the problem, root cause, and proposed solutions. The purpose of the report is to communicate the results of the investigation and provide recommendations for improvement. A well-structured root cause analysis report should include the following:
Executive summary: Provide a brief overview of the problem, investigation process, root cause, and proposed solutions.

Problem description: Clearly describe the problem, including its impact, scope, and any relevant background information.

Investigation methodology: Outline the root cause analysis process, techniques used, and any data sources and tools employed during the investigation.

Findings: Detail the investigation's findings, including any trends, patterns, or common factors identified during the analysis.

Root cause: Clearly state the identified root cause and explain why it is considered the primary underlying factor.

Recommendations: Present well-considered and practical solutions to address the root cause, including any necessary resources, timelines, and responsibilities.

Conclusion: Summarize the report's key points and emphasize the importance of addressing the root cause to prevent future occurrences of the problem.
Root Cause Problem-Solving in Practice
Root cause problem-solving is a powerful approach to addressing complex challenges and fostering continuous organizational improvement. By incorporating root cause analysis into regular problem-solving processes, organizations can better understand the underlying factors contributing to issues and develop long-term, sustainable solutions. This comprehensive understanding of problems and their causes can increase efficiency, reduce costs, and improve overall performance.
In conclusion, root cause analysis is an invaluable tool in problem-solving, offering a systematic approach to uncovering the underlying causes of complex issues. By understanding and addressing the root cause, organizations can implement effective solutions, prevent future occurrences of similar problems, and continuously improve their processes and performance. The 5 Whys method, root cause analysis examples, and the root cause analysis report are all essential components of this process, aiding organizations in their quest for continuous improvement and long-term success.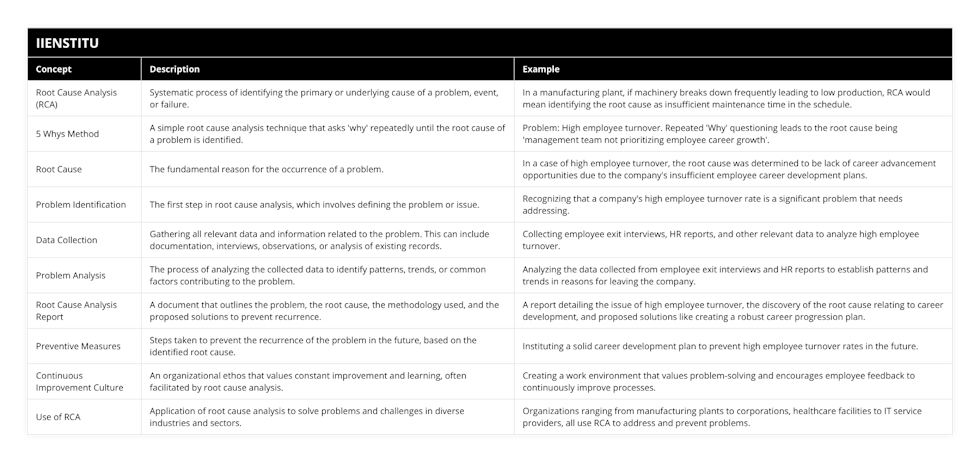 management team
fault tree analysis
preventive measures
maintenance tasks
monitoring and evaluation
data collection
long-term solutions
problem analysis
investigation methodology
scheduled downtime
continuous improvement
fishbone diagrams
career development plan
solution development
employee turnover
production delays
underlying cause
5 Whys method
problem-solving
root cause analysis
Pia Prebensen
Personal Growth Expert
Pia Prebensen is a personal growth expert who helps people identify and overcome their limiting beliefs. She has been featured in various online and print publications, including Elite Daily and The Huffington Post.
Born and raised in Denmark, Pia has always been fascinated by human behavior and the inner workings of the mind.
Related Posts
Our team of experts is passionate about providing accurate and helpful information, and we're always updating our blog with new articles and videos. So if you're looking for reliable advice and informative content, be sure to check out our blog today.