Logistic Management
The Flow of Logistics: From Supplier to Customer
02 March 2023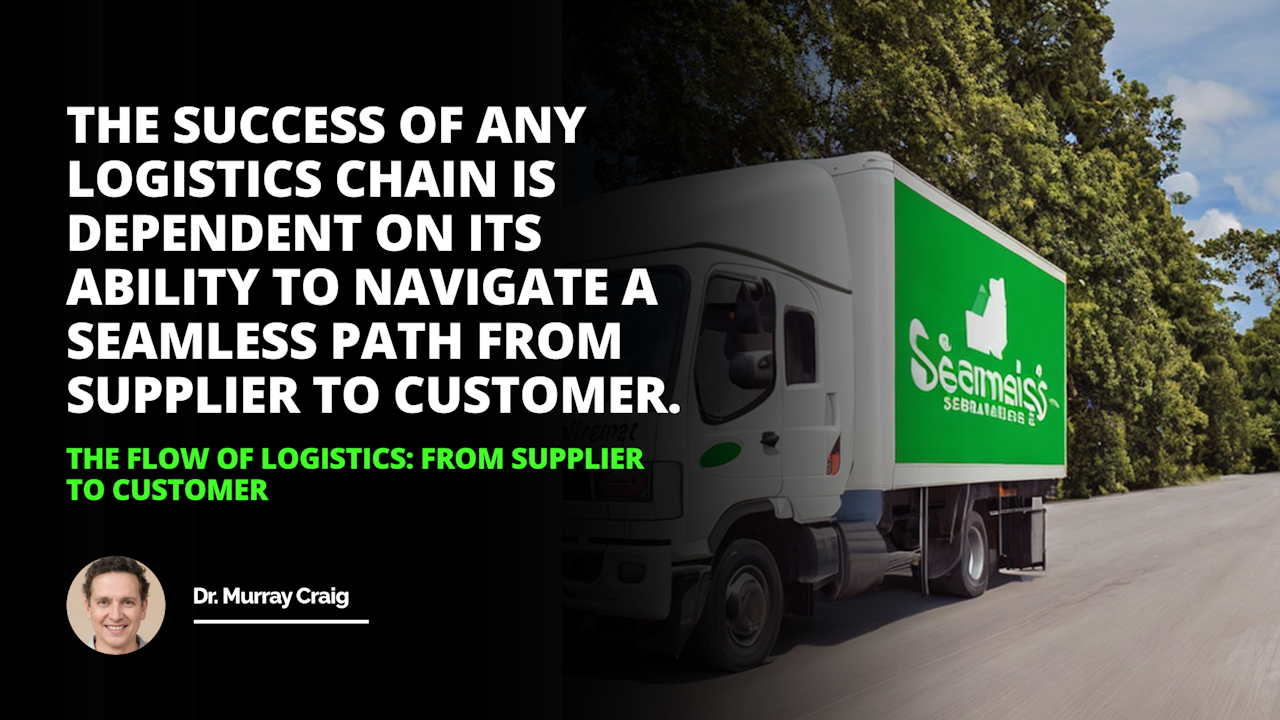 | Aspects of Logistics | Explanation | Impacts/Achievements |
| --- | --- | --- |
| History of logistics | Emerging as a critical function in ancient civilizations, primarily for military campaigns. Evolved over centuries, major reforms during Industrial Revolution and digital technology boom. | Sophisticated trade and transportation, efficient and quick delivery systems, online shipment tracking. |
| Logistics in Supply Chain | Begins at supplier level, encompassing inventory management, quality checks, packaging and delivery planning. | Ensures goods and services meet customer's demand effectively, swift delivery, minimal errors. |
| Incoming Logistics Process | The supplier ensures inventory meets customer's demand, conducts safety checks, and prepares goods for shipment. | Guarantees complete order delivery, minimizes potential errors. |
| Warehousing/Storage | Goods are stored in warehouses prior to delivery, allowing for accurate tracking and minimizing potential damage. | Prolonged and safe storage environment, efficient tracking of goods. |
| Outbound Logistics Process | Delivery of goods to the customer, either directly or through third-party services, implementing proper management and coordination. | Ensures goods arrive on time, efficient distribution system. |
| Impact on Business Efficiency | Effective logistics enhances supply chain efficiency, resulting in cost savings and better decision-making on transportation and shipping. | Cost-effective operations, informed decision making, increased profitability. |
| Impact on Customer Service | Logistics technology enables proactive customer service, ensuring timely and accurate delivery of goods. | Enhanced customer satisfaction, increased sales, improved business reputation. |
| Financial Impact on Businesses | Logistics can lead to cost savings through improved efficiency and increased sales through enhanced customer service. | Improved bottom line, competitive advantage, business growth. |
| Role in Modern Business Success | Logistics is a critical factor in modern businesses' success by connecting suppliers and customers efficiently. | Greater market reach, increased customer base, business expansion. |
| Role in E-commerce | With the rise of e-commerce, logistics efficiency is crucial for facilitating quick and easy purchase and delivery to customers. | Boosts online sales, improved e-commerce experience, business growth. |
History of Logistics

Logistics within Supply Chain

The Impact of Logistics on Business
When a customer orders a service or product, logistics flow is initiated. Logistics is a critical business function that involves coordinating and managing resources, services, and goods from the supplier or manufacturer to the customer. In this blog, we will look at the history of logistics and its role in modern supply chain management from supplier to customer.
History of Logistics
Since trading began in ancient civilizations, logistics has been considered a significant business. Early on, it was primarily used in military campaigns, with the need to supply troops quickly on the battlefield. However, as civilizations grew and trade became more sophisticated, logistics was increasingly used to move goods and services around promptly and efficiently, allowing goods to be traded across greater distances.
The Industrial Revolution of the 18th and 19th centuries saw the further development of global transportation and logistics networks, shifting away from manual-driven transport towards machine-powered delivery systems. Over time, the flow of point-to-point logistics was replaced with a much faster and more efficient process, allowing goods to be shipped across more considerable distances in weeks or months.
The modern logistics revolution has come primarily from the rise of the internet and digital technology, allowing almost instantaneous tracking of packages, shipments, and items in transit. With the advent of e-commerce, logistics has been taken to the next level, allowing customers to purchase products quickly and easily and deliver them to their doorsteps within days.
Logistics within Supply Chain
The logistics process in the supply chain begins at the supplier level. In this role, the supplier must ensure they have the necessary resources, inventory, and services to fulfill customer orders and secure delivery of the goods and services.
Incoming Logistics Process
The incoming logistics process sees the supplier ensuring that inventory is complete and meets the customer's demand, as well as providing any necessary quality and safety checks are completed. This process also includes packaging and preparing the goods for shipment.
Warehousing/Storage
Warehousing and storing goods are critical processes in the logistics flow, essential for the prolonged storage of goods in a retail environment. It also allows for much more accurate tracking of goods. In addition, it minimizes potential damage to goods that can occur during transportation.
Outbound Logistics Process
The outbound process involves the delivery of goods to the customer, either directly or through other third-party delivery services. This requires careful management and coordination of the transportation networks and delivery times to ensure the goods arrive to the customer in the necessary timeline.
The Impact of Logistics on Business
Logistics has a significant impact on business, both in terms of its efficiency and customer service, as well as its influence on the bottom line. Logistics can enhance the efficiency of the supply chain, both in terms of cost and delivery times, by allowing businesses to make better-informed decisions about transportation and shipping options.
Regarding customer service, the increasing use of technology has allowed businesses to be more proactive and ensure that customers receive their goods when and where they require them, delivering an improved customer experience.
The impact on the bottom line of businesses can be seen in both the cost savings resulting from improved efficiency and the potential increase in sales resulting from better customer service. Logistics is also increasingly seen as essential to a business's competitive advantage. As a result, it has become a critical factor in the success of many companies.
Conclusion: Logistics has evolved from its early origins, resulting in the efficient and reliable flow of goods and services at the heart of the modern supply chain. A successful logistics flow requires careful planning and coordination, with the right technology and resources, allowing businesses to enhance customer service and improve profitability. As a result, logistics has become an integral part of modern business, connecting the supplier to the customer and allowing companies to reach a wider audience.
Any logistics chain's success depends on its ability to navigate a seamless path from supplier to customer.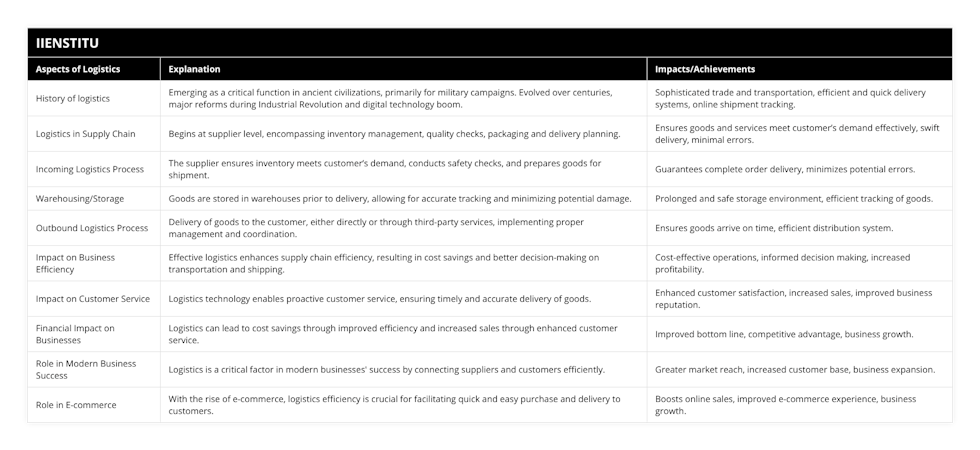 supply chain
supplier
customer
delivery
transportation
modern supply chain management
e-commerce
point-to-point
industrial revolution
quality
safety
warehousing
storage
outbound process
customer service
competitive advantage
logistics

Dr. Murray Craig
Academic
Dr. Murray Craig is an academic and researcher who has dedicated his life to the study of human behavior. He has a particular interest in how people interact with their environment, and how that interaction can be used to improve their lives. Dr. Craig has spent many years teaching and conducting research at universities all over the world, and he is widely respected for his work in the field of behavioral science.
Related Posts
Our team of experts is passionate about providing accurate and helpful information, and we're always updating our blog with new articles and videos. So if you're looking for reliable advice and informative content, be sure to check out our blog today.