Stress Management
Understanding PTSD: Symptoms, Causes, and Treatment Options
15 August 2023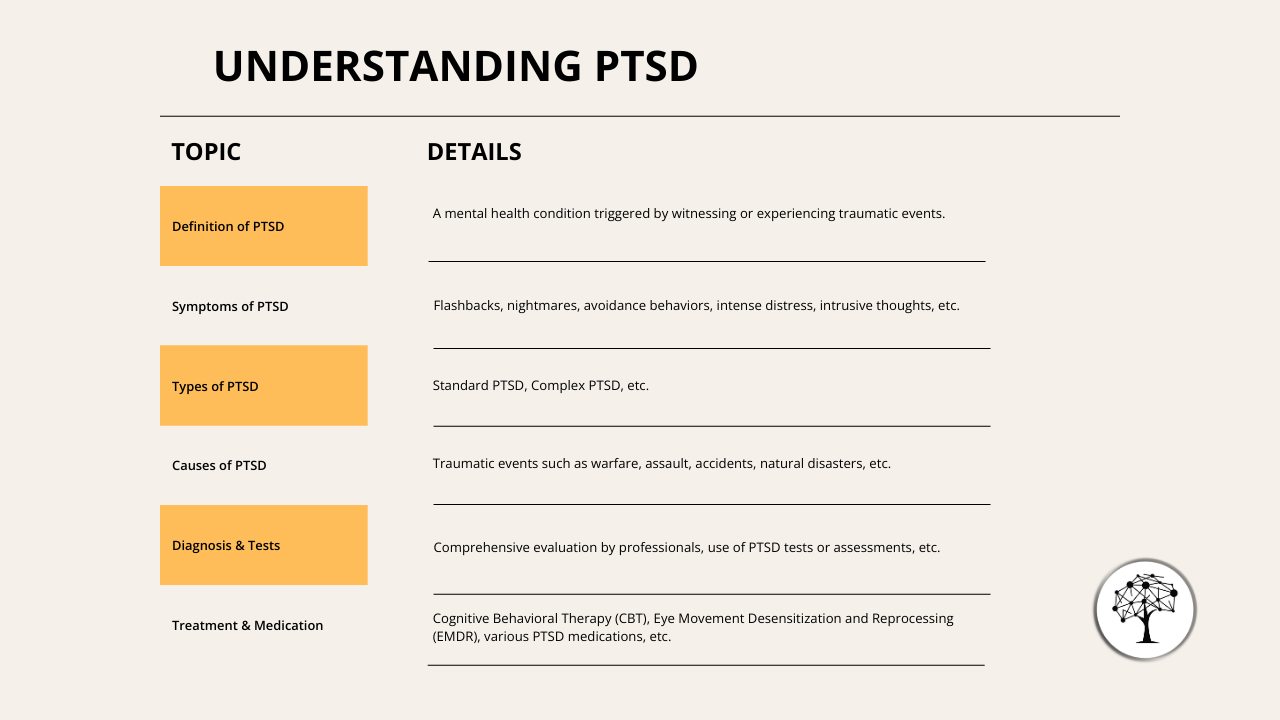 | Concept/Sign | Description | Additional Information |
| --- | --- | --- |
| PTSD | A mental health condition that emerges after exposure to traumatic events. | Can be caused by natural disasters, violent assaults, combat experiences or severe accidents. |
| Primary Symptoms of PTSD | These include vivid flashbacks, intrusive thoughts/images, nightmares, intense distress, avoidance, and physical sensations. | Women might experience PTSD differently, with heightened sensitivity to specific triggers and varied coping mechanisms. |
| Complex PTSD | A variant of PTSD, emerges from prolonged or repetitive exposure to traumatic situations. | In addition to symptoms of PTSD, it includes severe emotional dysregulation, negative self-perception, and relationship difficulties. |
| PTSD Attacks | Also known as 'flashbacks', these are sudden and intense re-experiences of trauma. | These attacks can be triggered by specific sounds, scents, or dates that remind the individual of the traumatic event. |
| Causes of PTSD | PTSD can be caused by any traumatic event, but not everyone exposed to trauma develops it. | Factors such as a history of other traumas, overall mental health, and genetics play a major role. |
| Treatment Options for PTSD | Needs to be explored more in the blog | To be provided |
| Diagnosing PTSD | Needs to be explored more in the blog | To be provided |
| The 17 symptoms of PTSD | A widely asked question, needs to be explored more in the blog | This emphasizes the multifaceted nature of PTSD's impact on individuals. |
| Supporting Individuals with PTSD | Needs to be explored more in the blog | To be provided |
| Traumatic Event | An event that causes significant physical or emotional harm or threat of harm. | Can range from natural disasters and violent assaults to severe accidents and abuse. |
In today's fast-paced world, mental health concerns have emerged as paramount issues that influence countless individuals' well-being and quality of life.
One such condition, PTSD (Post-Traumatic Stress Disorder), remains at the forefront of these concerns, often misunderstood despite its prevalence. Originating from deeply distressing or terrifying events, PTSD affects people from all walks of life, irrespective of age or background.
As we delve into this comprehensive guide, we aim to shed light on the intricacies of PTSD, providing a clear understanding of its symptoms, causes, and available treatment options.
Whether you're seeking knowledge for personal reasons or aiming to support someone in your life, this guide offers a beacon of clarity in the often murky waters of mental health.
Article index:
What is PTSD?
PTSD, or Post-Traumatic Stress Disorder, is a complex mental health condition that emerges after exposure to one or more traumatic events.
Such events can range from natural disasters and violent assaults to harrowing combat experiences or severe accidents. What binds these experiences together is their profound impact on an individual's psyche, leaving an imprint that can resurface in distressing and intrusive ways.
While many associate trauma with immediate shock or grief, PTSD is characterized by its persistence, with symptoms often emerging weeks, months, or even years after the event.
But what truly makes PTSD so challenging?
It's not just about the memories of the trauma; it's about the overwhelming emotional and physical reactions that those memories evoke. But have you ever wondered what triggers PTSD in an individual and why some people develop it while others don't?
The journey to answer this takes us through the labyrinth of human emotions, resilience, and coping mechanisms.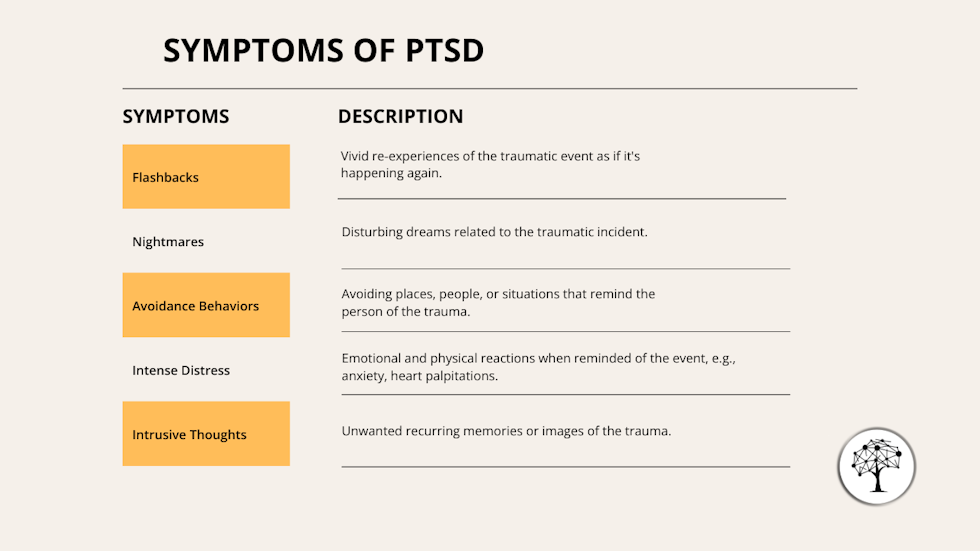 The Primary Symptoms of PTSD
Navigating the landscape of PTSD symptoms can be both enlightening and daunting. These symptoms aren't mere remnants of past traumas; they are intense and often disruptive responses that can significantly hinder daily functioning. Here are some of the most salient ones:
Vivid Flashbacks: These aren't just memories. They're experiences where the trauma feels like it's happening all over again. The world around us fades, replaced by the terror of the past.

Intrusive Thoughts or Images: Unwanted, distressing images or thoughts about the traumatic event can invade one's mind, making concentration or focus challenging.

Nightmares: Sleep isn't always an escape. Many with PTSD experience harrowing dreams that echo their traumatic experiences, leading to sleep disturbances.

Intense Distress: Real or symbolic reminders of the trauma can provoke powerful emotional and physical reactions. This can range from heart palpitations and sweating to severe anxiety.

Avoidance: Many individuals with PTSD will avoid situations, places, or people that remind them of the trauma, limiting their social interactions and life experiences.

Physical Sensations: Beyond the emotional turmoil, physical manifestations like pain, trembling, or nausea can also emerge, especially during flashbacks.
While these symptoms are widespread, it's essential to note the specificity of PTSD symptoms in women. Studies indicate that women might experience PTSD differently, with heightened sensitivity to specific triggers and varied coping mechanisms.
Furthermore, it's crucial to address a frequently asked question: "What are the 17 symptoms of PTSD?" This question underscores the breadth and depth of PTSD's impact on individuals, emphasizing that its manifestation is multifaceted and not limited to a few generic signs.
Complex PTSD vs. Standard PTSD
While many are familiar with PTSD, few know its intense counterpart: Complex PTSD (C-PTSD). Originating from prolonged exposure to traumatic situations, especially those from which escape is difficult or impossible, C-PTSD encompasses symptoms beyond traditional PTSD.
Victims of prolonged abuse, captivity, or repetitive traumas often develop this condition. What differentiates C-PTSD from standard PTSD? It presents additional symptoms like severe emotional dysregulation, negative self-perception, and relationship difficulties.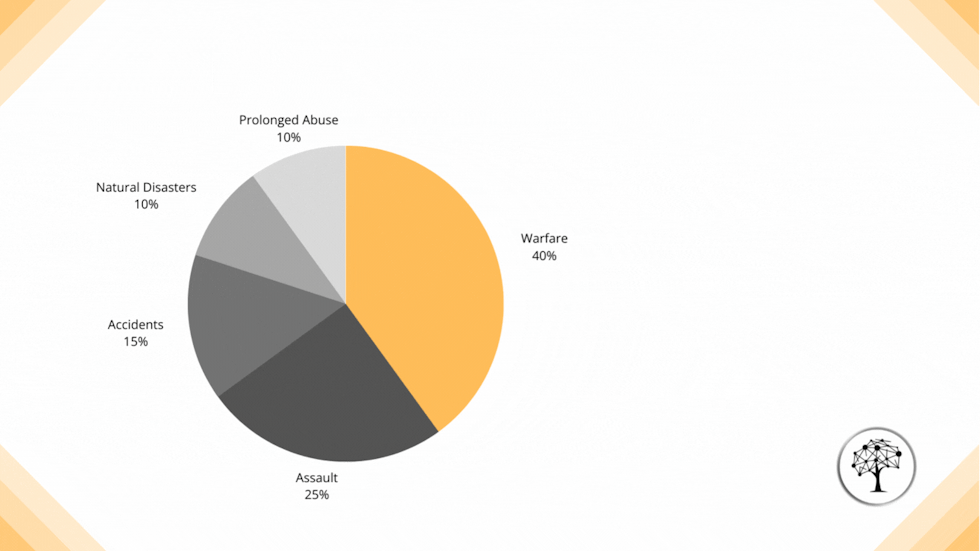 Causes and Triggers of PTSD
What precipitates PTSD in the first place? Understanding PTSD causes can provide clarity. While any traumatic event can lead to PTSD, not everyone exposed to trauma develops this condition.
Factors like the individual's history of other traumas, their overall mental health, and even genetics play a role. Triggers can be as varied as the sound of fireworks, a particular scent, or an anniversary date, evoking intense memories and emotions related to the traumatic event.
Understanding PTSD Attacks
A PTSD attack or "flashback" is a sudden and intense re-experiencing of a traumatic event. It can be debilitating, often encompassing both mental and physical reactions. These episodes can occur without warning, leaving an individual feeling drained or on edge. Recognizing an attack is the first step toward seeking effective interventions and support.
Diagnosing PTSD
Recognizing the signs is just the beginning. For a PTSD diagnosis, a comprehensive evaluation by a mental health professional is crucial. They will use specific criteria, possibly including a PTSD test or assessment, to determine the presence and severity of the condition. Early diagnosis is pivotal for timely intervention and improving long-term outcomes.
Treatment Options for PTSD
There's hope on the horizon for those grappling with PTSD. A range of PTSD treatments exists, tailored to the unique needs of each individual.
Cognitive Behavioral Therapy (CBT) stands as a gold standard, but other options like Eye Movement Desensitization and Reprocessing (EMDR), medication, and even group therapy can be effective.
Speaking of PTSD medication, it's not a one-size-fits-all. A range of drugs, from antidepressants to anti-anxiety medications, can be prescribed. However, always consult with a medical professional to find the right fit.
Conclusion:
PTSD, although daunting, can be managed and overcome. Armed with knowledge, understanding, and the right resources, individuals can emerge from the depths of trauma and steer their lives back to equilibrium.
If you or someone close to you faces the echoes of traumatic incidents, it's essential to realize that understanding is merely the first stride. Seeking aid through therapy or avenues like our stress management course reflects resilience and empowerment, not vulnerability. Embrace the journey of healing and self-discovery.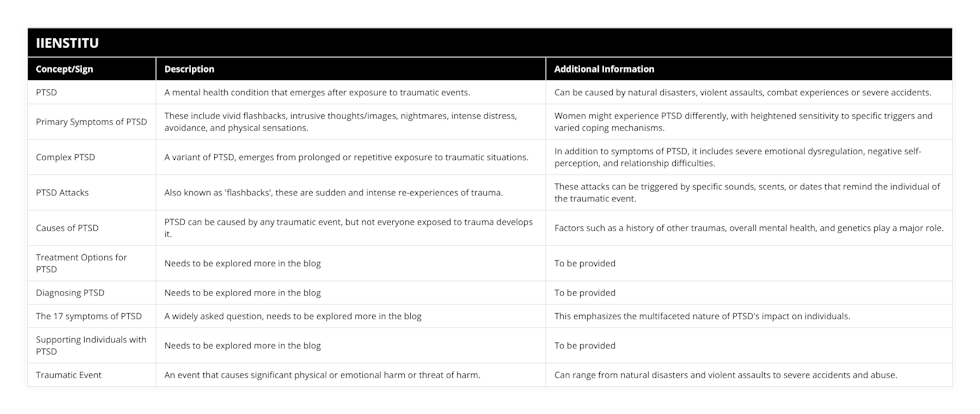 PTSD
Posttraumatic stress disorder
PTSD symptoms
Complex PTSD
PTSD causes
PTSD attack
PTSD symptoms in women
PTSD diagnosis
PTSD test
PTSD treatment
PTSD medication

Dr. Nadja Marie Schmid
Academics
Dr. Nadja Marie Schmid is a leadership and management professor dedicated her career to helping students achieve their full potential. She has been published in numerous journals and is a frequent speaker at conferences worldwide.
Dr. Schmid's research focuses on understanding how leaders can create an environment where employees can reach their highest level of performance. She believes that the key to success is creating a culture of trust, respect, and collaboration.
Related Posts
Our team of experts is passionate about providing accurate and helpful information, and we're always updating our blog with new articles and videos. So if you're looking for reliable advice and informative content, be sure to check out our blog today.