Personal Development
Taming Anger: How to Retaliate, Withdraw, and Overcome
23 February 2023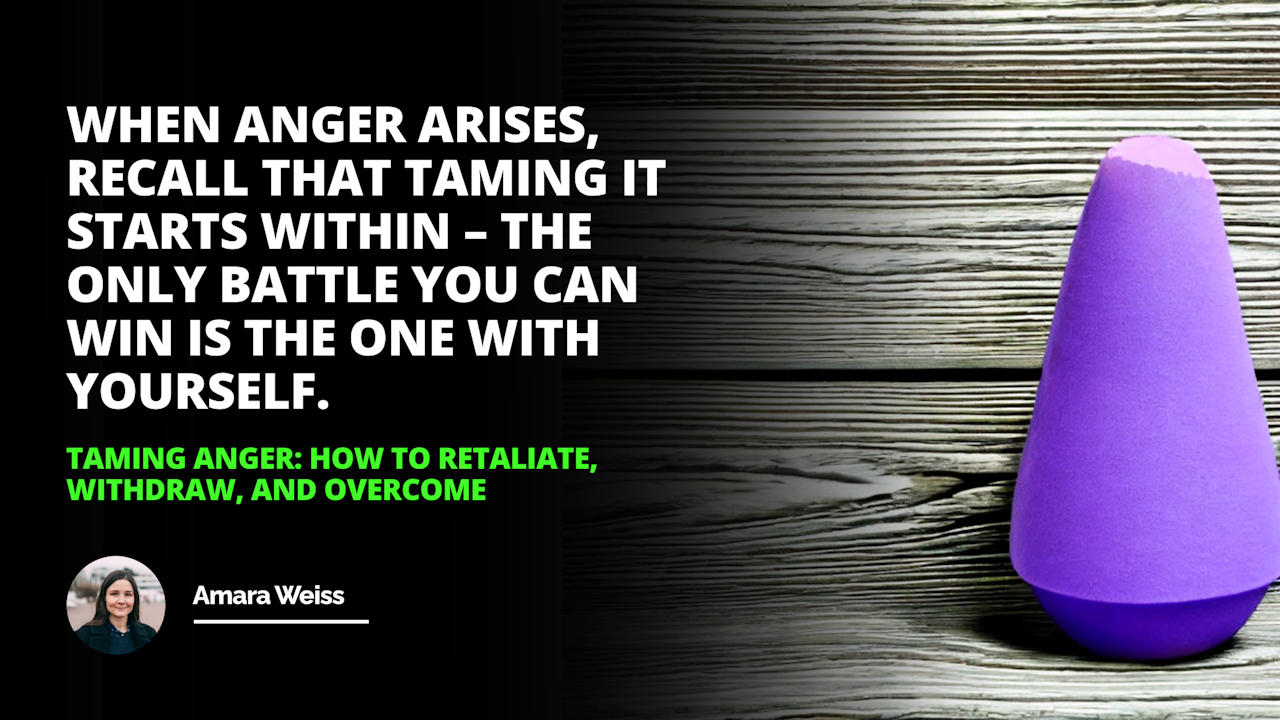 | Methods | Definition | Advantages and Risks |
| --- | --- | --- |
| Retaliation | Response to a perceived attack, often immediate and without consideration of consequences. | Can express dissatisfaction, but often leads to further conflict. Must be used carefully, avoiding physical violence. |
| Withdrawal | Removing oneself from a situation to reduce the intensity of anger. | Helps to analyze the situation objectively and cool down, but can be seen as avoidance and anger might continue to simmer if not returned to the situation. |
| Overcoming | Taking control of one's emotions through self-regulation, understanding, acceptance and managing them positively. | Helps manage emotions effectively; practical strategies such as breathing exercises and mindfulness can aid. Essential to talk about feelings and thoughts to understand the situation. |
| Engaging in Mindfulness | Practicing mindfulness helps to focus on the present moment without judgment. | Helps to regulate emotions and calm the mind. There are no known risks. |
| Breathing Exercises | Activities which manage and control breathing pattern. | Helps to soothe the mind and regulate emotions. Immediate benefits but weak if not performed consistently. |
| Relaxation Practices | Actions performed to reduce stress and relax the mind. | Helps to reduce stress or tension. Can be ineffective if not done properly. |
| Emotional Acceptance | Recognition and acceptance of one's own feelings. | Helps process feelings in healthy way, potentially mitigating impact on behavior. Risk of negative emotions persisting if not actively addressing sources of anger. |
| Expressing Feelings | Verbalizing and acknowledging emotional states. | Can lead to better understanding of triggers, leading to positive coping strategies. Risk of oversharing or misinterpretation in communication. |
| Reentering a Situation | Returning to a situation after a period of withdrawal. | Necessary to prevent unresolved feelings. Can lead back to anger if not managed properly. |
| Professional Intervention | Involving a mental health professional to guide and help manage anger. | Can provide expert guidance and strategies. May require time and commitment, and not everyone may be comfortable seeking help. |
Retaliation

Withdrawal

Overcoming Anger
Anger is an emotional state that is often seen as a negative experience, one that can lead to aggression, both verbal and physical. When angry, they may become physically or verbally aggressive, damaging relationships and leading to unwarranted consequences. It is, therefore, essential to understanding how to manage anger and the range of ways to tackle it. This blog post will focus on the three most common strategies for coping with anger: retaliation, withdrawal, and overcoming.
Retaliation
Retaliation can be defined as a response to a perceived attack, and it is by far the most common strategy used to manage anger. When angry, they often respond immediately without thinking about the consequences, leading to arguments, hurtful statements, and even physical violence. Although retaliation is usually seen as a negative response and is frowned upon, it can have its benefits. Retaliation can act as a way to express one's dissatisfaction and usually results in the anger being directed away from the individual and onto the situation or person that caused the problem.
However, it is essential to remember that this strategy is often met with punitive actions, as responding with aggression often results in a further attack. It is, therefore, necessary to use this strategy carefully. When retaliating, it is essential to be aware of the consequences and not engage in physical violence, as this will only exacerbate the situation. Instead, try to remain calm and avoid heated exchanges, focusing on clearly and concisely outlining the problem.
Withdrawal
Withdrawal is removing oneself from a situation to reduce the intensity of their anger. This strategy has physical and mental benefits, as it removes the person from the problem so they can take a step back and analyze the situation objectively. Furthermore, this strategy allows the person time to cool down and reflect on the case, helping them address the anger's trigger appropriately.
The downside of this strategy is that it does not address the anger itself so it can be seen as an avoidance tactic. In addition, if the person does not return to the situation, their offense might continue to simmer, so it is essential to ensure that one does not use this strategy for too long.
Overcoming Anger
To successfully overcome anger, it is essential to understand the process of self-regulation. Self-regulation is taking control of one's emotions to channel them into positive and healthy behaviors. This process involves understanding the root of one's anger and being aware of emotions' power over us. It is essential to recognize and accept one's feelings rather than trying to suppress them.
To manage one's emotions, several practical strategies can be employed. One of the most important is breathing exercises, which can help calm the mind and regulate emotions. In addition, engaging in mindfulness and relaxation practices can also be beneficial when managing anger. Finally, it is essential to talk to someone and address one's feelings and thoughts, as this can help to understand the situation and how to approach it.
Conclusion: Anger can impact our behavior and relationships, but it is possible to manage it effectively with the right strategies. Retaliation, withdrawal, and overcoming are the most common methods. While they all have both positives and negatives associated with them, they can provide a valuable tool for managing one's anger. Ultimately, it is essential to remember that anger is an emotion that must be dealt with on a case-by-case basis, as each individual's response to it is different. Therefore, understanding one's feelings and learning to manage them is the best way to overcome anger for good.
When anger arises, remember that taming starts within the only battle you can win with yourself.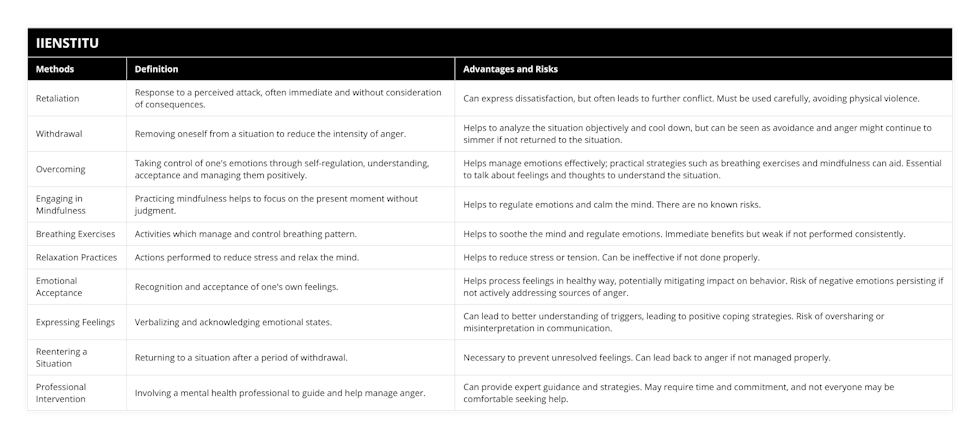 Anger
Retaliation
Withdrawal
Overcoming
Self-Regulation
Breathing exercises
Mindfulness
Relaxation Practices
Emotions
Case-by-case basis
Relationships
Aggression
Verbal
Physical
Negative
Positive

Amara Weiss
Institute Secretary, Author
I am Amara Weiss and for many years I have worked in the field of education, specifically in the area of technology. I firmly believe that technology is a powerful tool that can help educators achieve their goals and improve student outcomes. That is why I currently work with IIENSTITU, an organization that supports more than 2 million students worldwide. In my role, I strive to contribute to its global growth and help educators make the most of available technologies.
Related Posts
Our team of experts is passionate about providing accurate and helpful information, and we're always updating our blog with new articles and videos. So if you're looking for reliable advice and informative content, be sure to check out our blog today.