Leadership
Uncovering Your Companys Hidden Power Players
22 February 2023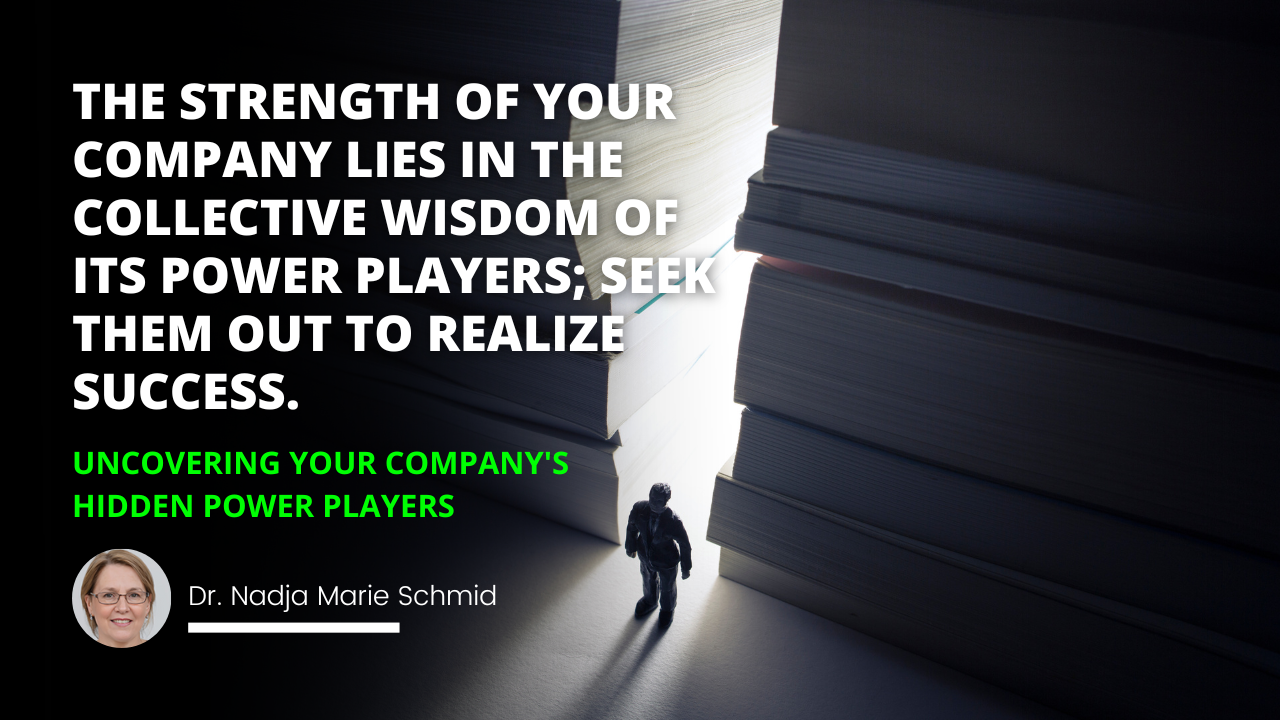 | Key Step | Description | Benefits |
| --- | --- | --- |
| Identifying Hidden Gems | Analyzing each employee's skillset and potential impact on the company. | Uncovering untapped potential within company's own staff, instead of relying on external hiring. |
| Assessing Power Player Potential | Using various assessments, like personality tests and problem-solving exams, to gauge an employee's suitability for becoming a power player. | Better understanding of the employee's abilities and fit within the organization, as well as potential for leadership roles. |
| Leveraging Power Players | Developing tasks that fully utilize talents of those identified as power players and integrating them into leadership roles within the organization. | Allows for meaningful contribution from these employees, while building stronger ties between departments in organization. |
| Review Capabilities | Critically reviewing each staff member's capabilities. | Enables the company to understand their employees better and helps identify the hidden gems. |
| Develop Assessments | Implement assessments beyond just experience. | Allows for a more comprehensive understanding of the employee's abilities and fit within the organization. |
| Create Meaningful Tasks | Develop strategic tasks and roles that leverage the strengths and abilities of power players. | Maximizes the impact of power players on the organization while creating opportunities for growth and success. |
| Foster Connections | Utilize power players to bridge connections between various departments. | Improves inter-departmental communication and collaboration, leading to better overall organizational efficiency. |
| Feedback & Problem Solving | Encourage power players to provide feedback and generate tangible solutions. | Helps problem-solving and innovation within the company, while also fostering a productive work environment. |
| Recognize Employee Potential | Acknowledge and tap into the latent potential of employees. | Boosts morale, encourages contribution, and could lead to unexpected company growth. |
| Unlock Full Potential | Through these steps, unlock the full potential of the company. | Maximizes productivity, efficiency, and success of the organization, ultimately leading to company growth. |
Identifying Your Company's "Hidden Gems"

Assessing Power Player Potential

Leveraging Your Power Players
It's no secret that having influential people in a company can be advantageous. These power players provide valuable expertise, influence, and credibility and can enormously impact an organization's success. However, these key players are often hidden within the ranks of the larger corporate organization. As such, companies need to recognize the potential of their employees and unlock their hidden power.
The first step in uncovering your company's power players is to identify who they are. It may seem obvious, but many organizations overlook their internal talent, instead focusing on external hiring or outsourcing to other firms. Identifying your company's key players requires carefully reviewing each staff member's capabilities. First, analyze each employee's particular skillset and experience. Next, determine the degree to which each staff member could impact the company if given the opportunity. Then develop an action plan for identifying and pivoting resources to utilize these hidden gems effectively.
Assessing Power Player Potential
The next step is to evaluate the potential of these power players. Consider adding a layer of assessments beyond simply looking at an individual's experience. This is especially important if the power player candidate is currently out of a managerial role. These assessments could range from personality tests to problem-solving exams. Use these tools to understand the candidate's abilities better and fit within the organization.
Leveraging Your Power Players
Once you have identified and assessed your power player candidates, leveraging their expertise within the organization is the next step. Develop meaningful tasks that effectively utilize their skillset and enable them to make a significant impact on the organization. Utilize the power players to provide meaningful feedback, generate tangible solutions, and bridge connections between the various departments.
Conclusion: Having influential people on the team has a tremendous impact on the success of an organization. Identifying and leveraging the hidden power players within a company is essential to unlocking the company's full potential. The key is to start with a careful review of each staff member's capabilities and to develop assessments that go beyond experience. Finally, you must create meaningful tasks enabling the power players to impact the organization positively. Doing so will ensure that the hidden power players are correctly utilized, enabling the organization to succeed.
The strength of your company lies in the collective wisdom of its power players. Seek them out to realize success.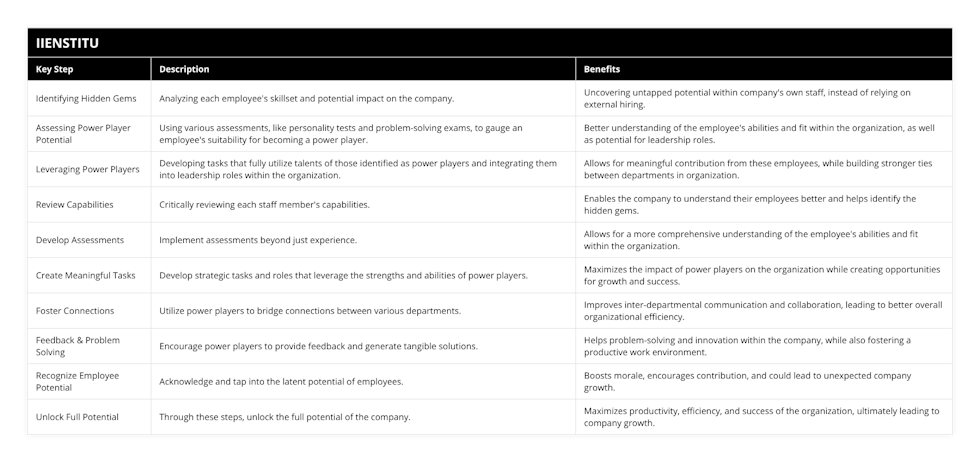 Power players
Identifying
Assessing
Leveraging
Review
Capabilities
Experience
Assessments
Personality tests
Problem-solving exams
Meaningful tasks
Skillset
Impact
Organization
Success

Dr. Nadja Marie Schmid
Academics
Dr. Nadja Marie Schmid is a leadership and management professor dedicated her career to helping students achieve their full potential. She has been published in numerous journals and is a frequent speaker at conferences worldwide.
Dr. Schmid's research focuses on understanding how leaders can create an environment where employees can reach their highest level of performance. She believes that the key to success is creating a culture of trust, respect, and collaboration.
Related Posts
Our team of experts is passionate about providing accurate and helpful information, and we're always updating our blog with new articles and videos. So if you're looking for reliable advice and informative content, be sure to check out our blog today.