Blogging
Tips On Making Money From Blogging
21 December 2021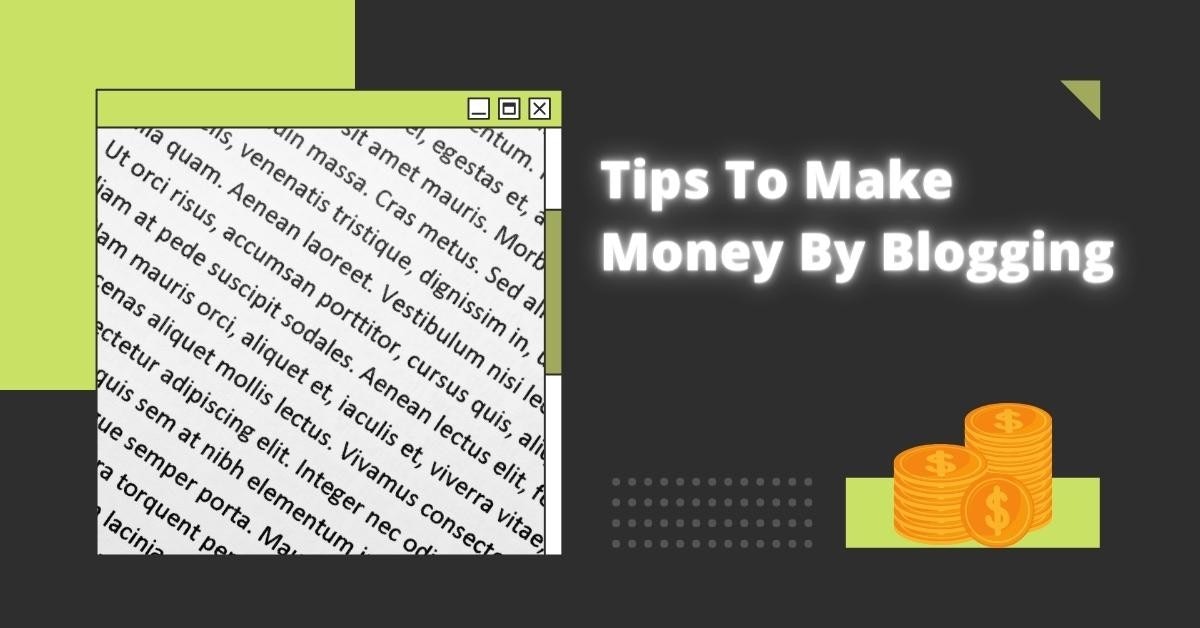 | Blogging Topic Ideas | Blogging Etiquettes | Ways to Monetize Your Blog |
| --- | --- | --- |
| Cookbooks can teach adults new skills | Avoid plagiarism | Selling Advertising space |
| How-to articles for adults | No use of offensive language | Offering content upgrades |
| Celebrity interviews | Proper Spelling & Grammar | Review writing |
| Travel diaries from around the world | Use unique voice, avoid cliches | Affiliate Marketing |
| Product reviews | Do not hack someone else's blog | Sponsored posts |
| How to save money while traveling? | Avoid grammatical mistakes | Selling digital products |
| How to start your own business? | Ensure permission before using copyrighted material | Membership content |
| Celebrity fashion insights | Maintain respectful and considerate tone | Paid webinars or courses |
| How to beat stress? | Avoid divulging sensitive or controversial information | Donations |
| How to be a successful student? | Regularly update and monitor your blog | Merchandise Sales |
There are endless possibilities of what you could write about when it comes to blogging. However, it can sometimes be challenging to develop exciting and engaging topics. If you're struggling to develop ideas, here are a few suggestions to help get you started.
1. Cookbooks can teach adults new skills.
2. Illustrators' sketchbook tales
3. How-to articles for adults
4. Celebrity interviews
5. How to make the most out of life?
6. Travel diaries from around the world
7. How to be more organized?
8. How to make the most of your free time?
9. Product reviews
10. How to use social media?
11. How to save money while traveling?
12. Celebrity fashion and beauty from a behind-the-scenes perspective 
13. How to be more productive?
14. How to beat stress?
15. How to be a successful student?
16. How to start your own business?
17. How to stay motivated in life?
Blogging etiquette and what to avoid?
Blogging is a great way to express yourself, meet new people, and share your ideas. In fact, it's so popular that you'll have a hard time finding any website these days without a blog. However, blogging etiquette can be a little difficult to learn since everyone seems to have their own unique and different writing style. Moreover, since the internet is such a public space, it's essential to be mindful of the tone and content in your blogs.
Some of the most important things to avoid when blogging etiquette include plagiarizing other people's ideas or articles verbatim, using offensive language, and being careless with your spelling and grammar. It's also essential to have a unique voice and avoid cliches at all costs.
For those new to blogging to choose a platform and learn the ropes before jumping in with both feet. Some of the most popular platforms include WordPress, Tumblr, and Blogger, each with unique features and quirks. Learning how to set up and navigate these sites should be one of the new bloggers' first things.
This is just a small list of blogging etiquette - other things to include not hacking into someone else's blog, avoiding grammatical mistakes, and making sure you have permission before using copyrighted material (pictures included) on your blog. Although it may take time to learn, following blogging etiquette is essential for being a responsible blogger.
How much can you make from blogging?
There's no doubt that anyone can benefit from blogging, whether you're able to generate revenue or not.
Blogging is an excellent way to practice your writing skills and hone your communication abilities with the world. You'd be surprised how far just a simple blog post can take you--in some cases, it can land you an interview! (or a job)
But if you're looking to make some money from your blog, there are a few ways you can do that.
It all depends on the niche and industry of your blog. Mentioning this in an interview or meet-and-greet would depend upon which question was asked first but overall, it's not uncommon for bloggers who are more experienced than others with specific topics such as fashion, food, etc., to earn $50-$150 per post depending upon their audience size/niche knowledge level.
There are other ways to monetize your blog content as well. For example, many bloggers make money through affiliate marketing or selling advertising space on their sites. You can also have sponsored posts written about your products/services, which will be short pieces of content paid for by the company you're representing. All in all, it's a pretty great deal considering these companies will pay you to tell your audience about their product or service--that's one way to make money with your blog!
So if you're curious about how much you can make from blogging, the answer really depends on a lot of factors. But with some effort and a well-targeted blog, it's definitely possible to make a little extra cash on the side!
Tips on making money from blogging
There are many ways that bloggers can monetize their blogs on the internet. However, the most common way to make money from blogging is by selling advertising space on their website. Advertisers will pay a certain amount of money to have their ad displayed on your blog.
Another way to make money from your blog is by offering content upgrades. These are usually digital products such as e-books or audio files that your readers can pay for to get exclusive access to them.
Another way of monetizing your blog is by writing reviews. This is slightly different from writing content upgrades because you don't make any direct money from doing this; instead, you act as the middle man between your readers and other companies. For example, suppose you review a product placed by an advertiser on your site. In that case, the company will pay you because it increases its sales.
Although this may seem like an effortless way to make money from blogging, many bloggers out there don't know how to make money from blogging despite having a large number of readers. If you want to make money from blogging, the first step is to create a blog that generates traffic to your site.
To generate traffic for your blog website, you must consider using various strategies such as guest posting and search engine optimization (SEO). In addition, I would suggest joining blogging communities and forums related to your niche to get more exposure.
So what are you waiting for? Come and join IIENSTITU for a learning blogging course and SEO course. Then, after learning, start writing!
Questions:
1. How do you recommend getting started with blogging to make money? 
2. Were there any blog posts or topics that had more success than others as far as generating revenue for you? 
3. What is the one key thing that led to your blog's success?
4. Do you have some advice for new bloggers on generating income from their blog posts/content?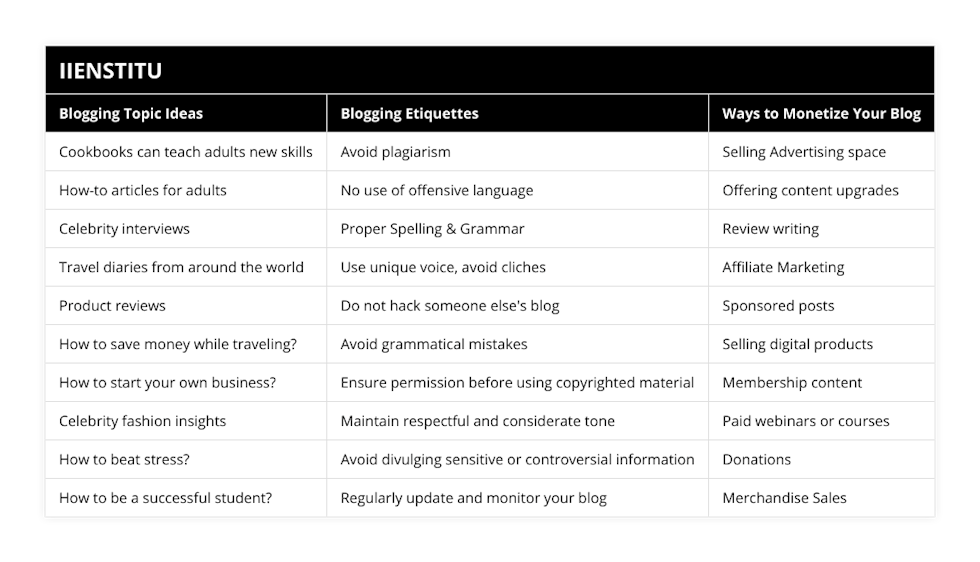 Monica Bourbon
Blogger
She describes himself as someone who loves to write about digital marketing, social media and public relations. His personal development special interest lies in self-improvement through reading books on the subject of human behavior; she also has an eye for how these topics apply outside just business or career settings too!
Related Posts
Our team of experts is passionate about providing accurate and helpful information, and we're always updating our blog with new articles and videos. So if you're looking for reliable advice and informative content, be sure to check out our blog today.