Problem Solving
The First Step in Critical Thinking & Problem Solving
24 October 2022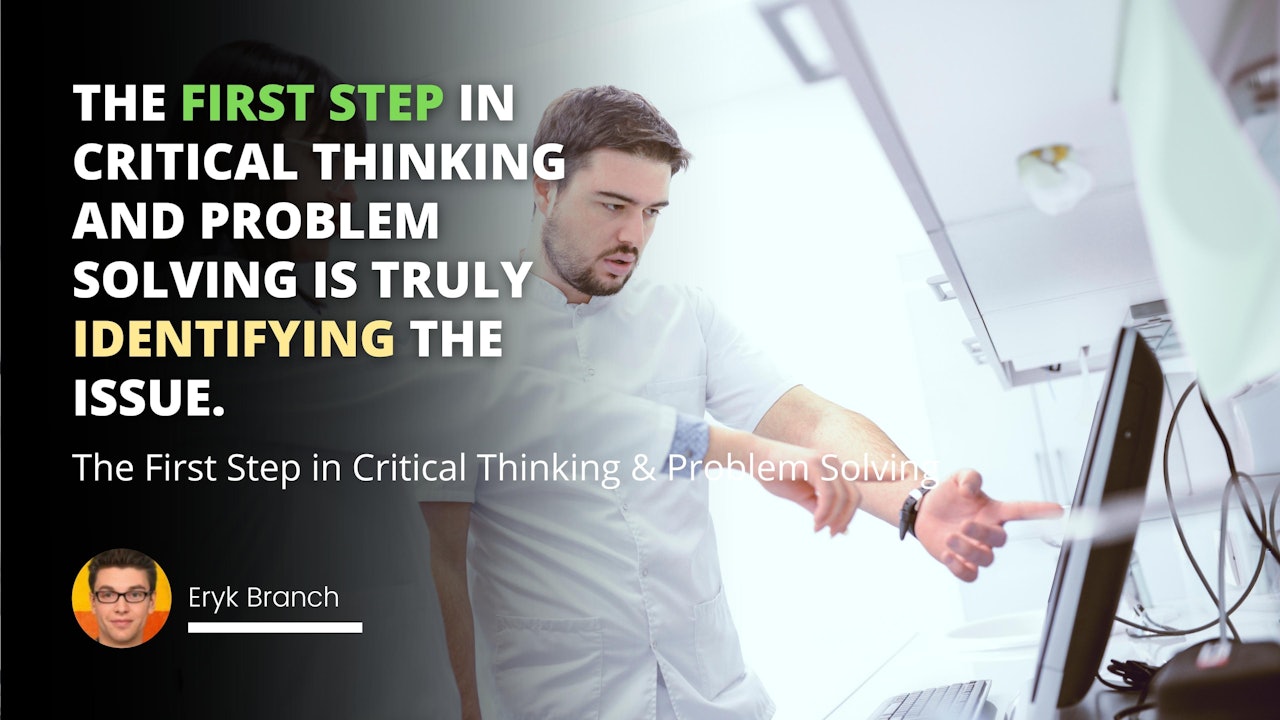 | Step | Description | Key Point |
| --- | --- | --- |
| Problem Identification | Recognize an issue that needs to be resolved. | Objective view of the situation and understanding all the facts involved. |
| Brainstorming Solutions | Generating as many possible solutions as possible. | Importance of keeping an open mind and not getting attached to any one solution prematurely. |
| Solution Evaluation | Critically consider each potential solution and its feasibility. | Evaluation of various solutions according to their potential effectiveness. |
| Asking the Right Questions | Identifying the root cause of the problem with relevant questions. | Questions such as why? and what are the consequences? |
| Identifying Assumptions | Realizing beliefs held without proper evidence. | Testing assumptions for validity. |
| Analyzing Arguments | Critically evaluating series of premises leading to a conclusion. | Validating the truth of premises and their logical relation to the conclusion. |
| Distinguishing Fact from Opinion | Ability to separate truth from corresponding beliefs or judgments. | Reliability of facts over opinions as evidence in decision making. |
| Generating Alternative Solutions | Brainstorming different ways to solve a problem. | The necessity to consider all options before choosing a course of action. |
| Evaluating Solutions | Assessing each potential solution carefully before deciding. | Consideration of factors such as feasibility, costs, benefits, and risks. |
| Making Decisions | Selecting the best solution after careful evaluation and proceeding with it. | There is no perfect solution; instead, choose the best available option and move forward. |
Many people view critical thinking and problem solving as one and the same. However, they are actually two very distinct processes. Critical thinking is a cognitive process that involves assessing a situation and making a judgement, while problem solving is a process that seeks to identify and find a solution to a problem.
While both processes are important, in this blog post we're going to focus on problem solving and how to approach it in a step-by-step manner. So, if you're trying to figure out how to solve a problem, read on!
The First Step in Critical Thinking Problem-Solving: Identification
The first step in problem solving is identification. This may seem like an obvious step, but it's actually harder than it looks. To properly identify a problem, you need to be able to take an objective view of the situation and understand all the facts involved. This can be difficult to do if you're emotionally attached to the problem or if you have a personal stake in the outcome.
Once you've identified the problem, the next step is to brainstorm possible solutions. Again, this may seem like an easy task, but it's important to not get too attached to any one solution at this stage. The goal is simply to come up with as many potential solutions as possible so that you can later evaluate them and choose the best one.
After you've brainstormed some possible solutions, it's time to start evaluating them. This is where you need to think critically about each solution and consider its feasibility. For example, if your goal is to lose weight, then a solution like "eating less" is more feasible than "eating nothing." Once you've evaluated all the possible solutions, you can choose the best one and implement it.
1. Asking the Right Questions
One of the most important skills in critical thinking is the ability to ask the right questions. When you are confronted with a problem, it is important to take the time to identify the root cause of the problem before trying to find a solution. Asking questions such as "why did this happen?" and "what are the consequences of this?" can help you to get to the root of the problem and find a more effective solution.
2. Identifying Assumptions
Another important skill in critical thinking is the ability to identify assumptions. An assumption is a belief that something is true without any evidence to support it. When you are trying to solve a problem, it is important to be aware of any assumptions that you may be making so that you can test them and see if they are actually true.
3. Analyzing Arguments
Critical thinking also involves being able to analyze arguments. An argument is a series of premises (facts or beliefs) that are used to support a conclusion. When you are presented with an argument, it is important to consider whether or not the premises are actually true and whether or not they logically lead to the conclusion.
4. Distinguishing Fact from Opinion
Another important skill in critical thinking is the ability to distinguish fact from opinion. A fact is something that can be verified as true, while an opinion is a belief or judgment that cannot be verified as true. It is important to be able to distinguish between facts and opinions when you are trying to solve a problem because opinions cannot be relied upon as evidence in support of a conclusion.
5. Generating Alternative Solutions
When you are trying to solve a problem, it is also important to generate alternative solutions. This involves brainstorming different ways to solve the problem and then evaluating each option to see which one is most likely to be successful. Sometimes, the best solution to a problem is not obvious at first, so it is important to explore all of your options before settling on a course of action.
6. Evaluating Solutions
Once you have generated some potential solutions to a problem, it is important to evaluate each one carefully before deciding which one to implement. This involves considering factors such as feasibility, costs, benefits, and risks associated with each option. By taking the time to evaluate all of your options, you can choose the best solution for the situation at hand.
7. Making Decisions
Making decisions is another important aspect of critical thinking. Once you have evaluated all of your options and chosen the best solution, you need to make a decision about how to proceed. This can sometimes be difficult, but it is important to remember that there is no perfect solution; sometimes you just need to choose the best option available and move forward
Solving problems can be tricky business—but if you approach them in a systematic way, it can make things a lot easier. The first step in problem solving is identifying the problem. Once you've done that, you can move on to brainstorming potential solutions and then evaluating those solutions to find the best one. By following these steps, you'll be well on your way to solving any problem that comes your way!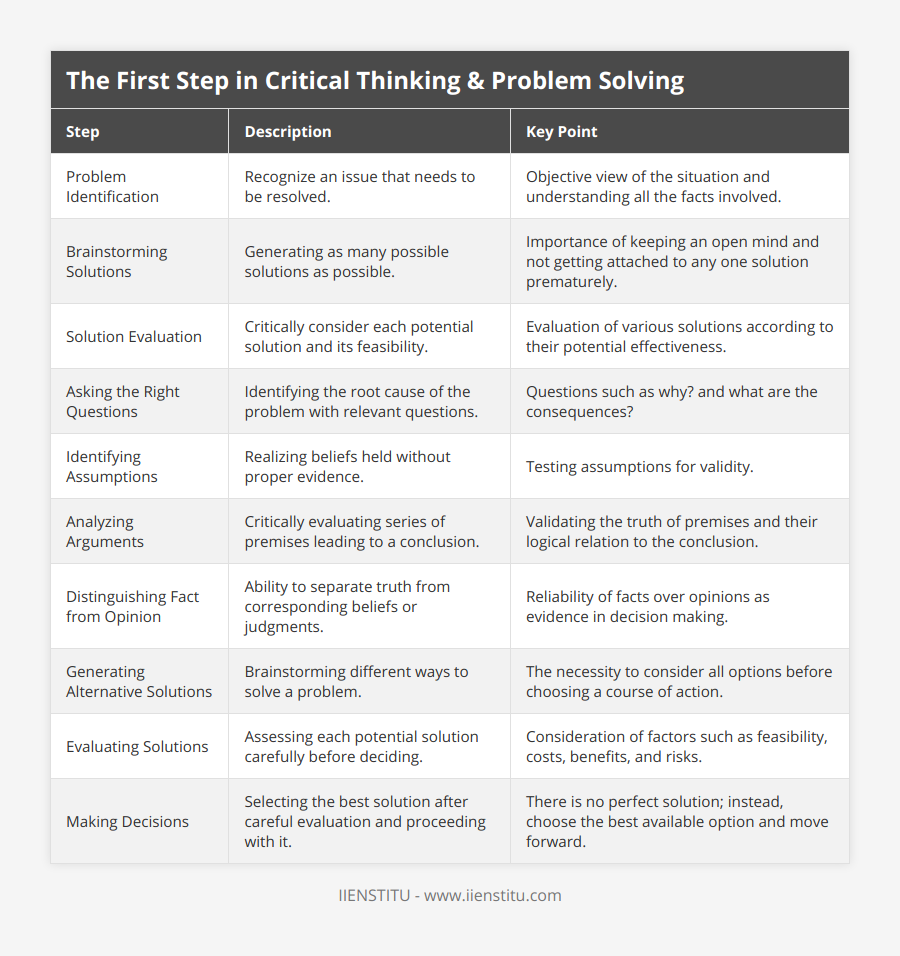 Eryk Branch
Blogger
He is a content producer who specializes in blog content. He has a master's degree in business administration and he lives in the Netherlands.
Related Posts
Our team of experts is passionate about providing accurate and helpful information, and we're always updating our blog with new articles and videos. So if you're looking for reliable advice and informative content, be sure to check out our blog today.