Interview Questions
Interview Question: Share a Problem-Solving Success Story
24 August 2023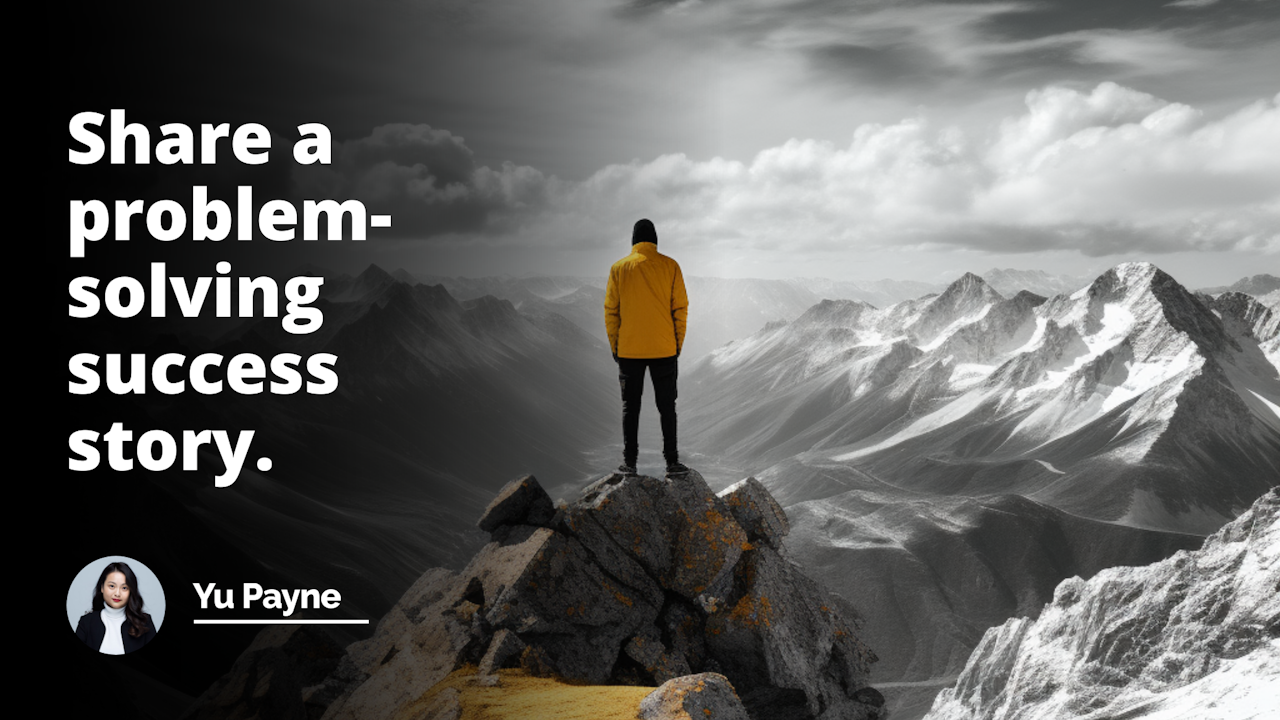 | Interview Question Element | Explanation | Example |
| --- | --- | --- |
| Purpose of Question | To assess candidate's problem-solving skills, creativity, resilience, and the capacity to work under pressure | The candidate's answer shall depict their problem-solving aptitude and critical thinking abilities |
| Relevance to Interview Levels | Applicable across various interview levels, from entry-level to senior executive roles | A senior executive might be asked about high-stakes problems they've resolved |
| Expected Answer | A concise and detailed narrative clearly outlining the problem, steps of resolution, and positive impact | The answer should reflect candidate's critical thinking abilities & problem-solving techniques |
| Communication Skills | Candidates should demonstrate their ability to articulate ideas and details effectively | The answer should be engaging and capture attention of the interviewer |
| Teamwork, Collaboration & Leadership skills | Analyzing the capacity of the candidate to work in a team and influence others positively | Candidates should highlight situations where they leveraged these skills for problem-solving |
| Creativity | Evaluating the ability to think out of the box and innovate solutions | Candidates should exhibit how their creative approach led to problem resolution |
| Resilience | Assessing the ability to persevere through challenging situations | Candidates should share instances where they overcame roadblocks through resilience |
| Strategic Implications | Analyzing the effects of the candidate's solution on the larger business strategy | Senior executives should be able to share the strategic implications of their problem resolution |
| Learning from Experiences | Checking if the candidate has a growth mindset and if they learn from past experiences | Candidates should discuss lessons learnt from the experience |
| Real-life Application | Assessing the ability of the candidate to apply theoretical knowledge to real-life scenarios | Entry-level candidates can discuss situations from coursework or internships |
In today's competitive business landscape, problem-solving skills are highly valued by employers. Being able to overcome challenges and find innovative solutions is crucial for individual growth and organizational success. Hiring managers often ask candidates to share a problem-solving success story during interviews to assess their critical thinking abilities, creativity, resilience, and ability to work well under pressure.
This question not only provides insight into the candidate's problem-solving approach but also helps hiring managers evaluate their communication skills and their ability to articulate their experiences effectively.
In this article, we will delve into the purpose of the question, its relevance to different interview levels, expected answers from candidates, and valuable tips to ace this question in an interview.
Why is this question asked?
The purpose of asking candidates to share a problem-solving success story is multi-fold.
Firstly, it allows the hiring manager to gauge the candidate's problem-solving abilities and their aptitude to handle challenges in a professional setting.
By recounting a real-life scenario, candidates can showcase their critical thinking skills, creativity, and resilience in overcoming difficult situations.
Secondly, this question provides an opportunity for candidates to demonstrate their communication skills. The interviewer can assess how effectively candidates present their ideas, the level of detail provided, and their ability to engage the listener through an engaging and detailed storytelling approach.
Lastly, hearing a problem-solving success story also enables the interviewer to understand the candidate's approach to teamwork, decision-making, and their ability to learn from past experiences.
Level of interviews where the question is asked
The question 'Share a problem-solving success story' is often asked in interviews at various levels, ranging from entry-level positions to senior executive roles. Problem-solving skills are valued across industries and job functions, making this question relevant regardless of the position being interviewed for.
Entry-level candidates might be asked to discuss a situation they encountered during their coursework or an internship, highlighting their ability to apply theoretical knowledge to real-life scenarios. Mid-level professionals might be expected to recount a problem-solving success story in the context of their previous roles and the impact it had on their team or organization.
For senior executive roles, the interviewer will be interested in hearing about high-stakes problems the candidate has solved and the strategic implications of their solutions.
Expected answers from the candidate
When responding to the question 'Share a problem-solving success story,' candidates are expected to provide a concise but detailed narrative that clearly outlines the problem they faced, the steps they took to solve it, and the positive outcome or impact achieved.
The answer should be structured and engaging, capturing the attention of the interviewer. It is crucial to highlight the specific problem-solving techniques and strategies employed, demonstrating the candidate's critical thinking abilities.
Moreover, candidates should emphasize the teamwork, collaboration, and leadership skills they utilized during the problem-solving process. An effective answer should illustrate the candidate's ability to think creatively, adapt to unexpected challenges, and deliver results. Importantly, the candidate should showcase their growth mindset by reflecting on lessons learned from the experience and how it has influenced their approach to problem-solving.
Related Course: Leadership Training Course
Example answers
During my previous role as a project manager, we faced a critical issue with our software implementation that was impacting the productivity of our teams and the satisfaction of our clients. I took the initiative to gather feedback from stakeholders, conducted a thorough analysis, and identified the root cause of the problem.
Implementing an Agile project management approach, I formed a cross-functional team representing different departments and expertise. By fostering open communication and collaboration, we brainstormed innovative solutions and developed an action plan.
Through meticulous execution and regular status updates, we were able to resolve the issue within the expected timeline and budget. This problem-solving experience enhanced my ability to lead teams, communicate effectively, and think outside the box.
---
In my previous marketing role, we faced a significant challenge when our competitor launched a new product that threatened to undermine our market share. As a result, our team brainstormed strategies to differentiate ourselves and secure a competitive edge. I led a market research initiative to better understand customer needs and preferences, leveraging both qualitative and quantitative data.
Through this research, we identified an underserved market segment and tailored our marketing campaigns to resonate specifically with their desires. The result was a remarkable increase in market share and customer loyalty. This experience reinforced my abilities to analyze market trends, develop customer-centric strategies, and lead successful marketing campaigns.
Tips for answering the question
Choose a relevant and recent problem-solving success story that highlights your skills in a particular area or demonstrates the impact of your solution.

Structure your story with a clear problem statement, the steps taken to solve the problem, and the positive outcome achieved. Highlight the strategies and techniques you employed.

Emphasize your teamwork and collaboration skills. Discuss how you involved others, delegated tasks, and fostered open communication to find a solution collectively.

Reflect on the lessons learned from the experience and explain how it influenced your growth and development as a professional.

Practice your response beforehand to ensure it flows smoothly and highlights your strengths effectively.
Similar questions
Can you describe a time when you successfully solved a problem?

Have you ever faced a problem that you were able to solve? Please share the details.

Could you share a recent accomplishment where you demonstrated problem-solving skills

What is an example of a problem you encountered and successfully resolved?

Can you provide an instance where your problem-solving abilities led to a positive outcome?

Tell me about a situation where you effectively addressed a problem.

When was the last time you used your problem-solving skills to achieve a goal?

What's a recent problem-solving achievement you're proud of?

Have you ever found a creative solution to a complex problem? If so, please explain how.

Could you discuss a specific scenario where you overcame a challenge by using your problem-solving skills?

Can you recall an instance where your innovative problem-solving approach yielded great results?

What's a problem you encountered in your recent professional experience and how did you solve it?

Have you ever faced a difficult situation at work and managed to resolve it successfully?

Share a recent example where your analytical thinking and problem-solving skills were valuable.

Describe a time when your ability to think critically led to a positive outcome.

Can you provide an example of a challenging problem you recently solved and how you did it

When was the last time you demonstrated effective problem-solving skills in your personal life?

What's a problem you faced outside of work and how did you tackle it successfully?

Can you think of a time when you found a solution to a complex problem that others couldn't

Tell me about a problem you faced where you were able to use your problem-solving abilities to overcome it.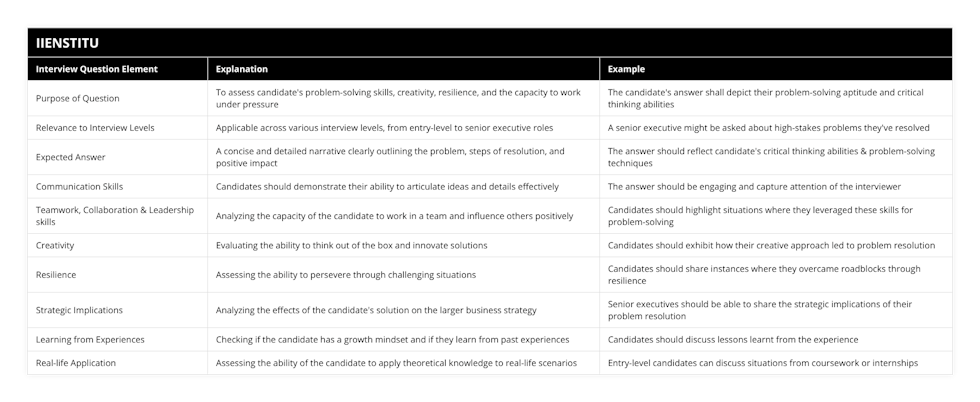 Share a problem-solving success story.
share a problem solving success story
share a problem-solving success story.
Yu Payne
Blogger
Yu Payne is an American professional who believes in personal growth. After studying The Art & Science of Transformational from Erickson College, she continuously seeks out new trainings to improve herself. She has been producing content for the IIENSTITU Blog since 2021. Her work has been featured on various platforms, including but not limited to: ThriveGlobal, TinyBuddha, and Addicted2Success. Yu aspires to help others reach their full potential and live their best lives.
Related Posts
Our team of experts is passionate about providing accurate and helpful information, and we're always updating our blog with new articles and videos. So if you're looking for reliable advice and informative content, be sure to check out our blog today.