Interview Questions
Interview Question: How Do You Regain Focus Using Time Management?
26 September 2023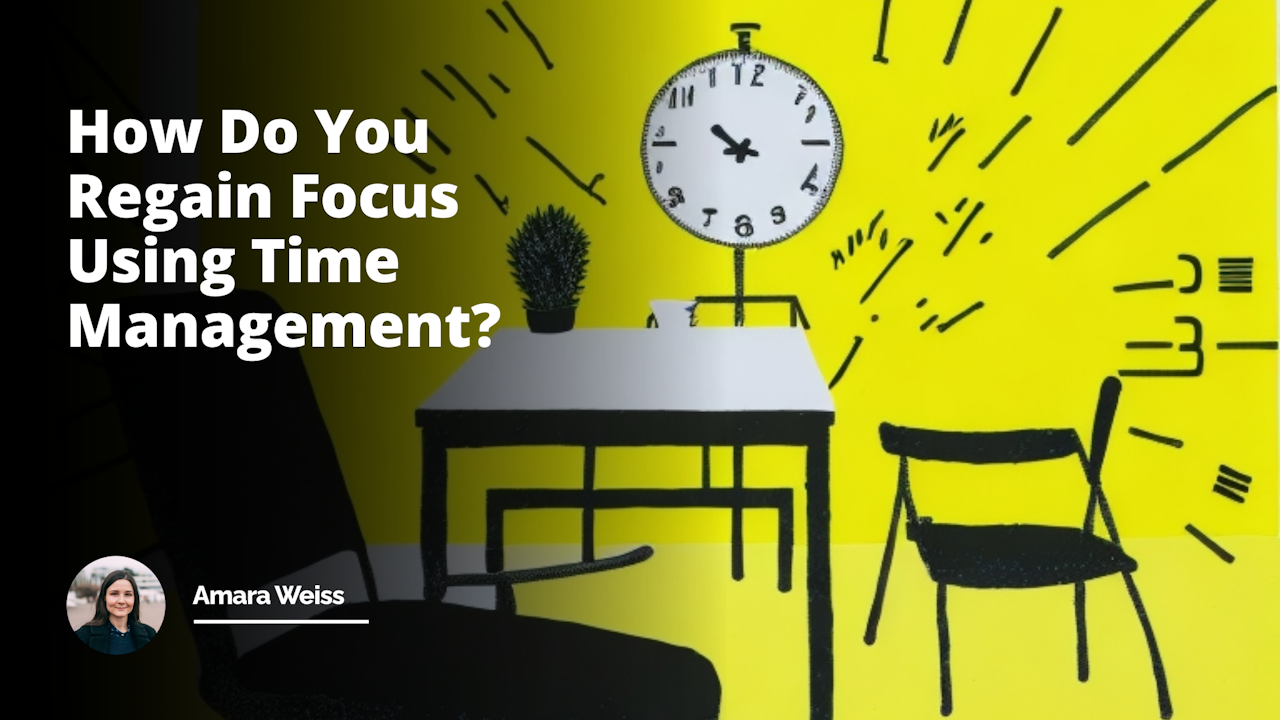 | Focus Regaining Techniques | Time Management Practices | Interviewer Expectations |
| --- | --- | --- |
| Prioritize tasks based on importance and urgency | Use of SMART goals for task planning | Insight into the candidate's problem-solving process, self-discipline and adaptability |
| Taking regular, calculated breaks | Maintaining a tidy, well-organized workspace | Practical examples of past experiences of focus disruption and how they managed to regain it |
| Utilize technology and productivity tools | Set goals that are Specific, Measurable, Achievable, Relevant, and Time-bound | Specific strategies showing ability to regain focus |
| Minimize disruptions in the workplace | Use of Pomodoro timers, productivity apps, etc. | Commitment to continuous learning and improving focus and productivity |
| Use calming methods to overcome disruptions | Regular review of task prioritization | Structured, thoughtful, and personalized answers |
| Divide larger tasks into smaller, manageable ones | Implement breaks and relaxation into work schedule | Resilience and professionalism in managing time and focus |
| Self-motivation and self-reward | Effective use of planning tools and software | Effectiveness in tackling distractions and managing tasks |
| Engage in mindfulness and meditation exercises | Regular reflection on productivity and time usage | Demonstrated ability to navigate through challenging times |
| Regular reassessment of goals and tasks | Time-bound completion of tasks | Candidates' contribution to organizational success through personal effectiveness |
| Stay hydrated and healthy, ensuring physical wellness | Use of time blocking or time boxing | Ability to provide in-depth understanding of personal strategies in maintaining focus |
In an increasingly dynamic and fast-paced work environment, the ability to focus and manage time effectively is an indispensable asset. It's no surprise that human resources professionals are starting to ask, "How do you regain focus using time management?" during job interviews.
Related Course: Time Management Course
This question not only gauges the candidate's personal effectiveness but also their productivity, which ultimately impacts the organization's success.
The interviewer wants to understand your individual strategies for staying focused and how you utilize time management to accomplish tasks.
The purpose of the question: How do you regain focus using time management?
The crux of this question lies in its significance - it's not simply about regaining focus or managing time effectively; it's about the combination of the two.
In essence, the interviewer seeks to understand how you tackle distractions, how you prioritize tasks, and how you navigate through the challenging times of disarray.
They want an insight into your problem-solving process, your self-discipline, and your adaptability skills.
At what interview level is it asked?
Keeping pace with the need for efficiency and productivity, this question has found its place across varied levels of interviews.
Whether you're a fresher stepping into the professional world or an experienced professional aiming for the executive ladder, expect to hear it. After all, maintaining focus and managing time well are desirable skills, irrespective of your position or level within the company.
What kind of answer is expected from the candidate?
When asked, "How do you regain focus using time management?", the interviewer expects a structured, thoughtful answer. They look for practical examples demonstrating your ability to regain focus when distracted and how you use time management techniques to improve your productivity. Share instances from your past experiences where your focus was disrupted and how you managed to regain it. And remember, the more specific, the better.
Possible answers to consider
Before we dive in, remember that your answer must be personalized. What works for one may not work for the other. However, here are a few strategies that could be included:
Prioritize tasks: Explain how you rank your tasks based on importance and urgency, allowing you to focus on the tasks that deliver the most value.

Set SMART goals: Describe how setting Specific, Measurable, Achievable, Relevant, and Time-bound goals helps you to regain and maintain focus.

Breaks and relaxation: Elaborate on how taking regular, calculated breaks helps refresh the mind and renew your focus.

Calm the chaos: Explain your strategy of maintaining a tidy, well-organized workspace to minimize distractions and improve focus.

Use aids: Discuss your knack for using technology and productivity tools (such as Pomodoro timers, productivity apps, or white noise generators) for effective time management and maintaining focus.
Finally, conquering the art of regaining focus through effective time management takes practice and perseverance.
So, next time when faced with the question, "How do you regain focus using time management?", ensure that your response not only highlights your focus and time management strategies but also emphasizes your commitment to continuous learning and improvement.
In doing so, you'll demonstrate your resilience, professionalism, and commitment to productivity.
Time Management Techniques to Improve Focus
| Technique | Description | Example |
| --- | --- | --- |
| Pomodoro Technique | Work for 25 minutes, then take a 5-minute break | Work on a task for 25 minutes, then take a short break by checking your phone or going for a walk |
| Time Blocking | Divide your day into blocks of time dedicated to specific tasks | Allocate a block of time in the morning for email and administrative tasks, and a block in the afternoon for focused project work |
| Prioritization | Determine the most important tasks and focus on those first | Create a to-do list and rank the tasks based on their urgency and importance |
| Single-Tasking | Focus on one task at a time without any distractions | Turn off notifications, close unnecessary tabs, and concentrate solely on completing one task before moving to the next |
| Time Tracking | Monitor how much time you spend on different activities | Use a time tracking app or a simple spreadsheet to record the time you spend on work, leisure, and other activities |
| Chunking | Break larger tasks into smaller, more manageable chunks | Rather than tackling a big project all at once, divide it into smaller subtasks to make it easier to focus on one part at a time |
Task Prioritization Table
| Priority Level | Task Description |
| --- | --- |
| High | Complete project proposal for client X |
| High | Prepare for the board meeting presentation |
| High | Resolve critical production issue |
| Medium | Review and respond to important emails |
| Medium | Conduct team meeting to discuss progress |
| Medium | Research new software tools for efficiency |
| Low | Organize office supplies |
| Low | Check and reply to non-urgent emails |
| Low | Update personal task list |
Tools and Apps for Enhancing Focus through Time Management
| Tool/App | Description | Features |
| --- | --- | --- |
| Toggl | Time tracking tool to analyze productivity | Track time spent on tasks, generate reports |
| Forest | App that helps in staying focused and avoiding distractions | Plant trees to grow a digital forest, lock phone during focus periods |
| RescueTime | Tracks time spent on different apps and websites | Provides insights and reports on productivity, block distracting websites |
| Pomodoro Timer | Time management technique with alternating work and break periods | Set customizable timer intervals, track completed cycles |
| Todoist | Task manager and to-do list app | Organize tasks, set deadlines and reminders |
| Google Calendar | Online calendar for time management and scheduling | Create events, set reminders, share calendars |
Similar interview questions:
What are some ways to regain focus through effective time management?

How can one improve their concentration by managing their time better?

Can you provide strategies for regaining focus by using time management skills?

How can time management techniques help in refocusing?

What time management practices can be implemented to regain focus?

How does good time management enable better focus?

Could you describe how time management aids in regaining focus?

Can practicing efficient time management help in refocusing the mind?

How does redefining time management habits lead to improved focus?

In what ways does effective time management enhance focus?

How Do You Regain Focus Using Time Management?
how do you regain focus using time management
how do you regain focus using time management?

Amara Weiss
Institute Secretary, Author
I am Amara Weiss and for many years I have worked in the field of education, specifically in the area of technology. I firmly believe that technology is a powerful tool that can help educators achieve their goals and improve student outcomes. That is why I currently work with IIENSTITU, an organization that supports more than 2 million students worldwide. In my role, I strive to contribute to its global growth and help educators make the most of available technologies.
Related Posts
Our team of experts is passionate about providing accurate and helpful information, and we're always updating our blog with new articles and videos. So if you're looking for reliable advice and informative content, be sure to check out our blog today.