Problem Solving
Problem Solving in the Workplace
24 October 2022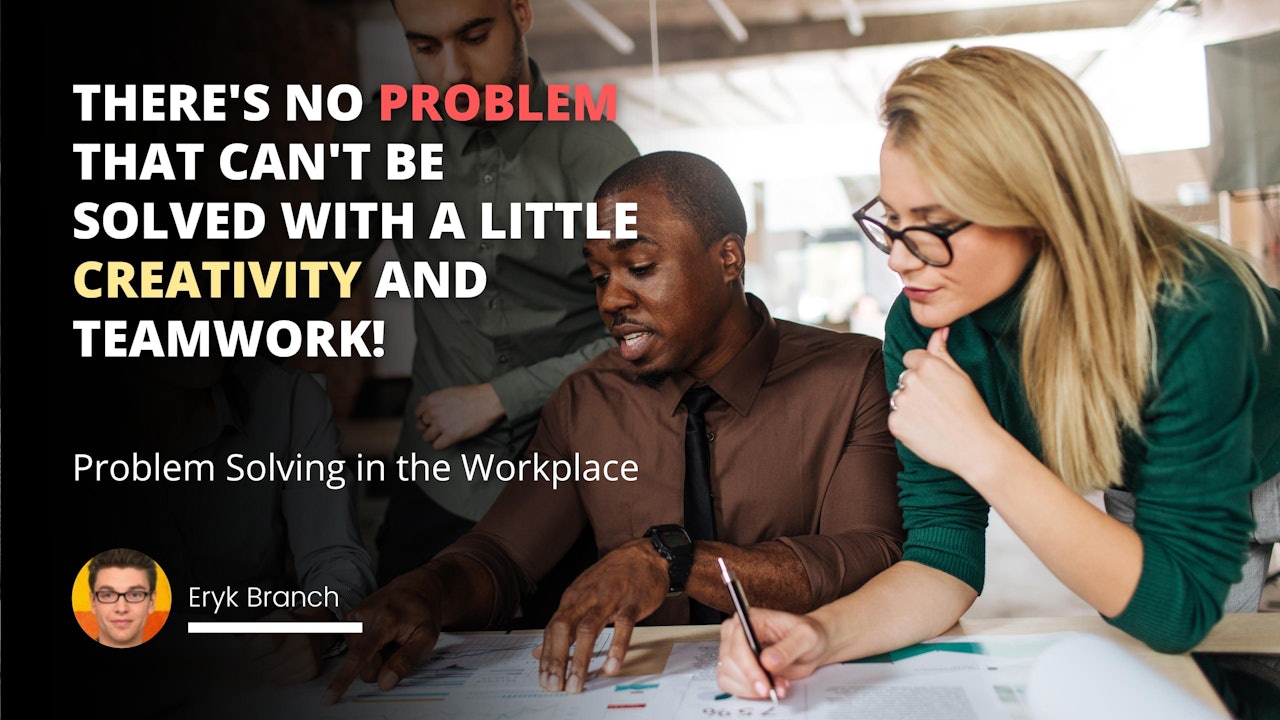 | Problem Type | Example/Description | Solution Approach |
| --- | --- | --- |
| Communication problems | Miscommunication can happen between co-workers, managers, employees, or departments. Miscommunication can lead to errors, wasted time, and frustration. | Clearly define responsibilities and tasks, improve overall communication by creating an open and transparent atmosphere, provide suitable communication training. |
| Conflict | Conflict is a normal part of any working relationship. However, when conflict is not managed effectively, it can lead to decreased productivity, absenteeism, and even turnover. | Identify the root cause of the conflict, discuss openly with the involved parties, compromise, or use mediation. |
| Process issues | Inefficiencies in the process can lead to delays, mistakes, and wasted resources. Common causes of process issues include inadequate training, outdated equipment or software, and poorly designed methods. | Identify and revise inadequate procedures, provide training, upgrade equipment or software, optimize workflows. |
| Personal issues | Personal issues can impact our productivity at work and our relationships with co-workers. Examples of personal issues that may affect us at work include stress, burnout, and family issues. | Offer services of a clinical psychologist, promote a work-life balance, create a supportive and understanding work environment. |
| Identify the problem | Rather than saying, 'the website is down,' one would say, 'the website is down because X server is down,' or 'the shopping cart page is not loading correctly,' etc. | Be as specific as possible when identifying the problem; you'll be able to solve it more quickly and effectively. |
| Gather information | May involve doing research or talking to people involved in or affected by the problem. | The more information you have about the problem, the easier it will be to solve. |
| Break down the problem | Often, problems can seem overwhelming because they are too big or too complex. One way to make them seem more manageable is to break them down into smaller pieces. | Breaking down complex problems into manageable pieces enables quicker and more efficient problem solving. |
| Evaluate potential solutions | Not all solutions will be equally practical or feasible. | Create and evaluate different scenarios to find the most effective and feasible solution. |
| Implement a solution | Once you have decided on a solution, it's time to implement it! Make sure to communicate your plan to all relevant parties so that everyone understands their role in making the solution successful. | Predefined solution should be executed with clear understanding from each member of the team; monitor the process to ensure success. |
| Evaluate results; adjust as needed | After implementing your solution, take some time to evaluate the results. You may need to make some adjustments to the original solution. | Regular check-ins and feedback sessions with team members; adjust and adapt the solution as necessary. |
Every day at work, we are faced with problems. Some problems are minor and easily solved, while others are more complex and require more thought. Regardless of the size or complexities of the problem, we must have strong problem-solving skills in the workplace.
Problem-solving is essential in the workplace for several reasons:
When we can solve problems effectively, we can save time and resources.

Good problem-solving skills can help to increase our productivity and effectiveness.

Solving workplace problems can help foster a positive work environment where people feel supported and valued.
Types of Problems in the Workplace
There are various types of problems that we may face in the workplace. Some common examples include:
Communication problems: Miscommunication is a widespread problem in the workplace. It can happen between co-workers, managers, employees, or departments. Miscommunication can lead to errors, wasted time, and frustration.

Conflict: Conflict is a normal part of any working relationship. However, when conflict is not managed effectively, it can lead to decreased productivity, absenteeism, and even turnover.

Process issues: Inefficiencies in the process can lead to delays, mistakes, and wasted resources. Common causes of process issues include inadequate training, outdated equipment or software, and poorly designed methods.

Personal issues: Personal issues can impact our productivity at work and our relationships with co-workers. Examples of personal issues that may affect us at work include stress, burnout, and family issues.
Problem Solving Steps
There are a variety of different approaches that you can take to solve problems in the workplace. However, some key steps should be followed to ensure that issues are solved effectively:
Identify the problem: The first step is to identify the problem. This may seem obvious, but it is essential to be as specific as possible when identifying the problem. For example, rather than saying, "the website is down," you would want to say, "the website is down because X server is down," or "the shopping cart page is not loading correctly," etc. By being specific about the problem, you will be able to solve it more quickly and effectively.

Gather information: Once you have identified the problem, it is time to gather information about it. This may involve doing research or talking to people involved in or affected by the problem. The more information you have about the problem, the easier it will be to solve.

Break down the problem into smaller pieces: Often, problems can seem overwhelming because they are too big or too complex. One way to make them seem more manageable is to break them down into smaller pieces.

Develop possible solutions: Once you have gathered information about the problem and broken it down into smaller pieces, it's time to start brainstorming possible solutions.

Evaluate potential solutions: Not all answers will be equally practical or feasible.

Implement a solution: Once you have decided on a solution, it's time to implement it! Make sure to communicate your plan to all relevant parties so that everyone understands their role in making the solution successful.

Evaluate results: After implementing your solution, take some time to evaluate the results.

Adjust as needed: Based on your evaluation, you may need to make some adjustments to your original solution.

Rinse and repeat!: Problems are inevitable, so don't get discouraged if your first attempt at solving one doesn't go as planned! The important thing is that you keep trying until you find a solution that works best for your team.

Celebrate your success!: Celebrate your success and return to work because there are always more problems waiting!
Problem-solving is an essential skill in the workplace for a variety of reasons, including saving time and resources as well as increasing productivity levels." Being able to identify different types of workplace problems "and utilizing different steps" to solve them will help contribute "to maintaining a positive work environment." By following these tips, you'll be on your way "to becoming an expert problem solver "in no time!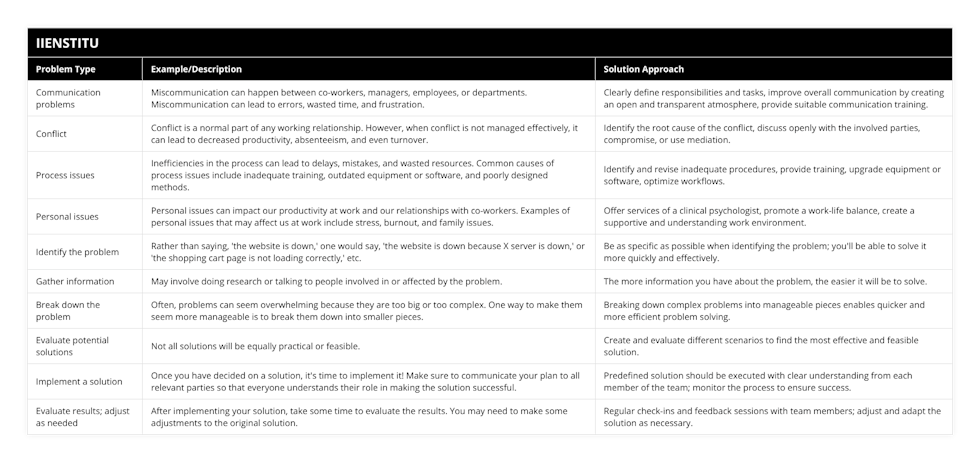 problem solving skills
problem solving
problem

Eryk Branch
Blogger
He is a content producer who specializes in blog content. He has a master's degree in business administration and he lives in the Netherlands.
Related Posts
Our team of experts is passionate about providing accurate and helpful information, and we're always updating our blog with new articles and videos. So if you're looking for reliable advice and informative content, be sure to check out our blog today.