Logistic Management
Seamless Service: Achieving Logistical Efficiencies for Customer Satisfaction
02 March 2023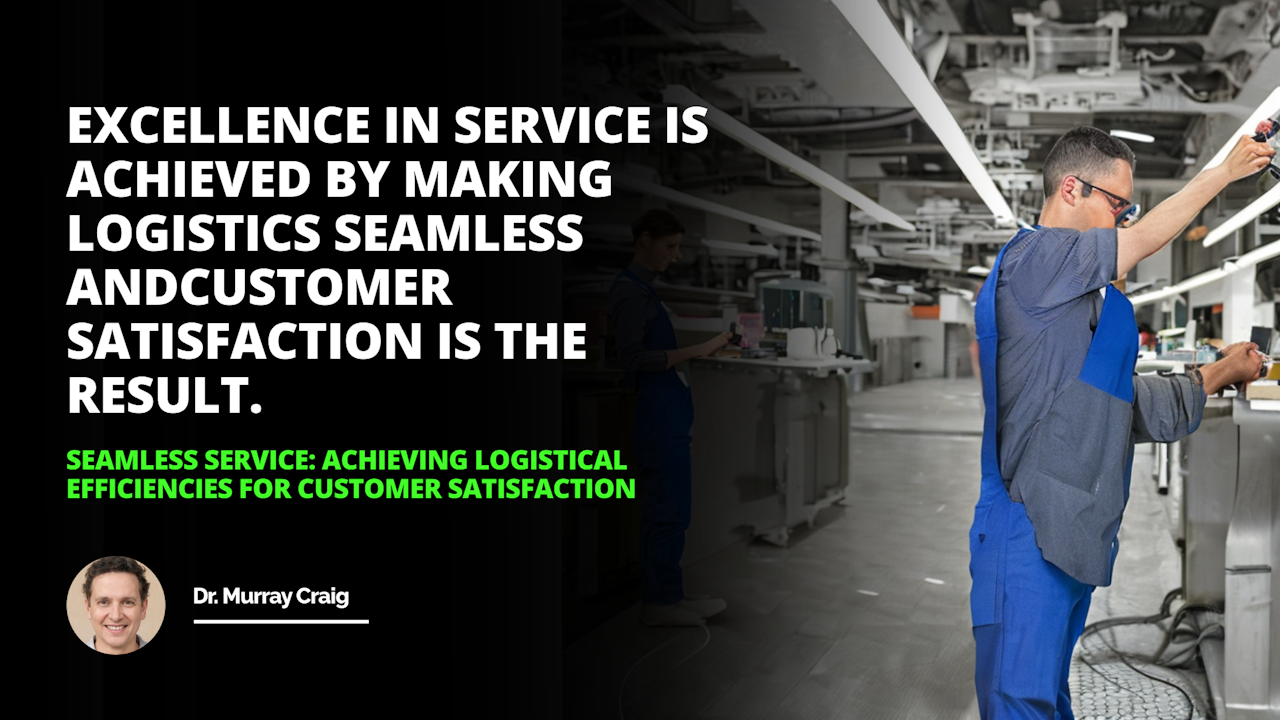 | Aspect | Description | Implication |
| --- | --- | --- |
| Defining Seamless Service | Synchronized management of back-end processes (inventory, ordering, delivery, and customer service) for a smooth customer experience. | Enhances customer satisfaction and loyalty. |
| Challenges of Seamless Service | Integration of back-end processes, keeping them updated and maintained is time-consuming and costly. | Potential hurdles in implementation but essential for customer satisfaction. |
| Advantages of Seamless Service | Ensures consistent interaction, quick and accurate order fulfillment. | Boosts customer retention and saves resources for businesses. |
| Impact on Customer Satisfaction | Delivers a smooth and delightful customer experience. | Drives customer satisfaction and encourages repeat business. |
| Benefits to Businesses | Efficient logistical processes save time, money, and resources. | Promotes business growth and profitability. |
| Importance of Seamless Service | Key component in a competitive market for delivering high-level customer experience. | Vital for business success and standing out in the market competition. |
| Role in Repeat Business | Consistent, seamless interactions encourage customers to come back. | Fosters customer loyalty and boosts business bottom line. |
| Efficiency in Order Fulfillment | Seamless service enables quick and accurate filling of orders. | Leads to better customer satisfaction and reduced company expenses. |
| Service Excellence | Achieved by making logistics seamless, resulting in customer satisfaction. | Sets the brand apart in terms of service quality. |
| Integration Challenge | Integrating all back-end processes seamlessly can be a complex task in large organizations. | Requires a strategic approach but is crucial for effective service delivery. |
Defining Seamless Service

Challenges of Seamless Service

Advantages of Seamless Service
For any business, customer satisfaction is essential for the organization's success. While quality products and services are paramount to keeping customers happy, an overlooked factor is the orchestration of the logistical processes that bring those products and services to customers. The efficient orchestration of these processes is essential to achieving and maintaining customer satisfaction. This is where seamless service comes into play.
Defining Seamless Service
Seamless service is the synchronized management of the back-end processes required to ensure a smooth and successful customer experience. These processes include inventory, ordering, delivery, and customer service. Organizations must ensure that all these processes are streamlined and integrated to provide seamless service. This means that they are all working in conjunction and that any changes or updates to one process are reflected in all other methods.
Challenges of Seamless Service
The biggest challenge in achieving seamless service is that each process must be seamlessly integrated. This is a challenging task, especially in a large organization. Additionally, each process must be regularly updated and maintained to ensure accuracy and efficiency, which can be time-consuming and costly.
Advantages of Seamless Service
Despite the challenges, seamless service is essential for providing customers with a delightful experience. One of the primary advantages of seamless service is that it ensures that customers experience a consistent, seamless interaction with the organization. As a result, customers are not only more likely to be satisfied with their experience, but they are also more likely to become repeat customers. Additionally, efficient logistical processes mean that orders are filled quickly and accurately, which saves businesses time, money, and resources.
Conclusion: In a competitive market, providing customers with a delightful experience is essential. Seamless service is the key to delivering that experience. By streamlining and integrating logistical processes, organizations can ensure that customers have a consistent, seamless interaction with the business. Additionally, efficient logistical processes help companies save time, money, and resources. Therefore, seamless service is an essential component of achieving customer satisfaction.
Service excellence is achieved by making logistics seamless, resulting in customer satisfaction.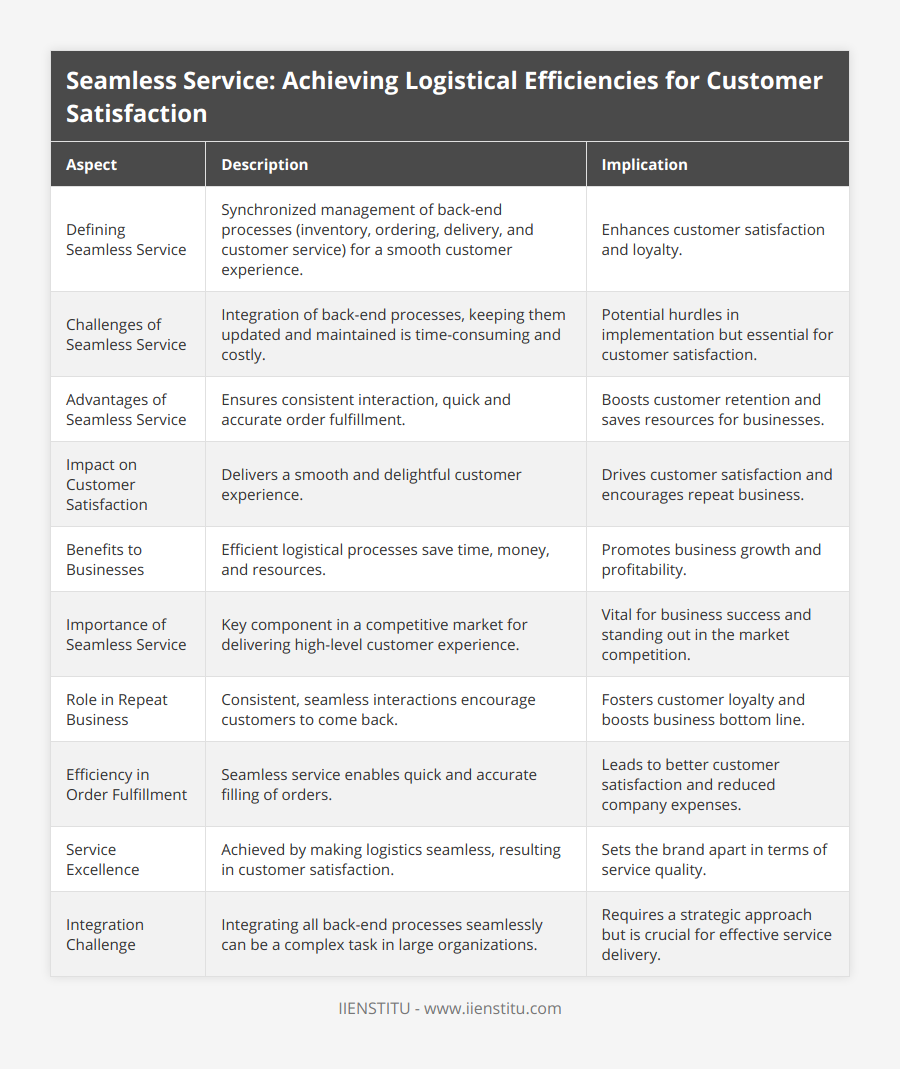 Customer satisfaction
quality products
services
seamless service
back-end processes
inventory
ordering
delivery
customer service
integration
accuracy
efficient
consistent
experience
repeat customers
time
money
resources.

Dr. Murray Craig
Academic
Dr. Murray Craig is an academic and researcher who has dedicated his life to the study of human behavior. He has a particular interest in how people interact with their environment, and how that interaction can be used to improve their lives. Dr. Craig has spent many years teaching and conducting research at universities all over the world, and he is widely respected for his work in the field of behavioral science.
Related Posts
Our team of experts is passionate about providing accurate and helpful information, and we're always updating our blog with new articles and videos. So if you're looking for reliable advice and informative content, be sure to check out our blog today.