Logistic Management
Unleashing the Power of Logistics for 30-Minute Pizza Delivery
01 March 2023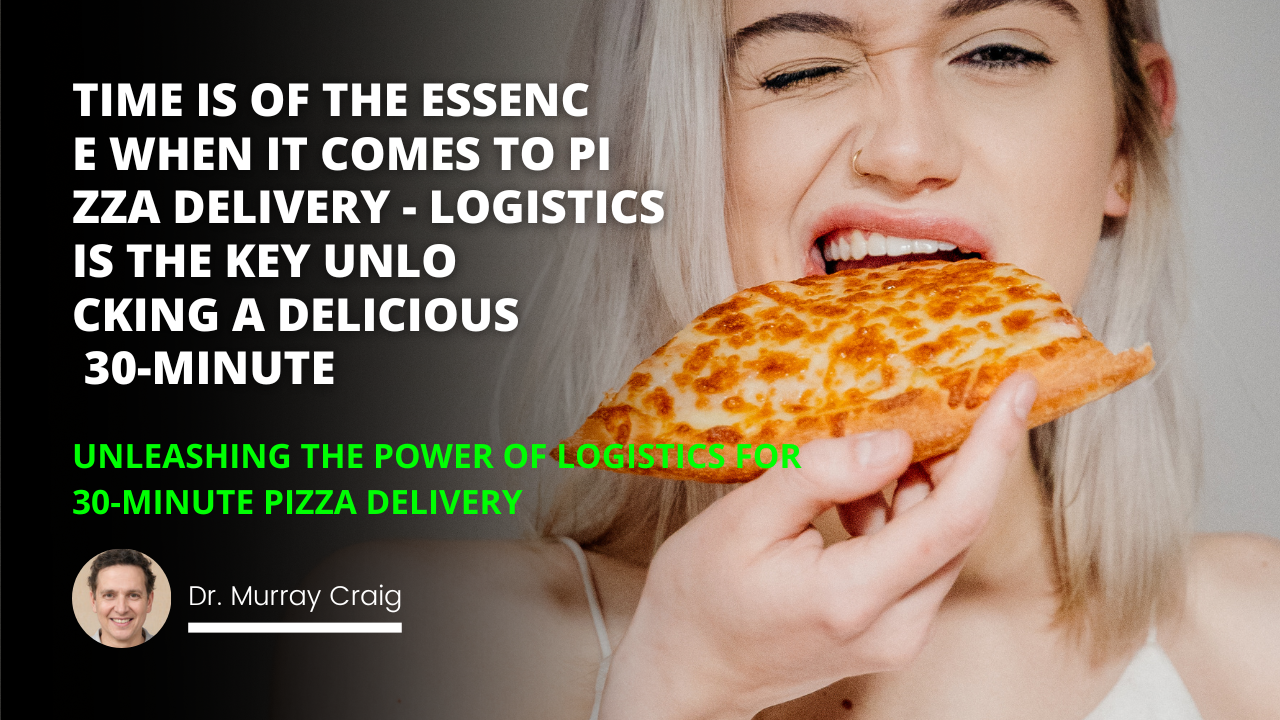 | Key Concepts | Detailed Explanation | Impact on Pizza Delivery |
| --- | --- | --- |
| Definition of Logistics | Process of planning, organizing, and controlling the flow of goods and services from production to the consumer. | Logistics is vital in coordinating order processing, ingredient procurement, crowd management in the store, and last-mile delivery. |
| The Power of Logistics | Logistics offers solutions for optimizing processes like inventory management, order processing and tracking, and last-mile delivery. | It ensures efficient operation for timely delivery of pizzas, especially within a 30-minute delivery window. |
| Benefits of Logistics in Pizza Delivery | Logistics improves efficiency of delivery times, real-time customer engagement, and better inventory & supply chain management | Better customer satisfaction due to timely deliveries and real-time updates. Reduces delivery times, even up to 30 minutes. |
| Challenges in Implementing Logistics in Pizza Delivery | Demands operational and financial resources as logistics involve multiple interconnected processes. Also requires proper coordination among stakeholders. | Might face barriers, but if executed properly, will result into efficient operations and enhanced customer satisfaction. |
| Logistics Technology Revolution | Logistics technology has improved efficiency in industries, aiding in everything from order fulfillment to last-mile delivery. | Improvements in order processing and tracking systems, better supply chain management, and advanced last-mile delivery solutions. |
| Role of Last-Mile Delivery | Refers to the final step of the delivery process from a distribution center or facility to the end-user. | Impacts the speed and efficiency of pizza delivery to consumers. |
| Real-time Customer Engagement | Interaction between a brand and its customers in real-time, enhancing the customer experience. | Enables customers to track their pizza orders in real-time and receive updates about their orders increasing customer satisfaction. |
| Automated Order Processing | Use of technology to automate the process of receiving and managing orders. | Improves efficiency and accuracy of orders while reducing delivery times. |
| Supply Chain Management | Management of the flow of goods and services, involving all processes that transform raw materials into final products. | Effective inventory management to avoid unnecessary costs and delays in pizza delivery. |
| Store Crowd Management | Techniques used to manage the number of customers in a store to maintain a more efficient operation and enhanced customer experience. | Ensures smooth operation in pizza stores, contributing to faster processing and delivery of orders. |
What is Logistics?

The Need for Logistics in Pizza Delivery

Understanding the Power of Logistics

Benefits of Logistics in Pizza Delivery

Challenges in Implementing Logistics in Pizza Delivery
Logistics technology has revolutionized many industries, providing organizations with efficient and effective solutions for managing their supply chains. It has helped organizations with everything from order fulfillment to last-mile delivery. But, one sector that has particularly benefited from logistics technology is the food delivery space.
What is Logistics?
Logistics, in its simplest form, is the process of planning, organizing, and controlling the flow of goods and services from production to consumption. It involves optimizing, coordinating, and supervising the physical flow of materials and commercial goods from origin to the end of consumption. Logistics is necessary for all types of businesses, from selling tangible goods to offering services.
The Need for Logistics in Pizza Delivery
Pizza delivery requires the coordination of multiple complex processes, such as order processing and tracking, ingredient procurement, store crowd management, and last-mile delivery. Especially for 30-minute delivery, each process must be completed efficiently and effectively to meet the promised deadline. Therefore, the need for logistics in pizza delivery is to optimize the entire process from the store to the customer and back to the store.
Understanding the Power of Logistics
Logistics can provide several solutions for optimizing the pizza delivery process:
It can provide supply chain solutions for better inventory management and controlling the flow of ingredients.

It can automate order processing and tracking to ensure timely deliveries.

It can leverage last-mile delivery solutions to ensure the pizzas are delivered to the customer's doorstep.
Benefits of Logistics in Pizza Deliver
The primary benefit of logistics in pizza delivery is increased efficiency of delivery times. This is achieved through better supply chain management, order processing and tracking automation, and last-mile delivery solutions. Other benefits include improved customer satisfaction, as customers now expect timely deliveries and real-time updates regarding the status of their orders. Furthermore, logistics also support real-time customer engagement, allowing customers to contact drivers or receive push notifications about the quality of their demands.
Challenges in Implementing Logistics in Pizza Delivery
The primary challenge in implementing logistics in pizza delivery is the availability of operational and financial resources. Since logistics involve multiple interlinking processes that must be coordinated with one another, organizations must have the necessary resources available to ensure that these processes are completed effectively. Additionally, there is a need for coordination between the store, the delivery personnel, and the customers. Therefore, it is essential to have the right processes in place to ensure smooth and efficient operations.
Conclusion: Logistics technology can significantly benefit the pizza delivery industry by optimizing the entire process from the store to the customer. By optimizing order processing and tracking managing stores and supply chains, and leveraging last-mile delivery solutions, logistics solutions can help organizations reduce delivery times and improve customer satisfaction. However, organizations must ensure they have the necessary operational and financial resources to implement logistics solutions effectively. Nevertheless, it can minimize pizza delivery times to 30 minutes or less if done correctly.
Time is of the essence when it comes to pizza delivery logistics and is the key to unlocking a delicious 30-minute experience.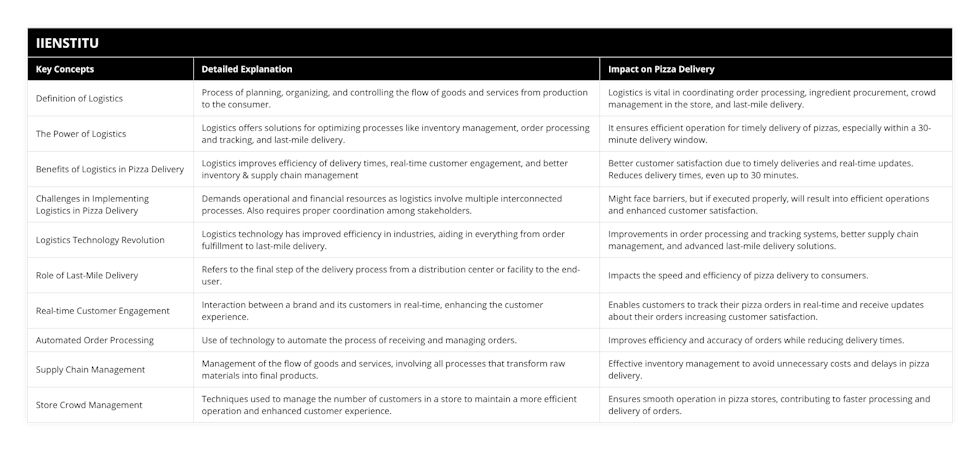 Logistics
Technology
Pizza Delivery
Supply Chain
Order Processing
Tracking
Ingredient Procurement
Store Crowd Management
Last-Mile Delivery
Optimization
Coordination
Supervision
Optimizing Process
Management
Automation
Customer Satisfaction
Real-Time Engagement
Operational Resources
Financial Resources
Reduction
Delivery Times

Dr. Murray Craig
Academic
Dr. Murray Craig is an academic and researcher who has dedicated his life to the study of human behavior. He has a particular interest in how people interact with their environment, and how that interaction can be used to improve their lives. Dr. Craig has spent many years teaching and conducting research at universities all over the world, and he is widely respected for his work in the field of behavioral science.
Related Posts
Our team of experts is passionate about providing accurate and helpful information, and we're always updating our blog with new articles and videos. So if you're looking for reliable advice and informative content, be sure to check out our blog today.