Human Resources Management
Realizing Talent through Corporate HR: Recruitment and Selection
18 February 2023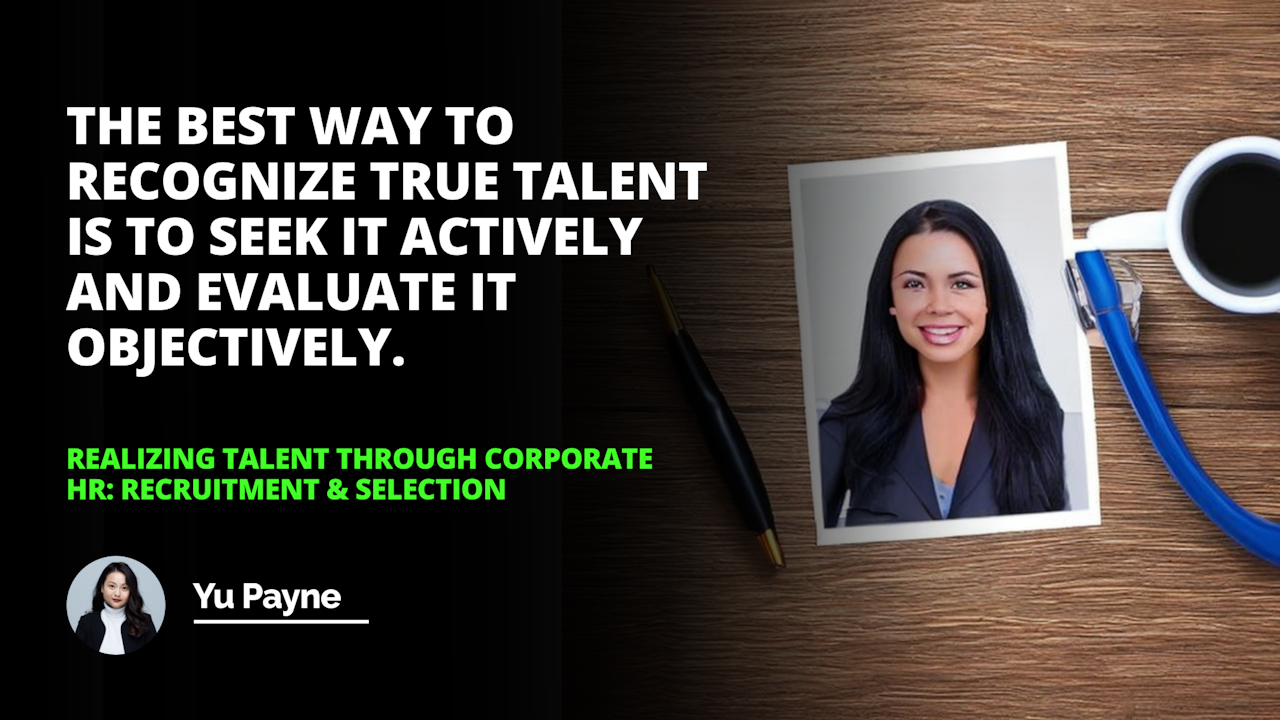 | Topic | Definition/Concept | Practical Application in Corporate HR |
| --- | --- | --- |
| Recruitment | The act of searching for and seeking out potential candidates for a position. | Utilization of job boards, social media, and targeted recruiting tactics to attract potential candidates. |
| Selection | The process of evaluating the candidates against pre-defined criteria to determine who should ultimately be hired. | Use of well-crafted job descriptions, effective interviewing techniques and pre-defined criteria to get the right person for the job. |
| Sourcing Strategies | Methods to find potential candidates for the position. | Targeting specific communities and using digital marketing tools, online job boards, and employee referral programs. |
| Targeting Strategies | Specific tactics to attract the right candidates for a specific position. | Understand the local job market and culture for targeted marketing to attract better-suited candidates. |
| Internal & External Networks | Use of the company's current employees and external contacts to help in the recruitment process. | Capitalizing on the networks of current employees and professional contacts to help in sourcing potential candidates. |
| Recruitment Portfolio | A collection of candidates' profiles and relevant documents used in the recruitment process. | Building a comprehensive portfolio with diversified and qualified candidates, enhancing the chances of picking the right candidate. |
| Assessing Candidates | Evaluating potential candidates based on their skills, qualifications, and fit for the position. | Use of interviews, assessments, and background checks to evaluate the candidates. |
| Hiring Strategy | Plan for filling a specific position with the right candidate. | Utilizing a combination of recruitment strategies, selection techniques and vetting procedures to hire the right fit for a role. |
| Digital Tools in Recruitment | Internet-based platforms and software used in the recruitment process. | Using LinkedIn, job boards, HR software for job postings, candidate management and communication. |
| Talent Acquisition | The process of finding, attracting, and hiring skilled individuals for a company. | Incorporates a variety of techniques such as sourcing, recruitment, selection and onboarding to acquire top talent for the company's future growth. |
Introduction

Recruitment & Selection: definitions and practical application

Recruiting Talent in Corporate HR

Sourcing and targeting strategies

Building a recruitment portfolio

Selection Strategies in Corporate HR

Methods for assessing and hiring the right fit

Utilizing internal & external networks

Conclusion
Talent is essential to any organization. Unfortunately, organizations can get stuck in a rut without talented people and fail to innovate, create, or move forward. This is why any organization must realize its talent through effective recruitment & selection techniques. Corporate Human Resources (HR) plays a significant role in fulfilling this task. This article explores the strategies and techniques for sourcing, vetting, and hiring the best talent in Corporate HR.
Recruitment & Selection: Definitions and Practical Application
Recruitment and Selection are finding, developing, and acquiring the talent needed to fill an organization's workforce gaps. These processes are distinct from one another but work together in harmony. Recruitment is the first step in the process and is the act of searching for and seeking out potential candidates for a position. Selection is the step that follows and is the process of evaluating the candidates against pre-defined criteria to determine who should ultimately be hired.
In a practical setting, recruitment and Selection in Corporate HR involve using advanced tactics, tools, and technology. For example, targeting specific communities and utilizing modern digital marketing tools such as LinkedIn or job boards are valuable methods of sourcing talent that might have otherwise gone unnoticed. Additionally, having well-crafted job descriptions and effective interviewing techniques are integral to getting the right person for the job.
Related Course: Digital Marketing Free Course
Recruiting Talent in Corporate HR
The recruitment process in Corporate HR should focus on sourcing and targeting the right people. Sourcing methods can range from traditional methods, such as job boards or social media, to unorthodox methods, such as employee referral programs or targeted recruiting tactics. Companies should also focus on targeted marketing with an understanding of the local job market and culture. This will help them find better-suited candidates for the positions.

HR professionals need to take the initiative and build a recruitment portfolio. This should include job descriptions and titles, skills assessments, resumes, and interview evaluation forms. Having such a portfolio will help ensure a more productive recruitment process.
Selection Strategies in Corporate HR
Once suitable candidates have been identified, the selection process can commence. First, corporate HR professionals must develop strategies to assess and hire the right fit for the position. This can involve determining the critical competencies required for a job and evaluating the candidate's knowledge, skills, and experience.
Moreover, HR professionals should consider using internal and external networks during Selection. Internal networks involve using internal stakeholders such as supervisors, HR staff, and other members of the organization to make an informed decision about the candidate. External networks include utilizing objective third parties such as recruiters or industry experts to provide insight and make an informed decision on behalf of the organization.
Realizing talent is essential for any organization looking to remain competitive in the marketplace. This article has explored some strategies and techniques that Corporate HR professionals can use to source, vet, and hire the right people. This includes using digital and targeted marketing tools to source potential candidates, building a recruitment portfolio, and utilizing internal and external networks during the selection process. It is also important to remember that recruitment and Selection is a complex process, and having the right skills and practices will go a long way toward finding the right fit for the job.
The best way to recognize true talent is to seek it actively and evaluate it objectively.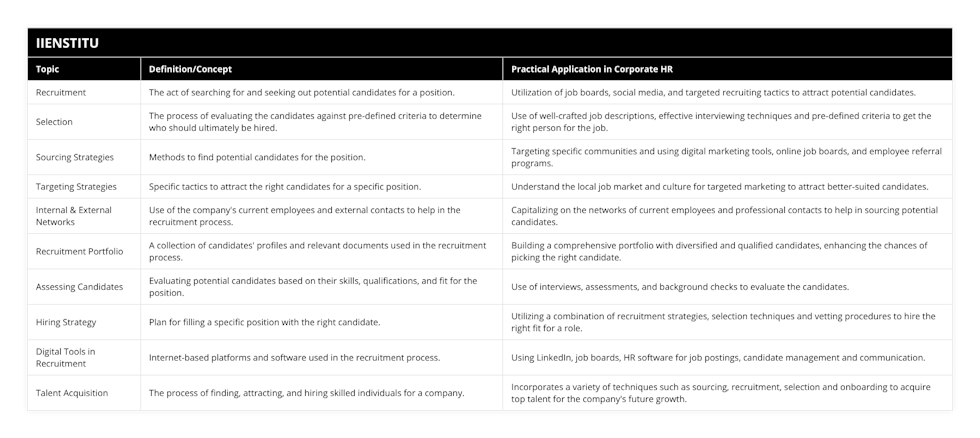 Talent
Corporate HR
Recruitment & Selection
Sourcing
Vetting
Hiring
Digital Marketing
Job Boards
LinkedIn
Job Descriptions
Interviewing Techniques
Targeted Marketing
Skills Assessment
Resumes
Interview Evaluation Forms
Competencies
Knowledge
Skills
Experience
Internal Stakeholders
External Networks
Recruiters
Industry Experts.
Yu Payne
Blogger
Yu Payne is an American professional who believes in personal growth. After studying The Art & Science of Transformational from Erickson College, she continuously seeks out new trainings to improve herself. She has been producing content for the IIENSTITU Blog since 2021. Her work has been featured on various platforms, including but not limited to: ThriveGlobal, TinyBuddha, and Addicted2Success. Yu aspires to help others reach their full potential and live their best lives.
Related Posts
Our team of experts is passionate about providing accurate and helpful information, and we're always updating our blog with new articles and videos. So if you're looking for reliable advice and informative content, be sure to check out our blog today.