Logistic Management
Material Storage: Essential Function of Warehouses
28 February 2023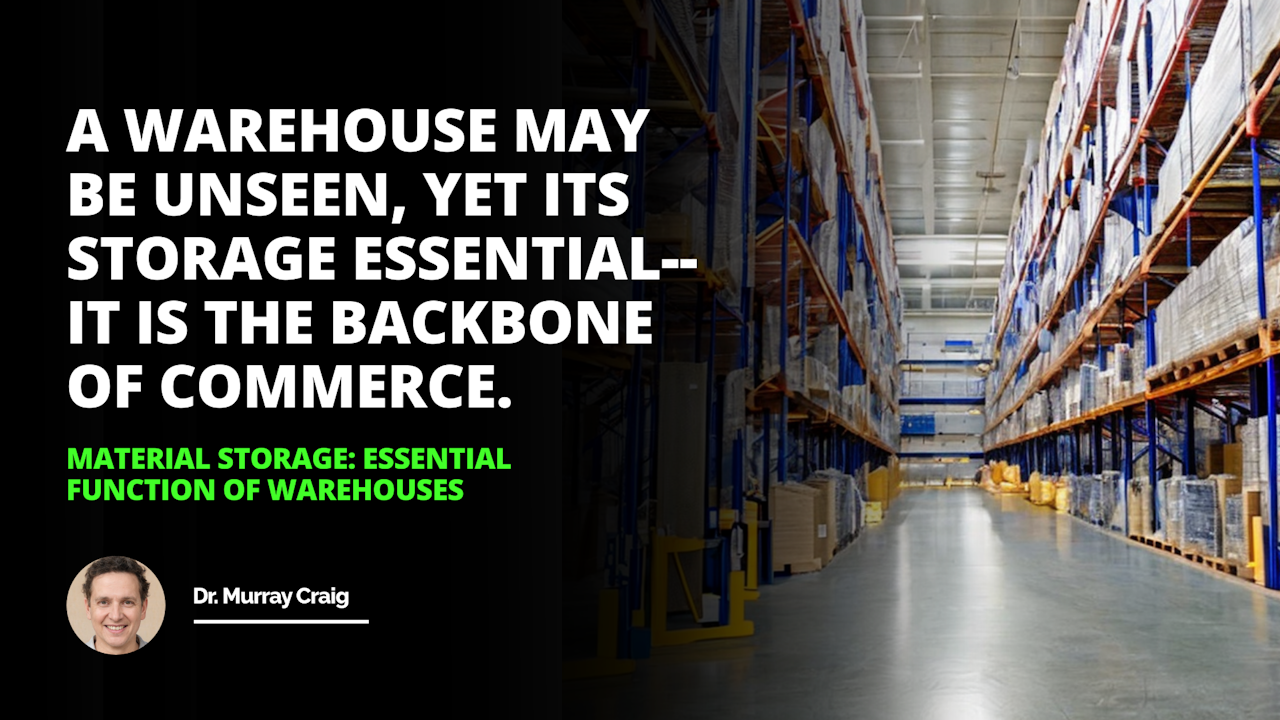 | Aspect | Details | Importance |
| --- | --- | --- |
| Function of Warehouses | Warehouses provide a safe and accessible place for storing materials and products | Enables businesses to remain organized, efficient and ready for production. |
| Category of Warehouses | 1. Climate-Controlled Warehouses 2. Automated Storage and Retrieval System 3. Cross-docking centers | Bespoke solutions catering to diverse business needs with respect to material storage. |
| Benefits of Warehouses | 1. Quick access to materials 2. High security 3. Cost effective | Improves business efficiency, reduces potential losses, and helps save on long-term storage costs. |
| Challenges of Material storage | 1. Cost and availability of warehouse space 2. Inventory management 3. Legal compliance | Focusing on these can help businesses mitigate risks, ensure efficient operation and avoid legal troubles. |
| Warehousing & Inventory | Warehouses can help provide better visibility and accountability over material storage | Accurate inventory tracking is critical for businesses to manage operations effectively. |
| Utilities of automated storage system | Uses robotic technology to organize and retrieve materials and enhances warehouse safety. | Increases the efficiency and security of warehouse operations. |
| Significance of climate-controlled warehouses | Maintains ideal temperature and humidity conditions and protects materials from contaminants. | Ensures that materials and products stay in the best condition. |
| Advantage of Cross-docking centers | Quickly move materials and products from one storage location to another. | Suits businesses in need of quick access to materials. |
| Legal Considerations | Need to be aware of import and export laws, hazardous material regulations, and health and safety regulations. | Helps avoid potential fines and penalties. |
| Implications of Warehouse utilization | Provides easy access to materials and a secure environment for long-term storage. | Ensures efficiency of business operations and reduces potential risks. |
Benefits of Warehouses for Material Storage

Types of Warehouses & Storage Solutions

Challenges & Considerations of Material Storage
The world of material storage might not sound all that glamorous. Still, it's an essential process for businesses of all sizes. Warehouses provide a safe and accessible place for storing materials and products for short or long-term use. By utilizing warehouses for material storage, businesses can remain organized and efficient and maximize their ability to increase production, reduce costs, and compete in the market.
Warehouses are essential because they provide an organized environment and can help businesses manage their inventory and materials more effectively. Warehouses can store large quantities of materials of various shapes, sizes, and weights while keeping them secure and safe. Further, warehousing can also help improve company efficiency and reduce associated costs.
Benefits of Warehouses for Material Storage
One of the key benefits of using a warehouse for material storage is easy access and quick turnaround. Warehouses can store materials in easily accessible locations and allow businesses to retrieve materials as needed quickly. This means companies don't waste time searching for materials or products, which can significantly improve their efficiency.
In addition to easy accessibility, warehouses also provide security for stored materials. By safely storing materials, businesses don't have to worry about damage or theft, which can be incredibly costly. Many warehouses also employ the latest security technology to safeguard materials and products.
Using a warehouse for material storage can also help save businesses money. By storing materials in a secure warehouse, companies don't have to worry about ongoing maintenance costs or other associated costs associated with long-term storage. Warehouses can also help reduce risk by protecting materials from potential accidents or malicious acts.
Types of Warehouses & Storage Solutions
To ensure that materials and products stay in the best condition, businesses might consider investing in climate-controlled warehouses. Climate-controlled warehouses not only help maintain ideal temperature and humidity conditions, but they can also protect materials from dust, dirt, and other airborne contaminants.
Another option that businesses consider is an automated storage and retrieval system. This system uses robotic technology to organize and retrieve materials and products, making them easier to locate and access. An automated system also helps increase warehouse safety and security levels, as stored materials are more easily tracked.
Cross-docking centers are also famous for material storage due to their cost-effectiveness and efficiency. Cross-docking centers can quickly move materials and products from one storage location to another, making them ideal for businesses that need quick access to materials.
Challenges & Considerations of Material Storage
Of course, material storage comes with specific challenges and considerations. One of the biggest is the cost and availability of warehouse space. As a result, businesses need to assess their operation's size and needs and ensure enough storage space for their materials. It's also essential to account for any potential fluctuations in material storage needs, such as during busy seasons or times of growth.
In addition, businesses need to factor in the challenges of inventory management. Accurate inventory tracking is critical for any business, and warehouses can help provide better visibility and accountability over material storage. However, managing inventory in a large warehouse can be challenging, and the process will take time and resources.
Businesses must also consider any complex logistics, compliance, and legal requirements associated with material storage. This includes import and export laws, hazardous material regulations, and health and safety regulations. Failing to comply with all applicable laws can result in fines and other penalties, so this is an area that businesses need to research and address appropriately.
Conclusion: Despite the potential challenges, material storage is an essential and integral process that helps businesses remain organized and efficient. Warehouses play a crucial role in material storage, giving companies easy access to materials and products and providing a secure and protected environment for long-term storage. Businesses need to be aware of various types of warehouses and storage solutions and multiple benefits and challenges. Considering these facts, it's evident that warehouses will remain a vital part of material storage.
A warehouse may be unseen, yet its storage essential is the backbone of commerce.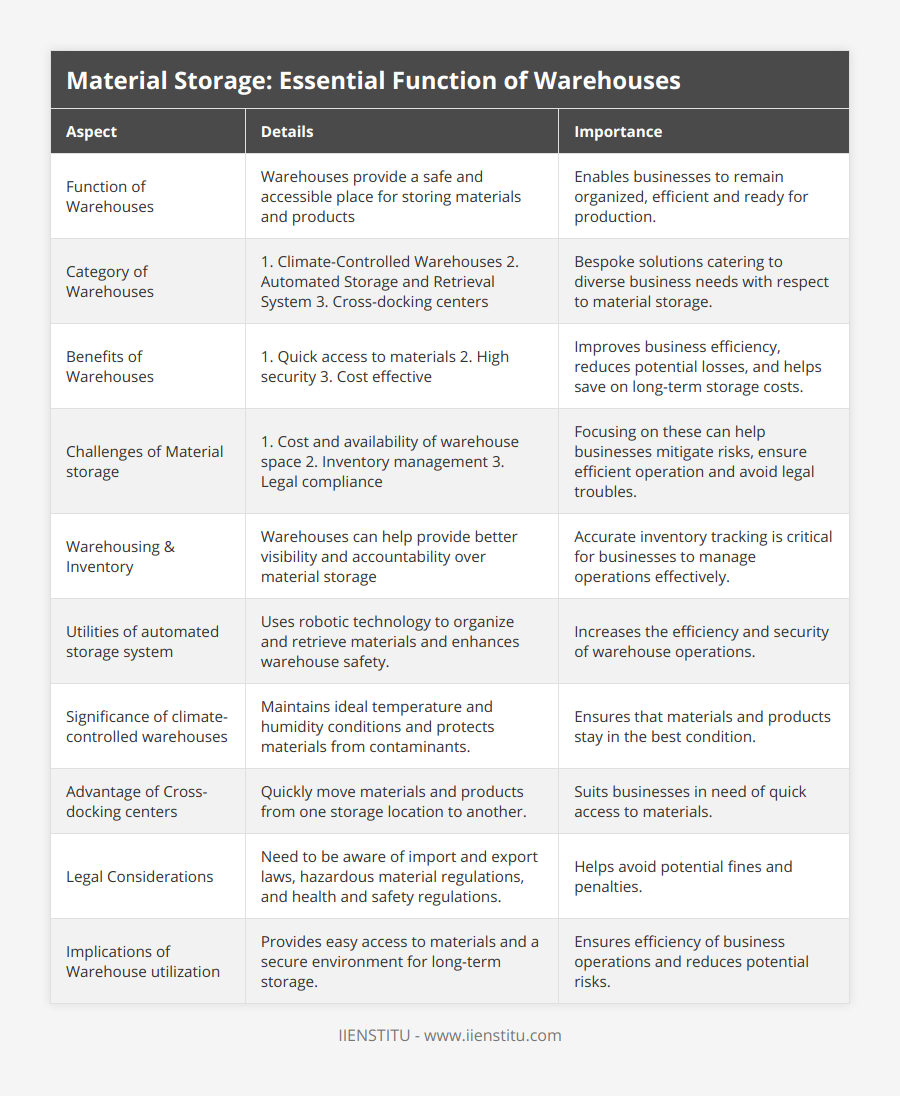 warehouses
material storage
safe
organized
efficient
maximize production
reduce costs
compete
easy access
quick turnaround
stores materials
various shapes
sizes
weights
secure
safeguard materials
security technology
maintenance costs
automated storage
retrieval system
robotic technology
climate-controlled warehouses
temperature
humidity
dust
dirt
air-born
contaminants
cross-docking centers
cost-effectiveness
efficiency
inventory management
visibility
accountability
complex logistics
compliance
legal requirements
import
export
hazardousmaterial
health
safety
regulations

Dr. Murray Craig
Academic
Dr. Murray Craig is an academic and researcher who has dedicated his life to the study of human behavior. He has a particular interest in how people interact with their environment, and how that interaction can be used to improve their lives. Dr. Craig has spent many years teaching and conducting research at universities all over the world, and he is widely respected for his work in the field of behavioral science.
Related Posts
Our team of experts is passionate about providing accurate and helpful information, and we're always updating our blog with new articles and videos. So if you're looking for reliable advice and informative content, be sure to check out our blog today.