Digital Marketing
How To Succeed In Digital Marketing?
01 May 2022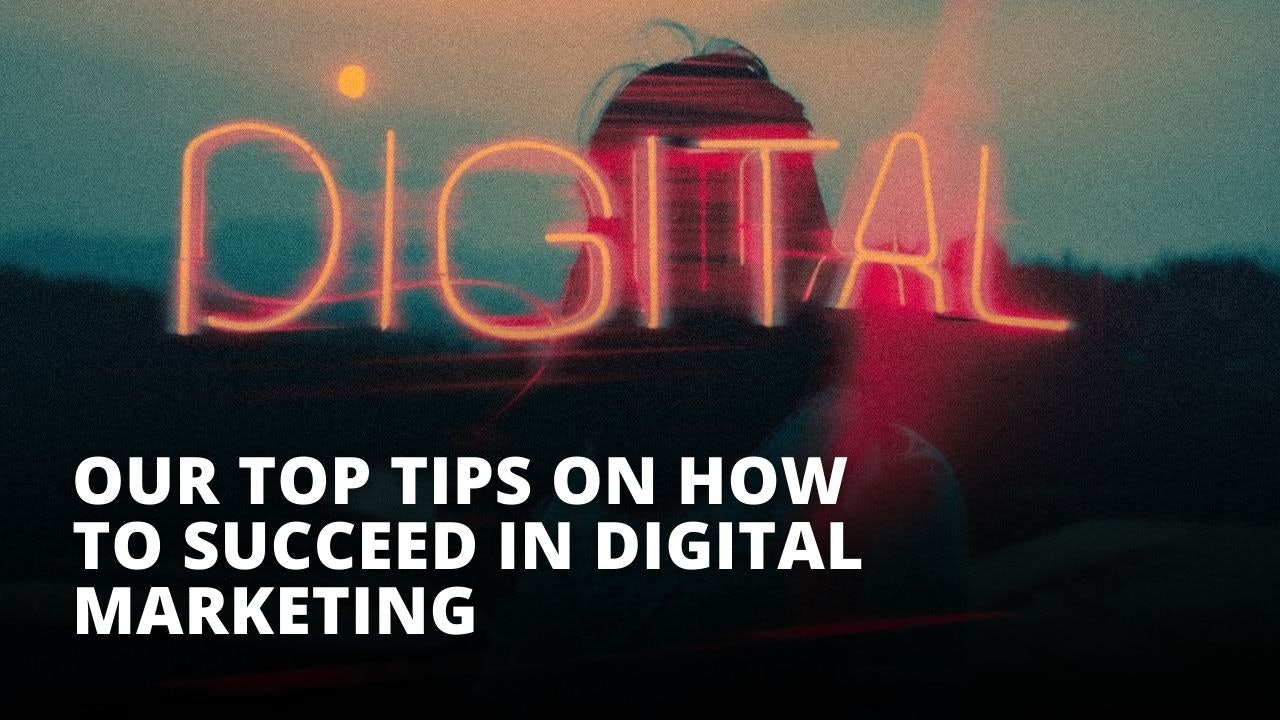 When it comes to succeeding in digital marketing, there is no one-size-fits-all answer. However, by following some basic principles and using the latest tools and techniques, you can put yourself in a solid position to achieve success. This article will explore some of the key ways to succeed in digital marketing. So, whether you are just starting or have been in the game for a while, read on for some valuable insights.
5 essential tips for digital marketing success
As the world becomes increasingly digitized, businesses must also shift their focus to digital marketing to remain competitive. While it may seem daunting at first, a few essential tips can help ensure success:
It is critical to understand your audience and what motivates them. This will inform the type of content you produce and the channels you use to reach them.

Your content must be high-quality and engaging to capture attention and convert leads.

SEO is a powerful tool that can help ensure your target audience sees your content.

Social media is crucial for spreading awareness and driving traffic to your website; a solid strategy is essential.

It is critical to measure and analyze your results to course-correct as needed regularly.
You can set your business up for digital marketing success by following these tips.
Understand your audience.
To be successful in digital marketing, you must clearly understand your audience. Your target audience encompasses various factors, from demographics like age and gender to more nuanced characteristics like interests and online habits. To effectively reach your audience, you need to tailor your approach to take these factors into account. For example, you may find that your target audience tends to consume content via Twitter or other social media platforms and therefore focus on creating social media posts that engage with this audience. Additionally, by paying attention to what types of content are being shared most frequently within your industry, you can stay up-to-date on current trends and create content that taps into this interest. Overall, understanding who you are targeting with your marketing efforts is the key to success in today's digital landscape.
Understand your target audience through detailed demographic and psychographic profiling

Tailor your marketing approach based on what you learn about your audience

Reach a wider audience through effective targeting

Increase ROI on digital marketing campaigns by focusing on the right people
Produce quality content.
To succeed in digital marketing, you need to regularly produce high-quality, engaging content. This means investing the time and resources necessary to create compelling blog posts, infographics, videos, and more that speak directly to your target audience's needs and interests. In addition, whether you are creating original content or repackaging existing content in a new way, it is essential that all of your messaging be clear and on-point.
One way to ensure that your content is the highest quality is to work with a professional content creator or marketing agency. These professionals have the experience and expertise necessary to produce high-quality content that will resonate with your target audience. In addition, they can help you to develop an effective distribution strategy so that your content reaches the widest possible audience.
Investing in quality content will pay off in the long run by helping you to build a solid online presence and establish yourself as a thought leader in your industry. If you are serious about succeeding in digital marketing, make sure that producing quality content is a priority.
Reach your target audience with relevant, engaging content

Increase brand awareness and authority with thought-leadership content

Connect with customers on a deeper level through humanized content marketing

Stand out from the competition with unique, well-crafted content
Use SEO to your advantage.
Search engine optimization (SEO) is a powerful tool to help you reach more people with your content. Using keywords and other optimization techniques, you can ensure that your content appears higher on search engine results pages, making it more likely to be seen by potential customers.
SEO is about making your content more visible and accessible to potential customers. By using the right keywords, you can ensure that your content appears at the top of search engine results pages. This makes it more likely that people will see and click on your content, leading to more traffic and conversions.
In addition to using keywords, you can use other optimization techniques to improve your SEO. For example, you can use links to improve your site's authority and make it easier for people to find your content. You can also optimize your site's load time and mobile experience to make it more user-friendly. As a result, you can reach more people with your content and grow your business by using SEO.
Reach a larger audience with your content using SEO techniques.

Improve your visibility and reach more potential customers.

Maximize the impact of your content by optimizing it for search engines.

Garner a competitive edge over other businesses through effective SEO strategies
Plan and execute a social media strategy.
When it comes to social media, a well-executed strategy is critical. Without one, your content is likely to get lost in the noise of the internet. But what exactly should your social media strategy include?
First, you need to set goals for your social media presence. What do you want to achieve? More website visitors? More engagement with your content? Once you know your goals, you can identify your target audience and determine which call-to-actions will most effectively reach them.
Next, you need to create engaging content that speaks to your target audience and drives them towards your desired call-to-action. This could be anything from blog posts and infographics to videos and ebooks. Once you have great content, promoting it on social media is essential. Don't just post it and forget it – use creative campaigns and paid advertising to ensure as many people see your content as possible.
By following these steps, you can develop a social media strategy to help you achieve your business goals.
Strategize and execute a social media plan that aligns with your business goals

Identify your target audience and create content that resonates with them

Determine the most compelling call-to-action to reach your target audience

Create a social media calendar and stick to it
Measure and analyze your results.
As any digital marketing expert will tell you, it is essential to continuously refine and improve your online content to reach your target audience more effectively. One of the best ways to do this is by using analytics tools to track metrics like website traffic, engagement rates, conversion rates, and ROI. This will help you identify areas for improvement to make the necessary changes to your content strategy. By measuring and analyzing your results regularly, you can ensure that your digital marketing efforts are more effective and efficient.
Use analytics to measure website traffic, engagement rates, conversion rates, and ROI.

Identify areas for improvement to refine your content strategy.

Make sure your digital marketing efforts are practical and efficient.

Improve your chances of reaching your target audience and achieving your business goals.
Keep learning and evolving.
In today's fast-paced business world, staying competitive requires constant adaptability and innovation. In digital marketing, keeping up with new trends and techniques is crucial to stay ahead of the curve. So whether you are reading industry blogs or taking online courses, you must stay abreast of the latest developments and strategies that can help you succeed in this exciting arena.
With these tips in mind, you have everything you need to start your digital marketing journey. With creativity, persistence, and a willingness to learn and evolve, you will be well to achieve excellent results in this dynamic industry! So what are you waiting for? Go out there and start revving up your digital marketing engine today!
If you're looking to improve your skills in any area above or want to learn about other digital marketing strategies, we have the perfect solution for you. Our online digital marketing course will walk you through everything you need to know about succeeding in today's digital world. You'll learn about audience research, content creation, SEO, social media, measurement, analysis, and plenty of bonus tips and tricks. With this knowledge under your belt, you'll be ready to take on any digital marketing challenge that comes your way. So enroll now and start learning!

Monica Bourbon
Blogger
She describes himself as someone who loves to write about digital marketing, social media and public relations. His personal development special interest lies in self-improvement through reading books on the subject of human behavior; she also has an eye for how these topics apply outside just business or career settings too!
Related Posts
Our team of experts is passionate about providing accurate and helpful information, and we're always updating our blog with new articles and videos. So if you're looking for reliable advice and informative content, be sure to check out our blog today.