Digital Marketing
How To Start A Digital Marketing Agency
10 June 2022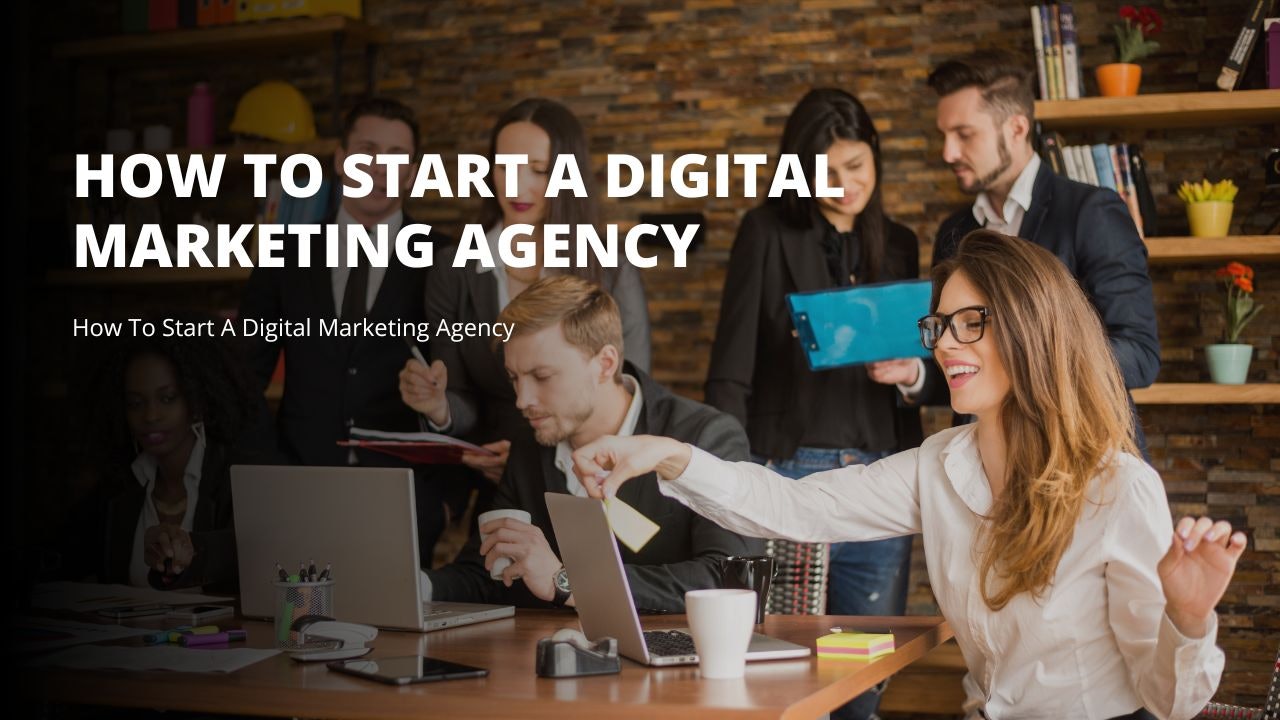 Starting your digital marketing agency can be an extremely profitable and rewarding venture. However, it can also be challenging if you don't know where to start. In this blog post, we will outline the basics of creating a digital marketing agency and provide tips on how to grow your business. We'll also discuss some of the challenges you may face and offer solutions to overcome them. So if you're thinking of starting your digital marketing agency, read on!
The 7 simple steps to starting a digital marketing agency
When Tom started his digital marketing agency, he was a young pup with big dreams and a lot to learn. At the time, there were only a handful of other digital marketing agencies in town, so he had his work cut out for him. But Tom was determined to make it big, and thanks to his hard work and dedication, his business soon began to grow.
As his agency grew, Tom quickly realized that he needed to focus on two key areas: customer service and innovation, to be successful. He made it a point to always go above and beyond for his clients, and he also committed to staying up-to-date on the latest digital marketing trends. This strategy paid off as Tom's agency began to attract more and more clients.
Today, Tom's digital marketing agency is one of the most well-known in the area, and he has continued to expand his business by offering a wide range of services to clients. If you're thinking of starting your digital marketing agency, here are some tips that will help you get off on the right foot:
1. Define your business goals and target audience
When starting in digital marketing, it's essential to have clear goals and a target audience in mind. After all, without knowing who you are trying to reach and the results that you hope to achieve, it can be challenging to design an effective digital marketing strategy. Key considerations might include your ideal customer demographics, specific pain points or challenges for this audience, and what specific outcomes you're hoping to achieve with your marketing efforts. By understanding your business goals from the outset and developing a tailored approach that speaks directly to your target audience, you can create an exciting and effective online presence that will help drive more conversions and build lasting brand loyalty. So if you're ready to take your business to the next level with digital marketing, start by defining your goals and identifying your audience. With this solid foundation in place, you can start attracting customers and growing your business today!
2. Research the competition and find your unique selling proposition
As a digital marketing agency, one of the best ways to reach potential clients is by establishing an online presence. This can include creating a website, setting up social media profiles, and designing an email template. You can showcase your expertise and highlight why potential customers should choose you over other digital marketing agencies. Additionally, having an online presence will help you connect with potential customers regularly and build relationships with them. It is essential to have an online presence to reach potential customers and grow your business in today's economy. Do not miss out on this opportunity - create a website, social media profiles, and email template today!
3. Create a website, social media profiles, and email marketing template
It is essential to start with a website to create a robust digital marketing presence that effectively promotes your services and differentiates you from the competition. This is your central hub for reaching potential customers, so it should be designed to highlight your experience, showcase examples of your work, and explain how you can help clients achieve their goals. Additionally, it is crucial to set up social media profiles on Facebook, Twitter, and Instagram. These platforms provide valuable opportunities to interact directly with potential customers, share exclusive content and offers, and connect with influencers in your field.
Finally, it is essential to have an effective email marketing template at your disposal. Whether you use this strategy to reach out to current clients between projects or send general promotional messages, an efficient template can help ensure all emails look professional and provide high-quality information while saving time and resources. By establishing a solid online presence that includes these essential elements, you will be well on your way to connecting with potential clients and winning new business!
4. Develop a content strategy and create exciting and engaging blog posts
To attract new clients and build your reputation as an industry expert, it's important to publish high-quality content on your website regularly. This could include blog posts on topics relevant to your niche, infographics, videos that help showcase your expertise, or social media updates designed to engage and inform your followers. However, simply publishing content is not enough - you also need to have a strategy for promoting your content and making sure that it reaches your target audience. This could involve sharing your content on social media, optimizing it for search engines, or guest posting on other websites in your industry. By developing a comprehensive content strategy, you can ensure that your hard work pays off and that you attract the attention of new clients.
5. Set up lead capture forms on your website and track conversions
Lead capture forms are one of the most effective ways to collect leads and convert them into paying customers. By setting up lead capture forms on your website, you can make it easy for potential customers to provide their contact information and start becoming paying customers. Many different Lead capture form plugins are available for WordPress websites, which makes it easy to get started. Once you have a lead capture form set up, you can use email marketing automation tools like MailChimp or Constant Contact to follow up with leads and convert them into paying customers. You can also create ads that target potential customers on various platforms such as Google AdWords and Facebook Ads. By using these strategies, you can maximize your chances of converting leads into paying customers.
6. Start pitching digital marketing services to businesses in your area
When it comes to digital marketing, businesses today can't afford to have a solid online presence. As an experienced digital marketer, you're uniquely positioned to help companies achieve this goal. By utilizing your knowledge of platforms and tools like social media, SEO, PPC advertising, and email marketing, you can help businesses improve their online visibility and connect with potential customers in new ways.
To start pitching your services to local businesses, the first step is to reach out to them directly. Whether it's by scheduling one-on-one meetings or sending out personalized emails, you'll want to make sure that each business owner truly understands the value of your services. Additionally, building a solid network of connections within your local community can help you find new clients and stay up-to-date on industry trends. With the right mix of skill, experience, and engaged networking tactics, you'll soon be able to establish yourself as a top player in digital marketing.
7. Measure your results and adjust your strategy as needed
As with any business venture, it's essential to measure your results and adjust your strategy regularly. This could involve tracking how many new leads you're generating each month, the conversion rate of those leads into paying customers, and the overall ROI of your digital marketing campaigns. By regularly evaluating your results, you'll be able to fine-tune your strategy and achieve even more excellent outcomes over time. For example, you may find that your lead generation efforts are translating into more sales than before but that the costs of acquiring those leads have also increased. In this case, you would want to adjust your budget accordingly to ensure that you're still achieving a positive ROI. By continuously measuring and evaluating your results, you can ensure that your digital marketing campaigns are practical and efficient.
If you're thinking of starting a digital marketing agency, there are a few key things that you need to keep in mind to be successful. These include defining your business goals and target audience, researching the competition and finding your unique selling proposition, creating a website, social media profiles, and email marketing template, developing a content strategy and creating exciting and engaging blog posts, setting up lead capture forms on your website and tracking conversions, pitching your services to businesses in your area, and measuring your results and adjusting your strategy as needed. With these tips in mind, you can start building a successful digital marketing agency that will help you grow your business and reach new heights.
Congratulations, you've made it to the end! You now have a basic understanding of what it takes to start a digital marketing agency. This is just the beginning, though – there is so much more to learn to succeed in this field. The best way to continue your education is by enrolling in our digital marketing course. In this course, you will learn advanced techniques for online advertising, search engine optimization, email marketing, and social media campaigns. With this knowledge under your belt, you'll be ready to take on the world and help businesses achieve their goals with effective digital marketing strategies. We hope you choose to join us on this journey!
digital marketing agency
starting digital marketing
social media profiles
youre thinking starting
thinking starting digital

Monica Bourbon
Blogger
She describes himself as someone who loves to write about digital marketing, social media and public relations. His personal development special interest lies in self-improvement through reading books on the subject of human behavior; she also has an eye for how these topics apply outside just business or career settings too!
Related Posts
Our team of experts is passionate about providing accurate and helpful information, and we're always updating our blog with new articles and videos. So if you're looking for reliable advice and informative content, be sure to check out our blog today.