Digital Marketing
How To Stand Out In A Saturated Digital Market?
24 June 2022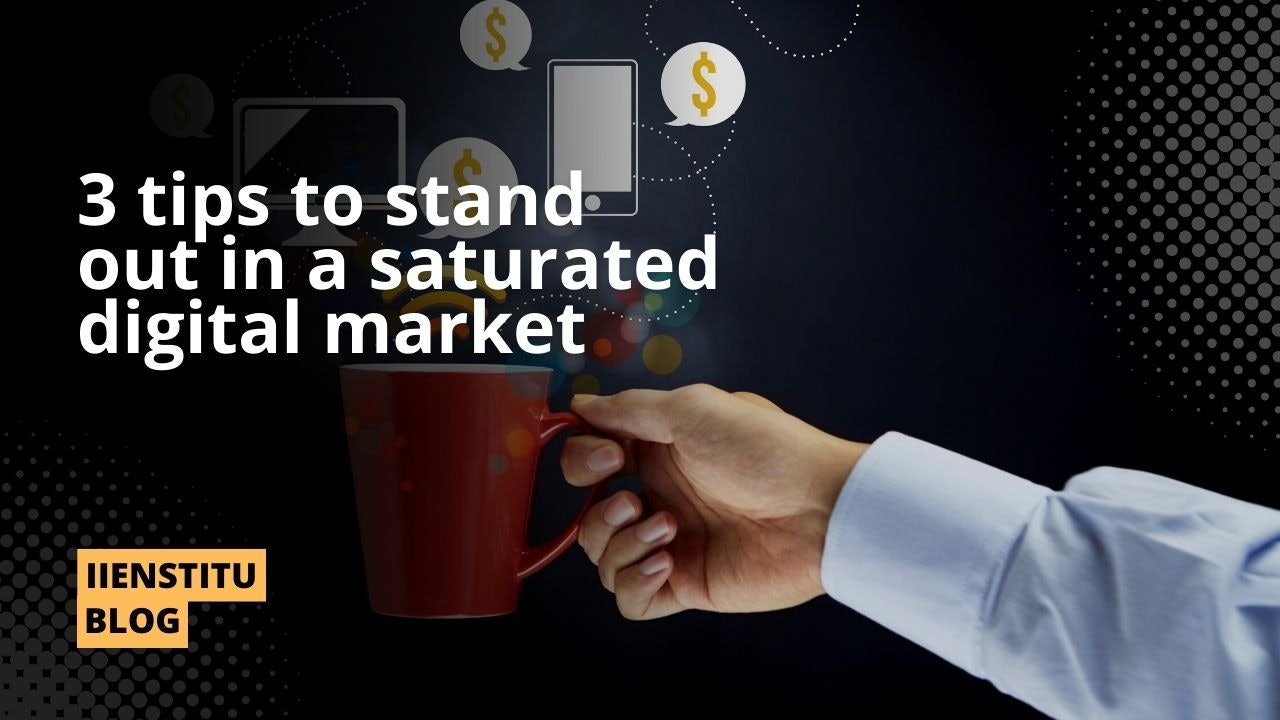 Standing out in a digital market can be challenging. With so many companies competing for attention, it can be challenging to hear your voice. However, there are ways to make your company stand out from the pack. In this blog post, we'll discuss three strategies that you can use to get noticed online. So, whether you're just starting or you've been in the game for a while, read on for some tips that will help you succeed.
Learn how to get more leads than your competitors
A saturated digital market is one where the number of digital products and services available far exceeds the number of potential customers. There is little room for new entrants to gain a significant foothold in such a market. This is often the case in markets where a small number of large companies dominate the landscape. For example, the needs for search engines, social media platforms, and operating systems are all highly saturated. In contrast, calls for new digital products and services are often less saturated, giving startups a better chance to succeed. Nevertheless, it can be tough to stand out from the competition even in less saturated markets. As such, saturation is a significant challenge that all companies face in the digital age.
How can you make sure the right people see your products and services with so much competition?
Here are a few tips to help you get started:
Understand your target audience and what they want
To succeed in business, it is crucial that you understand your target audience and what they want. This involves gaining a deep understanding of your customers' needs, desires, and pain points. By doing so, you can identify the things that will be most important to them and the areas where they are struggling or facing challenges. With this information in hand, you can create content and products that address their specific needs and concerns, helping to serve their needs better.
Additionally, having a clear understanding of your target audience will help you craft compelling marketing messages that truly resonate with them. Whether you are preparing social media ads or email campaigns, knowing who your ideal customer is will help ensure that you are sending the right message at the right time to the right people. With all of this in mind, it is clear that understanding your target audience is essential for business success.
Differentiate yourself from the competition by offering something unique
In a saturated market, it's essential to differentiate yourself from the competition. One way to do this is by offering something unique that your competitors don't have. This could be a fantastic product, service, or feature. It could also be a unique approach to marketing or customer service. Whatever it is, make sure it's something that sets you apart from the rest.
There are countless ways to stand out in today's competitive market. Whether you're selling products, services, or marketing strategies, finding a way to differentiate yourself from the competition is key to success. For example, if you're selling products, offering a unique design or customization options can be an effective way to attract attention and set yourself apart from the crowd. Likewise, if you're providing services, offering faster turnaround times or a money-back guarantee can set you apart from other companies and help keep your customers coming back. And if you're focused on marketing, trying new approaches like guerilla marketing or working with influencers could help elevate your campaigns and get your message out there. Ultimately, by crafting a competitive edge for yourself and standing out from the rest of the pack, you'll be able to capture the attention and business of potential customers.
Use search engine optimization techniques to improve your website's visibility.
In today's digital age, a solid online presence is essential for any business that wants to succeed. One of the most important aspects of a solid online presence is a website that ranks high in search engine results. This is where search engine optimization (SEO) comes in. SEO is the process of improving the visibility of a website in search engine results. The higher your website ranks in the results, the more likely people find it. There are several different SEO techniques that you can use to improve your website's visibility. These include optimizing your website for specific keywords, creating high-quality content, and building backlinks. By using these techniques, you can ensure that your website gets seen by more people and generate more leads and sales for your business.
Create high-quality content that is relevant to your niche
Creating high-quality content is essential for any website that wants to stay competitive in today's digital landscape. This content will help you rank higher in search results, but it can also capture the attention of your target audience and drive more traffic to your site. To achieve these goals, you will need to create highly relevant content for your niche. You might write blog posts or articles on current trends in your industry, create infographics or visually engaging videos, or design interactive tools that allow users to find the information they are looking for quickly. By making sure that your content answers the needs and interests of your target audience, you can be sure to create high-quality, valuable content that will boost your site's visibility and help you succeed online.
Make it easy for visitors to contact you or purchase your products or services.
It is more important than ever to make it easy for visitors to contact you or purchase your products or services in today's competitive marketplace. This means having a clear and concise website that is easy to navigate. It also means providing multiple ways for people to get in touch with you, such as through email, phone, and social media. By making it easy for potential customers to reach you, you will be more likely to stand out from the crowd and build a successful business.
As a business owner, it is essential to make it easy for customers to contact you. There are a few simple ways to do this. First, make sure that your contact information is prominently displayed on your website and any print materials. Include your phone number, email address, and mailing address. You may also want to include a contact form on your website so that customers can easily send you a message.
Additionally, consider creating a customer support page that provides FAQs and other helpful information. Finally, be sure to respond quickly to any customer inquiries. By taking these simple steps, you can ensure that customers can always reach you when they need to.
Promote your business on social media platforms like Facebook, Twitter, and Instagram
There is no doubt that social media is one of the most powerful tools at our disposal today. Whether you are an entrepreneur looking to launch a new business or a company looking to expand your reach, social media can be an invaluable tool for promoting your brand and connecting with potential customers.
On platforms like Facebook, Twitter, and Instagram, businesses have an unprecedented opportunity to share their message with the world. By posting high-quality content relevant to their niche, companies can directly appeal to their target audience and engage in meaningful conversations with potential customers. Additionally, it is essential to use relevant hashtags and post regularly on social media to maximize visibility and ensure that as many people see your posts as possible.
If you want to use social media to promote your business successfully, you must be strategic and diligent. Research the best tactics for using each platform effectively, stay up-to-date on new trends, and above all else, always remember the importance of quality content. With the right strategy and sustained commitment, you can ensure that social media will help you captivate a dedicated following and grow your business exponentially.
Saturated markets present a unique challenge for businesses. However, there are several ways to stand out from the competition. By understanding your target audience, offering something special, and using SEO techniques, you can improve your chances of success. Additionally, promoting your business on social media and making it easy for visitors to contact you can help you attract more attention in a saturated market. So don't hesitate – start putting these tips into action today, and you'll be on your way to achieving digital marketing success!
Conclusion paragraph: If you want to learn more about how to use digital marketing techniques to increase sales, we offer a course that can help. In our digital marketing course, you will learn how to create a winning strategy for your business, including tips on how to improve website visibility, generate leads, and increase conversions. The course is taught by experts in the field who have years of experience helping businesses achieve success online. Enroll today and start learning the skills you need to take your business to the next level.
understanding target audience
easy visitors contact
digital products services
social media platforms
understand target audience
target audience want

Monica Bourbon
Blogger
She describes himself as someone who loves to write about digital marketing, social media and public relations. His personal development special interest lies in self-improvement through reading books on the subject of human behavior; she also has an eye for how these topics apply outside just business or career settings too!
Related Posts
Our team of experts is passionate about providing accurate and helpful information, and we're always updating our blog with new articles and videos. So if you're looking for reliable advice and informative content, be sure to check out our blog today.