Interview Questions
Interview Question: How Do You Balance Stress and Quality?
07 September 2023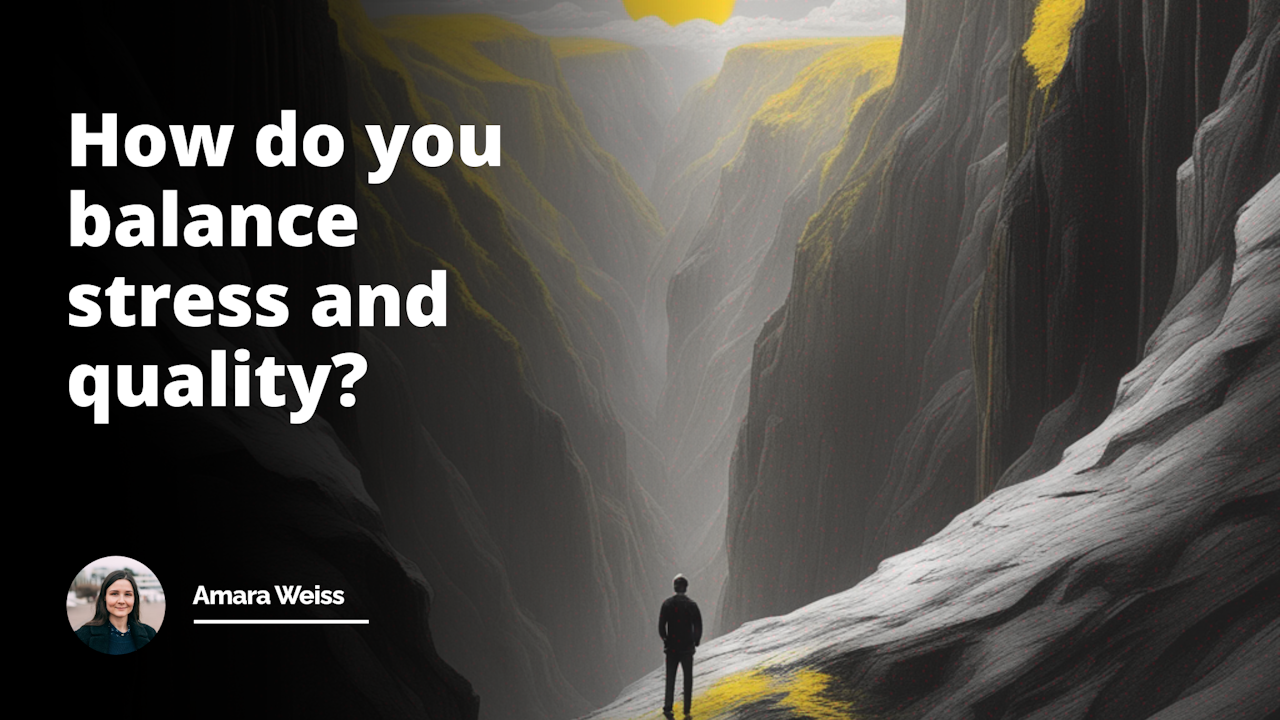 | Interview Question Category | Function/Importance | Possible Ways to Answer effectively |
| --- | --- | --- |
| Balancing Stress and Quality | Assesses candidate's resilience, adaptability, stress management skills, and commitment to quality | Demonstrate prioritization, time management skills, self-care practices, and continuous learning strategies |
| Self-awareness and Problem-solving Abilities | Evaluates candidate's capacity to recognize and address stressors effectively without compromising work quality | Describe experiences showing self-recognition of stress and how you applied problem-solving skills to maintain work quality |
| Prioritization and Time Management | Reflects candidate's ability to manage time effectively for tasks, ensuring quality work within deadlines | Highlight past experiences of juggling multiple tasks, meeting deadlines while ensuring quality |
| Stress Reduction Techniques and Self-care | Indicates candidate's strategies to maintain personal well-being, necessary for sustained productivity and work quality | Discuss regular practices like exercise, hobbies, mindfulness for stress reduction |
| Continuous Learning and Development | Suggests candidate's commitment to staying updated and honing skills, necessary to handle stress and deliver quality work | Narrate instances of continued professional development, learning in times of stress |
| Seeking Support and Resources | Shows candidate's ability to healthily manage stress by asking help when needed | Cite instances where you reached out to colleagues, mentors, support networks in stressful times |
| Ability to Delegate | Shows candidate's understanding of effective management, ensuring detailed attention to high-priority tasks and maintaining overall quality | Give examples of delegating tasks effectively in previous roles |
| Resilience under Pressure | Underlines candidate's ability to stay focused and produce quality work even in times of stress | Share instances where you successfully navigated stressed situations, maintaining high standards of work |
| Adaptability | Measures candidate's flexibility in adjusting to varying work pressures without hampering work quality | Describe experiences showing your adaptability skills in stressful situations |
| Realistic Goal-setting | Reflects the candidate's ability to set achievable targets that decrease stress while focusing on the quality of work | Provide examples of setting and achieving realistic work goals under pressure |
In today's fast-paced and demanding work environment, the ability to balance stress and quality is a crucial skill that employers look for in candidates. This interview question is often asked to assess a candidate's ability to handle pressure, maintain productivity, and deliver high-quality work consistently.
In this article, we will delve into the purpose of this question, when it is typically asked during an interview, the kind of answer expected from candidates, and possible ways to approach and answer this question effectively.
Why is this interview question asked: How Do You Balance Stress and Quality?
Employers ask this question to gauge a candidate's stress management abilities and their approach to maintaining productivity and quality under pressure.
Related Course: Stress Management Online Course
Stress is a common part of most job roles, and organizations want to ensure they hire individuals who can handle stress in a healthy way without compromising on the quality of their work.
By understanding a candidate's strategies for balancing stress and quality, employers can evaluate their suitability for the position and assess their potential for long-term success.
The purpose of the question
The purpose of this question is to assess a candidate's stress management skills, their ability to prioritize tasks, and their commitment to delivering high-quality work even in challenging circumstances.
Employers want to gauge whether the candidate possesses the resilience and adaptability required to navigate stressful situations while maintaining a high standard of work.
This question also helps evaluate a candidate's self-awareness and their willingness to seek support or implement coping mechanisms when faced with stressors.
At what interview level is it asked?
This question can be asked at various interview levels, ranging from entry-level positions to senior management roles. Although the level of stress and responsibility may vary across roles, stress management and maintaining quality are important skills at every level.
Employers understand that stress can affect an employee's well-being and job performance, regardless of their position. Therefore, candidates at all levels may be asked this question to assess their ability to handle stress effectively and produce quality work consistently.
What kind of answer is expected from the candidate?
The ideal answer to this question should showcase a candidate's ability to recognize and manage stress while delivering high-quality work. Employers are looking for responses that demonstrate a candidate's self-awareness, problem-solving abilities, and strategies for maintaining productivity and quality under pressure.
It is important for candidates to emphasize their ability to prioritize tasks, set realistic goals, delegate when necessary, and seek support or resources when needed. Showcasing adaptability, resilience, and a proactive approach in managing stress will leave a positive impression on the interviewer.
Possible answers to consider
Prioritization and time management: A candidate can discuss how they prioritize tasks based on urgency and importance, allowing them to focus on critical work while managing stress levels. By effectively allocating time, candidates can ensure that deadlines are met without compromising the quality of their deliverables.

Seeking support and resources: Candidates can highlight their ability to seek assistance from colleagues, mentors, or support networks when feeling overwhelmed. This demonstrates a proactive approach in managing stress and utilizing the resources available to them. Employers value individuals who recognize the importance of collaboration and are not afraid to ask for help when needed.

Self-care and stress reduction techniques: Candidates can discuss how they maintain personal well-being through stress reduction techniques such as exercise, mindfulness, or hobbies. Taking care of oneself is crucial in managing stress and maintaining a high level of output and quality. Employers appreciate candidates who prioritize self-care as it contributes to their overall productivity and resilience.

Continuous learning and development: Candidates can emphasize their commitment to ongoing learning and professional development as a strategy for managing stress and delivering quality work. By staying updated with industry trends and enhancing skills, candidates can approach challenges with confidence and maintain the quality of their work even in stressful situations.
Related Course: Free Online Time Management Course
When answering this question, it is important to be genuine and provide specific examples from past experiences. By narrating real-life situations where stress and quality were effectively balanced, candidates can demonstrate their expertise and problem-solving abilities.
Balancing stress and quality is crucial in the workplace. Employers ask this interview question to assess a candidate's stress management skills and their ability to maintain high-quality work even under pressure.
Candidates should emphasize their ability to prioritize tasks, seek support when needed, practice self-care, and commit to continuous learning.
By showcasing resilience and adaptability, candidates can leave a lasting impression and demonstrate their potential to excel in a demanding work environment.
Remember, maintaining a healthy balance between stress and quality is not only beneficial for one's professional growth but also for their overall well-being.
Strategies for managing stress in the workplace while maintaining high quality
| Strategy | Description | Benefits |
| --- | --- | --- |
| Time management | Creating a schedule, prioritizing tasks, and setting realistic deadlines | Reduces stress by providing structure and ensuring tasks are completed on time |
| Effective communication | Clear and open communication with colleagues, superiors, and subordinates | Reduces misunderstandings and conflicts, fostering a positive work environment |
| Work-life balance | Setting boundaries between work and personal life, and taking time for self-care | Prevents burnout, improves overall well-being, and increases productivity |
| Stress-reducing activities | Engaging in activities like exercise, meditation, or hobbies outside of work | Provides an outlet for stress, improves mental health, and boosts productivity |
| Support system | Seeking support from coworkers, friends, or family during challenging times | Offers emotional support and helps in problem-solving or skill-building |
| Breaks and relaxation | Taking regular breaks and engaging in relaxation techniques such as deep breathing | Refreshes the mind, reduces physical and mental strain, and enhances focus |
Impact of stress on the quality of work output
| Effect of Stress | Quality of Work Output | Examples |
| --- | --- | --- |
| Decreased focus and concentration | Lowered accuracy and attention to detail | Making mistakes in calculations or overlooking important details |
| Increased errors | Higher rate of mistakes or typos | Sending an email with incorrect information or missing an important deadline |
| Reduced creativity | Less innovative or out-of-the-box thinking | Struggling to come up with new ideas or solutions to problems |
| Slower work pace | Decreased productivity and efficiency | Taking longer to complete tasks or falling behind on deadlines |
| Decreased problem-solving ability | Trouble finding effective solutions to challenges | Struggling to identify the best approach to a problem or making poor decisions |
| Lack of motivation | Lowered commitment and effort put into tasks | Producing subpar work or neglecting important responsibilities |
Tools and techniques to enhance both stress management and work quality
| Stress Management Tools and Techniques | Work Quality Enhancement Tools and Techniques | Benefits |
| --- | --- | --- |
| Deep breathing exercises | Creating a to-do list | Increases relaxation and focus |
| Meditation | Setting clear goals | Improves mental clarity and productivity |
| Exercise | Time management techniques | Reduces stress and increases efficiency |
| Positive self-talk | Prioritizing tasks | Boosts confidence and improves task completion |
| Journaling | Collaborating with colleagues | Promotes self-reflection and generates new ideas |
| Social support | Eliminating distractions | Provides emotional support and increases focus |
Similar interview questions:
What strategies do you employ to maintain a healthy equilibrium between stress levels and work quality?

In your opinion, how can professionals strike a harmonious balance between stress management and delivering high-quality results?

Do you believe it is possible to find a middle ground where stress and quality can coexist? If yes, how do you personally achieve this balance?

Could you share some effective techniques or practices that you find helpful in managing stress while still ensuring optimal output quality?

What steps do you take to juggle the demands of stress and maintain high standards in your work?

Can you describe a situation where you successfully maintained an equilibrium between stress levels and the quality of your performance? How did you accomplish this?

In your experience, what factors contribute to maintaining a state of equilibrium between stress and quality, and how do you manage these factors?

What are your thoughts on the concept of balancing stress and quality within professional work? Do you feel it is a realistic expectation? If so, how do you go about achieving it?

Discuss your approach when confronted with stress in your work and how you ensure that it does not compromise the quality of your deliverables.

How do you strike a balance between managing stress and consistently delivering high-quality outcomes? Could you share any specific techniques or methodologies that have proven beneficial for you personally?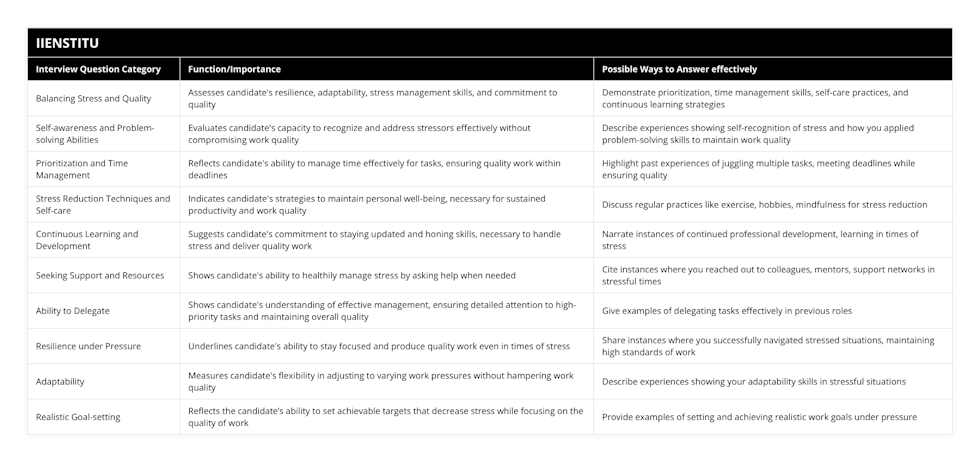 How do you balance stress and quality?
how do you balance stress and quality
how do you balance stress and quality?

Amara Weiss
Institute Secretary, Author
I am Amara Weiss and for many years I have worked in the field of education, specifically in the area of technology. I firmly believe that technology is a powerful tool that can help educators achieve their goals and improve student outcomes. That is why I currently work with IIENSTITU, an organization that supports more than 2 million students worldwide. In my role, I strive to contribute to its global growth and help educators make the most of available technologies.
Related Posts
Our team of experts is passionate about providing accurate and helpful information, and we're always updating our blog with new articles and videos. So if you're looking for reliable advice and informative content, be sure to check out our blog today.