Certificate
What Certificate Should I Get?
02 November 2021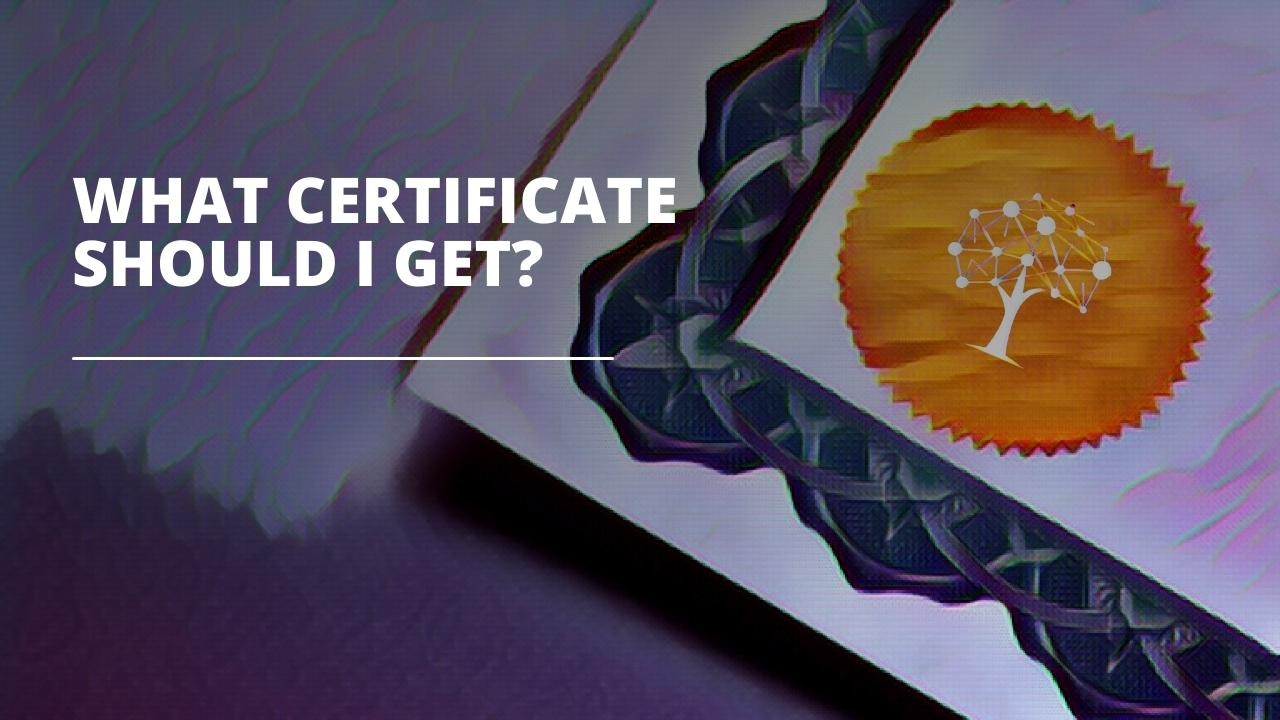 | Certificate Type | Description | Benefits/Usage |
| --- | --- | --- |
| Career Certificate | Obtained by completing one diploma course or half a course in a particular field. | Fast tracks into entry-level jobs and ideal for professions requiring specific certifications or licenses. |
| Professional Certificate | Designed to establish individuals as professionals within their specific fields. | Suitable for professions requiring proficiency in numerous areas without needing a full diploma course. |
| Online Certificate Program | Develop professional skills and knowledge through online modular programs. | Convenient, flexible timing, and enhances resume. |
| University of Phoenix eCampus program | Online course offered by the University of Phoenix leading to a Professional Certificate. | Offers convenience and less time consuming than conventional study methods. |
| Hands-on Learning Certificates | Certificate programs that go beyond textbook learning to provide practical experience. | Enhances understanding of the course material, making it more effective than standard studying methods. |
| Industry-Specific Certificates | Certificates tailor-made to meet the needs of a particular industry. | Makes the candidate highly suitable for specific roles within an industry. |
| Skill-Based Certificates | Certificates that certify proficiency in a specific skill. | Effective for demonstrating mastery over particular required skills in a field. |
| Entry-Level Job Certificates | Certificates that validate the necessary skills for entry-level roles. | Helps in quick job placement in entry-level positions. |
| Managerial Certificates | Certificates that validate managerial skills. | Assists in securing managerial positions or climbing up the corporate ladder. |
| Advanced-Level Certificates | Certificates that showcase high-level proficiency or expertise in a field. | Useful in securing senior or specialized roles in an industry. |
Over the years, certificates have become more critical when it comes to the job world. But with so many different types of certificates, career counselors are having difficulty guiding their students in making decisions about which kinds they should be looking into. 
Certificates for our generation are not like they used to be when we were in school. Getting a certificate meant that you had completed an entire diploma course in school. All you need is one diploma course to get your certificate; apparently, these courses aren't even comprehensive enough for them to be considered diplomas! It sounds like getting a certificate nowadays is becoming something that everyone does without overthinking what kind of certificate they might actually need to get themselves employed once all is said and done. 
Suppose you're currently trying to decide what kind of certificate you should be getting. In that case, this guide will help you learn more about the different types available for you to choose from. Hopefully, by the end of it, you will feel like you know enough about certificates to make an informed decision on which one is right for your future career! 
What is Career Certificate?
The first type of certificate we'll talk about is the Career Certificate. If someone asked me what kind of certificate I think people should get these days, I'd tell them this is definitely the one they should go with. A Career Certificate has become popular lately because it's so easy to get; all students need to do is take one diploma course in something like, let's say, accounting. They don't even need to complete the diploma course; they can just get their Career Certificate once they've finished the first half of the courses. Did you know that it used to be possible for students to complete online diploma courses in as little as six months? Of course, there is such a thing as finishing too fast and not giving yourself enough time (or effort) to learn all about what you're studying. Still, if you're aiming for a career where you only need some kind of certificate, then this might be your best option.
Career certificates are perfect for those jobs that require employees with specific certifications and licenses and allow people who work at these kinds of organizations to move up more quickly within their company. They don't need a lot of money or time to get, and they'll be enough for you to start looking for a career in the field you've studied for. A Career Certificate is your way to fast track yourself into getting an entry-level job at a place like Walmart instead of spending years working as a cashier there to eventually become a manager.
What is Professional Certificate?
The following kind of certificate we're going to talk about is one that many employers look for on your resume: the Professional Certificate. As the name suggests, this certificate is designed to prove that those with it have established themselves as professionals within their specific fields. These kinds of certificates are becoming very popular because today's employers are demanding more from their employees when it comes to performing a large number of tasks and being proficient in many areas. The Professional Certificate is perfect for those who want to go into fields that require a lot of skill and knowledge but don't have time or interest in going through college to get a diploma course.
You'd think that getting a professional certificate would be expensive because this is what people believe they should have if they want to prove themselves as professionals. However, you can get your Professional Certificate by taking only one course! These courses are offered all over the place these days from online schools like the University of Phoenix, which offers excellent programs through their eCampus program. So even though you wanted to go into a field that can only be entered through having to study for years, you're getting the same certificate as those who spent two to four years doing it. Of course, these people will have an advantage over you when it comes to experience. Still, if you'd like to start working quickly, this is definitely one way of doing so!
What is an Online Certificate Program?
An online certificate program helps you to develop your professional skills and knowledge. They typically take a few months to complete and can be taken from anywhere, at any time. Most certificates are not designed to lead directly into professional certifications or degrees; however, they could be helpful as additional training for one or the other.
Consider taking an online certificate program if you're looking for ways to beef up your resume and gain new skills. Let's explore what makes them different from regular college courses and how they can help advance your career:
Earning certificates teaches you better than textbooks alone
Certificates go beyond just engaging you with course material — they enhance it through hands-on learning opportunities and interactive assignments. This way, you'll experience real-world applications of the concepts you're studying.
For example, an online certificate in Cyber Security will teach students how to scan networks for vulnerabilities and secure servers from attacks. The skills they learn throughout their certificate program will carry over into other career areas.
Online certificates are shorter than degrees but still comprehensive
If you're working full-time while attending school, it can be challenging to fit into extended degree programs. On average, a four-year college degree requires about 120 credit hours. Though some universities offer accelerated programs that lead to a Bachelor's in only three or three-and-a-half years, even these take up at least 36 credit hours.
On the other hand, some online certificate programs take only a few months to complete and can be finished part-time. A professional or technical training course, for example, could help a student to become a proficient learners, building up their skills in four to six months.
Online certificates are ideal for working professionals
There is no one-size-fits-all learning plan. Online learning works incredibly well if you need more scheduling flexibility so you can continue earning an income while furthering your education.
For example, 'course requirements' might not matter much if you have knowledge of the subject being taught. However, even if you already know what's being covered, this doesn't mean it'll carry over to the workplace.
Consider an online certificate program in social media marketing. You may already know what topics it covers, but you have to think about how much you'll retain. If this is your first time studying these concepts, consider yourself a blank slate ready to learn. The skills you master throughout the course will serve as building blocks for future learning and professional development.
Online certificates can help build your professional network
One of the main benefits of taking online courses is having access to live lectures and discussions via questionnaires and group projects. This gives you more opportunities to interact with classmates from different backgrounds than ever! Plus, instructors are usually available for one-on-one consultations and provide feedback on your work.

online course
certificate
professional certificate
career certificate

Sezin Gök
Blogger
SHe is a graduate of Akdeniz University, Department of Business Administration. She graduated from the university with a faculty degree. It has contributed to its environment with its social responsibility project. She writes articles about business and its fields.
Related Posts
Our team of experts is passionate about providing accurate and helpful information, and we're always updating our blog with new articles and videos. So if you're looking for reliable advice and informative content, be sure to check out our blog today.