Human Resources Management
Historical Development of Human Resources Idea
25 December 2021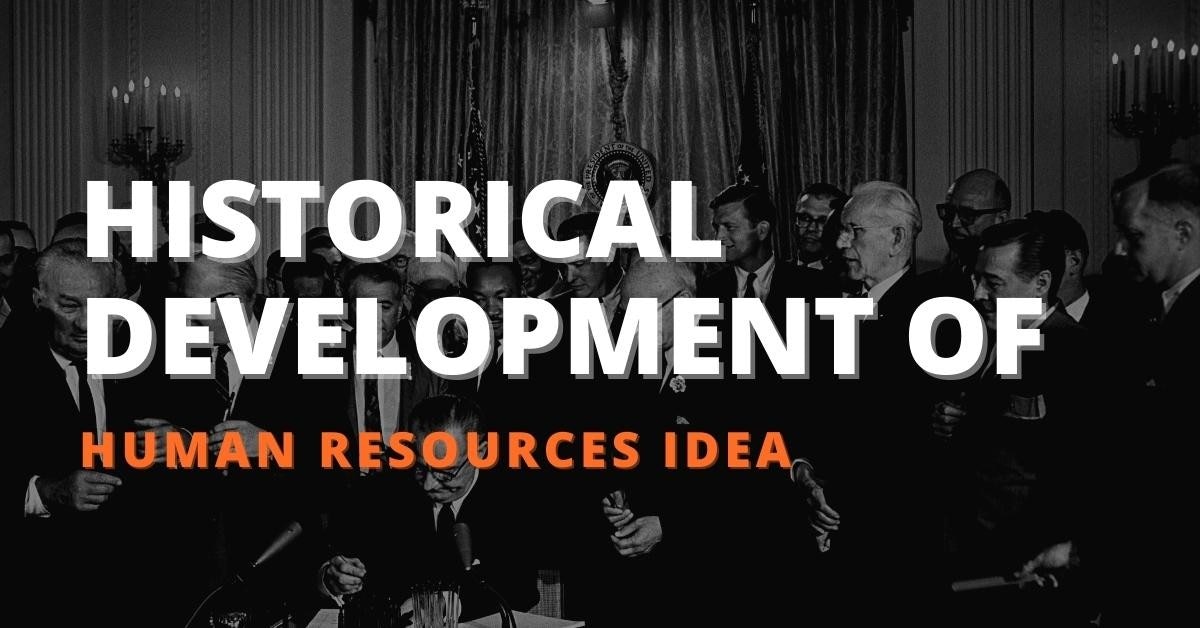 | Time Period | HR Development | Significance |
| --- | --- | --- |
| Early 1900s | Implementation of the Board of Education Act and development of a curriculum for trade and technical instruction. | Standardization in training and education, creation of self-help organizations. |
| 1907 | Recommendations by the Technical Education Inquiry Commission. | Establishment of the Advisory Committee on trade and technical education leading to the birth of standard courses. |
| 1913 | Industrial training programs incorporated women and covered more than half of an apprentice's salary. | Improved relatability and effectiveness in teaching methods, acceptance of apprenticeship programs. |
| Germany - Early 1900s | Creation of Apprentice Programs. | Provided full-time employment, food, lodging and education to teens during their apprenticeship training. |
| Norway & Sweden - Early 1900s | Provision of vocational schools and apprenticeship programs. | Catered to varying trade needs and boosted industrial growth. |
| Australia - Early 1900s | Founding of Central Trade College in Launceston. | Offered trade-oriented training in multiple areas. |
| 1940s -1960s | HR involvement in WWII mobilization. | Provided overall support in all sectors from food supplies to weapons system creation. |
| Post WWII | Continued involvement of HR in transition of war veterans back into civilian life. | Helped in coping with aftermath of war through job provision and support for veterans. |
The history of human resources development is long and complex, but it all starts with one man. More than two thousand years ago in ancient Greece, Aristotle developed the concept that would eventually give us modern-day HR. An acronym for Human Resources or sometimes just referred to as personnel department within a business firm which deals specifically with managing its employees' benefits packages among other things related to it such jobs can include matters concerning sick leave usage rights. We will handle the development of human resources from 1900 to the current application in detail.
Human Resources Development in the Early 1900s
The Board of Education Act (1906) put other education institutions under the board's jurisdiction. This was also a time when self-help organizations – which provided instruction for apprentices – became more popular and widespread; many of these were run by well-meaning citizens who would not only train their students but also give them a stipend to offset their living expenses.
In 1907, the Technical Education Inquiry Commission recommended developing a curriculum for trade and technical instruction. Before this time, there was no standardization in training provision across various educational institutions; some companies even used their training manuals written in-house! In 1908, an advisory committee on trade and technical education was established to create the (British) Board of Education's Trade and Technical Education Committee; this committee was tasked with creating standard courses in six technology-related subjects.
By 1913, small classes became more common in industrial training institutions; there were even instances when these included women! This is because industrial training programs depend on the input of tutors who had gone through similar experiences as their students at some point in their lives; this allowed their teaching methods to be more relatable and effective.
By this time, companies were able to cover more than half of an apprentice's salary during training; they were also given tools and materials that they could use to practice their newly acquired skills upon the completion of their training. Although there was tension between employers, employees, and trade unions at first regarding these apprenticeships, their benefits eventually became evident; this led to the acceptance of apprenticeships during this time as it allowed workers to learn more advanced techniques in the workplace.
The earliest record of trade education's existence was in Germany. It consisted of apprentice programs for teens who served as full-time employees during their four years of apprenticeship training. These programs were paid, and the young apprentices were given both food and lodging; however, they had to spend half of their waking hours attending classes.
In Norway, twenty vocational schools provided trades like carpentry, upholstery, auto mechanics, building construction (including bricklaying), electrical work, smithing (including blacksmithing), and watchmaking.
In Sweden, trade education was offered to apprentices who were typically 14 years of age when they enrolled in their coursework; boys remained in this program for 5-7 years while girls stayed for 4-5 years. Generally speaking, courses were taught by experts in the field who had experience working in industrial settings.
The earliest trade college in Australia was founded in Launceston; it was called the Central Trade College and offered training to students in several areas like carpentry, bricklaying (for masons), plumbing, smithing (including blacksmithing), gas-fitting, metalwork, and electrical wiring.
The Role of Human Resources Development Professionals in the 1940s -1960s
During World War II, human resources professionals (HR) were an integral part of the workforce. As part of the mobilization that occurred before and during WWII, HR's assisted in supporting soldiers and sailors at home while also working with recruiters overseas to put them into uniforms for their country's needs abroad.
During this era, there seemed no limit on what human resources could accomplish, from providing food supplies that would last through winter months without having any perish due to shortage-related deaths to building weapons systems like tanks that took over strategic positions across European troops free movement.
HR professionals were involved in transportation and relocation, morale on the job or leave, handling special requests or grievances, and receiving records of service or personal history. They also assisted in finding temporary jobs for returning war veterans to ease the transition back into civilian life.
After the war, US HR professionals continued to be involved in transportation and relocation, morale on the job or leave, handling special requests or grievances, and receiving records of service or personal history. They also assisted in finding temporary jobs for returning war veterans to ease the transition back into civilian life. Today's HR professionals must consider any legal mandates required to comply with US law, such as federal employment laws, which employers are bound to follow.
During WWII, when US citizens asked so much, HR professionals took over many functions that governmental agencies would usually do at other times. They addressed the everyday needs of the workforce, such as managing leave for employees, granting sick pay when necessary, and inquiring about family health.
As more women entered the workforce, HR had to address hiring and promoting females. They also oversaw layoffs and terminations and training managers on how to supervise female workers. With such a high percentage of soldiers overseas at this time, companies were bracing themselves for future labor shortages as well. HR professionals had to prepare themselves to manage labor during a crisis, which meant planning for these gaps and not over-hiring or over-promoting.
Finally, they must know about the productivity of their department and how it can be improved. During World War II, these things were happening in HR because companies needed them to get through this crisis period efficiently and productively.
Even though HR professionals in the 1940s-1960s had to take on much responsibility during this time, it was not until after World War II that they started to get more recognition for their efforts. When soldiers returned home from serving overseas, many were reskilled to continue working in their previous occupation or find a new one.
In order to help veterans with their transition from military life back into civilian life, the GI Bill was created in 1944. This bill provided financial support for education and training for those who had left high school before graduating or entering college for the first time. In addition to providing vocational courses and educational opportunities, HR professionals helped businesses rebuild themselves.
As a result of many women entering the workforce during the war, companies were not used to having so many females in their workplace. With this new influx of workers, HR professionals had to work harder to manage relationships, maintain morale, and improve employee relations. In addition, they tackled issues such as sexual harassment and equal pay for equal work, both of which are still being discussed today.
One major accomplishment for HR professionals was the introduction of an internal training program within an organization that would be aimed at managers and supervisors. These courses were designed to help workers be more productive while keeping morale high and job satisfaction consistent. This laid the groundwork for what today's HR professionals are expected to do within their organizations.
Changes to Human Resources Development Programs and Curricula from the 1970s - 2000s
Since the early 1970s, there have been many changes in HRD programs and curricula. In particular:
- Increased integration of education with work experiences to prepare people for careers outside teaching
- Increased use of cooperative learning strategies that promote collaboration among students instead of individualism
- More emphasis on student-centered activities such as service projects which aid them to gain life skills beyond academics while still being engaged academically.
- Decreased use of lectures and increased use of group work
- Emphasis on learning theories that are more closely tied to the role/skill performance rather than the traditional focus on attitudinal change
- Increased use of technology-based training; increased use of internships in which students work in actual organizations that provide hands-on experience related to their field of study
- Increased opportunities for students to take courses outside their discipline
- Increased emphasis on experiential learning through peer review activities, capstone projects, and research.
- Increased emphasis on analysis, synthesis, and evaluation skills rather than rote learning.
- Increased emphasis on using technology to enhance learning via telecommunication technologies such as video-conferencing, electronic mail (e-mail), computer conferencing, etc.
- Increased interest in using "paper-and-pencil" tests that represent a shift away from technology-based training toward traditional classroom instruction; increased attention to e-learning.
Current Trends in Human Resource Development Education
Programs have evolved to help businesses cope with new developments in technology, and many of these have been formed to promote a tech-savvy workforce.
Companies are also investing in professional development courses that teach analytics techniques to their employees, which can then be applied across other business functions.
These specializations are also being adopted at the undergraduate level, with many universities offering specialized degrees in subjects like business intelligence, human-computer interaction, and information security.
HRD courses worldwide have grown exponentially over the past few years due to the increasing demand for digital skills.
If you want to work Human Resources Development area, you can attend the Human Resources Development Course at IIENSTITU. Learn more about current trends and gain more skills for work in this area. Also, this is important for getting awareness.

The history of human resources development spans back to the time of Aristotle and has greatly evolved over the years. Throughout the 1900s, HR started to play a more substantial role as vocational and trade schools began to rise, providing technical and practical skill learning through apprenticeship programs. By the 1940s and 1960s, HR professionals were vital in maintaining workforce morale, easing transition into civilian life for war veterans and handling grievances. Looking at this progression, the shift towards online learning platforms can also be seen as a significant development in HR training. This has made it possible to attend HR classes online, a strategy that continues to shape the future of human resources development.hr classes online
Human Resource Development
Bilal Şentürk
Blogger
He completed his undergraduate studies at Celal Bayar University, Anadolu University and Istanbul University, and a Master's degree with thesis on Human Resources Management at Yıldız Technical University and Business Management at Beykent University. He is currently writing a doctoral thesis on human resources and consulting businesses on human resources.
Related Posts
Our team of experts is passionate about providing accurate and helpful information, and we're always updating our blog with new articles and videos. So if you're looking for reliable advice and informative content, be sure to check out our blog today.