Human Resources
Get The Complete HR Certification Course
14 December 2021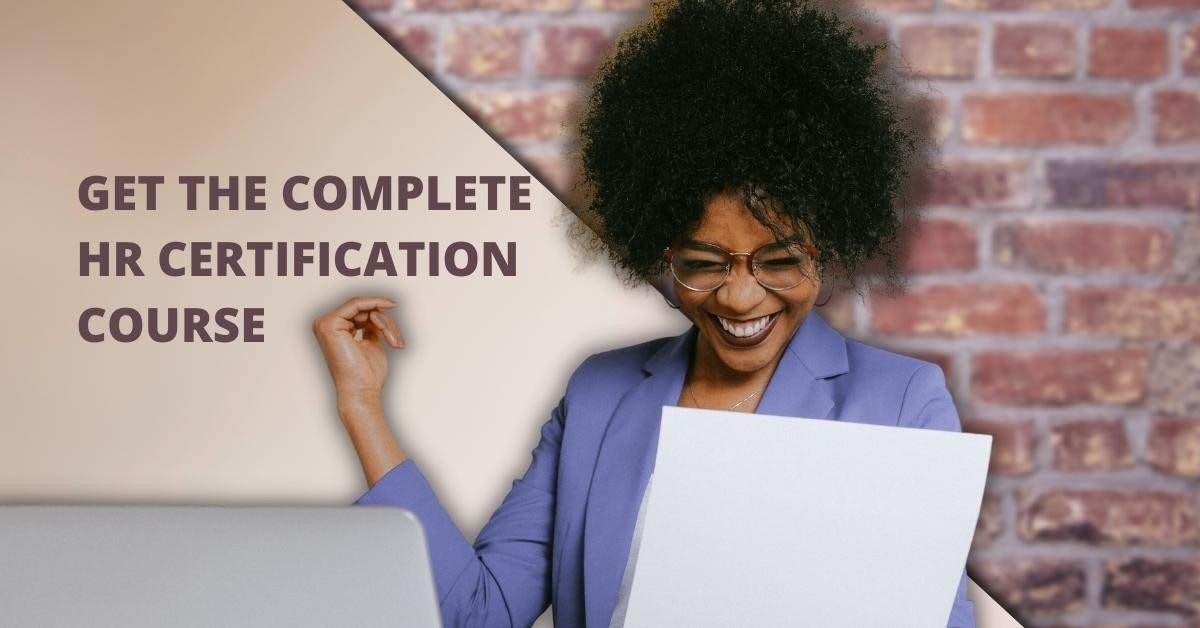 | Course Component | Skills Acquired | Benefits |
| --- | --- | --- |
| Managing Employee Relations | Managing discipline, conducting terminations, improving communication | Effective handling of HR matters, improved employee relations |
| Developing Compensation Plans | Creating effective and fair compensation plans | Attract and retain talented staff, ensure company-wide satisfaction, mitigate turnover |
| Understanding Federal Laws | Knowledge of laws pertaining to HR, maintaining safe workplaces, conducting thorough background checks | Ensure company compliance, avoid legal issues |
| HR Certification | Enhanced HR knowledge, professional standards, improved employability | Increased job opportunities, recognition in HR field, foster continuous learning |
| Patience | Adaptability to different situations, solution-finding | Positive impact on the company |
| Communication skills | Effective employee communication, writing policies and procedure manuals, conflict resolution | Facilitates better understanding and harmony in the workplace |
| Organizational skills | Keeping track of various tasks, ensuring timely completion | Smooth and efficient operations of the HR department |
| HRM Certification | Knowledge of employment law, benefits, compensation management | Increased career opportunities, continuous professional development |
| Experience in HRM | Real-world application of theoretical knowledge | Practical understanding of HRM, better decision-making skills |
| Commitment | Dedication to complete the certification program | Achievement of career goals, increased employability and growth opportunities |
If you're looking to start or further your career in Human Resources, then the Complete HR Certification Course is perfect for you! This comprehensive course will provide you with all the tools and knowledge you need to succeed in this field.
The course is divided into two main parts: Managing Employee Relations and Developing Compensation Plans. In the first part, you'll learn about employee relations basics, such as managing discipline and conducting terminations. You'll also understand how to develop effective compensation plans, which is essential for any HR professional.
The second part of the course focuses on federal laws that apply to the HR profession. This part is essential for those new to HR, as it will teach you how to navigate laws. It will also discuss the importance of maintaining a safe work environment for employees and how to perform a thorough background check on potential new hires. This is an excellent resource for those who want to gain expertise in compensation plan development; it's also required by IIENSTITU if you're going to earn your HR Certification.
The Complete HR Certification Course is an excellent way to gain the skills and knowledge you need for a successful career in Human Resources. We highly recommend this course for both new and experienced professionals alike! Enroll today and start learning!
HR Certification Course is offered exclusively online through IIENSTITU. For more information or to enroll, please visit our website.
Summarize
1. What are some of the essential skills to have in HR?
2. Do you have a certification in Human Resources Management?
3. How can you get HR certification?
What are some of the essential skills to have in HR?
Skills that are important for HR professionals include being a great listener and communicator, having strong writing skills, and mediating conflicts. These skills are essential because they allow HR professionals to effectively communicate with employees, write effective policies and procedure manuals, and resolve disputes in a way that does not create hard feelings among employees.
However, one of the essential skills HR professionals need is patience. It can take time before they see tangible results from their work because every situation is unique. This means they need to adapt to different conditions and find solutions that work for everyone involved. By using their skills and patience, HR professionals can make a positive impact on their company.
One last skill that HR professionals need is the ability to stay organized. This is important because it allows them to keep track of all the different tasks they need to complete and ensure that everything is done on time. By having strong organizational skills, HR professionals can help keep their company running smoothly.
So, what are some of the essential skills to have in HR? These include being a great listener and communicator, having strong writing skills, mediating conflicts, and being organized. By possessing these skills, HR professionals can make a positive impact on their company.
Do you have a certification in Human Resources Management?
If you have been working in the Human Resources Management industry for some time now, you will likely know of certain things. You may be aware of what a certification from this industry means and what impact it can have on your career. However, those new to the field or considering entering HRM as a career option may not yet understand how beneficial such a certification could be, so we'd like to give you a quick background on why they exist and what's required before deciding if one is right for you.
The idea behind these certifications originated back in the early 2000s and has become an increasingly popular way for professionals within Human Resources Management to demonstrate their knowledge and experience with those seeking help within this area. Suppose you do have a certification from HRM. In that case, you can be sure that you hold a wealth of knowledge and understanding of critical topics in areas such as employment law, employee benefits, and compensation management.
This means that if you're looking for a new career opportunity or just want to brush up on your skills, having this certification could give you the edge you need to set yourself apart from other applicants. It also shows that you are serious about continuing your professional development and expanding your knowledge base. 
However, it's important to note that not everyone is suited to pursuing a certification in HRM. It takes time and effort to complete one of these programs, which can be expensive. So if you're not entirely sure whether or not this is the right path for you, it may be best to hold off on any applications until you are fully committed. Suppose you want to pursue certification but need some more time to prepare yourself before applying. In that case, there is nothing wrong with using for this career once you are ready so long as the organization offers entry then.
How can you get HR certification?
There are many different courses available that can help you achieve your goal of becoming certified in Human Resources Management. Some schools offer these courses by themselves, while others combine them alongside other topics within Human Resources (this means they often take longer). Before choosing one of these programs, make sure you do thorough research on what each institution offers and which options are the most suitable for your needs. IIENSTITU is the best place for HR certification. You can get a certificate of achievement. And you can use it in your work life and also added to your resume.
Once you have completed your course, all that is left to do is pass the certification exam. 
Of course, this is easier said than done as they can sometimes be challenging and require much studying beforehand. These are no ordinary tests either, so if you have never taken one before, you can study to exam and focus on how best to prepare yourself before signing up with an institution or taking matters into your own hands.
This way, you will know what knowledge base you need to ace the exam and become certified successfully. 
So that wraps up our introduction about certifications from HRM! Hopefully, now that you have all this extra information under your belt, you can make the right decision about whether pursuing one of these certifications is for you. If you are not sure if it's something you'd like to do or even if it would benefit your career in any way, all you need to do is look at IIENSTITU's HRM certification course page and read through some of the information. And also, you can ask the support team.
This will give you a good idea of how beneficial they could be and whether this certification would take your career to the next level. Have fun finding out!
Bonus: Also, you can get courses in different areas. You can join free online courses and get certification. Have a best chance in your career path!

Bilal Şentürk
Blogger
He completed his undergraduate studies at Celal Bayar University, Anadolu University and Istanbul University, and a Master's degree with thesis on Human Resources Management at Yıldız Technical University and Business Management at Beykent University. He is currently writing a doctoral thesis on human resources and consulting businesses on human resources.
Related Posts
Our team of experts is passionate about providing accurate and helpful information, and we're always updating our blog with new articles and videos. So if you're looking for reliable advice and informative content, be sure to check out our blog today.