Online Training
Free Online Courses With Certification
10 December 2021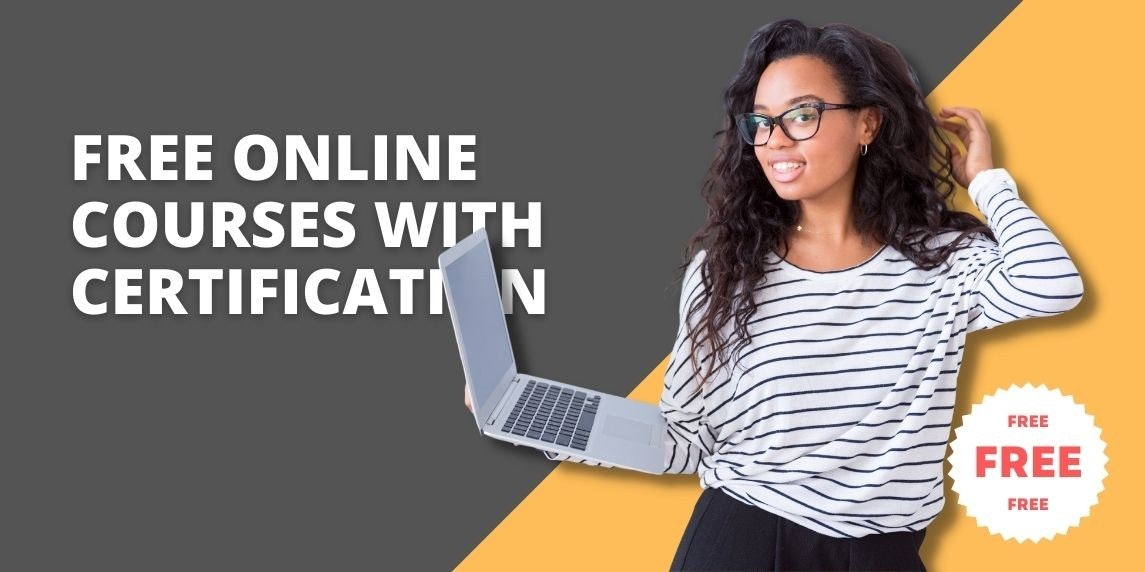 | Platform | Type of Course | Free Certification Available |
| --- | --- | --- |
| Udacity | Computer Science | Partially (Only course content is free) |
| UDACITY | How to build a startup | Partially (Only course content is free) |
| Edx | Artificial Intelligence | Partially (Only course content is free) |
| Khan Academy | Programming | No |
| Codecademy | JavaScript coding | Partially (Only course content is free) |
| MOOCs | Various topics (university courses) | Depends on the course |
| Business-oriented websites | Starting own business | Yes |
| Websites offering in-house training | Industry-specific courses | Depends on the course |
| Duration/Effort required | Varies per program | Depends on the course |
| Websites needing research before enrolment | Multiple topics | Unverified |
Are you looking to further your education but don't want to spend the money on traditional courses? Or maybe you're not located near a college or university. Whatever your reason may be, did you know that there are many free online courses with certification available? This blog post will discuss some of the best options for free online courses with certificates. So whether you're a stay-at-home mom looking for a way to make yourself more marketable or you're an adult learner looking for a new career path, read on!
Summary
You want to learn a new skill, but you don't have the time or money to take classes at a college.
Imagine taking free online courses that are taught by real instructors and cover topics like business, computer science, health care administration, and more. These courses will help you build your resume and get ahead in your career.
With our free online courses with certification from top universities worldwide, you can be sure of getting a high-quality education for less than $100 per course! Our goal is to provide everyone with access to affordable learning opportunities regardless of their location or financial status.
First of all, if you are wondering why I wrote this blog post, I would like to tell a story that happened to me.
I was a recent college graduate. I had a degree in English and a background in literature, but when I graduated, the job market wasn't exactly booming. Nobody wants to hire an English major to proofread their work or read books for them--they want someone with practical skills. But my grandpa said he wanted me to have enough money saved up for retirement someday, so he put restrictions on what jobs I could do until I found something more stable. That's why it sucked so much when my cousin offered me this new opportunity--it seemed too good to be accurate at first! He told me about some free online courses with certification where you can learn anything from computer programming, art history, digital marketing...anything! It sounded like. That day I started looking for free courses. I want to share with you what I found.
Related Course: Digital Marketing Course Online
The prevalence of technology is increasing rapidly, and so are the means to access knowledge. As a result, the need to pursue learning has never been more personal than now.
There are hundreds of websites offering courses for free online certification. While there's no shortage of options, choosing the platform that provides the best outcomes for you as an individual or your organization can be unclear.
A few things you should consider while making this critical decision include Duration/Frequency/Effort; Target market (Individuals or organizations); Assessment (assignments, projects, etc.); Certifications (free or paid).
Many websites offer courses for free, but the certifications require a fee. The validity of these certificates and their acceptance in the job market is another question that needs to be answered before making a decision. 
Many websites' course content and certification are not accredited or recognized by employers. Hence, it is essential to do your research before enrolling in any program.
Type:
Most of the websites offering courses for free online certification offer MOOCs (Massively Open Online Courses), which are offered by universities and other well-established companies. These MOOCs cover a wide range of topics, from business administration to web designing. 
University names such as Harvard, UC Berkeley , Stanford and many others regularly offer courses on these platforms. Some examples include: Udacity – Computer science; UDACITY – How to build a startup; Edx – Artificial Intelligence; Khan Academy – Programming; Codecademy - JavaScript coding etc. While most of these are paid programs, some do have course content that is available for free. 
Type:
There are also websites that offer courses specifically for individuals who want to start their own business. These courses are designed to give an overview of the business and teach the basics of how to set up a company, market it and make money. The duration of these courses is usually short, and they are offered at no cost.
Organizations looking for in-house training can also find many options on websites that offer courses for free online certification. Many of these platforms have a wide variety of courses on offer, from basic computer skills to specialized programs relevant to the industry the organization operates in. The courses are usually self-paced, and can be completed at the learner's convenience. However, assessments and certifications are not always free.
Effort/Duration:
The effort required to complete a course on these websites varies from one program to another. While some programs require a lot of time and effort, others are more relaxed. It is important to read the requirements of each program before signing up. The duration of the courses also varies; some can be completed in a few days while others take weeks or even months. 
It is essential to check the weekly schedule of the program before enrolling in it. For instance, if you plan to complete a course on Udacity over the weekend, make sure there are no assessments scheduled for that time.
Cost: 
The cost of these courses also varies, with some being completely free and others having a fee for certification. The type of course, the duration, and the assessment requirements also play a role in the overall cost. However, most of these platforms offer scholarships to students who cannot afford the fees. 
It is essential to read the terms and conditions of each website before signing up for a course. For example, Coursera offers a 7-day trial period during which individuals can sign up for any number of studies without paying anything. After that, they are charged $49 per month if they want to continue taking courses on the platform.
Websites that offer courses for free online certification make education accessible to everyone; whether they are learners looking to gain new skills, students who cannot afford to pay the fees of traditional universities or professionals looking for in-house training. The resources available on these sites change constantly, so it is important to browse them regularly.
Who should attend free online courses?
The beauty of online courses is that anyone can attend, regardless of location or age. This makes them ideal for people who cannot participate in traditional courses for various reasons. For example, a working adult who cannot take time off from work to participate in a study in person can easily access the materials online. Similarly, a student living in a rural area may not have access to the same level of education as someone living in a city. Online courses can help bridge this gap.
Online courses are also great for learning new skills but don't know where to start. There are so many courses available, from basic computer literacy to more specialized topics like web development or digital marketing. The best part is that most courses are free, so you can try out several different ones before deciding which one is right for you.
So who should attend online courses? In short, anyone and everyone! They are a great way to learn new skills, stay up-to-date on current trends, or explore your interests. And since they're free, there's no reason not to give them a try.
Is the certificate necessary?
But before that, there is another question that needs to be asked. What is a certificate of achievement? What is a certificate of completion? I will explain these two in a moment.
Picture this: You've just taken a free course, and you're sitting at your desk ten minutes before the class ends. For the last few minutes, you and the other students have been staring at the instructor's face, wondering if he'll tell them what they need to do to get the certificate [not sure why it would be necessary, but go with it]. Unfortunately, it seems that this is one of those rare cases when certificates are required.
I don't know how often this has happened to me, but we were always told we had to pay for a certificate. The real problem was that I didn't understand why we needed a certificate to prove we could do something like work with Javascript or write in markdown. It was almost like the certificate was more important than the knowledge we were getting in some cases.
Thankfully, that's not always the case. I've worked with a few people who told me they received free courses and never had to worry about getting a certificate. Instead, their employers appreciated their dedication to learning new things.
I'll share one more story with you. A few years ago, before I started working at my current company, I took a costly Javascript course offered by Harvard on Coursera. Unfortunately, at the time, there were no certificates available through the site, and it didn't seem like they were going to offer any anytime soon. Still, though, I learned what I needed to get the job done, and the subject is still fresh in my mind today because of it.
Now that certificates are not always necessary don't let them hold you from taking online courses because they are free! Don't be discouraged if you can't find a system that offers a certificate. There are many other ways to prove that you're knowledgeable in a particular subject. Plus, your employer will more than likely appreciate your efforts to continue learning even if there isn't a shiny piece of paper at the end of it all.
So, is the certificate necessary? The answer to that question is: it depends. If you're looking to get a job in a particular field, then the answer will likely be yes - certificates are often required for those positions. However, if you're looking to learn for your benefit, then taking a course without a certificate may be just fine. Your employer may even appreciate it! Certificates are not always necessary to learn new things, but they can be helpful when it comes to getting a job. 
What is a certificate of completion?
A certificate of completion is an official document or certificate issued by a school, college, university, or other educational institution to certify that the recipient has completed a course or program of study. A certificate of completion typically includes the recipient's name, the title of the course or program, and the date on which it was completed.
Certificates of completion are often used to demonstrate that a person has met the educational requirements necessary to pursue a specific career or obtain a professional license. They may also be used as proof of academic achievement for admission to graduate school or scholarship applications.
Many employers require employees to have certificates from accredited schools or programs to qualify for specific jobs. Certificates are also commonly required for insurance purposes to prove that the holder has passed a certain level of education.
Professional associations or unions often offer professional certifications in specific fields. These certificates attest that an individual has met the requirements necessary to practice a profession, such as a licensure or completion of training programs.
They play an essential role in job applications and hiring processes because they can prove educational achievement, experience, and specialization within specialized industries, including technology and construction. Certifications may require written exams administered by third parties or by the issuing organization. Many jobs use certification tests to determine whether people have the knowledge and skills needed for particular positions. Certification is used across all career levels, from entry-level to senior management.
There are numerous certifications for people with different skills and talents, including teaching, counseling, managing, building trades, health care professionals such as radiology technicians, communications workers such as IT support staff, information technology consultants, and computer engineers. Some professional certificates are recognized worldwide; others have more limited acceptance or are used only in certain countries or regions.
For example, the Certified Safety Professional (CSP) is the only certification that helps safety managers ensure their organizations' safety regardless of local laws governing occupational safety. The CSP is globally recognized by Occupational Safety and Health Administration (OSHA) officials in the United States.
Certification is sometimes confused with credentials. They involve two different processes. Certification is an assessment of an individual's knowledge or skills in a particular area. In contrast, credentials are the documents or certificates awarded to individuals who have met the requirements of a certification program. For example, Microsoft Certified Systems Engineer (MCSE) is a certification. The certificate or credential issued to someone who has passed the MCSE exam is a Microsoft Certified Professional (MCP) certificate.
Employers value both certifications and credentials because they demonstrate that an individual has the theoretical knowledge and the practical experience required for a particular position. In addition, certificates are typically less expensive and time-consuming to obtain than degrees, and many can be completed online. However, not all certifications are created equal; some employers may prefer to see degrees or more specialized credentials over general certificates. 
There are a few things to keep in mind when looking for a certification program:
The certification should be from a reputable organization.

The certification should be relevant to your career goals.

The certification should be updated regularly to ensure that it is current.

Employers should recognize the certification.
When researching different certification programs, it is essential to read the fine print and make sure that you understand what is required to obtain the certification. Many certifications require ongoing education and professional development to maintain the certification. Failure to meet these requirements may result in the loss of the certification
What is a certificate of achievement?
A certificate of achievement is a document that proves the completion of a particular task or education program. There are many types, but one common kind is given to students who have completed their high school studies. The document certifies that the student has met the requirements set by their state, which includes having passed specific tests and achieving required grades. Other certificates exist to document things like completing courses in first aid, CPR, lifeguarding, business administration, paralegal studies, etc. You can even get certifications for becoming an expert at using different computer programs.
Certificates of achievement are usually given to individuals who have completed tasks or educational programs which require taking courses and passing exams before earning the appropriate certification. They may prove that somebody possesses specific skills when applying for jobs or educational programs. In addition, educational institutions often give out academic awards post-graduation.
Overall, certificates are a great way to show your skills and achievements! They can be used as proof of your capabilities when applying for jobs or furthering your education. Make sure you keep all your certificates in a safe place so you can proudly display them when needed!
How to find the best free online course for you?
There are now a wealth of free online courses available from top universities worldwide. So, how do you find the best one for you?
Firstly, think about what you want to learn. Do you like to improve your CV or learn a new skill? If you're looking to learn a new skill, think about what interests you and what you want to achieve. Once you've narrowed it down, do some research on which courses would be best for you – there are plenty of course reviews online to help with this.
Then, sign up! Many courses have open registration, so there's no need to wait. You can start learning right away.
Finally, make sure you have a clear goal in mind and keep going! It can take a while to complete a course. In the end, you might want to consider taking a certification exam if relevant.
1  - IIENSTITU is Europe's largest online course platform with 2 million students. There are Turkish and English courses. Unlike other course platforms, they have live classes. You get the certificate from an Estonia-based educational institution, not a website. That is, all companies accept your certificate. You receive an official and accredited document.
You can talk to other students enrolled in the same course. This is one of its best features. It is a community. The group chat feature is not available on other platforms.
There are many different online course platforms that are available to choose from. Each platform has its features and benefits, so it is essential to consider which platform will best meet your needs. Some popular online course platforms include Coursera, edX, and Udacity.
2 - Coursera is a platform that offers more than 2,000 courses from 140 different universities. It is one of the most popular online course platforms, and it has a large community of students and instructors. Coursera courses are typically video lectures with accompanying quizzes and assignments.
Coursera Pros And Cons
| Number | Pros | Cons |
| --- | --- | --- |
| 1 | You can learn at your own pace. | The workload can be intense, depending on the course you choose. |
| 2 | The diversity of courses offered is impressive. | You may have to deal with a lot of noise from other students in the discussion forums. |
| 3 | You get to learn from experts in the field. | Some courses have deadlines, but most do not. This means that if you procrastinate too much, you'll find it challenging to keep up with assignments as they pile up over time. |
| 4 | Certificates of completion are issued upon finishing a course. | You can't be sure that future exams will test the material covered in class lectures and tutorials because course content changes frequently. |
| 5 | Sometimes, Coursera offers scholarships for students who cannot afford to pay for courses. | Most courses don't offer any academic credit. |
| 6 | | It's usually impossible to know how well you performed after completing a course unless you take a proctored exam for a fee at an approved testing center. |
| 7 | | Coursera doesn't specialize in any one area. Thus, you have to be very careful when selecting courses because not all are created equal. |
| 8 | | Coursera doesn't offer every course their instructors would like to share with the world for free. Some courses are only made available for purchase on the site. This is usually the case with higher-level or more specialized classes offered through "specialization tracks." To take these classes, you may have to pay a fee depending on how many courses are on each track. The price can range anywhere from $49-$99 per class. |
| 9 | | There is no live class. |
3 - Udacity is a platform that focuses on vocational courses. It offers more than 200 courses from 16 different universities. Udacity courses are typically video lectures with accompanying quizzes and projects. One unique feature of Udacity is that it offers Nanodegrees. These are special courses designed to help students get a job in specific industries.
Udacity pros and cons.
So what are the pros and cons of udacity? Here are some key points to consider:
| Number | Pros | Cons |
| --- | --- | --- |
| 1 | Wide range of courses available. | 1) Limited course selection compared to some other platforms like Coursera. |
| 2 | Strong focus on career development through nano degrees. | 2) Limited flexibility in scheduling courses, as Udacity offers only one course at a time. |
| 3 | Excellent learning resources including videos, articles, and quizzes. | 3) Low completion rates among students, possibly due to inflexible scheduling, limited course selection, or high prices for advanced courses. |
| 4 | Affordable prices. | 4) No live classes offered. |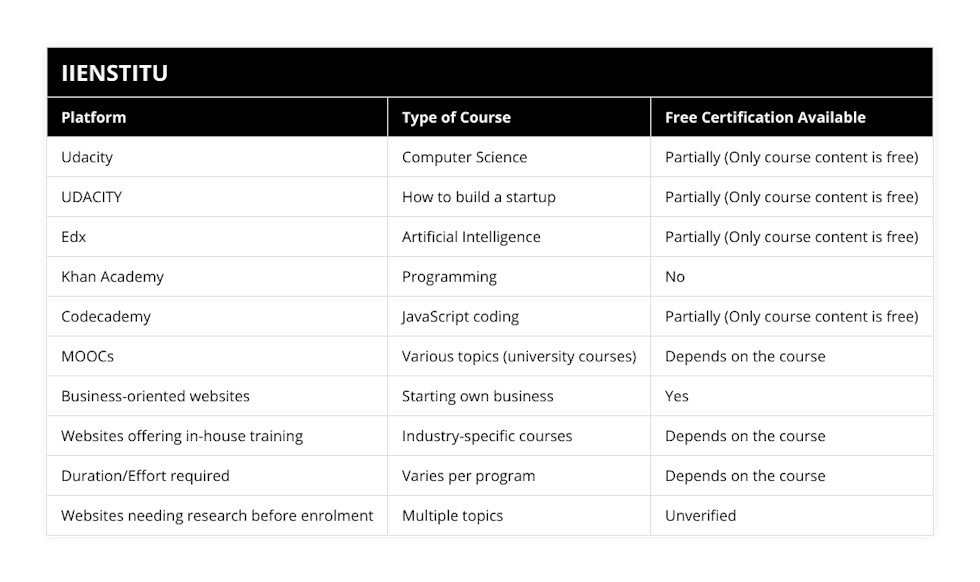 free online course
certificate
online courses
certified
Meryem Winstead
Blogger
I graduated from the Family and Consumption Sciences Department at Hacettepe University. I hold certificates in blogging and personnel management. I have a Master's degree in English and have lived in the US for three years.
Related Posts
Our team of experts is passionate about providing accurate and helpful information, and we're always updating our blog with new articles and videos. So if you're looking for reliable advice and informative content, be sure to check out our blog today.