Interview Questions
Interview Question: Digital Transformation's Impact on Supply Chain
25 September 2023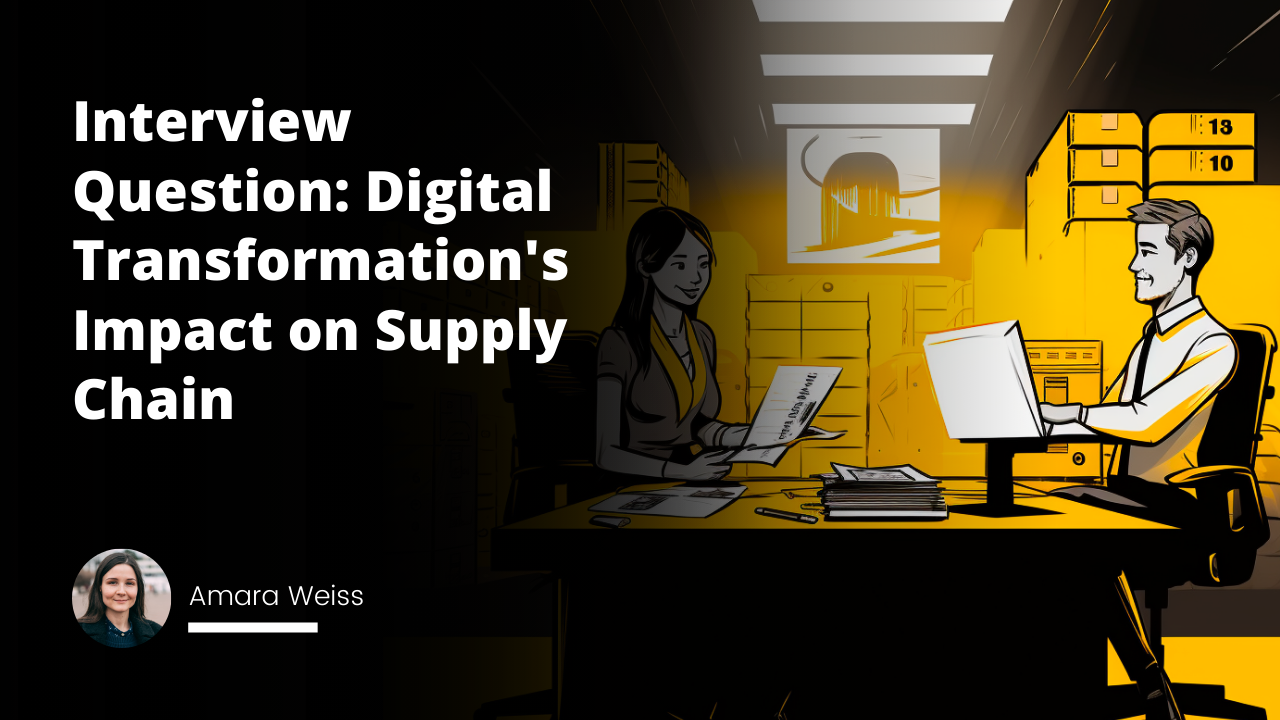 | Aspect | Explanation | Example/Illustration |
| --- | --- | --- |
| Purpose of the Question | To assess candidate's familiarity with the substantial shifts brought about by digitization in supply chains. | Interviewer wants to understand candidate's vision on harnessing digital tools to optimize supply chain operations. |
| Interview Level | Typically asked in intermediate to advanced-level interviews, especially in positions related to supply chain management, digital operations. | Applicable to roles including supply chain analysts, logistics managers, chief technology officers. |
| Expected Answer | Well-thought-out responses indicating excellent understanding of digital disruptions in supply chain operations. | Highlight how technologies (IoT, AI, blockchain) have reshaped the global supply chain landscape. |
| Digital Transformation Impact | Revolutionization of traditional supply chain processes, enhancing customer experiences, improving process speed. | Discuss role of AI in predicting demand and timing, IoT devices enabling real-time tracking. |
| Anticipation and Adaptability | Candidates should demonstrate readiness to embrace technological changes. | Reflect forward-thinking analysis on future trends and adaptability in rapidly changing digital era. |
| Supply Chain Optimization | The application of digital tools to enhance supply chain performance and troubleshoot various challenges. | Modern software applications in streamlining operations, reducing costs and enhancing efficiency. |
| Implications of Digitization | The effects of digitization on an organization's productivity, profitability, customer satisfaction and competitive advantage. | Digital transformations strengthening supply chain resilience, as shown during COVID-19 pandemic. |
| Digital Transformation Readiness | Candidate's preparedness to implement and harness digital technologies in prospective organization. | Leveraging digital transformation for a more efficient, more profitable future. |
| Innovative Thinking Skills | Candidates' ability to provide innovative solutions, anticipate future trends, and handle tech-induced changes. | Reflect strategic vision and innovative approach in answering how to upgrade the supply chain process. |
| Broad Understanding of The Topic | Candidates' comprehensive understanding of the digitization's dynamic role in remodelling operational processes. | Should demonstrate an understanding of the alterations digital technology has caused in traditional supply chain structure. |
In the modern business landscape, many interviews revolve around the topic of digital transformation. One question that often crops up pertains to the digital transformation's impact on supply chain. So, why is this question asked?
Hiring managers pose this question to gauge a candidate's understanding of the influence of digital technology on the traditional supply chain structure. They want to explore their awareness and sense of anticipation when it comes to how technology shapes, alters, and revolutionizes the supply chain.
This question is paramount in various sectors, including retail, manufacturing, or any industries heavily reliant on supply chain management.
Whether you are an IT professional, a supply chain manager, or a digital transformation consultant, anticipate this question. It offers the interviewer a peek into your understanding of digitization and its dynamic role in modernizing conventional operational processes.
What is the Purpose of the Question: Digital Transformation's Impact on Supply Chain?
The purpose of the question becomes clearer when we stitch it into the broader fabric of digital transformation. Employers ask this question to assess your familiarity with the major shifts brought about by digitization in supply chains.
They are eager to understand your vision on harnessing digital tools to troubleshoot supply chain challenges and optimize operations.
The question serves as a litmus test of your foresightedness, adaptability, and readiness to embrace technological changes. It unveils your innovative and strategic thinking skills, mirroring your ability to predict future trends and readiness for the rapidly transforming digital era.
At What Interview Level is this Question Asked?
"Digital Transformation's Impact on Supply Chain" is a question typically posed in intermediate to advanced-level interviews. It comes into play in conversations for positions related to supply chain management, digital operations, technological strategizing, and managerial positions in industries dependent on supply chain operations.
From supply chain analysts to logistics managers, to chief technology officers – anyone operating at the juncture of technology and supply chain can expect this question.
What Kind of Answer is Expected from the Candidate?
The interviewer expects substantial, well-thought-out responses that indicate an excellent grasp of the digital disruptions in supply chain operations. Generic answers won't suffice.
The ideal answer should address the whys and hows of digital transformation. Explore how digital tools like IoT, AI, blockchain, and machine learning have shaped the global supply chain landscape. Showcase your knowledge of modern software applications in streamlining operations, reducing costs, and enhancing efficiency.
Discuss how digital transformation has enhanced customer experience, expanded real-time visibility, improved process speed, and optimized inventory management. The interviewer seeks an answer that encapsulates the candidate's comprehensive understanding, forward-thinking approach, and readiness to implement digital technologies to upgrade the supply chain process.
Possible Answers to Consider
When addressing the question about the digital transformation's impact on supply chain, consider aligning your response with current trends in digitization. Talk about specific examples where technology has augmented supply chain operations – for instance, the role of Artificial Intelligence in predicting demand and timing, or how Internet of Things (IoT) devices facilitate real-time tracking of goods.
Discuss the implications of digitization – the impact on productivity, profitability, customer experience, and competitive advantage. Analyze how digital transformations have made supply chains resilient amid challenging situations, as proven during the COVID-19 pandemic.
Speak about the potential for tech-induced changes, the challenges to overcome, and how you plan to leverage digital transformation to springboard your prospective organization into a more efficient, more profitable future.
In conclusion, "Digital Transformation's Impact on Supply Chain" isn't just a question; it's an encapsulation of your perspective on the digital alteration of operations.
It tests your readiness to be an active participant in this digital revolution, shaping the supply chain dynamics for a sustainable, profitable, and technologically progressive future. So, give it the thought it deserves, and let your response mirror your preparedness for digitization.
Comparison of Traditional Supply Chain Versus Digitally Transformed Supply Chain
| Traditional Supply Chain | Digitally Transformed Supply Chain | Comparison |
| --- | --- | --- |
| Physical flow of goods | Digitally enabled flow of goods | Physical vs digital flow of goods |
| Manual processes | Automated and digital processes | Manual vs automated processes |
| Silos and lack of visibility | Integrated and transparent | Silos vs integration and visibility |
| Inefficient inventory management | Real-time inventory visibility and optimization | Inefficiency vs optimization of inventory management |
| Limited data and analytics | Advanced analytics and data-driven decision making | Limited vs advanced data and analytics |
| Slow responsiveness to market changes | Agile and responsive to market changes | Slow vs agile responsiveness to market changes |
Impact of Digital Transformation on Supply Chain Performance Metrics
| Supply Chain Performance Metrics | Impact of Digital Transformation | Explanation |
| --- | --- | --- |
| Inventory turnover | Improvement | Digital transformation enables real-time inventory visibility, optimizing inventory management and improving inventory turnover. |
| Order fulfillment cycle time | Reduction | Digitalization automates and streamlines order processing, reducing cycle time for order fulfillment. |
| On-time delivery | Enhancement | Digital tools enable better tracking and monitoring of shipments, increasing on-time delivery rates. |
| Forecast accuracy | Improvement | Advanced analytics and machine learning algorithms applied in digital transformation enhance forecast accuracy. |
| Supplier lead time | Reduction | Digital platforms enable better communication and collaboration with suppliers, reducing lead time. |
| Customer satisfaction | Enhancement | Improved visibility, transparency, and faster response times through digitization contribute to higher customer satisfaction. |
Case Studies on Successful Digital Transformation in the Supply Chain Industry
| Company | Digital Transformation Initiatives | Outcome |
| --- | --- | --- |
| Amazon | Implementation of automated robotics in warehouses | Increased efficiency and reduced operational costs |
| UPS | Use of advanced analytics for demand forecasting and route optimization | Improved delivery accuracy and reduced fuel consumption |
| Maersk | Utilization of blockchain technology for secure and transparent supply chain management | Streamlined document sharing and reduced fraud |
| Walmart | Implementation of IoT devices for real-time inventory monitoring | Enhanced inventory accuracy and improved product availability |
| DHL | Adoption of autonomous drones for last-mile deliveries | Faster and cost-effective deliveries in remote areas |
| FedEx | Deployment of machine learning algorithms for predictive analytics in package sorting | Reduced errors and improved package handling efficiency |
Similar interview questions:
How does digital transformation affect the supply chain?

Can you elaborate on the influence of digital transformation on supply chain operations?

What changes in the supply chain can be attributed to digital transformation?

How significant is the role of digital transformation in shaping the modern supply chain?

What effects does digital transformation have on the efficiency of a supply chain?

In what way does digital transformation revolutionize the supply chain process?

Can you discuss the impact of digital transformation on supply chain logistics?

Isn't it true that digital transformation has a profound impact on supply chain management?

How would you describe the relationship between digital transformation and changes in the supply chain?

How is the impact of digital transformation perceived within the realm of supply chain management?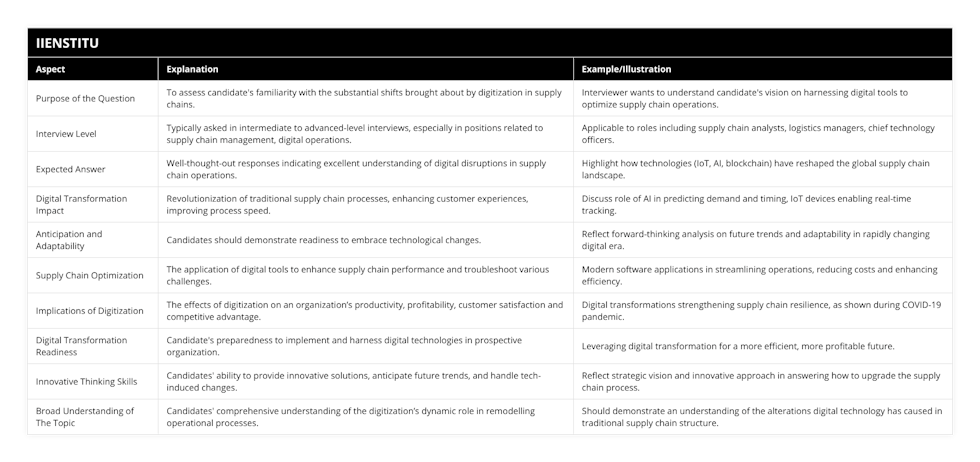 Digital Transformation's Impact on Supply Chain?
digital transformation's impact on supply chain
digital transformation's impact on supply chain?
interview question

Amara Weiss
Institute Secretary, Author
I am Amara Weiss and for many years I have worked in the field of education, specifically in the area of technology. I firmly believe that technology is a powerful tool that can help educators achieve their goals and improve student outcomes. That is why I currently work with IIENSTITU, an organization that supports more than 2 million students worldwide. In my role, I strive to contribute to its global growth and help educators make the most of available technologies.
Related Posts
Our team of experts is passionate about providing accurate and helpful information, and we're always updating our blog with new articles and videos. So if you're looking for reliable advice and informative content, be sure to check out our blog today.