Interview Questions
Interview Question: How Often Do You Reassess Your Time Management Methods?
26 September 2023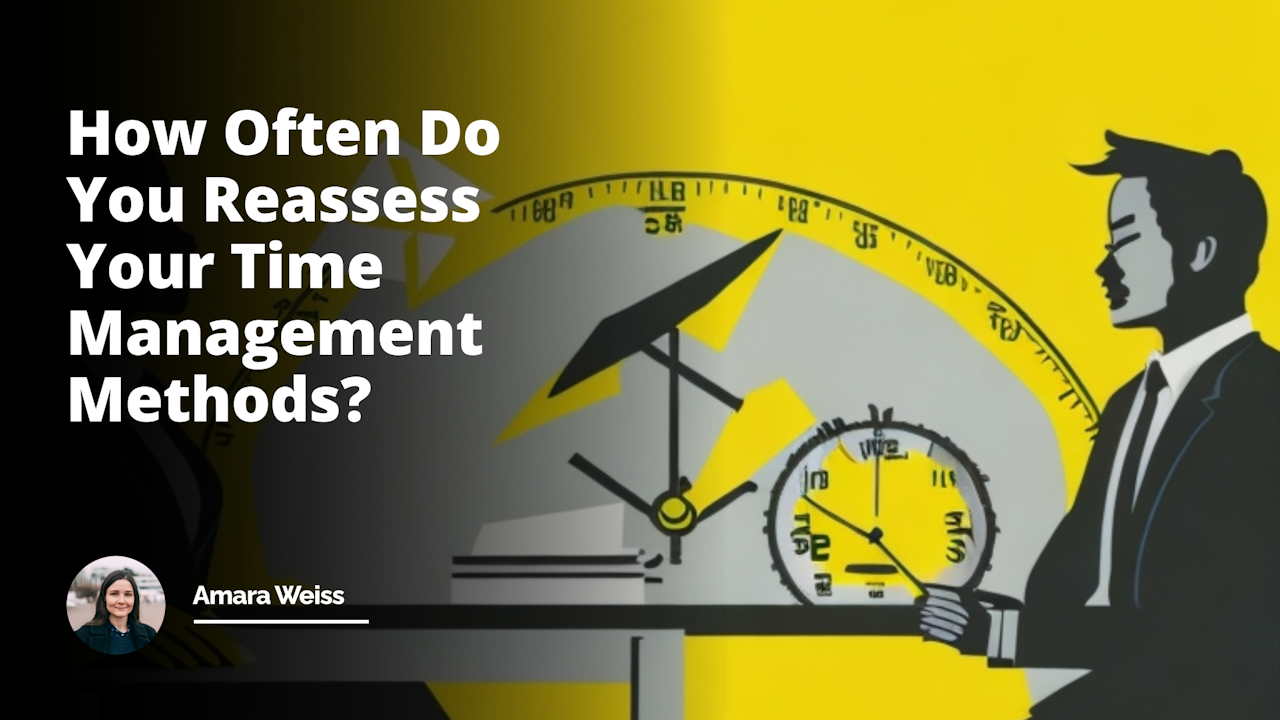 | Evaluation Point | Why It's Important | Sample Response |
| --- | --- | --- |
| Regular reassessment of time management methods | Shows adaptability to changing work environments. | I reassess monthly, more often if tasks or project directions change significantly. |
| Real-world examples of time management improvement | Demonstrates self-improvement and problem-solving skills. | Examples where reassessment lead to better productivity. |
| Use of time management tools and techniques | Indicates efficiency and organizational skills. | Discussion of successful use of apps, planners, or other tools. |
| Reflective and deliberate improvements | Showcases ability to learn from past mistakes and make proactive changes. | Instances of learning from past mistakes and making necessary adjustments. |
| Ability to work without constant supervision | Signals self-sufficiency and reliability. | Examples of efficiently organizing work independently. |
| Frequency of reassessment | Indicates responsiveness to task complexity and changes in priorities. | Adjusted frequency in line with task demands. |
| Experience with complexity | Reveals the ability to handle high-pressure or multi-tasking scenarios. | Instances of managing multiple projects or complex assignments. |
| Positive effect of time management | Showcases knowledge of time management's significance for productivity. | Stories of enhanced efficiency and productivity due to improved time management. |
| Being flexible with time management approach | Signals ability to adapt and improvise, as well as receptiveness to feedback. | Examples of adjusting time management practices based on feedback or novel insights. |
| Understanding of role-specific time management | Indicates skills relevant to the position applied for. | Role-specific examples of successful time management. |
Time is an elusive resource that, once lost, cannot be regained. Thus, it becomes imperative to manage it wisely to derive maximum productivity.
This brings us to an interesting question – "How Often Do You Reassess Your Time Management Methods?" It's an intriguing question that is often posed during interviews, but why is it asked? Is your response pivotal in securing your dream job? Let's crack this open!
Related Course: Free Time Management Course
Why Is This Interview Question Asked: How Often Do You Reassess Your Time Management Methods?
Interviewers aim to evaluate your versatility, adaptability, and open-mindedness in a changing work environment.
"How often do you reassess your time management methods?" is a question that helps them get a sense of whether you're rigid or flexible with your approach and how regularly you identify and rectify inefficiencies in your schedule.
Besides, your answer provides insights into your adeptness at problem-solving, initiative-taking, and self-improvement—it tells a story about how you navigate your professional life.
The Purpose of the Question
This question intends to discern how proactive you are in analyzing your workload, managing your time, and optimizing productivity. It also helps gauge if you're reflective and deliberate in making constant improvements in your work methods.
Additionally, it enables the interviewer to comprehend whether you're a self-starter who can efficiently organize work without constant supervision. Essentially, it paints a picture of how you manage your professional resources—in this case, time.
At What Interview Level Is It Asked?
The question "How often do you reassess your time management methods?" is generally posed to applicants for mid and senior-level roles, where time management efficiency defines project success.
However, it's increasingly being asked at entry-level interviews, too. In essence, irrespective of your career stage, this question evaluates your capacity to navigate the ebb and flow of a dynamic work environment.
What Kind of Answer Is Expected from the Candidate?
The interviewer is seeking a thoughtful and cogent answer reflecting your self-awareness and proactiveness in managing and ameliorating your time management strategies. They seek to see a nuanced approach, where you indicate that your reassessment frequency varies depending on the complexity of the tasks, new additions to your responsibilities, or changes in priorities. A candid discussion of a situation where you needed to reassess your time management methods and the steps you took to enhance your productivity is highly appreciated.
Possible Answers to Consider
You may start with an expression of your awareness of the significance of time management. For instance,
"I believe in the power of effective time management and its positive influence on productivity. Then segue into how often you reassess your methods: I reassess my time management methods monthly, but it differs based on impending deadlines and project criticality. Any radical changes in tasks or project direction warrant immediate reassessment."
Also, ensure you provide relatable instances and practical steps you've taken in the past to refine your time management methods. You could mention tools and techniques that have assisted you or talk about times you've learned from previous time management mistakes. These real-world examples will create a more compelling narrative and demonstrate your commitment to, and competence in, efficient time management.
By revisiting the question, "how often do you reassess your time management methods?" in this light, we uncover its multi-faceted implications. A keen understanding of why such an inquiry arises during an interview, the level of position at which it's asked, the expected response, and various way to address it, equips you better to respond effectively.
Remember, your enrichment lies in the constant reassessment and rectification of your time management methods and showcasing that trait compellingly during your interviews.
Frequency of Reevaluation of Personal Time Management Techniques
| Technique | Frequency | Effectiveness |
| --- | --- | --- |
| Pomodoro Technique | Every 25 minutes | High |
| To-do lists | Daily | Medium |
| Time blocking | Weekly | High |
| Prioritization | Daily | High |
| Delegate tasks | As needed | High |
| Batching similar tasks | Weekly | Medium |
Comparative Analysis of Time Management Method Reassessment
| Time Management Method | Advantages | Disadvantages |
| --- | --- | --- |
| Pomodoro Technique | Improves focus and productivity, breaks tasks into manageable chunks | May not work for everyone, can be difficult to maintain over long periods |
| Eisenhower Matrix | Helps prioritize tasks based on importance and urgency | Requires constant reassessment and decision-making, may neglect less urgent tasks |
| GTD (Getting Things Done) | Provides a comprehensive system for organizing tasks and projects | Requires initial setup and ongoing maintenance, can be overwhelming for some |
| Eat That Frog | Encourages tackling the most difficult tasks first, boosts motivation | May lead to neglecting other important tasks, can be demotivating if the difficult task is not accomplished |
| The 80/20 Rule (Pareto Principle) | Focuses on the most impactful tasks, maximizes efficiency | May overlook less significant tasks, not suitable for all types of work |
| Time Blocking | Allows for dedicated focus on specific tasks, helps with scheduling | May be rigid and inflexible, may require adjustments for unexpected events |
Effectiveness of Reassessed Time Management Strategies Over Time
| Time Management Strategy | Effectiveness | Time Period Assessed |
| --- | --- | --- |
| Creating a to-do list | High | 1 month |
| Pomodoro Technique | Medium | 3 months |
| Prioritizing tasks | High | 6 months |
| Setting deadlines | Low | 9 months |
| Eliminating distractions | Medium | 12 months |
| Delegate tasks | High | 15 months |
Similar interview questions:
At what frequency do you re-evaluate your strategies for managing time?

How many times in a year do you reconsider your methods for time management?

Do you often rethink the way you manage your time?

What interval do you use to reassess your time management techniques?

When was the last time you reconsidered your approach to managing your time?

Do you frequently analyze your time management methods?

In terms of time, when do you plan to reassess your time management strategies?

Is there a regular schedule on which you reassess how you manage your time?

Does your time management evaluation happen on a consistent basis?

How regularly do you reassess the effectiveness of your time management process?

How Often Do You Reassess Your Time Management Methods?
how often do you reassess your time management methods
how often do you reassess your time management methods?

Amara Weiss
Institute Secretary, Author
I am Amara Weiss and for many years I have worked in the field of education, specifically in the area of technology. I firmly believe that technology is a powerful tool that can help educators achieve their goals and improve student outcomes. That is why I currently work with IIENSTITU, an organization that supports more than 2 million students worldwide. In my role, I strive to contribute to its global growth and help educators make the most of available technologies.
Related Posts
Our team of experts is passionate about providing accurate and helpful information, and we're always updating our blog with new articles and videos. So if you're looking for reliable advice and informative content, be sure to check out our blog today.