Problem Solving
7 Problem Solving Skills You Need to Succeed
24 October 2022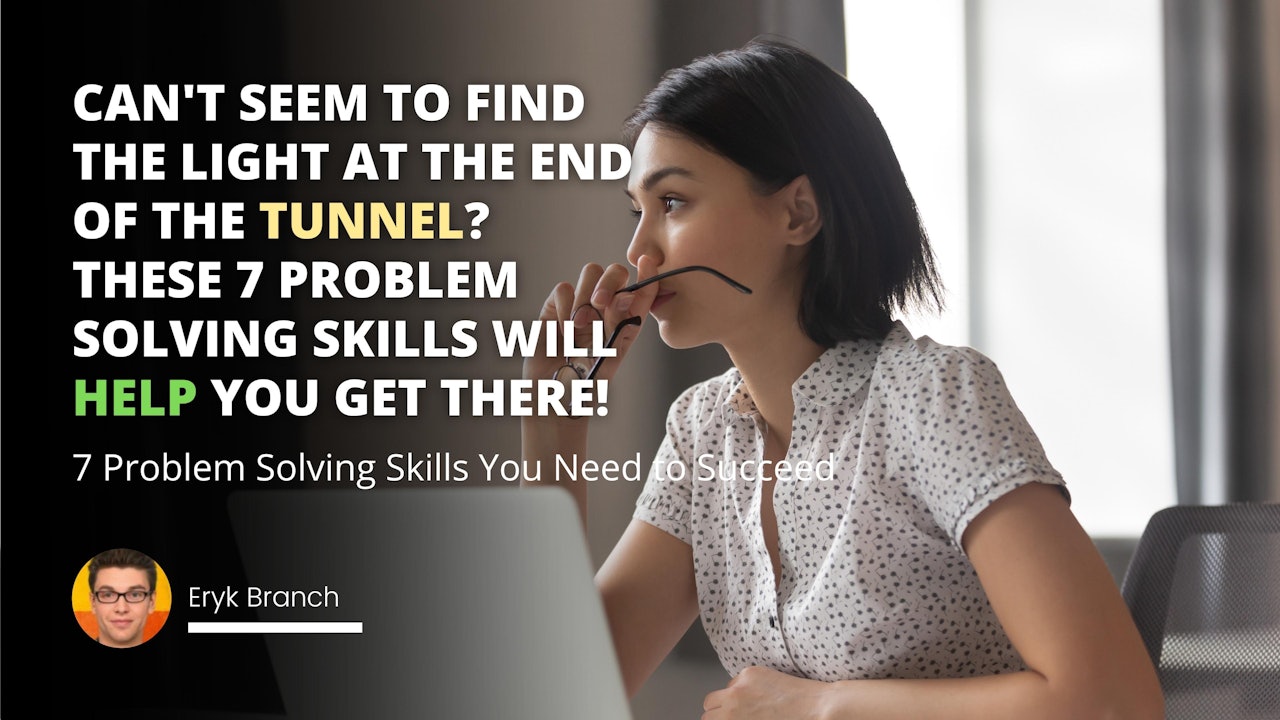 | Problem Solving Skills | Description | Ways to Improve |
| --- | --- | --- |
| Ability to Identify Problems | The first step to solving any problem is to recognize that a problem is present. Mindfulness of your surroundings can help. | Cultivate mindfulness and observation skills. |
| Creative Thinking | Using creativity to come up with multiple solutions for a given problem can aid in finding an effective resolution. | Practice brainstorming sessions and encourage out-of-the-box thinking. |
| Critical Thinking | A comprehensive assessment of all factors involved in the problem and potential solutions with an open-minded approach. | Foster a questioning attitude and challenge assumptions. |
| Effective Communication | Communicating the proposed solution to others clearly, thus garnering support and making implementation smoother. | Develop both written and verbal communication skills. |
| Taking Action | Turning ideas into action by implementing the proposed solution and evaluating its effectiveness. | Work on execution and project management skills. |
| Perseverance | Continuing to try different solutions and adapting the approach as necessary until the problem is resolved. | Build resilience and maintain a positive outlook. |
| Learning from Mistakes | Reflecting on unsuccessful attempts, understanding what went wrong, and using it as a learning experience for future problem solving. | Adopt a growth mindset and practice reflective thinking. |
| Setting Clear Goals | Establishing clear and achievable objectives paves the way towards effective problem solving. | Regularly practice goal-setting exercises. |
| Gathering Information and Analysis | Collecting all necessary data and resources to tackle the problem systematically. | Improve research and analytical skills. |
| Negotiation Skills | Resolving conflicts and reaching agreements in a problem-solving environment. | Practice negotiation and conflict resolution techniques. |
When it comes to succeeding in today's fast-paced and ever-changing world, problem solving skills are more important than ever. Whether you're trying to navigate the challenges of your career or tackle a difficult personal problem, having the right problem-solving skills can help you overcome obstacles and achieve your goals.
To be truly successful at problem solving, it's important to approach each situation with creativity, flexibility, and persistence. Some key problem-solving skills include critical thinking, logical reasoning, creative thinking, information gathering and analysis, communication and negotiation skills, and emotional intelligence.
If you want to develop your problem-solving skills and become a more effective problem solver, start by setting clear goals for yourself and making a plan to achieve them. Then, gather the information and resources you need to tackle each problem systematically and stay focused on your objectives. And most importantly, be willing to take risks and make mistakes along the way. With these strategies, you can confidently tackle any problem that comes your way and succeed at anything you set your mind to!
7 Essential Problem Solving Skills for Successful Living
At the heart of every successful life lies problem-solving skills. Whether you're trying to achieve your career goals, tackle a difficult personal problem, or simply navigate the daily challenges of modern life, having the right problem-solving skills can help you overcome obstacles and achieve success.
1. The ability to identify problems
The first step to solving any problem is to identify that a problem exists. This may seem like a simple task, but it can be surprisingly difficult. Oftentimes, we are so used to the way things are that we don't even realize that there is a problem. Paying attention to your surroundings and being mindful of any pain points or areas of improvement can help you to more easily identify problems when they arise.
2. The ability to think creatively
Once you have identified a problem, the next step is to start thinking about possible solutions. This is where creativity comes in. There are often multiple ways to solve any given problem, and the more creative you can be in your thinking, the more likely you are to find an effective solution.
3. The ability to think critically
In addition to thinking creatively, it is also important to think critically when solving problems. This means taking the time to consider all of the different factors that may be involved in the problem and assessing each potential solution carefully. It is also important to be open-minded when thinking critically about problems, as this will allow you to consider a wider range of possible solutions.
4. The ability to communicate effectively
Once you have come up with a potential solution to a problem, it is important to be able to communicate it effectively to others. This includes both verbal and written communication skills. If you cannot explain your solution clearly, it will be difficult for others to understand and support your proposed solution.
5. The ability to take action
After you have identified a problem and come up with a potential solution, it is time to take action. This means putting your proposed solution into effect and seeing how it works in practice. It is often helpful to test out your solution on a small scale before implementing it more broadly. This will help you to fine-tune your solution and make sure that it is as effective as possible before rolling it out on a larger scale.
6. The ability to persevere
There will inevitably be times when things don't go as planned when you are trying to solve a problem. When this happens, it is important not to give up but instead persevere in your efforts. This means continuing to try different solutions and adapt your approach as necessary until you find an effective way to solve the problem at hand.
7. The ability to learn from mistakes
Finally, one of the most important problem-solving skills is the ability to learn from mistakes. Whenever you encounter a setback or fail to achieve the desired result, take some time afterwardsto reflect on what went wrong and what you could do differently next time. By learning from your mistakes, you can continuously improve and become even more successful in all of your problem-solving efforts.
As you can see, problem-solving skills are essential for achieving success in all areas of your life. Whether you need to tackle a professional problem, work through a personal challenge, or navigate the obstacles of modern life, having the right tools and mindset can help you overcome any obstacle and achieve your goals. So if you want to be truly successful, start developing your problem-solving skills today!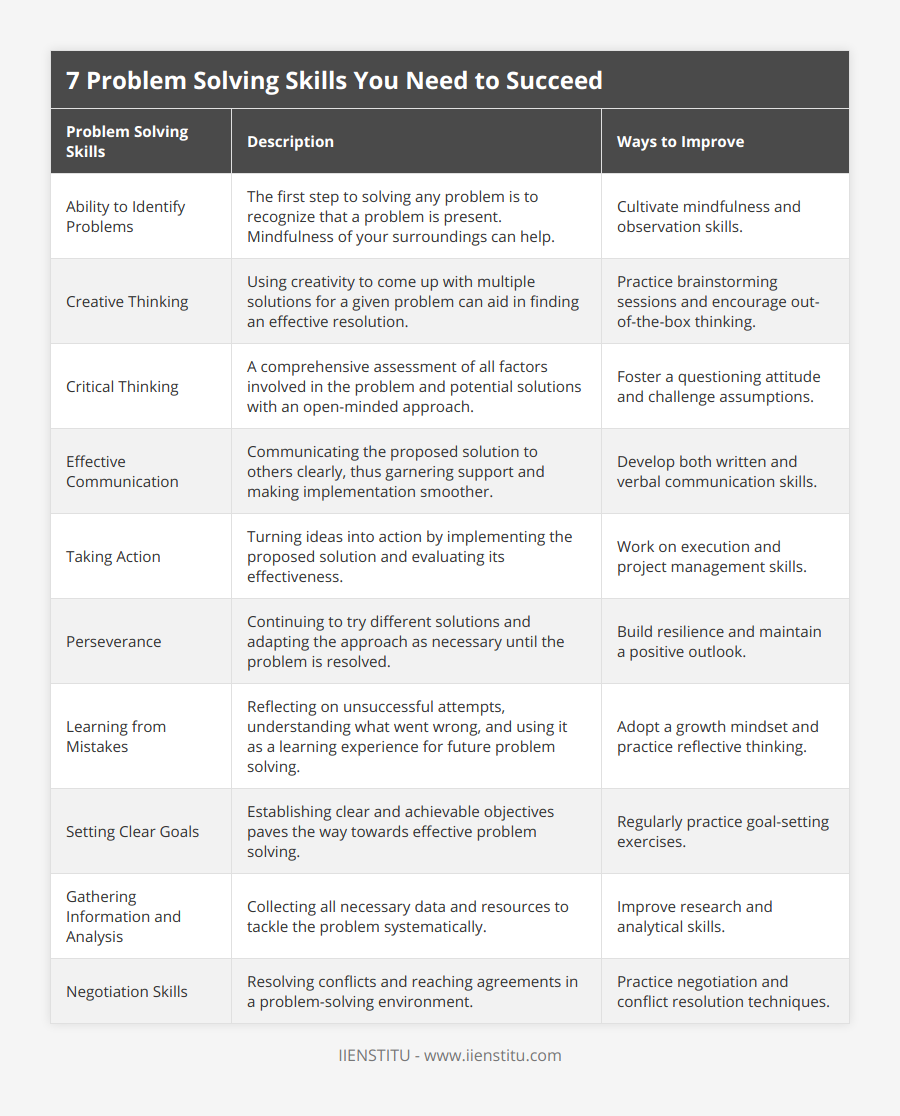 Eryk Branch
Blogger
He is a content producer who specializes in blog content. He has a master's degree in business administration and he lives in the Netherlands.
Related Posts
Our team of experts is passionate about providing accurate and helpful information, and we're always updating our blog with new articles and videos. So if you're looking for reliable advice and informative content, be sure to check out our blog today.