Problem Solving
Edison: The Workaholic Genius
04 March 2023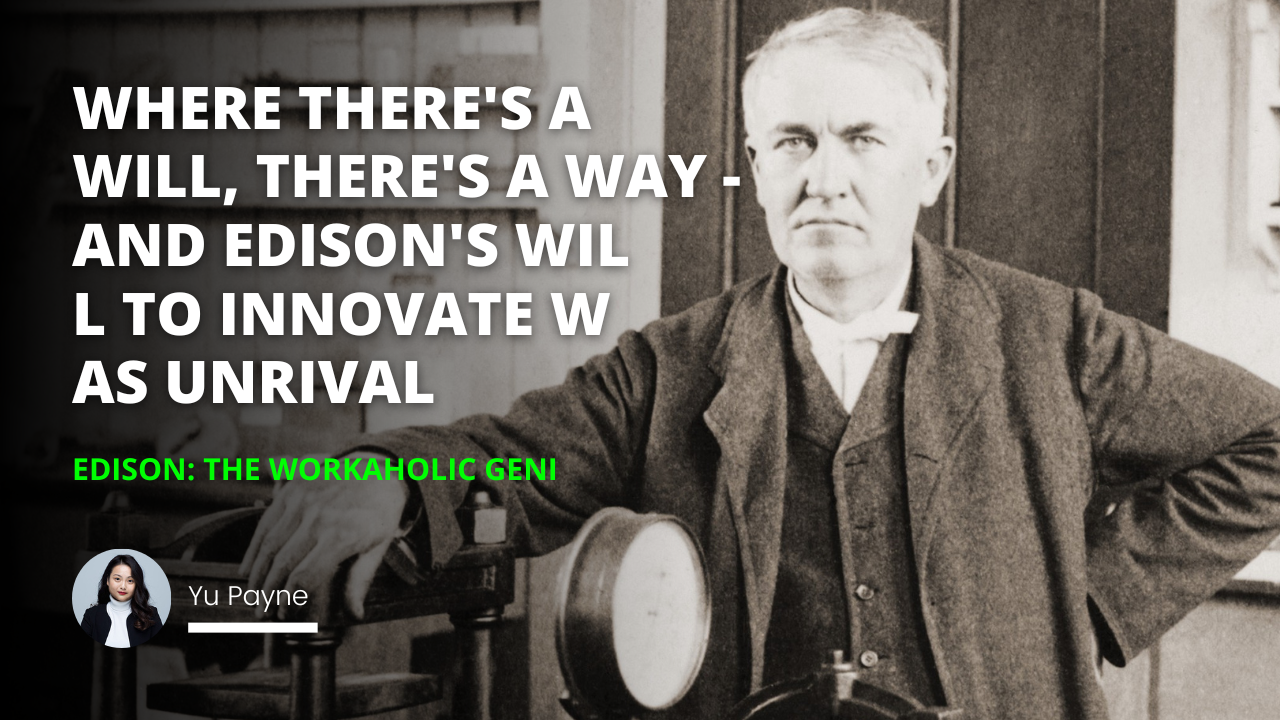 | Aspect | Description | Impact |
| --- | --- | --- |
| Work Ethic | Edison was a workaholic, often awake by 4 am and multitasking numerous projects. | His constant dedication allowed for continued progress and breakthroughs. |
| Accomplishments | Edison held over 1,000 patents. His inventions revolutionized electricity, sound recording, and motion pictures. | His work paved the way for modern technology, including media and telecommunications. |
| Invention Methods | Most of Edison's inventions were the result of trial and error, with a focus on hard work and iteration. | This approach demonstrated the importance of persistence in innovation, influencing the methodologies of future inventors. |
| Light Bulb Invention | Edison invented the light bulb, leading to a fundamental change in worldwide illumination methods. | This invention transformed human living conditions and operating hours, enabling activities after dark and boosting economic productivity. |
| Motion Pictures | Edison also greatly contributed to motion picture industry. | His work laid the foundations of contemporary cinema and entertainment industry. |
| Phonograph Invention | Edison's creation of the phonograph revolutionized sound recording. | This breakthrough led to inventions like the radio and gramophone, transforming the music industry and mass communication. |
| Legacy | Edison's unwavering dedication and vast achievements leaves a lasting legacy. | His life's work is a testament to the power of hard work, influencing generations of inventors and innovators. |
| Impact on Modern Technologies | Edison's work influenced the development of robotic machinery, automation, and telecommunications. | Without his contributions, our current technology-driven world would not look the same. |
| Record Number of Patents | Edison held a record number of patents, highlighting his prolific inventorship. | His comprehensive patent registrations offered a model for protecting and promoting innovation. |
| Self-Education | Edison was mostly self-educated, with a clear passion for learning and exploration. | His thirst for knowledge and constant learning became an example for self-driven education and personal development. |
Edison's Everyday Life

His Accomplishments

Impact of his Work
Thomas Edison, one of history's most renowned inventors and innovators, stands apart from the crowd. As a self-educated tinkerer passionate about invention, he spent his entire life developing ideas and pushing boundaries. From the phonograph to the light bulb, countess inventions bearing his name shaped the history of technology. Let's look at Edison's legacy and the everyday habits that made him a legendary genius.
Edison's Everyday Life
Before Edison could make his mark on the world, he had to make the most of his time first. He was a workaholic, rising as early as 4 am and retiring late at night. He managed multiple projects simultaneously, often skipping meals and occasionally even sleeping. Edison was a busy multitasker, responsible for switching his attention from one task to another often several times during the day.
It can be challenging to face the volumes of work piled up on Edison's desk. But, despite that, his tireless commitment to his position allowed him to achieve remarkable results that would have been impossible without a more relaxed approach. Often, Edison promised his creditors to progress reports before he was even finished—a risky proposition, but it paid off — over and over again.
His Accomplishments
The sheer volume of Edison's accomplishments is simply awe-inspiring. A true innovator, he held more than 1,000 patents in his name. He not only achieved incredible breakthroughs in the field of electricity but also in industries like motion pictures and sound recording. For example, his pioneering techniques in sound recording allowed for the production of the phonograph, paving the way for the development of future sound producers, such as the radio and the gramophone. In addition, his invention of the light bulb forever changed how we illuminate our world.
Most impressively, Edison began with only a basic understanding of physics, and most of his inventions were created through trial and error. His method? Work as hard as he can until his project is successful. His unwavering dedication and enthusiasm for his work management were vastly impressive.
Impact of his Work
We can't deny the significant impact Thomas Edison had on our world. For starters, he completely revolutionized the way we experience and use electricity. His inventions allowed us to see, listen and interact with the world in ways that weren't possible before.
His inventions helped spur the development of other designs, bringing us closer and closer to the technology-driven world we live in today. Robotic machinery, automation, telecommunications, modern lighting, and audio-visual media would have been impossible without Edison's hard work and dedication. His discoveries will continue to shape our world and likely inspire future generations.
Conclusion: Above all, Thomas Edison's passion for invention and innovation has helped shape our lives and changed how we think, work, and interact. His abilities to multitask and push himself to the limits day and night to discover and invent new technology stands as an example to current and future generations. His legacy stands as an example of how hard work and dedication can yield incredible results. Thomas Edison was — and remains — a pioneer of invention, revolutionizing and advancing the world with his sheer determination and drive.
Where there's a will, there's a way, and Edison's choice to innovate was unrivaled.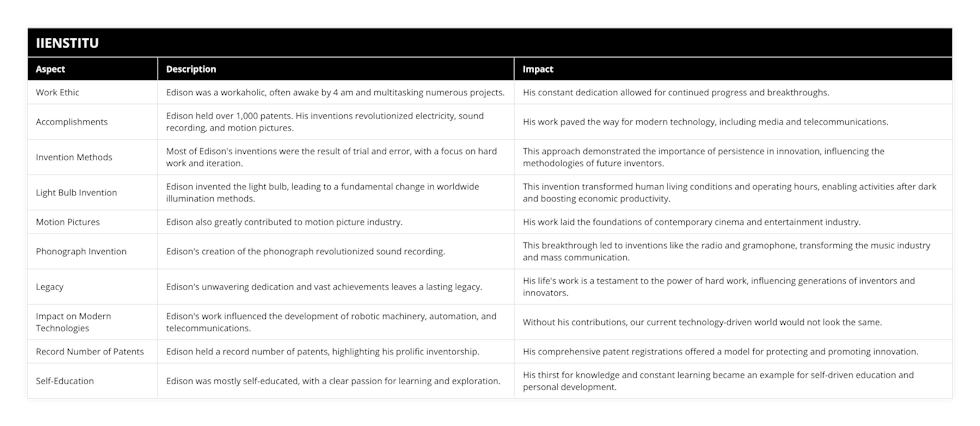 Thomas Edison
inventions
innovation
tinkerer
phonograph
light bulb
workaholic
multitasker
electricity
motion pictures
sound recording
phonograph
radio
gramophone
1
000 patents
physics
trial and error
robotic machinery
automation
telecommunications
audio-visual media
hard work
dedication
inspiration
revolutionary
determination
drive
Yu Payne
Blogger
Yu Payne is an American professional who believes in personal growth. After studying The Art & Science of Transformational from Erickson College, she continuously seeks out new trainings to improve herself. She has been producing content for the IIENSTITU Blog since 2021. Her work has been featured on various platforms, including but not limited to: ThriveGlobal, TinyBuddha, and Addicted2Success. Yu aspires to help others reach their full potential and live their best lives.
Related Posts
Our team of experts is passionate about providing accurate and helpful information, and we're always updating our blog with new articles and videos. So if you're looking for reliable advice and informative content, be sure to check out our blog today.