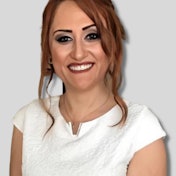 Born in 1981 in Düzce, she is married and has a daughter. She completed her undergraduate education at Marmara University and her graduate education at Gebze High Technology University. She is a high Physics and Environmental Engineer she.
She took part in international agreements, export product sales, inspection and acceptance processes, establishment of dealership structure, financial risk analysis and creation of cooperations in various government tenders and special projects in infrastructure and superstructure groups in companies. Positions and companies she worked for include:
2003 -2007 Profilo Telra Sales Team Leader Responsible for the Polish Market

2008-2009 After Sales Services Manager at Fer İç ve Dış Ticaret, known with Simfer Brand

2009-2010 Balkan Teknik OOD – Bulgaria Sales Manager

2010-2015 Dizayn Group Infrastructure Export Manager

2015-2017 Erde International Export Manager
It has been known for its successful and investment-developing works in export market development, opening up to new markets, team and project management.
Some of the Projects Realized;
Bulgaria: Solid Waste Storage Facility

Erbil/Iraq: Various Sewage Systems Project and Living Areas Superstructure Projects

Basra/Iraq: Infrastructure Projects

Azerbaijan: Hyundai Engineering Procurement and Construction Company - Azersu Infrastructure Project

Kazakhstan: Drinking Water Project

Turkmenistan: Infrastructure and Superstructure Projects

Democratic Republic of Congo: First Drinking Water Project

Ghana: Drinking Water Projects
She has worked on the supply of infrastructure products for many international construction projects developed with the cooperation of Turk Exim Bank and for the State Tenders in various African countries such as Morocco, Algeria and Tunisia of numerous European-centered world giant construction companies such as France, Switzerland, Belgium and Germany.
Since 2017, he has been working in the export department of Erensan, a French-based Groupe Atlantic company, with market development studies in Latin American Countries, especially Chile, Argentina, Uruguay, Brazil, and overseas countries such as Australia and New Zealand. In its 18-year export life, it achieved the export of more than 650 million dollars, and with its constantly improving and renewing perspective, it has won first place in sales and has achieved many firsts thanks to the value it adds to the country's economy by developing projects with its regional teams.
Gözde Engin, who tends to do her job with discipline and multidimensional evaluations, maintains her business and private life with a vision within the framework of trust and ethical values.