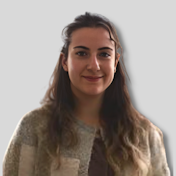 Duygu Çetin
Italian Language Teacher, Instructor
She graduated from Ankara University, Faculty of Language, History and Geography, Department of Italian Language and Literature in 2016. She had the chance to study in the city of Bari, in the Puglia Region of Italy, for the first semester of the last year of the department, after the Erasmus exam he had passed. She returned to Turkey after successfully completing all of the 6 courses she had chosen there, and completed his education with his graduation thesis on "Paragonare Le Fiabe di Dede Korkut con Le Fiabe di Italo Calvino (Comparison of Dede Korkut Tales and Italo Calvino Narratives)".
Her interest in English, which started at a young age, led him to choose the Foreign Language Department in high school. Realizing that language is a very valuable communication tool and having the ability to express herself in different languages ​​and experiencing the freedom of this always led her to learn different languages, she chose a different language at the university. To the Latin Family In addition to having the chance to examine the Italian of the member in a versatile way such as literature, history, geography and culture, she also uses the language actively and lives the "Exposure to Language", which is the most important point in language learning, by constantly talking with Italian Lecturers and Professors. The department also had the opportunity to take elective courses such as Latin, Romanian and Portuguese and to get to know the languages ​​in question at the beginner level.
Her "teaching" journey, which started when he was a student, continued after graduation. It has always acted with the aim of making people like the language with different teaching methods, from a small group of 5 years old to university students in their 20s, in various institutions, both in English and Italian, and aiming not only to teach but also to keep that language alive. Duygu Çetin, who is very happy to share what she has learned and always intends to continue by improving her teaching ability, happily introduces this beautiful Latin language at A1 level to students in our Institute.
Education and Certificates
2021
New Exchange Regime Implementation Principles in Exports – Southeastern Anatolia Exporters' Associations (GAİB)

International Commercial Agreements and Dispute Resolutions – GAİB

Close of Sale – GAİB

Performance Management and Winning Feedback – GAİB

Supply Chain Management – ​​GAİB

Customer Complaint Management – ​​GAİB

Kaizen – GAİB

Incoterms 2020 – GAIB

Business Correspondence in English – GAİB

Powerpoint Usage Techniques – GAİB

Risks in Foreign Trade – GAİB

Business Networking: Networking Skills – GAİB

Google Adwords Applications in E-Commerce – GAİB

Documents Used in Foreign Trade – GAİB

Effective Communication Techniques – GAİB

Intelligence Channels in Foreign Trade – GAİB

Strategic Growth and Institutional Development – ​​GAİB
2020
Basic Accounting and Legal Information to Prevent Risk in Sales – GAİB

Value-Creating Sales – GAİB

VAT Exemption and Transactions in Export – GAİB

Image Management in the Digital World and Social Media – GAİB

Effective Communication and Mental Image Management – ​​Lost & Found

Conflict Management – ​​Suspended Education

Building Your Sales Process – LinkedIn Learning

Customer Service: Customer Expectation Management – ​​LinkedIn Learning

Communication for the Business World – GAİB

Developing Export Efficiency in Companies – GAİB

Digital Branding – GAİB

Customer Satisfaction Training = Customer Relationship Management (MİY-CRM) - GAİB

Digital Competencies at VUCA - GAİB

Digital Marketing and Social Media - GAİB

Neuromarketing - GAIB

Excel Reporting Techniques - GAIB

Foreign Trade Information Seminar - GAİB

Churn and Customer Retention Management - IIENSTITU
2019
German Education (A1-A2) - IIENSTITU

Customer Relationship Management (CRM) - IIENSTITU

Foreign Trade - Bilgeİş Project (METU)

Basic Customs Education - Doğruer Customs Consultancy
2013
Sign Language – Public Education Center
Workshops Held
January 2021: Training on "Learning a Language" – Suspended Education

June – July 2021: "English Skills 101" (A1) – Job Club