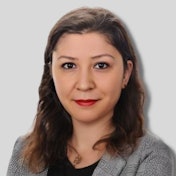 Lec. Ph.D. Gülaçtı Şen
Lecturer
During her master's and doctorate studies, she researched the fields of "Entrepreneurship, Entrepreneurship Culture, and Internal Entrepreneurship" and focused mainly on the entrepreneurial behavior of employees, careers, and talent. Having been in the professional business world since 2008, Dr. Gülaçtı Şen has been teaching at a foundation university since 2016 and continues her academic studies in various fields.
Academic Publications
Published Books
A career in Civil Aviation Kanon Book, Istanbul (2019)

A Day at the Terminal Kanon Kitap, Istanbul (2021)
Articles Published in National and International Refereed Journals
The Effect of Entrepreneurship and Culture on the Employee Commitment in Turkey American Journal of Economics and Business Administration, Volume 9, Issue 1, Pages 13-26 (2015)

Analysis of the Factors Influencing the Vocational Choice of Students Studying in Aviation Departments at the University Journal of Aviation 3 (2): 122-131 (2019), Doi No: 10.30518/ jav.637794 (2019)

The Future of the Gig Economy in the Aviation Industry Journal of Aviation Research, Volume 2, Issue 1 (2020)

Impact of Covid-19 Pandemic on Aviation Industry: The Gig Economy Alternative Journal of Aviation Research, February 2021.
National and International Published Abstract / Full-Text Papers
Redefining Entrepreneurship in Turkish Aviation and Entrepreneurial Aviation Women Istanbul University International Conference on Contemporary Women's Studies, Istanbul (2019)

Transforming Academic Studies into Innovation: An Academic Study Example Muğla Sıtkı Koçman University, Muğla (2019)

The Impact of Airport Passenger Services Operations on Flight Operations Pearson Journal Of Social Sciences & Humanities (2021)