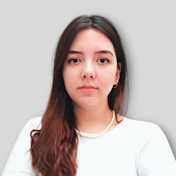 She is a graduate of Erciyes University in Korean USA. She completed her master's degree in Korean Language and Literature at the same university. She is a Korean translator and instructor. She has experience in story and poetry translations.
I graduated from Korea Language and Literature USA in 2018. I completed my master's degree in Korean Language and Literature at the same university. In my fourth year at university, I attended the LTI Korea Translation Workshop, which was held for the first time in Turkey. Since this workshop is about translations of Korean modern poetry, it was a good experience in modern literature poetry translation.
On the other hand, I translated the Chun Hyang Story, one of the three most important works in Korean ancient literature, into Turkish as my graduation thesis. It was my first encounter with classical literature and Korean classical literature made me fall in love with it. From now on, I aim to continue my journey in the field of translation with other classics.
I started my university education a little late because of my health problems (I had scoliosis surgery). For this reason, I could not go to Korea as an exchange student during my education. In fact, we can say that I learned Korean with my university books at home under difficult conditions. However, throughout my education life, I have successfully graduated with my own semesters by getting high grades. Learning a language is a process that requires great effort and discipline. I have successfully completed this process and I want to be an inspiration to those who want to learn Korean.
In October of the year I graduated, I went to Korea to attend the LTI Korean-Turkish Translation Workshop organized by the Literature Translation Institute of Korea. This workshop is from Korean to Turkish; It was about the translation of novels from Turkish to Korean. We translated the novels of our two esteemed authors.
As soon as I returned from Korea, I taught Korean for two terms as a master instructor at İSMEK in November. This was my first instructor experience addressing a student body. It was a small step for the world, but a big step for me who aims to be a teacher at the university.
After that, I continue my journey by teaching Korean at Beyoğlu Youth Center affiliated to Beyoğlu Public Education. In these two institutions and in my private trainings, I applied different learning methods in a blended way and I continue to do so. Since Korean is a language with a different alphabet, it requires a little more attention when learning than other western languages. That's why I teach lessons based on students' understanding as much as I can. I also like to give information to my students about Korean culture, literature and history from time to time in the lessons.
In this world where knowledge increases as it is shared, it is my goal to share with you what I know as much as my knowledge is sufficient.
My Areas of Expertise
Literary translation

A1-A2 level Korean teaching
Experience
Korean Master Tutorial - İSMEK

    Korean Teacher - Beyoğlu Youth Center
Education
Erciyes University - Korean Language and Literature - MA

Erciyes University - Korean Language and Literature USA

Anadolu University - International Trade and Logistics Management
Book