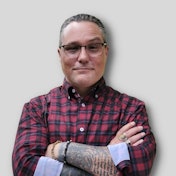 Alton J. Duderstadt II
Digital Marketing Expert
He started working for Creative Circle in 2009. He has had the distinct pleasure of working for many Creative Circle clients. In addition, he has worked for several significant associations, The CME Group, The Chicago Mercantile Exchange, several Chicago Advertising companies, one digital magazine, and many others [large and small businesses]. Before his relationship with Creative Circle, he began his journey in digital marketing in early 1999 with Velocity Magazine. After that, he hit the big time with a growing company called "LocalLaunch!" as their top sales executive and director of business development. 
Since the early days of Google and the widespread use of the Internet, his career has spanned from an adjunct professor at Columbia College Chicago teaching digital marketing to graduate and undergraduate students. He was the top Midwest trainer for Imparture [teaching Google Analytics and Digital marketing] for Chicago and Detroit. In addition, he has served companies like McDonald's, Harley Davidson, Buell Motorcycles, Summer Fest, Cosi, Motorola, Elite Staffing, Kelly Services, The Mather, and many more. 
Twenty years under his belt. He has estimated well over 41,000 (+) hours [based on 40-hour work weeks] with SEO, paid search, social, website analytics, marketing planning, competitive research, teaching, analysis, digital marketing, and digital advertising. He now split his work between Creative Circle clients and his own company, Searchology, Inc.
During his career, Creative Circle has remained a critical relationship, and one of my most significant accomplishments is 11 years with this dynamic and client-centric company. He takes great pride in his work, and Creative Circle has played a critical role in his professional success. Without Creative Circle… He would be much less fortunate than he is, looking forward to another 20!  
What He delivers for their Creative Circle Clients:
The truth, transparency, and honesty. The digital marketing industry has gotten an unbelievably lousy wrap over the years. "Professionals" and agencies seeking a fast dollar over the long-term commitment that clients need and are required in an ever-changing industry. He will provide you with honest and realistic research. Transparent methodologies. Honesty to a fault. He will help us develop plans and implement trackable, changeable, flexible, and ROI/ROAS driven strategies.  
The most effective form of advertising is digital marketing. Dollar for dollar. Pound for pound. There is no other trackable, affordable, ROI/ROAS driven form of advertising. Yes, there are challenges. But between your expertise in your field and his expertise in him. We can accomplish genuinely excellent outcomes. His worldview is built upon the collective effort outweighing the individual output. Thus, as a team, we can go much further, achieve more, create better, and bring more value than any one person. Let's do greatness together.
Professional Experiences
Searchology®, Chicago, IL 12/2009 ~ Current
Chief Searchologist\President 
Creative Circle, Chicago, IL     12/2009 ~ Current
Digital Marketing Expert – SEO, PPC, SEM, SMO, GA, SMM
Imparture, Unite Kingdom    12/2017 ~ 3/2020
Lead Trainer / Midwest Region / United States
Columbia College Chicago     12/2011 ~ 12/2015
Adjunct Professor [Internet Business, Digital Media Strategies] 
Enable Holdings, Chicago, IL (ubid.com, dibu.com, RedTag.com)     11/2008 ~ 9/3/09
Integrated Search Engine Communications (Contract)
Laughlin\Constable, Chicago, IL (Contract Position)    5/2008 ~ 2013
Search Engine Strategist\Internet Marketing (SEM)
TMP Directional Marketing, Des Plaines, IL     1/2007 ~ 5/2008
Product Manager\Internet Marketing (SEM)
LiQuidprint, Inc., Lincolnwood, IL     01/2007 ~ 09/2007
Internet Marketing Strategist - Account Manager/Sales
Schofield Media Inc., Chicago, IL    03/2005 ~ 01/2007
Editorial Research / Digital Marketing 
LocalLaunch! Chicago, IL    11/2001 ~ 02/2005
Internet Marketing Analyst/Account Manager/Sales
Velocity Magazine Chicago, IL    1/1999 ~ 10/2002
Vice President/Sales/Distribution/Goodwill Ambassador