Personal Development
The World Classics List
19 January 2022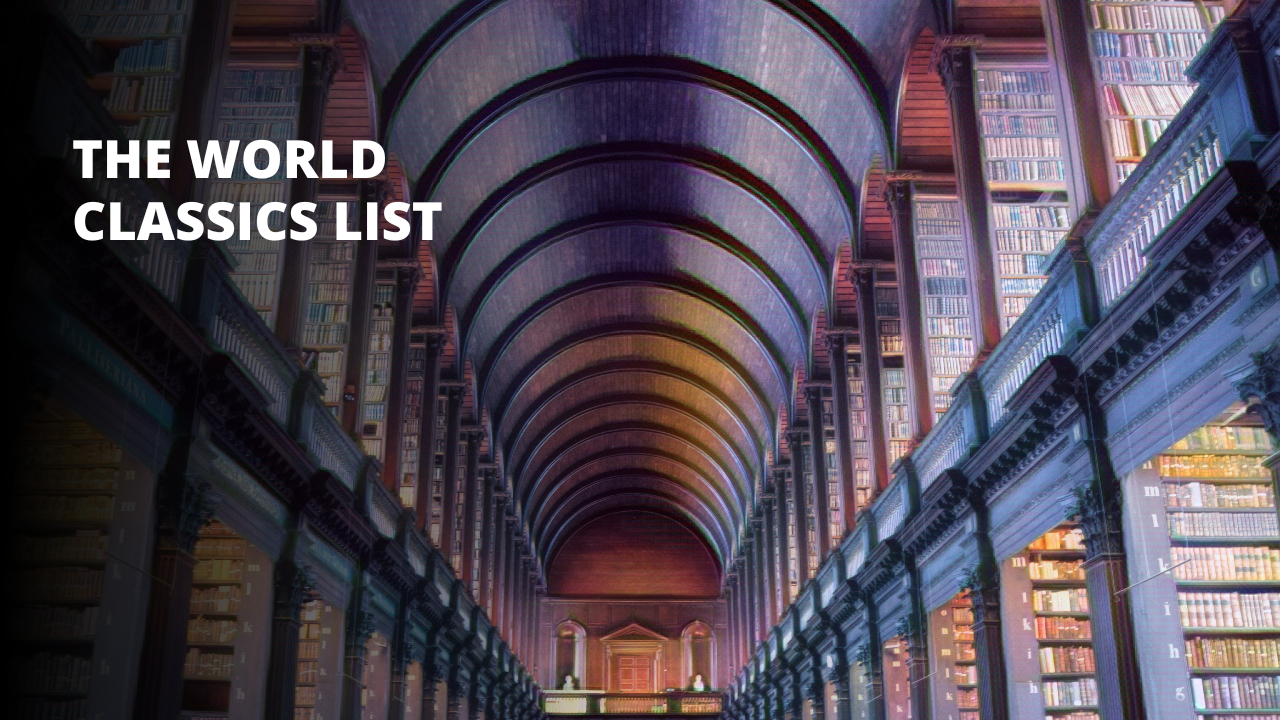 You, too, have wondered how books became classics and turned into world-renowned works from time to time. The classics are one of the best of the chosen genre. In the artistic sense, they take the genre to the extreme. The word classic has more than one meaning.
In other words, world classics, expression; It is used to express successful novels that continue to be read and admired even after many years and are among the best examples of the genre. There is no specific formula for writing a world classic book. The book's quality, the author, the period, the reader is a universal return bestowed by a holistic fusion.
If there were specific rules and a clear framework for writing a world-class book, it would have already been put into mass production. However, every classic is unique and is considered an outstanding example of its kind.
Although they were written in ancient times, they always contain valid values. Classical books; Written by the most famous, successful, and widely accepted authors worldwide. And another expression that best reflects the expression of world classics is as follows. Artifacts that defy time. This is because they have managed to survive from very ancient times to the present day.
World Classics Books
Many world classics have survived to the present day. It is possible to reach the names of the novels that have accomplished the classic world event in varying rankings on different internet pages. Here are 25 classic works that you have heard of often. The order below has been prepared without a rating purpose.
Crime and Punishment – ​​Fyodor Dostoyevsky

Les Miserables – Victor Hugo

Anna Karenina by Leo Tolstoy

Lily of the Valley by Honoré de Balzac

The Hunchback of Notre Dame – Victor Hugo

Pride and Pride – Jane Austen

The Divine Comedy – Dante Alighieri

Romeo and Juliet – William Shakespeare

The Sorrows of Young Werther – Johann Wolfgang Von Goethe

The Grapes of Wrath – John Steinbeck

Fathers and Sons – Ivan Turgenev

Main – Maxim Gorky

Madame Bovary-Gustave Flaubert

A Tale of Two Cities – Charles Dickens

Notes from the Underground – Fyodor Dostoyevsky

War and Peace – Leo Tolstoy

Wuthering Heights – Emily Brontë

Dead Souls – Nikolai Vasilyevich Gogol

Red and Black – Stendhal

The Three Musketeers – Alexandre Dumas

One Hundred Years of Solitude – Gabriel García Márquez

A Room of One's Own – Virginia Woolf

To Kill a Mockingbird – Harper Lee

The Stranger – Albert Camus

Great Expectations – Charles Dickens

5 Popular Books in the World Classics List
Crime and Punishment: One of the most influential novelists of Russian literature is undoubtedly Dostoyevsky. Almost every book he wrote gained fame in his country and around the world. Crime and Punishment is one of the most important works of the author, and at the same time, it is popular in the list of the most read world classics. The book, which makes you question yourself, also makes a difference in your perspective on events. Therefore, we can say that the book, which was first published in 1866, is still read with great interest and admiration.
Miserables: French writer Victor Hugo is one of the representatives of the romantic movement. The book Les Miserables, popular in the list of world classics, was first published in 1862. The book is written in such a successful language that you can feel the heroes in your heart while reading it. One of the most read world classics, Les Misérables, is also on the list of 100 Basic Works recommended by the Ministry of National Education to secondary school students. As a result of the values ​​it embodies, it is a work that proves that people should know the value of the things in their hands better.
Anna Karenina: Written by the Russian writer Tolstoy,  Anna Karenina was published in 1877. This novel, famous in the list of world classics, is seen as a masterpiece in terms of fiction, style, and fluency. The book tells a love story. The feelings you feel towards the heroes of the event are constantly changing. Although it is pretty thick, you come to an end without even realizing how the book ends.
Lily of the Valley: The Lily of the Valley, which is on the 100 Essential Artifacts list of the Ministry of Education, is a great classic where you will experience the conditions of that period exactly. The Lily of the Valley, written in 1835 by Honoré de Balzac, famous for his successful descriptions, tells about the love that Felix, who had a difficult childhood, was passionately attached to. The book may tire the reader with its ornate narration at the beginning, but you can be sure that its grip increases towards the end.
Grapes of Wrath: The Grapes of Wrath, awarded the Pulitzer Prize, is a popular book in the world classics list written in 1939 by the British author John Steinbeck. As a subject, this novel tells about America's economic depression and crisis periods. The book tells the drama of a family struggling to survive despite leaving their homes struggling with hunger. The book, which has also been made into a movie, has gripping and understandable language. Moreover, it is an impressively written novel that will touch the deepest parts of your heart.
Features of Classic Books
The validity, intellectual depth, original message reflect the spirit of civilization in every period.

It has broad representation, innovation, universal approval, and prevalence.

It is seen as the best of its kind and takes it forward.

They can stand the test of time and continue to have value in any situation.

They are both unique and approved by all.

They produce progressive, outstanding, enduring, and always valid values.

Thanks to the way they show, they always create followers, imitators. Their influence will last for years.

They bring definitions that enrich the mind and emotions of all humanity and make indescribable feelings known. And thus, they provide an undeniable effect on the personal development stages of individuals.

All the classics were groundbreaking in their own time.

While the classics are innovative, they are also the best interpreters of tradition.
Prejudices to be Destroyed About Classical Works
As a result of unconscious prejudice about classical works, it is possible that some people have become dissatisfied with reading books. You, too, may have come across people in your life who say they cannot read the classics. Maybe you are one of those people who are distant towards classical works. Then you may have been forced into reading a classic at the wrong time. Since reading this article, we can assume that you want to break your prejudices about classical work. Here are a few cliché thoughts that I think can melt the icebergs between you and classical works.
Classical works are very dull: This is the most common sentence used by those who resist reading classical works. Exceptionally few classical pieces can be tedious, an acceptable result for research on a specific audience reading that work. If you are reading a classic work that seems boring to you, stop looking for the problem in the book. The most significant factor that makes a world classic seem boring; is the translation. It is a fact that the translations of classical texts significantly influence the work. For this reason, you should try to reread classical results by prioritizing publishing houses that translate well.
Classical works are heavy: It should be said that there is also a way to read a book here because what makes a book heavy is our reading habits. What makes them seem heavy for us is the wrong choices. Books should be chosen according to the level of the reader. Otherwise, reading the most notable world classic by someone who has just started reading books will not give the desired results for that person. Going level by level can save you from this cliché. Finally, of course, we can say that the language of some books was heavy compared to the period in which they were written.
Classical works are very thick: It is a fact that the majority live by embracing such prejudice that a thick book cannot be read. If the result is a classic and dense book, it is a valid reason not to read it for some. The most potent and veiled factor that prevents people from reading the thick book; is dalliance. If you abandon this approach and are determined to read classical works for absolute pleasure; You may realize those comprehensive classics are books that are read with the hope that they will never end.

Tuba Uyar
Blogger
Tuba UYAR was born in December 1989 in the city of Iskenderun / Hatay. After graduating from Konya Necmettin Erbakan University, Department of Computer Education and Instructional Technology Education (CEIT), she started working as an online content editor and trainer on job security.
Related Posts
Our team of experts is passionate about providing accurate and helpful information, and we're always updating our blog with new articles and videos. So if you're looking for reliable advice and informative content, be sure to check out our blog today.