Interview Questions
Interview Question: What Is Your Strategy for Stress Peaks?
05 September 2023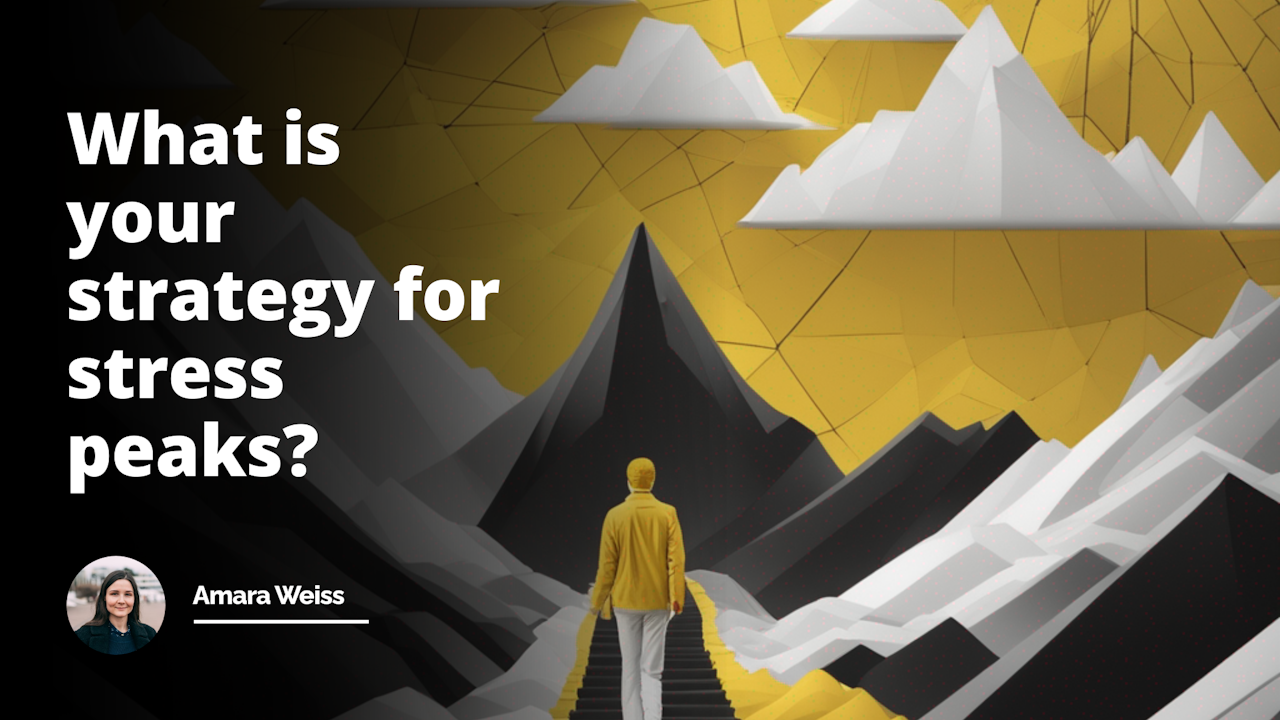 | Question Aspect | Overview | Details |
| --- | --- | --- |
| Purpose | Understand candidate's response to stress | The question allows the interviewer to assess the candidate's composure, problem-solving and decision-making abilities, as well resilience and adaptability during stress peaks. |
| Interview Level | Depends on role nature and organization | This question is relevant for positions that require high responsibility or handle time-sensitive projects. It is typically asked at mid-level or senior positions where stress management is crucial. |
| Expectation | Demonstration of effective stress management | The candidate should present a comprehensive stress management strategy, including proactive measures to prevent stress and specific actions during stress peaks. The strategy should also demonstrate prioritization and delegation abilities. |
| Proactive Stress Management | Part of ideal response | The candidate's strategy should include preventive measures to manage stress. This could be through personal self-care practices or setting clear boundaries at work. |
| Potential Answer: Prioritization | Crucial skill during stress peaks | The candidate should highlight their ability to determine task importance and urgency in order to prioritize work effectively during high-stress periods. |
| Potential Answer: Delegation | Effective tool in stress management | If applicable, the candidate should demonstrate their ability to delegate tasks appropriately to manage stress and ensure project success. |
| Potential Answer: Communication | Vital during stressful situations | The candidate should stress the importance of maintaining open communication lines with their team during high-stress periods to ensure smooth operations and mutual support. |
| Overall Importance | Assess candidate's proficiency in handling stress | The interviewer seeks to understand the candidate's ability to handle stress peaks, an inevitable part of work life, effectively and thus contribute to a healthy work environment. |
| Implications | Provides insights into candidate's fit | The candidate's response can provide valuable information on their potential stress management strategies, adaptability, resilience, and problem-solving skills, and hence their suitability for the job role. |
| Further Assessment | Can be explored in more depth | Based on the candidate's initial response, the interviewer can probe deeper into their stress management strategies and experiences, offering further insights into their capabilities. |
In today's fast-paced and competitive work environment, stress is an inevitable part of our lives. As HR professionals, it is crucial to assess how candidates handle stress and determine whether they have effective strategies to cope with stress peaks.
This interview question is asked to gain insights into the candidate's ability to handle challenging situations and their problem-solving skills when faced with stressful circumstances.
The Purpose of the Question: What is Your Strategy for Stress Peaks?
The purpose of asking this question is two-fold.
Firstly, it helps the interviewer understand how the candidate responds to pressure and whether they can maintain their composure during stressful situations.
Secondly, it provides valuable insights into the candidate's problem-solving and decision-making abilities, as well as their resilience and adaptability.
By asking about their strategy for stress peaks, the interviewer aims to assess the candidate's preparedness and ability to handle demanding situations in the workplace.
At What Interview Level is it Asked?
This question can be asked at various interview levels, depending on the nature of the role and the organization. It is particularly relevant for positions that require high levels of responsibility or deal with time-sensitive projects.
Candidates applying for managerial or leadership positions, as well as those in customer-facing roles, may often encounter stress peaks. Therefore, this question can be asked at mid-level or senior positions where stress management is critical to success.
Related Course: Leadership Development Course
Related Course: Free Online Stress Management Course
What Kind of Answer is Expected from the Candidate?
A candidate's response to this question should demonstrate their ability to handle stress effectively and thoughtfully.
The ideal answer should showcase a well-rounded stress management strategy that includes proactive measures to prevent stress, as well as specific steps taken during stress peaks.
The candidate should emphasize their ability to prioritize tasks, delegate responsibilities when necessary, and maintain open communication with their team during stressful periods.
Possible Answers to Consider
Proactive Stress Management:
One possible answer could focus on the candidate's approach to proactively managing stress before it escalates. They may mention techniques such as practicing mindfulness or meditation, engaging in regular exercise or hobbies, and maintaining a healthy work-life balance. By highlighting these proactive measures, the candidate demonstrates their understanding of the importance of self-care and stress prevention.

Time and Task Management:
Effective time and task management play a crucial role in managing stress peaks. A candidate can discuss their experience in using tools and techniques such as prioritization, creating to-do lists, and setting realistic deadlines. They may also talk about their ability to break down complex tasks into manageable steps, thereby reducing the overall stress load.

Delegation and Collaboration:
During stress peaks, it is essential to delegate tasks and collaborate with team members effectively. A candidate can explain how they assess team members' strengths and weaknesses, identify suitable tasks for delegation, and foster a culture of collaboration. By demonstrating their ability to distribute workload and seek support from their team, the candidate portrays themselves as a proactive and collaborative leader.

Effective Communication:
Maintaining open and transparent communication is crucial during stress peaks. The candidate can describe how they ensure everyone is aware of the situation, set clear expectations, and provide regular updates. Effective communication helps to mitigate misunderstandings and fosters a sense of unity within the team, reducing stress levels for all involved.
What to Consider When Answering
When answering this question, it is essential to strike a balance between showcasing problem-solving abilities and demonstrating a realistic approach. It is crucial to avoid exaggerating or oversimplifying the candidate's strategy for stress peaks. Instead, the answer should reflect a practical and adaptable approach that aligns with the organization's culture and values.
Furthermore, the candidate should emphasize the importance of continuously learning and evolving their stress management strategy. This highlights their growth mindset and commitment to personal and professional development. Stress peaks can differ in intensity and duration, and adaptable strategies are essential to navigate through such challenging periods effectively.
In conclusion, the question "What is your strategy for stress peaks?" is asked during interviews to assess a candidate's ability to handle stress, make sound decisions under pressure, and effectively manage challenging situations.
Candidates should respond by highlighting their proactive stress management techniques, showcasing their time and task management skills, emphasizing their ability to delegate and collaborate, and underlining the importance of effective communication.
By providing a well-rounded and realistic approach to stress peaks, the candidate portrays themselves as a resilient and adaptable professional, capable of thriving in demanding work environments.
Causes of stress peaks
| Causes of Stress Peaks | Effects on Body | Coping Strategies |
| --- | --- | --- |
| Work pressure | Headaches, sleep disturbances | Time management, relaxation techniques |
| Financial problems | Digestive issues, muscle tension | Budgeting, seeking financial advice |
| Relationship conflicts | Heart palpitations, anxiety | Effective communication, therapy |
| Major life changes | Fatigue, weakened immune system | Adapting expectations, seeking support |
| Health issues | Exacerbation of symptoms, decreased quality of life | Medical treatment, self-care practices |
| Unrealistic expectations | Tension headaches, irritability | Setting realistic goals, practicing self-compassion |
Strategies for managing stress peaks
| Strategy | Description | Example |
| --- | --- | --- |
| Deep breathing | Taking slow, deep breaths to activate the body's relaxation response | Inhaling deeply through the nose for a count of 4, holding the breath for 4 counts, and exhaling slowly through the mouth for 4 counts |
| Exercise | Engaging in physical activity to release endorphins and reduce stress hormones | Going for a jog, doing yoga, or participating in a team sport |
| Meditation | Using mindfulness techniques to focus attention and calm the mind | Sitting in a quiet space, closing the eyes, and repeating a mantra or focusing on the breath |
| Time management | Prioritizing tasks, organizing schedules, and creating to-do lists to reduce overwhelm | Breaking big projects into smaller, manageable tasks and setting specific deadlines |
| Social support | Talking to trusted friends or family members about stressors and seeking their advice or comfort | Sharing concerns with a close friend and seeking their perspective and support |
| Self-care | Engaging in activities that promote self-care, such as practicing hobbies, taking baths, or getting enough sleep | Taking a relaxing bath with scented candles and a good book as a form of self-care |
Effectiveness of different stress management techniques
| Technique | Effectiveness | Benefits |
| --- | --- | --- |
| Deep breathing | High | Relaxes the body and calms the mind |
| Meditation | High | Reduces stress, improves focus and clarity |
| Exercise | High | Boosts mood, increases energy and reduces tension |
| Progressive muscle relaxation | Medium | Reduces muscle tension and promotes relaxation |
| Journaling | Medium | Helps in processing emotions and gaining perspective |
| Social support | Medium | Provides emotional comfort and practical help |
Similar interview questions:
How do you handle moments of heightened stress?

In dealing with stress peaks, what approach do you take?

Could you share your tactics for managing periods of excessive stress?

What methods do you employ when faced with stressful spikes?

When faced with intense stress, what strategies do you implement?

What measures do you take to navigate through stressful peaks?

What techniques do you find most effective when encountering high-stress situations?

How do you mitigate the impact of stress peaks through your approach?

In times of stress, what do you do to manage and overcome the intensity?

When stress levels rise significantly, what is your course of action to handle such situations?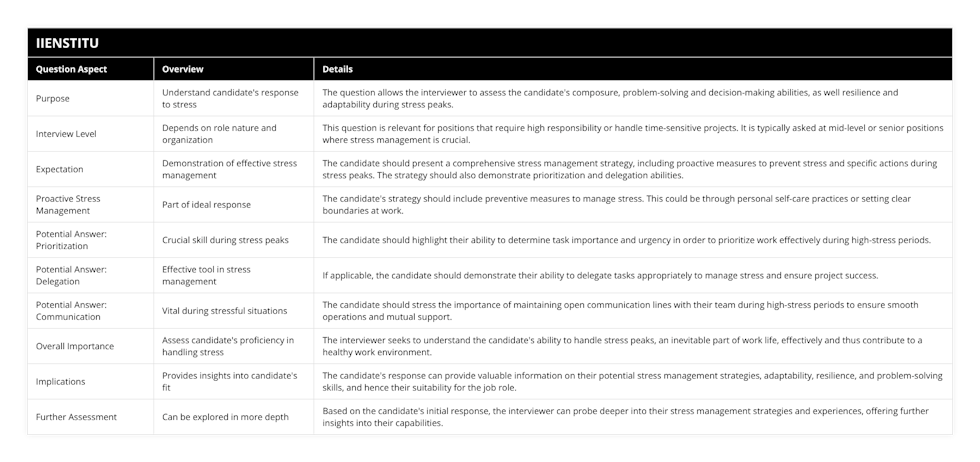 What is your strategy for stress peaks?
what is your strategy for stress peaks
what is your strategy for stress peaks?

Amara Weiss
Institute Secretary, Author
I am Amara Weiss and for many years I have worked in the field of education, specifically in the area of technology. I firmly believe that technology is a powerful tool that can help educators achieve their goals and improve student outcomes. That is why I currently work with IIENSTITU, an organization that supports more than 2 million students worldwide. In my role, I strive to contribute to its global growth and help educators make the most of available technologies.
Related Posts
Our team of experts is passionate about providing accurate and helpful information, and we're always updating our blog with new articles and videos. So if you're looking for reliable advice and informative content, be sure to check out our blog today.