SEO
What are SEO and SEM? Which One Should You Use?
21 December 2021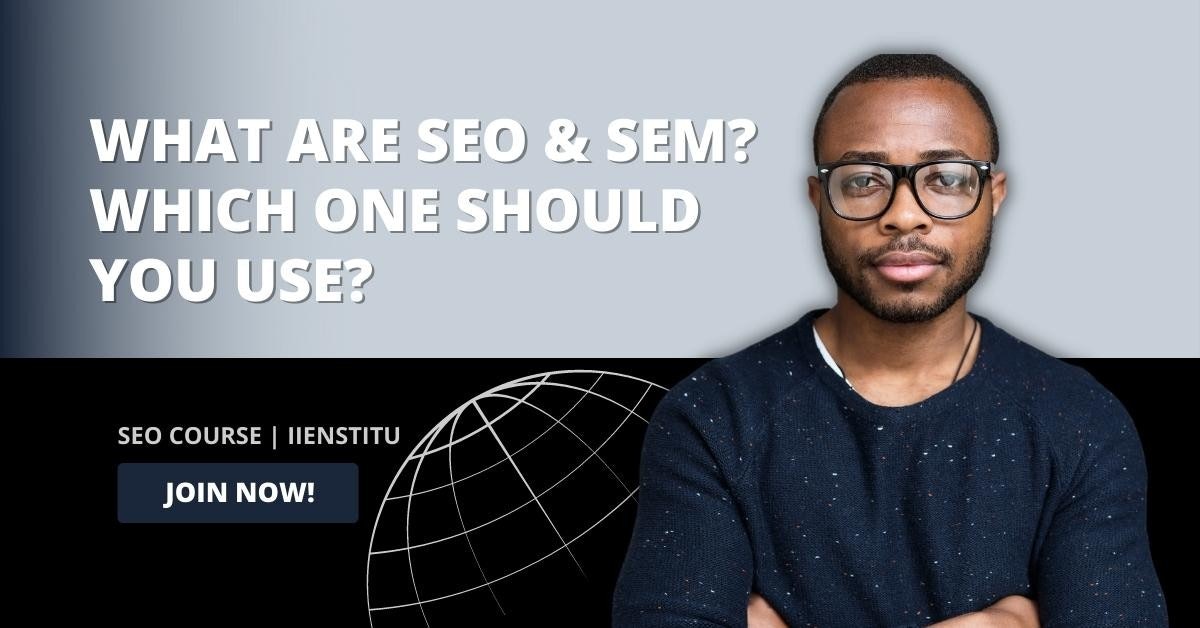 | Concept | Definition | Benefits |
| --- | --- | --- |
| SEO | Search engine optimization involves enhancing your website to increase visibility in organic, or unpaid, search engine results. | Enhanced search engine rankings, increased website traffic, cost-effective long-term marketing strategy. |
| SEM | Search engine marketing is a digital marketing strategy used to increase visibility in search engine results pages via pay-per-click advertising. | Immediate results, targeting specific demographics, flexible budgeting. |
| Google AdWords | An SEM tool from Google that allows advertisers to reach their audience via paid advertisements on Google's Search Engine Results Pages. | Advanced targeting, budget control, measurable ROI. |
| Keyword Use | Both SEO and SEM depend on using the right keywords to capture the target audience's attention and direct them to your website. | Increased visibility, more relevant traffic, improved website ranking. |
| Fast Web Loading | SEO considers website speed as one of the ranking factors on search engines. | Improved user experience, higher rankings, reduced bounce rate. |
| High-Quality Content | Creating informative, engaging, and unique content is essential for both SEO and SEM. | Increased traffic, improved rankings, amplified brand authority and reputation. |
| SEO and SEM Services | Professional services that help businesses optimize their digital marketing strategies for better visibility and higher conversions. | Expert guidance, increased online visibility, higher return on investment. |
| Audience Understanding | Knowing the characteristics, behavior, and needs of your target audience to direct your SEO and SEM efforts effectively. | More targeted campaigns, better customer engagement, increased chances of conversions. |
| SEO Course | Educational courses and resources designed to teach the strategies and skills required for successful SEO. | Improved SEO skills, ability to manage SEO in-house, staying updated with latest trends and best practices. |
| Google Webmaster Tools | A free service provided by Google that helps you monitor and troubleshoot your website's presence in Google Search results. | Find and fix website crawl errors, see how Googlebot sees your site, submit and check a sitemap. |
SEO is the marketing strategy that helps companies or individuals get high rankings in search engines. Search engine results pages (SERPs) are where most people look for information online, so if your website isn't on those results, you're missing out on a massive chunk of traffic. Of course, there's also social media and online advertising to consider, but SEO is still one of the most critical aspects of digital marketing.
Related Course: Online Digital Marketing Course
SEM is a form of paid advertising that helps companies get their websites in front of more people. SEM can involve Google AdWords, Facebook Ads, and LinkedIn Ads. It's a great way to reach more people quickly, and it's a strategy that gets results.
SEO and SEM can use both separately or in tandem, and both involve lots of research and testing to find out what works best for your audience. SEO is a long-term marketing tactic. At the same time, SEM is more about immediate results. So if you're looking for an instant boost in traffic, then SEM will get it for you.
So which one should you use, SEO or SEM?
That depends on your business and your goals. If you're looking for a long-term marketing plan that will help you reach more people over time, then SEO is the way to go. But if you need an immediate boost in traffic and don't have the time to wait, SEM will get you where you want to be.
It's also important to remember that SEO and SEM are two separate but related strategies. Both play a role in the digital marketing world. While it may seem like an either/or kind of situation, intelligent marketers use both for maximum effect.
There you have it! Now that you know the basics of SEO and SEM, you can put them to use for your business or organization. Remember to be patient while you test things out, and always stay up-to-date with Google's latest rules! 
Why should you care about SEO or SEM?
Search engine optimization (SEO) is the process of optimizing your website to increase your search engine rankings for relevant keywords. It does this by using relevant keywords throughout your site—on pages, in titles, in metadata, etc. SEM stands for "search engine marketing," and it's the term used when discussing PPC ads on search engines like Google and Bing. These ads appear as sponsored results at the top of the page, and businesses pay for each click on their ad.
Why is SEO or SEM important? 
Put, because that's where most people are now looking for information. According to a study by Pew Research Center, 63% of American adults use search engines to find information online, and that number is only going to grow. So if you're not optimizing your site for search engines, you're missing out on a massive chunk of traffic.
Google has also become increasingly powerful over the years. They now have over 65% market share in the U.S., and they can control how your site ranks in their search engine results pages (SERPs). In other words, if you're not following their guidelines for SEO, your site may not show up at all when people search for relevant keywords.
So what can you do to improve your SEO or SEM? Here are a few tips:
1. Use relevant keywords throughout your site.
2. Make sure your site is easy to navigate and fast loading.
3. Publish high-quality content that people will want to share.
4. Invest in SEO or SEM services to help you get the most out of your site.
5. Monitor your rankings and track your progress over time.
6. Take an SEO course and learn techniques from experts.
SEO and SEM are essential for any business that wants to be successful online. By following these tips, you can improve your rankings and attract more visitors to your site.
How can you get started with SEO or SEM? 
The first step is understanding your target audience's needs so that they will find what you offer more quickly than others--this includes knowing who uses social media sites like Facebook frequently (high school kids), which type of game-changer devices people have changed how they communicate forever with (smartphones), etc. Even though these may seem basic questions, understanding your audience is essential to creating effective SEO and SEM campaigns.
You can use Google's Adwords platform for SEO and SEM (search engine marketing), which is a great way to get started. You can also use Google's Webmaster Tools, which will help you understand how Google is crawling your website and what you can do to improve your ranking. Many other resources can help you get started with SEO and SEM, but it's important to remember that you need to continue learning and refining your strategy to be effective. With free online lessons, you can learn the technique in an SEO course at IIENSTITU.
If you are not comfortable with the idea of spending money on an unknown company, then consider creating a website for free about any topic that interests you and continue publishing content once or twice a week. You can also blog on established websites until you're ready to branch out independently. You can also offer guest posts to other websites in exchange for a link back to your website. The more content you produce, the more likely people will find your website (and hopefully convert). And don't forget to use social media to share your content and drive traffic back to your site! There are tons of free resources out there that will continue to teach you how to do this. SEO and SEM are great ways to improve your website's visibility and traffic, but you must continue to learn and adapt your strategies as the internet and search engines change.
I would recommend starting with Google's Adwords platform or Google's Webmaster Tools, as these will give you a strong foundation regarding how search engines work. Remember that SEO (search engine optimization) is about more than just meta tags and keywords -- you also need to understand how web crawlers work, what people are searching for on the internet, why they are searching for it, etc. SEM (search engine marketing) is another essential part of SEO because it involves using different forms of online advertising to drive traffic to your website. I hope this helps!
Questions: 
1. What is your process and approach to online marketing? 
2. How can I optimize my website for search engines, such as Google and Bing? 
3. Is it necessary to promote content on social media?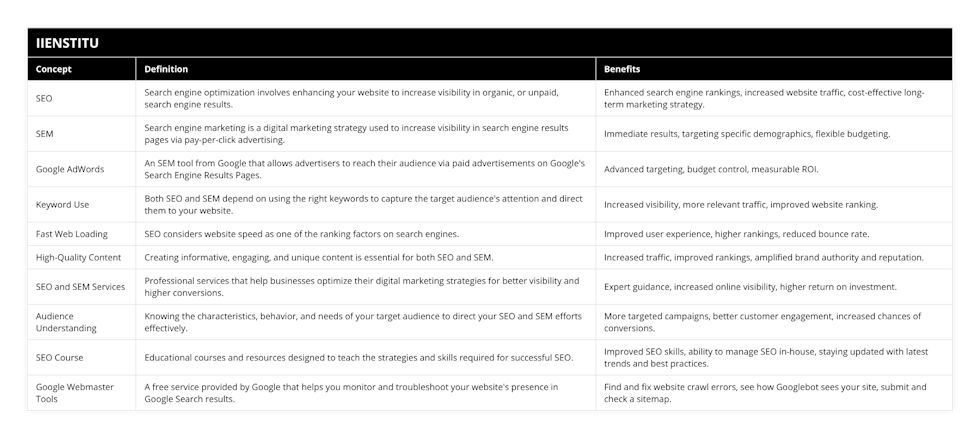 Monica Bourbon
Blogger
She describes himself as someone who loves to write about digital marketing, social media and public relations. His personal development special interest lies in self-improvement through reading books on the subject of human behavior; she also has an eye for how these topics apply outside just business or career settings too!
Related Posts
Our team of experts is passionate about providing accurate and helpful information, and we're always updating our blog with new articles and videos. So if you're looking for reliable advice and informative content, be sure to check out our blog today.