Digital Marketing
How To Start A Digital Marketing Agency In 7 Days Or Less
25 June 2022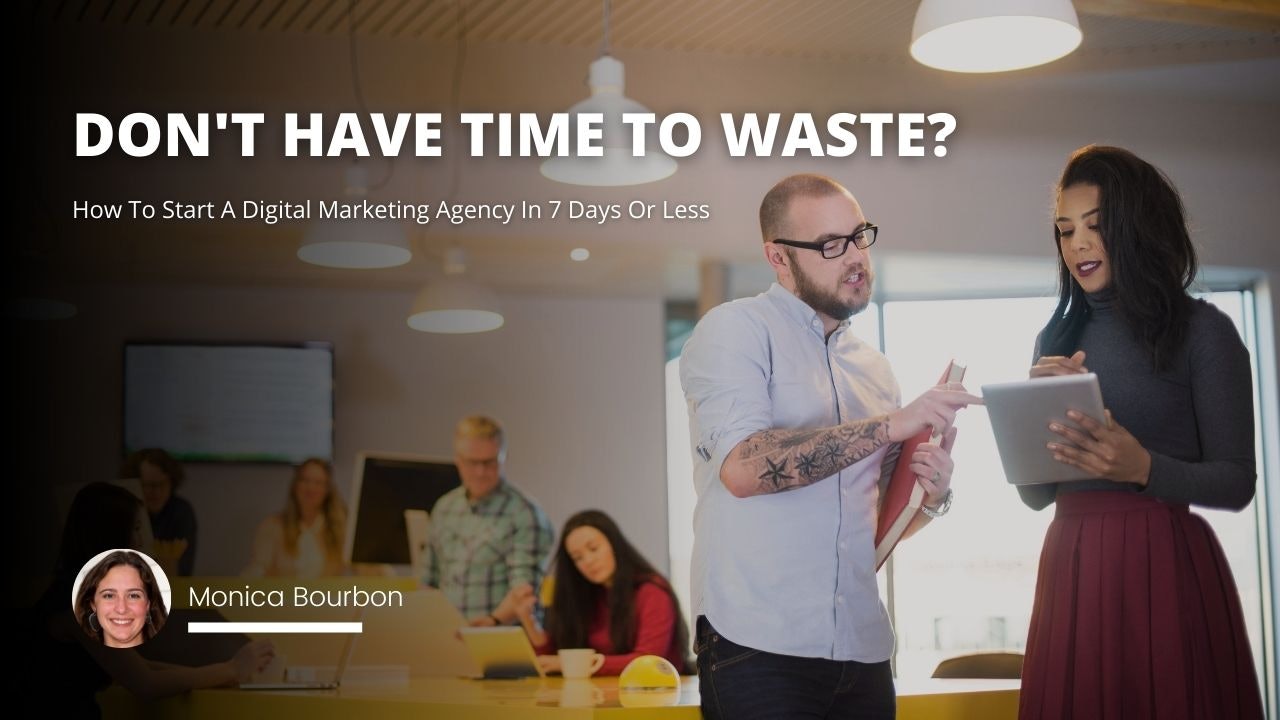 | Step | Description | Benefits |
| --- | --- | --- |
| Choosing agency Name | Picking a memorable name representing the services you offer | Makes you stand out from the competition, building brand identity |
| Creating Website and Logo | Developing your online presence and the face of your brand | Offers first point of contact for potential clients, helping in impression management |
| Setting up Social Media profiles | Building presence on platforms like Facebook, Twitter, Instagram | Connecting with audiences in the digital space, allowing customer engagement and networking |
| Writing Mission Statement | Outlining what your agency does and what you hope to achieve | Provides agency's vision and goal, aiding in attracting right clients |
| Listing Services | Documenting the services you offer, showcasing your skillset | Gives potential clients idea of what you provide, boosting chances of business partnership |
| Marketing to Clients | Promoting your agency to potential client network | Helps garner client interest, increasing potential revenue |
| Developing a Portfolio | Collecting examples of your work to illustrate your abilities | Demonstrates your competence to potential clients, promoting agency's credibility |
| Building a Team | Recruiting skilled individuals to help deliver your services | Enhances capacity and capability of agency, ensuring sufficient resources are available |
| Planning Financials | Determining pricing, billing, and financial management practices | Ensures sustainable operation of agency, providing financial stability |
| Continual Learning | Staying updated with new trends and technologies in digital marketing | Preserves competitiveness of the agency, offering latest solutions to clients |
Digital marketing is one of the most dynamic industries today. So if you're looking to start your own business, it's time for digital professionals like yourself! All that needs doing now are some quick repairs on an old house--the internet will take care of everything else, including what we call "marketing."
It may seem daunting at first, but don't worry because I'm here with seven steps- plain and simple instructions which anyone can follow to make their dream come true: starting up a successful agency without any funds required (taking into account there might be something missing). Ready? Let's go!.
The complete guide to starting your digital marketing agency
What are you waiting for? The time to start a business is now. With the rise of social media, internet commerce, and mobile technologies, we're living in an era where anyone can have their own successful company - all it takes is some creativity! If being your boss sounds like something worth considering, then this guide will show how easy (and profitable) entrepreneurship becomes when done right.
What do most people think about when they hear "entrepreneur"? A person who starts small by themselves with no resources at hand, maybe starting as a consultant or freelancer before eventually growing into larger companies. But these days, many young adults don't want that typical path because there's also another option available: building up dynamic digital marketing agencies based on SEO, Content Marketing, Social Media Management, and anything else that might be useful for businesses in the current market.
This guide will explain how you can start your agency from scratch in just seven days or less. But first, let's look into some of the benefits:
Choose a name for your agency.
The digital age has radically changed the marketing landscape, and businesses of all sizes are scrambling to keep up. As a result, there is a growing need for digital marketing agencies that can help companies navigate the ever-changing world of online marketing. When choosing a name for your digital marketing agency, it's essential to choose something memorable and reflective of the services you plan to provide. In addition, a good name will help you stand out from the competition and attract potential clients. So take your time and choose wisely – your name is your brand.
Create a website and design a logo.
A digital marketing agency is a business that provides digital marketing services to other companies or organizations. These services can include but are not limited to search engine optimization (SEO), pay-per-click (PPC) advertising, social media marketing, web design, and email marketing. A digital marketing agency may also offer traditional marketing services such as market research, public relations, and advertising. Creating a website and designing a logo are essential steps in establishing your digital marketing agency. Your website is often the first point of contact between you and potential clients, so it must make a good impression. Likewise, your logo will be used on all of your marketing materials, so it's essential to consider its design. Keep these tips in mind as you create your digital marketing agency's website and logo.
Set up social media profiles.
As a digital marketing agency, we cannot stress the importance of social media for businesses. Customers and clients are using social media more than ever to research and connect with brands in today's digital age. Having an active presence on the major platforms (Facebook, Twitter, Instagram) is essential to reaching your target audience. Therefore, it's important to populate your profiles with relevant and engaging content that will resonate with your audience. And don't forget to include links back to your website! By following these simple tips, you can ensure that you're taking advantage of social media as a powerful marketing tool.
Write a mission statement and list of services.
Launching a digital marketing agency can be a daunting task. There are many moving parts, and it's essential to get everything just right if you want to be successful. One of the most important facets of starting a digital marketing agency is creating a mission statement. This statement should encapsulate what your agency is about and what you hope to achieve. It should be short, sweet, and to the point. In addition to a mission statement, you should also list the services you offer. This will give potential clients a good idea of what you're all about and whether or not you're a good fit for their needs. With a strong mission statement and list of services, you'll be well on your way to launching a successful digital marketing agency.
Start marketing your agency to potential clients.
One of the best ways to find clients is through content marketing. By creating helpful, informative blog posts, whitepapers, and eBooks, you can position yourself as an expert in your field and start attracting the attention of those who need your services. Email marketing is another excellent way to reach potential clients; by sending out regular newsletters or even just promotional emails, you can stay top-of-mind and make it easy for potential clients to get in touch when they're ready to do business. Finally, don't forget about social media marketing; by promoting your content and engaging with potential clients on platforms like Twitter and LinkedIn, you can reach a whole new audience and start bringing in business.
So if you're ready to start a digital marketing agency, remember to focus on marketing from the very beginning. Then, with a little hard work and dedication, you can build a successful business that helps other businesses grow and thrive.
Hire employees (or outsource work to freelancers).
When you start a digital marketing agency, you need to decide whether to hire employees or outsource work to freelancers. There are pros and cons to both options. Hiring employees can give you more control over the quality of work and the timelines for deliverables. However, training and managing employees can be more expensive and time-consuming. On the other hand, outsourcing work to freelancers can be cheaper and faster, but you may have less control over the quality of work. Ultimately, the decision comes down to what makes the most sense for your business. It may be worth doing if you have the budget and the patience to train employees. But if you need to save money and get results quickly, outsourcing may be the way to go.
Stay organized and efficient to keep your business running smoothly.
Starting a digital marketing agency can be a daunting task. From client onboarding to project management, there are so many moving parts that it can be tough to keep things straight. That's why it's essential to stay organized and efficient. Having systems and processes for everything from customer relations to accounting will help you keep things running smoothly. It may take some time to get everything up and run, but it's worth it in the long run. In the end, a well-oiled machine is a key to a successful business.
You can start your digital marketing agency in 7 days or less by following these steps. Remember to focus on quality over quantity and consistently put your clients' needs first. If you do that, you'll be on your way to success.
So there you have it! Your very own digital marketing agency. It may seem like a lot of work, but your business can be up and running in no time with careful planning and execution. And don't forget, we're always here to help! If you need any advice or support setting up your new agency, our team is more than happy to offer guidance. In the meantime, why not join one of our many digital marketing courses? We offer beginner through advanced-level training in online marketing, from SEO and social media to paid advertising and email marketing. With our help, you'll be on your way to becoming a top-notch digital marketer in no time at

digital marketing agency
starting digital marketing
mission statement list
statement list services
start digital marketing

Monica Bourbon
Blogger
She describes himself as someone who loves to write about digital marketing, social media and public relations. His personal development special interest lies in self-improvement through reading books on the subject of human behavior; she also has an eye for how these topics apply outside just business or career settings too!
Related Posts
Our team of experts is passionate about providing accurate and helpful information, and we're always updating our blog with new articles and videos. So if you're looking for reliable advice and informative content, be sure to check out our blog today.