SEO
Boost Your Website's Visibility & Performance
19 November 2023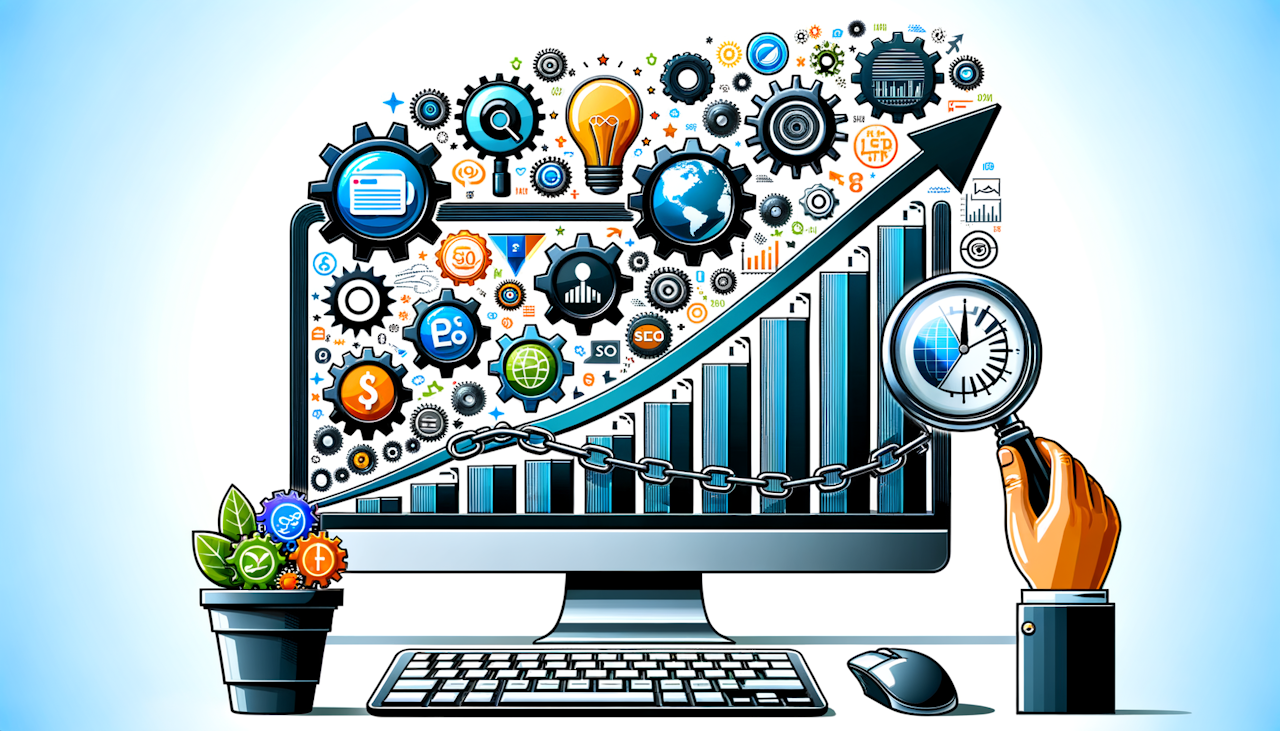 | SEO Practices | Description | Example |
| --- | --- | --- |
| Keyword Research | Identifies and targets the relevant keywords and phrases potential customers are likely to use when searching for products or services. | SEMrush's keyword research tool identifies the most valuable keywords for businesses. |
| On-Page Optimization | Involves optimizing elements of a website, including title tags, meta descriptions, header tags, URLs, and page content. | Shopify provides guidance on optimizing title tags, meta descriptions, and more for their merchants' websites. |
| Technical SEO | Involves optimizing a website's backend and infrastructure for better accessibility and understanding by search engines. | Amazon focuses on optimizing their website's technical infrastructure for high speed, mobile experience, and secure transactions. |
| Content Creation | Involves creating high-quality, engaging, and informative content optimized for target keywords and users. | HubSpot publishes valuable blog posts, guides, and other resources optimized for SEO. |
| Link-Building | Involves obtaining high-quality backlinks from relevant and authoritative websites to increase a website's credibility and visibility on search engines. | Many businesses collaborate with influencers and other relevant websites for guest blogging and backlinking opportunities. |
| Reputation Management | Focuses on managing and improving the image and reputation of a business online to improve its visibility on search engines. | Businesses often engage with consumers online, addressing complaints and improving customer service. |
| Mobile Optimization | Ensures that a website is mobile-friendly, improving the user experience for viewers on mobile devices. | Netflix offers a seamless mobile experience with an intuitive interface and easy-to-use features. |
| Local SEO | Involves optimizing a business's online presence to attract more business from local searches. | Restaurants often optimize their online presence to appear in search results for 'restaurants near me'. |
| SEO Audits | A thorough examination of a website to assess its ability to appear in search engine results pages (SERPs). | SEO agencies use auditing tools to identify a website's strengths and weaknesses and offer improvement strategies. |
| Competitor Analysis | Involves researching and analyzing competitors' strategies to identify their strengths and weaknesses relative to those of your own product or service. | Businesses commonly use tools such as Ahrefs and SEMrush for competitor analysis. |
In the digital age, search engine optimization (SEO) plays a critical role in the success of businesses across various industries. With millions of websites and blogs competing for online visibility, business owners and marketers must develop an advanced understanding of this essential digital marketing practice to drive website traffic and enhance overall performance. This comprehensive course in SEO covers everything from the basics to more advanced principles to help businesses build a robust online presence and rank higher on search engine results pages (SERPs).
SEO is not a one-time process, but rather an ongoing practice that requires attention and expertise. It involves a wide range of techniques, strategies, and best practices to improve a website's visibility and increase organic search traffic. By mastering the art of SEO, businesses can position themselves as industry leaders and gain a competitive edge over their rivals.
Unlocking Online Success: Mastering the Art of SEO
Elevate Your Digital Presence: Dive into the World of SEO
In today's digital age, SEO is the key to thriving in the competitive online landscape. Discover the essential strategies and techniques that can help your business rank higher on search engines, drive organic traffic, and establish itself as an industry leader. From keyword research to content creation and link-building, this comprehensive SEO course covers it all, ensuring you gain a competitive edge and achieve online success. Don't miss out on the opportunity to boost your website's visibility and enhance your overall performance.
Understanding the Fundamentals of SEO
SEO refers to the practice of increasing the quality and quantity of organic search traffic to a website by improving website visibility on major search engines such as Google, Bing, and Yahoo. The ultimate goal of SEO is to rank a website or webpage higher on SERPs, thus enhancing online visibility, driving traffic, and ultimately improving the bottom line.
For example, a well-known company such as Nike continually works on their website's SEO, employing various techniques to ensure their website and product pages rank at the top of SERPs for relevant keywords. As a result, when users search for terms like "running shoes" or "athletic wear," Nike's website is likely to appear as a top result, driving more organic traffic to their site and increasing sales.
There are several key factors that contribute to a successful SEO strategy, including keyword research, on-page optimization, technical SEO, content creation, and link-building. By understanding and implementing these essential components, businesses can improve their website's SEO and achieve a strong online presence.
Keyword Research and On-Page Optimization
Keyword research is the foundation of any SEO strategy. This process involves identifying and targeting the relevant keywords and phrases that potential customers are likely to use when searching for products or services. By doing so, businesses can optimize their website content, ensuring that it ranks higher on SERPs for those specific keywords.
For example, popular digital marketing tool company SEMrush has a dedicated keyword research tool that helps businesses identify the most valuable keywords for their niche. By using this tool, companies can better understand which keywords are driving the most traffic and analyze the competition for those particular terms. This data can then be integrated into the business's website content, ensuring better optimization and search engine visibility.
On-page optimization refers to the practice of optimizing the various elements of a website, including title tags, meta descriptions, header tags, URLs, and page content, to ensure that search engines can easily crawl and understand the site's relevance and value. Proper on-page optimization allows search engines to accurately index and rank the website on SERPs.
For instance, Shopify, a popular e-commerce platform, emphasizes the importance of on-page optimization for their merchants' websites to help increase organic search traffic. They provide step-by-step guidance on optimizing title tags, meta descriptions, and more, enabling businesses to make the most of their e-commerce websites.
Technical SEO
Technical SEO refers to optimizing a website's backend and infrastructure to make it more accessible and easily understandable to search engines. Technical SEO encompasses several factors, such as ensuring proper website structuring, optimizing site speed, improving mobile-friendliness, and implementing SSL certificates for better security.
A real-life example of excellent technical SEO is Amazon, which has dedicated teams focused on optimizing their website's technical infrastructure to guarantee lightning-fast site speed, an outstanding mobile experience, and secure transactions for its users. These efforts contribute to Amazon's dominant online presence and high search rankings on various search engines.
Content Creation
"Content is king" is a popular phrase in the digital marketing world, and it holds true in SEO as well. Creating high-quality, engaging, and informative content is vital for a successful SEO strategy. This content should be optimized for target keywords but should also be written primarily for the user instead of strictly adhering to keyword placement.
A company that excels in content creation and optimization is HubSpot, a leading inbound marketing and CRM software provider. They consistently publish valuable blog posts, guides, and other resources that not only establish their expertise in the space but also rank well on SERPs. By focusing on producing top-notch content, HubSpot continues to drive organic traffic to their website and nurture a loyal audience.
Link-Building
Link-building is the practice of acquiring high-quality backlinks to a website to improve its authority and search engine rankings. It is a crucial component of an effective SEO strategy, as search engines consider backlinks as a sign of trust in your website. Links from credible sources act as endorsements and make your website more valuable and relevant in the eyes of search engines.
A company that has had notable success with link-building is Moz, which offers SEO tools and resources. Their thought-provoking blog posts, in-depth articles, industry studies, and attention to detail have earned them countless backlinks from reputable sites, ensuring a strong online presence and high search engine rankings.
To sum up, mastering the art of SEO requires businesses to fully grasp and execute the fundamental aspects of keyword research, on-page optimization, technical SEO, content creation, and link-building. By becoming proficient in these areas, companies can improve their website visibility, drive organic search traffic, and ultimately enhance their performance within the competitive marketplace.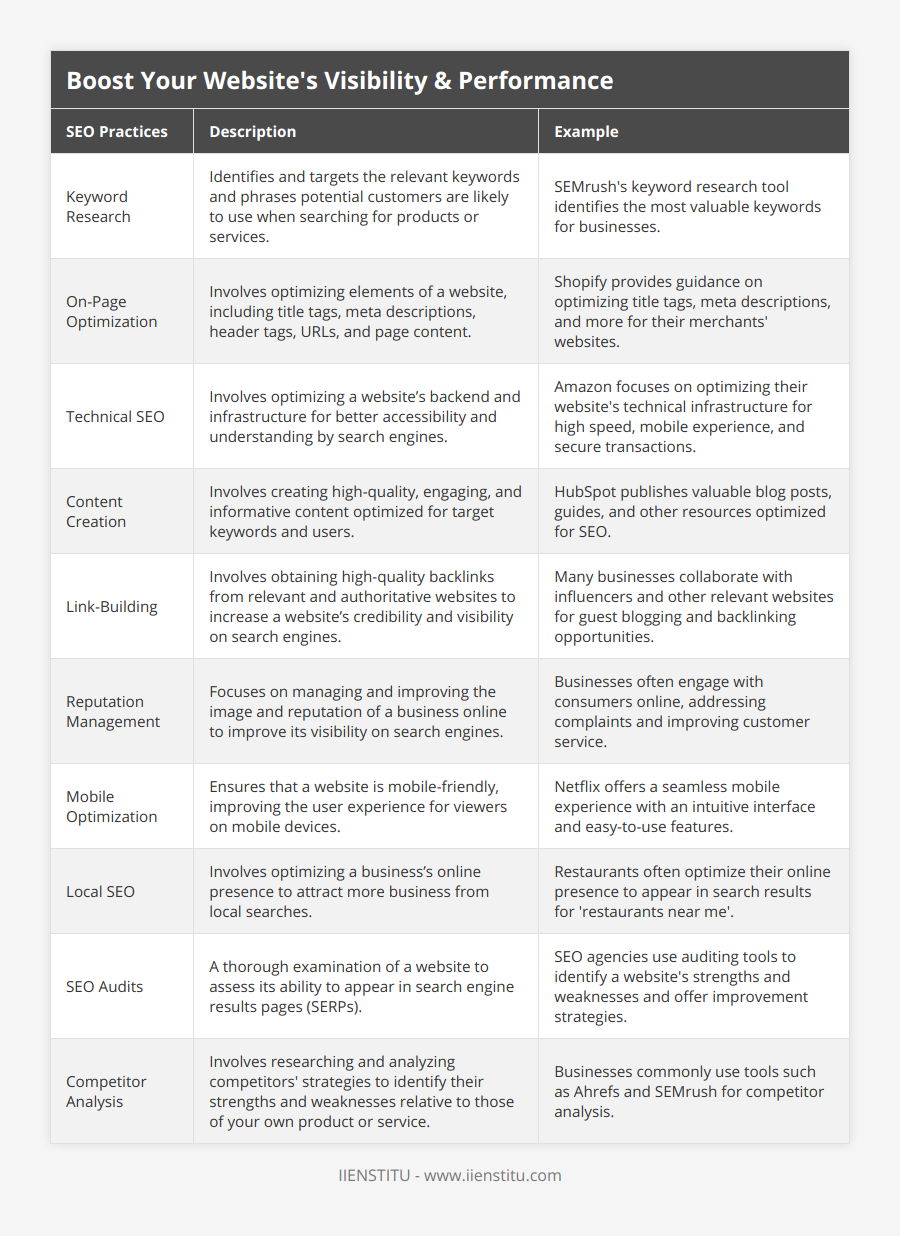 SEO
digital marketing
website traffic
online visibility
search engine results pages
organic search traffic
keyword research
onpage optimization
SERPs
Yu Payne
Blogger
Yu Payne is an American professional who believes in personal growth. After studying The Art & Science of Transformational from Erickson College, she continuously seeks out new trainings to improve herself. She has been producing content for the IIENSTITU Blog since 2021. Her work has been featured on various platforms, including but not limited to: ThriveGlobal, TinyBuddha, and Addicted2Success. Yu aspires to help others reach their full potential and live their best lives.
Related Posts
Our team of experts is passionate about providing accurate and helpful information, and we're always updating our blog with new articles and videos. So if you're looking for reliable advice and informative content, be sure to check out our blog today.