Human Resources Management
Unlocking HR's Role in Strategic Growth and Value
20 February 2023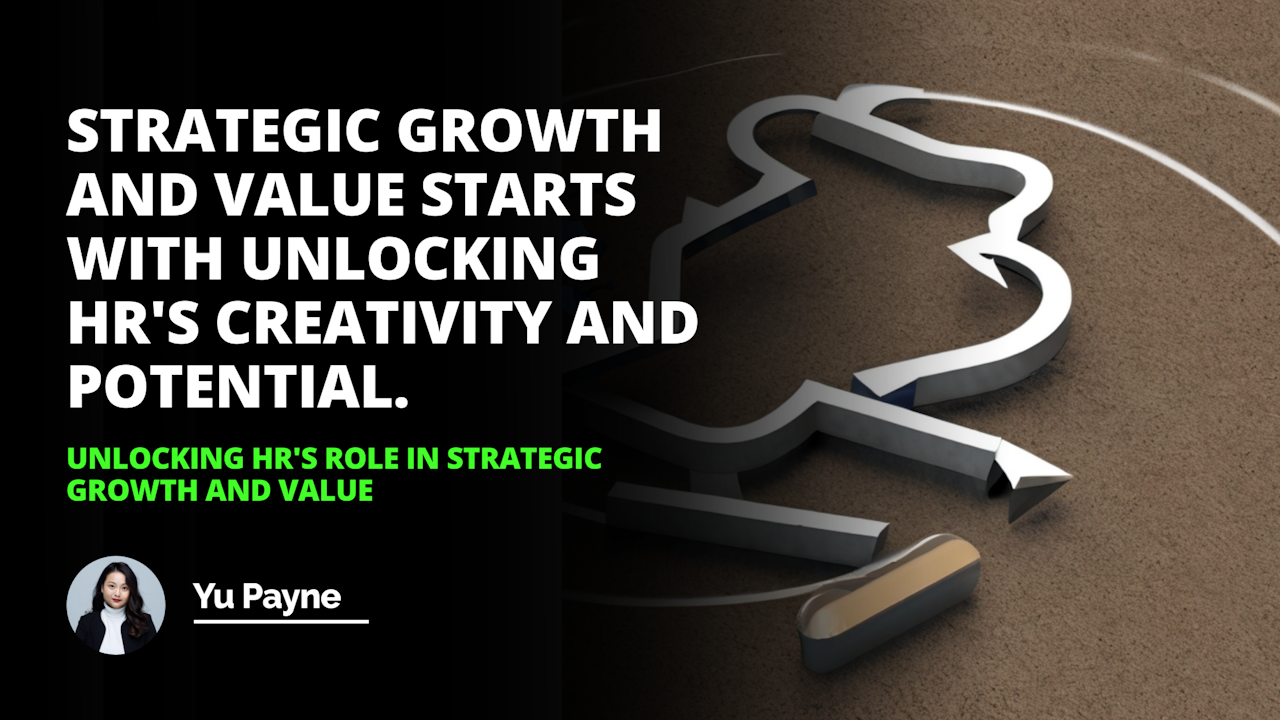 | Role of HR | Key Actions | Benefits/Outcomes |
| --- | --- | --- |
| Strategic Growth and Value | Identify opportunities based on current trends, anticipate potential labor market and technological opportunities. Understand the strategic direction of the organization. | Maximized corporate value, proactive responses to market and tech changes. |
| Identification of Inefficiencies | Analyze business processes and personnel to identify inefficiencies and ill-suited processes or people within the system. | Superior business function, better management of processes and personnel. |
| Productivity Enhancement | Appropriate task delegation, optimal workload assignment, development of clear organizational objectives and provision of necessary resources. | Increased productivity, better resource utilization, improved job satisfaction among employees. |
| Strategic Decision Making | Participation in strategic decision-making processes, leverage digital tools and HR data to inform decisions, handle legal matters necessary for business operation. | Enhanced business adaptability, improved decision-making processes, legal compliance. |
| Workforce education | Train and inform business leaders on changes in the workforce. | Better preparedness for workforce changes, improved leader-worker relations. |
| Data leverage | Use of HR data to inform strategic decisions. | More informed decision making, potential growth opportunities identified. |
| Regulatory compliance | Ensuring the organization complies with regulatory or legal guidelines specific to its industry. | Avoidance of legal issues, compliance with industry standards. |
| Cross-functional integration | Ensure that HR is tightly integrated with other functions of the business. | Better cross-functional understanding and communication. |
| Employee development | Bridge the gap between employee development, recruitment, and retention. | Maximize use of employee skills and knowledge, better retention rates. |
| Business understanding | Deep understanding of the current business environment. | Better aligned HR strategies and business outcomes. |
HR's Growing Role in Strategic Growth and Value

Identifying Inefficiencies & Ways to Enhance Productivity

Leveraging HR in Strategic Decision Making
With organizations needing to ensure that their businesses remain competitive, the role of human resources (HR) has grown significantly. There's no doubt that HR has an increasingly vital role to play in strategic growth and value. From identifying areas of inefficiency to leveraging HR data and technology in core business operations, today's business leaders need to ensure that HR is up to the challenge.
HR's Growing Role in Strategic Growth and Value
Gone is when HR was viewed merely as a function to process paperwork and hire and terminate staff. As the demands of businesses have increased, so too have the orders placed on the HR department. To maximize corporate value, HR professionals must be able to proactively identify opportunities to capitalize on current trends and anticipate potential labor market and technological opportunities while also finding ways to eliminate inefficiencies and improve productivity.
Organizations must be aware of current trends and able to adapt existing processes through HR initiatives. For instance, by bridging the gap between employee development, recruitment, and retention, HR can identify focus areas and proactively use employee skills and knowledge. In addition, HR should have a clear understanding of the strategic direction the organization wishes to take and be able to identify ways to create value.
Identifying Inefficiencies & Ways to Enhance Productivity
Today's business environment is complex and ever-changing, with constant pressure to innovate and increase productivity. This often leaves organizations with the tough decision of identifying the most efficient processes while remaining flexible enough to adjust. This is why understanding the business is essential for HR professionals. Doing so enables them to identify inefficiencies and potential ill-suited processes or personnel. An effective HR strategy means understanding the problems and finding ways to address the organization's needs.
HR can increase productivity by ensuring that tasks are appropriately delegated, and individuals are assigned the optimal workload. This results in adequate utilization of resources and better job satisfaction, which can boost morale and result in higher engagement. Additionally, developing clear goals and objectives and providing employees with the necessary support and resources can help improve concentration and productivity.
Leveraging HR in Strategic Decision Making
Organizations must be agile and proactive in unpredictable circumstances and economic shifts. To face such challenges, the HR department must be part of the strategic decision-making process, working with senior leadership teams to analyze current conditions and anticipate potential obstacles or opportunities.
Related Course: Leadership Course Online
HR should also look at ways to use digital tools to improve decision-making, educate business leaders on changes in the workforce and establish ways to leverage HR data to inform strategic decisions. Furthermore, HR must be prepared to handle any pertinent legal matters, ensuring the organization complies with regulatory or legal guidelines specific to its industry.
Conclusion: There's no doubt that HR has an essential role to play in strategic growth and value. By understanding their function and the organization's goals, HR professionals can help identify weaknesses, inefficiencies, and opportunities while using data and technology to inform decision-making. In today's world, staying competitive requires agility and adapting to an ever-changing business landscape. HR teams must rise to the challenge.
Strategic growth and value start with unlocking HRs creativity and potential.
In conclusion, the role of HR has evolved to become an essential component of a business's strategic growth and value. To foster this growth and create value, HR professionals need to focus on identifying inefficiencies, enhancing productivity, and taking an active role in strategic decision making. Using their keen understanding of the organization's goals, they can both recognize and leverage opportunities as well as anticipate potential challenges. They also need to utilize data and digital tools effectively to inform their decisions and maintain competitiveness. Legal compliance is also a critical aspect of their role. For those interested in improving and keeping pace with these shifting demands, exploring the best HR certification courses online is a worthwhile investment.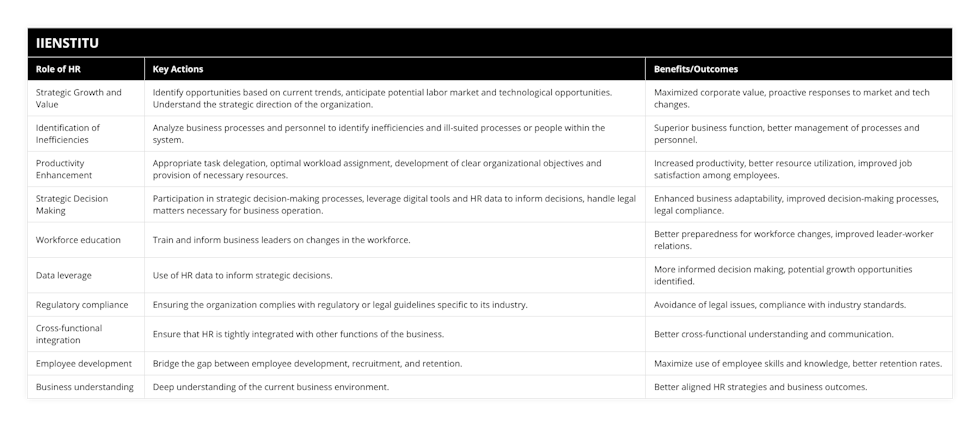 Human Resources
Strategic Growth
Value
Inefficiencies
Productivity
Trends
Employee Development
Recruitment
Retention
Corporate Value
Processes
Leveraging
Data
Technology
Business Operations
Strategic Direction
Corporate Value
Processes
Delegate
Optimize
Job Satisfaction
Goals
Objectives
Support
Resources
Engagement
Strategic Decision Making
Digital Tools
Workforce
Regulatory
Legal Guidelines
Yu Payne
Blogger
Yu Payne is an American professional who believes in personal growth. After studying The Art & Science of Transformational from Erickson College, she continuously seeks out new trainings to improve herself. She has been producing content for the IIENSTITU Blog since 2021. Her work has been featured on various platforms, including but not limited to: ThriveGlobal, TinyBuddha, and Addicted2Success. Yu aspires to help others reach their full potential and live their best lives.
Related Posts
Our team of experts is passionate about providing accurate and helpful information, and we're always updating our blog with new articles and videos. So if you're looking for reliable advice and informative content, be sure to check out our blog today.