Logistic Management
Uncovering Strength in Decision Making Using Sensitivity Analysis
26 February 2023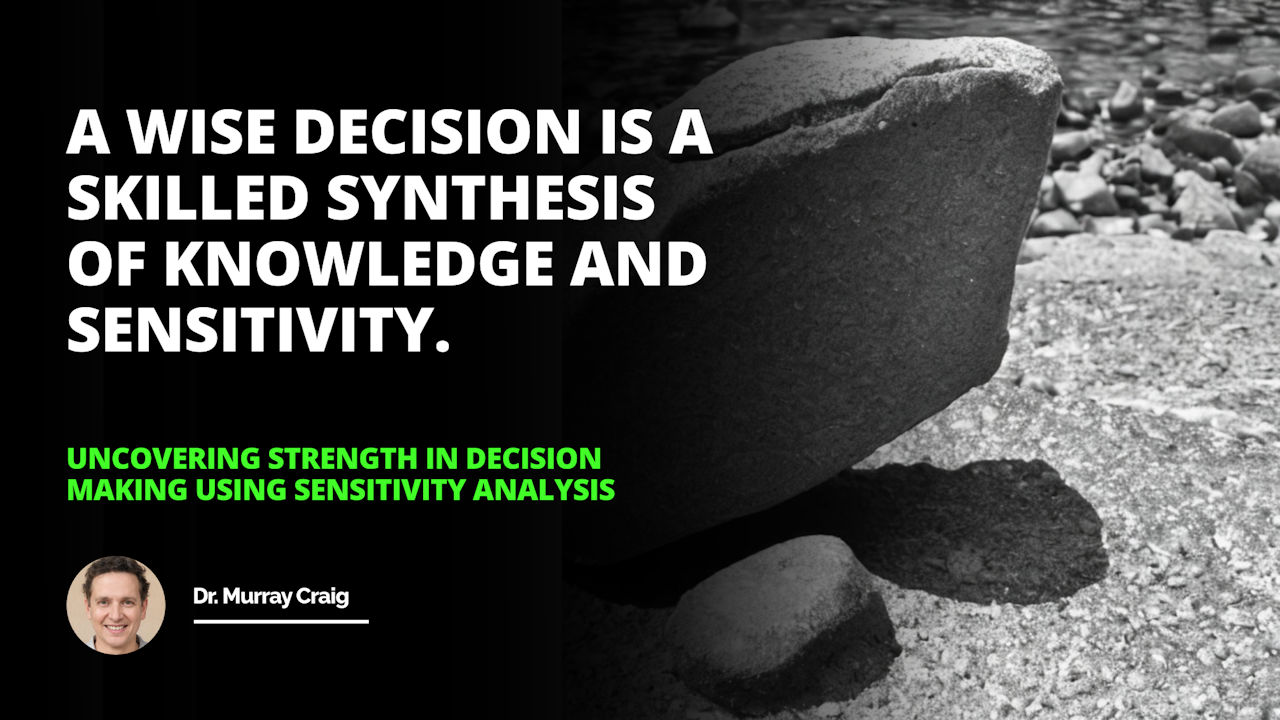 | Part of the Process | Definition | Example |
| --- | --- | --- |
| Sensitivity Analysis | Analytical technique that identifies change an independent variable has on an outcome. | Assessing the impact of specific parameters on particular products. |
| Identifying Decision-Making Factors | Determining key factors that impact the outcome of a decision. | Time-to-market, potential customer base, production cost, and potential return on investment for a new technology investment. |
| Estimating Probabilities | Assigning probabilities to different scenarios to determine potential outcomes. | If customer base is estimated to increase by 10% after technology investment, assigning a probability of 0.9 to this scenario. |
| Calculating the Expected Value | Outcome considering all possibilities and their probabilities. | If customer base is estimated to increase by 10%, the expected value is 0.9 (probabilities * impact). |
| Usage of Sensitivity Analysis | To analyze the outcome of potential decisions before making them. | Before deciding to invest in new technology, analyze expected outcomes using sensitivity analysis. |
| Uncovering Opportunities | Discovering hidden opportunities through informed decisions. | Through effective decision making, you might uncover a profitable market segment previously overlooked. |
| Implementation of Analysis | Application of sensitivity analysis in real-world scenarios. | Business deciding whether to invest in a new technology or not. |
| The Role of Probabilities | Determining likelihood of different scenarios and outcomes. | Estimating a 90% chance of increased customer base by 10% after technology investment. |
| Setting the Expected Value | Anticipated outcome considering all scenarios and probabilities. | The expected value of a 10% increase in the customer base is 0.9. |
| Making Informed Decisions | Making decisions based on thorough analysis and understanding of all scenarios. | Deciding to invest in new technology after analyzing potential outcomes and expected values. |
What is Sensitivity Analysis?

Identifying Decision-Making Factors

Estimating Probabilities

Calculating the Expected Value
Decision-making is a crucial part of our daily lives. From personal choices to professional ones, we constantly face the need to make decisions. Therefore, effectively comprehending and analyzing a problem before making an informed decision is one of the essential skills. With the development of technology, a valuable analytical tool has become available in the form of sensitivity analysis.
What is Sensitivity Analysis?
Sensitivity analysis is an analytical technique that helps to identify how much change an independent variable has on an outcome. It allows us to assess the impact of specific parameters on particular products, enabling us to make decisions more effectively. Sensitivity analysis is used to identify key decision-making factors that have the most significant impact on the results.
Identifying Decision-Making Factors
The first step in conducting a sensitivity analysis is determining the key factors that can impact the outcome of a decision. For example, a business may need to decide whether to invest in new technology with upfront costs and potential long-term benefits. In this case, the key factors to consider are time-to-market, potential customer base, production cost, and potential return on investment.
Estimating Probabilities
Once the key factors are identified, the next step is to assign probabilities to each scenario and determine the potential outcomes. Again, different methods need to be identified and assigned probabilities which will enable us to estimate the expected value. For example, suppose the company decides to invest in new technology and estimates that the customer base will increase by 10%. In that case, we can assign a probability of 0.9 (90%) to this scenario.
Calculating the Expected Value
The expected value is the desired outcome of a decision, considering all the different possibilities and their respective probabilities. This can be calculated by adding up the different scenarios and their chances. For example, suppose the company invested in new technology and estimates it will increase its customer base by 10%. In that case, the expected value can be calculated as follows:
Expected Value = 0.9 * 10% = 0.9
Conclusion: Sensitivity analysis is an effective tool for making decisions, as it enables us to analyze the outcome of a potential decision before committing to it. By identifying the critical decision-making factors and assigning probabilities to different scenarios, we can determine the expected value of a decision. This allows us to make more informed decisions and helps to uncover hidden opportunities.
A wise decision is a skilled synthesis of knowledge and sensitivity.

decision making
sensitivity analysis
independent variable
decision-making factors
probabilities
expected value
time-to-market
customer base
production cost
return on investment
scenario
expected outcome

Dr. Murray Craig
Academic
Dr. Murray Craig is an academic and researcher who has dedicated his life to the study of human behavior. He has a particular interest in how people interact with their environment, and how that interaction can be used to improve their lives. Dr. Craig has spent many years teaching and conducting research at universities all over the world, and he is widely respected for his work in the field of behavioral science.
Related Posts
Our team of experts is passionate about providing accurate and helpful information, and we're always updating our blog with new articles and videos. So if you're looking for reliable advice and informative content, be sure to check out our blog today.