Logistic Management
Optimizing Process Logistics in Manufacturing
01 March 2023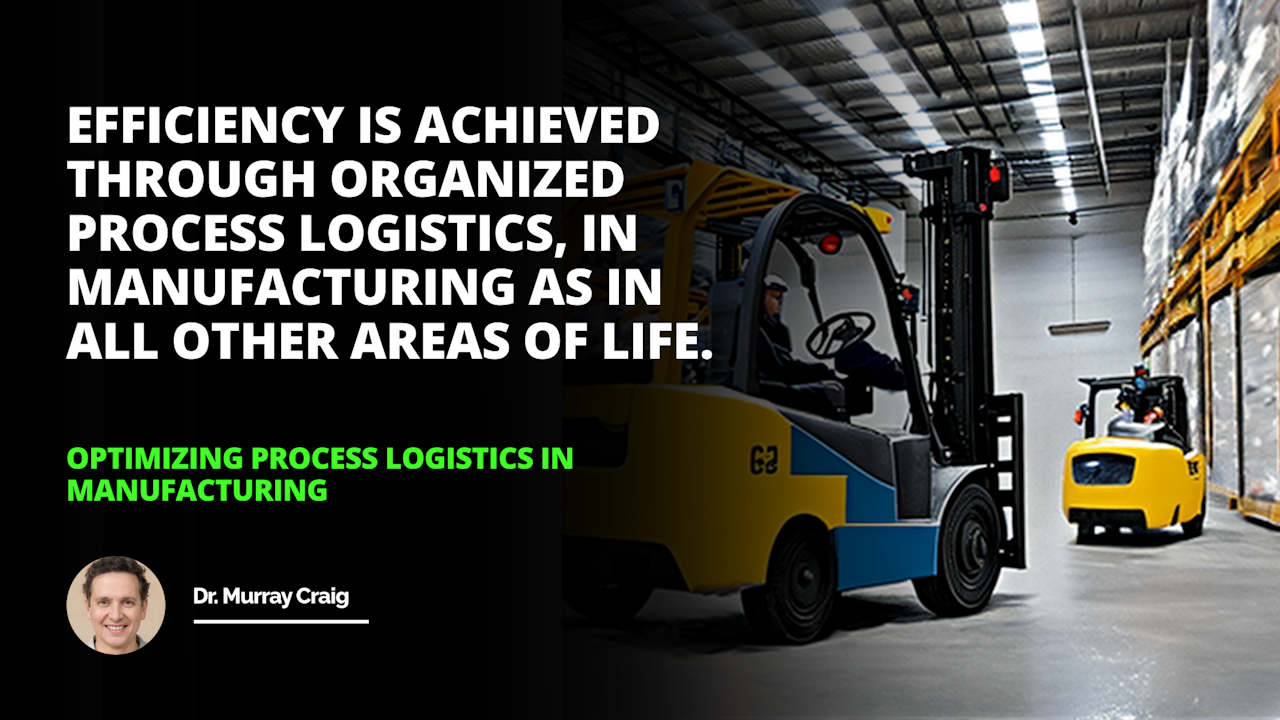 | Key Concepts | Details | Benefits |
| --- | --- | --- |
| Goals of Process Logistics | Maximizing efficiency, cost-effectiveness, and streamlined production. | Production of goods/services faster utilizing less time and fewer resources. |
| Digitizing and Systematizing Data | Organization and cataloging manufacturing data into a coherent and accessible system. | Allows manufacturers to track production processes, identify and solve potential problems quickly. |
| Automating Manufacturing Processes | Enables manufacturers to automate repetitive tasks promptly and efficiently with minimal human intervention. | Increases efficiency and saves labor costs, minimizes production error. |
| Reducing Overhead Costs | Ensures most effective and efficient use of resources. | More savings and cost-effective operations, maximization of profit. |
| Maximizing Resource Allocation | Ensures all resources are used as efficiently and sustainably as possible. | Less wastage of resources, increased productivity and cost-effectiveness. |
| Improved Production Efficiency | Products produced faster with less materials and time through the optimization of process logistics. | Reduced cost and increased profit, faster delivery of products. |
| Enhanced Quality Control | Implementing comprehensive measures for quality assurance in the production process. | Reduction in faulty products, building reputation for high quality. |
| Reduced Delivery and Lead Times | Optimized process logistics lead to quicker delivering and shorter lead times. | Increased customer satisfaction, competitive advantage in the market. |
| Reduced Inventory Levels | Optimized process logistics ensure the right amount of inventory is stored reducing storage cost and waste. | Reduced storage cost, improved cash flow. |
| Sustainability | Optimization of process logistics results in more efficient resource use and waste reduction. | Contributes to sustainability goals, improved public image. |
The Goals of Process Logistics

Strategies for Optimizing Process Logistics

Benefits of Optimizing Process Logistics
Process logistics is optimally managing resources to plan, coordinate and execute the production of goods and services. This can include inventory control, picking, packing, and shipping. In the manufacturing industry, process logistics is critical to ensure a smooth, uninterrupted workflow to keep up with industry competition, optimize production efficiency and maintain quality standards.
The Goals of Process Logistics
Process logistics aims to ensure the most efficient production process possible. This includes maximizing efficiency, cost-effectiveness, and streamlined production. Efficiency refers to reducing the time and resources used to produce a product, and cost-effectiveness means lowering the cost of resources and production time. Streamlined production creates the shortest and simplest process for manufacturing goods or services.
Strategies for Optimizing Process Logistics
To optimize process logistics, organizations must identify areas where their products could be improved and develop strategies to address them. This can include digitizing and systematizing data, automating manufacturing processes, reducing overhead costs, and maximizing resource allocation.
Digitizing and systematizing data mean organizing and cataloging all manufacturing data into a coherent and accessible system. This will allow manufacturers to track production processes and identify potential problems quickly. Automating manufacturing processes will enable manufacturers to automate repetitive tasks promptly and efficiently with minimal human intervention. Reducing overhead costs ensures that all resources are used most effectively and efficiently. By maximizing resource allocation, manufacturers can ensure their operations are as cost-effective and sustainable as possible.
Benefits of Optimizing Process Logistics
Organizations can improve their production efficiency and minimize costs by optimizing process logistics. Improved production efficiency means products are produced faster, with fewer materials and time. Maximizing resource allocation allows organizations to manage their resources better and streamline their processes. Finally, optimized process logistics can reduce delivery and lead times, reducing inventory levels and improving cash flow. In addition, enhanced quality control measures can be implemented to ensure products are produced to the highest standards.
Conclusion: Process logistics is an essential part of optimizing the production process in the manufacturing industry. Organizations can improve production efficiency and quality control while minimizing costs and lead times through systematizing data, automating processes, reducing overhead costs, and maximizing resource allocation. Optimizing process logistics offers a range of immediate and long-term benefits, including improved production efficiency, maximized resource allocation, enhanced quality control, and reduced inventory levels. However, optimization must be a continual process for organizations to keep up with industry competition and maintain high-quality products while reducing costs and delivery times.
Efficiency is achieved through organized process logistics in manufacturing, as in all other areas of life.

Process logistics
inventory control
picking
packing
shipping
manufacturing
efficiency
cost-effectiveness
streamlined production
systematizing data
automating processes
reducing overhead costs
maximizing resource allocation
quality control
lead times
improved cash flow

Dr. Murray Craig
Academic
Dr. Murray Craig is an academic and researcher who has dedicated his life to the study of human behavior. He has a particular interest in how people interact with their environment, and how that interaction can be used to improve their lives. Dr. Craig has spent many years teaching and conducting research at universities all over the world, and he is widely respected for his work in the field of behavioral science.
Related Posts
Our team of experts is passionate about providing accurate and helpful information, and we're always updating our blog with new articles and videos. So if you're looking for reliable advice and informative content, be sure to check out our blog today.