Interview Questions
Interview Question: How to Manage Risk Within the Supply Chain?
25 September 2023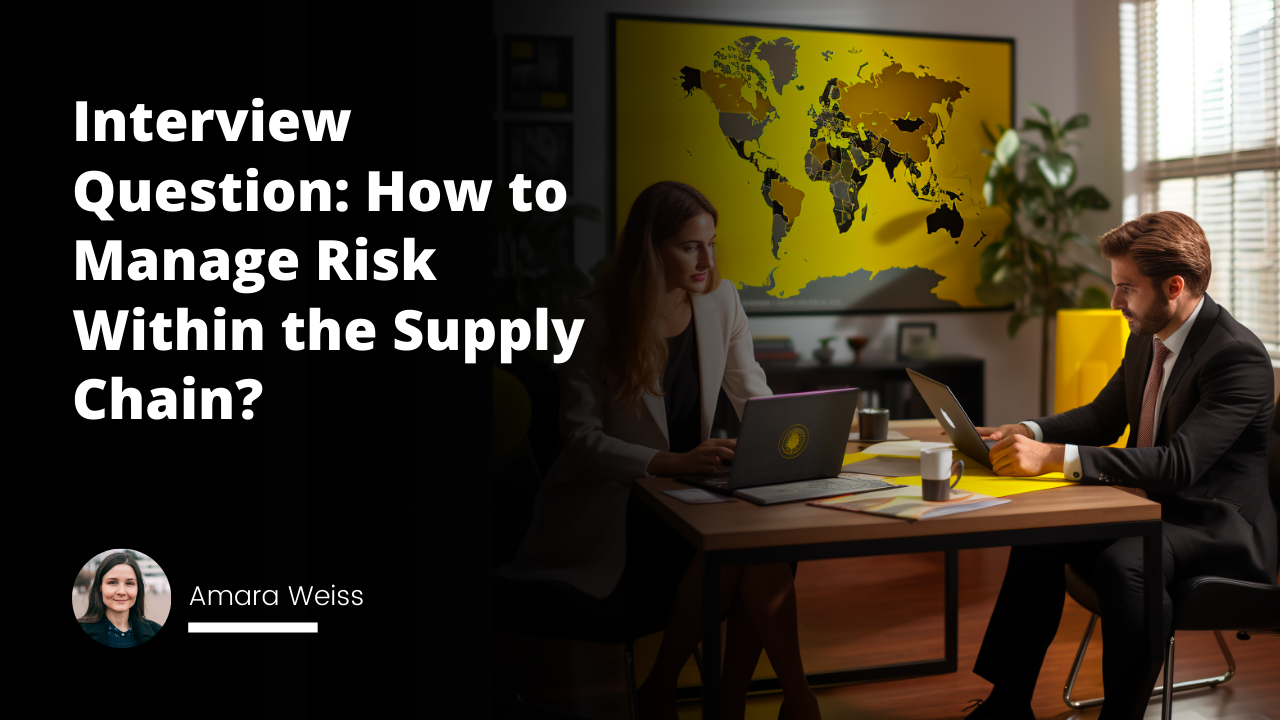 | Aspect of Managing Risk | Key Considerations Implementation | Potential Outcomes |
| --- | --- | --- |
| Understanding of Risk | Applying principles of risk management to supply chain processes | Effective identification, assessment and mitigation of potential risks that impact the supply chain |
| Use of Technology | Leveraging tools like predictive analytics, IoT technologies, big data and real-time tracking | Proactive responses to potential disruptions, improved predictive ability, reduced cost and improved efficiency |
| Supplier Relationship | Establishing strong relationships with key suppliers, diversifying supplier base | Prevention of single-point failures, overall stability of the supply chain, better response to disruptions |
| Risk Assessment | Regular risk assessments to anticipate and plan for potential problems | Anticipation and mitigation of potential risks, proactive planning, reduced overall risk exposure |
| Anticipating operational risks | Reviewing internal processes, staff training, auditing and monitoring | Prevention of avoidable process failures, improved operational efficiency, better quality control |
| Anticipating Disruption risks | Keeping up with external factors such as geopolitics, natural disasters, market shifts, and pandemics | Resilience and adaptability in the face of major disruptions |
| Anticipating Demand risks | Understanding customer behavior, market trends, and sales patterns | Improved inventory management, better forecasting, minimized financial risks |
| Anticipating Procurement risks | Regular supplier audits, understanding supplier environment, legal compliance and due diligence | Minimized risk of supplier failure, legal compliance, and better contract terms |
| Utilizing Analytics | Implementing data-driven decision-making processes | Optimization of key business aspects, better inventory, procurement, and logistical decision-making |
| Continuous Improvement | Adopting a culture of continuous learning and improvement in supply chain management practices | Ensures the organization is always prepared to tackle future supply chain risks, improved operational efficiency |
In today's complex and intricate business environment, the question, "How to manage risk within the supply chain?" is often posed by business entities and prospective job candidates alike.
The supply chain is a critical component of any business structure; thus, its management and risk mitigation is crucial.
Why is this Interview Question Asked: How to Manage Risk Within the Supply Chain?
Companies need to know that you understand the potential for risk within supply chains and that you have the necessary skills to handle it strategically.
The reality of risk within the supply chain cannot be overstated. It's a common query in interviews for roles that involve managing complex logistics or supply chain processes in an organization.
The Purpose of the Question
The main objective of this question is to gauge the candidate's comprehension of risk management principles as they apply to the supply chain process.
Employers want to see that you not only understand the concept of risk but that you can apply your knowledge to real-life, practical scenarios.
At What Interview Level Is It Asked?
This question is typically asked during interviews for mid-level to senior-level positions. Roles such as Supply Chain Analyst, Logistics Coordinator, or even Supply Chain Manager would likely encounter this question as part of their interview process.
However, occasionally, it can be asked in entry-level roles which require a strong understanding of supply chain management as a foundational skill.
Related course: Supply Chain Management
What Kind of Answer is Expected from the Candidate?
The ideal answer should showcase your understanding of risk management strategies, your problem-solving abilities, and your foresight in identifying potential risks before they arise.
Employers are looking for comprehensive responses that demonstrate your ability to handle unforeseeable global and local factors that can disrupt supply chain operations. They want you to discuss concrete strategies or past experiences managing risks effectively.
Possible Answers to Consider
Consider sharing practical experiences of managing risk within a supply chain in previous roles. Perhaps you could discuss a specific incident in which you identified potential supply chain risk, implemented proactive measures to prevent this risk, and the outcome of these actions.
Discuss tools or technologies that can help mitigate risk, such as predictive analytics, big data, Internet of Things technologies, or real-time tracking software.
Potential answers could also involve emphasizing your understanding of maintaining strong relationships with suppliers, diversifying the supplier base, or regular risk assessments.
Be sure to portray your knowledge of various types of supply chain risks like operational risks, disruption risks, demand risks, and procurement risks. Demonstrate your understanding of the appropriate strategies to handle each.
Conclusion - How to Manage Risk within the Supply Chain?
In today's rapidly evolving and highly-connected business environment, understanding how to manage risk within the supply chain is an invaluable skill-set. It involves not only identifying and assessing potential risks but also developing and implementing strategies for mitigating these threats effectively.
From maintaining strong supplier relationships to leveraging high-tech solutions, the strategies are multifaceted. By preparing well and highlighting your experience, insights, and comprehension of this significant area, you can certainly ace interviews and set yourself apart.
Overall, managing risk within a supply chain is significant for maintaining organizational efficiency and profitability. Showcasing your expertise and ability to handle potential risks will go a long way in proving your worth as a capable and reliable supply chain professional.

Strategies for Identifying and Mitigating Risks in Supply Chain
| Strategies | Identifying Risks | Mitigating Risks |
| --- | --- | --- |
| Supplier diversification | Conduct thorough supplier evaluations, assess financial stability, and check references | Maintain relationships with multiple suppliers, establish backup plans, and monitor supplier performance |
| Demand forecasting | Analyze historical demand patterns, market trends, and customer behavior | Implement accurate forecasting models, collaborate with customers, and share data with suppliers |
| Inventory management | Monitor stock levels, analyze lead times, and track supplier performance | Implement real-time inventory tracking systems, establish safety stock levels, and improve communication with suppliers |
| Continuous monitoring | Regularly review supplier performance, track market changes, and adopt early warning systems | Establish key performance indicators, maintain open communication channels, and conduct periodic risk assessments |
| Collaborative relationships | Promote trust and transparency, share information, and build strong partnerships | Establish mutual dependencies, engage in joint risk mitigation efforts, and develop contingency plans together |
| Technology adoption | Identify potential technological disruptions, stay updated on industry advancements, and assess IT vulnerabilities | Adopt advanced technologies (e.g., AI, blockchain), invest in cybersecurity measures, and conduct regular audits |
Impact of External Factors on Supply Chain Risk Management
| External Factors | Impact on Supply Chain Risk Management | Example |
| --- | --- | --- |
| Natural disasters | Disruptions in transportation and production | Hurricanes causing damage to shipping ports |
| Economic downturns | Decreased demand and financial instability | Recession leading to reduced consumer spending |
| Political instability | Trade restrictions and government interventions | Sudden imposition of tariffs |
| Supplier failures | Delays in production and delivery | Bankruptcy of a key supplier |
| Technological disruptions | System failures and data breaches | Cyberattack leading to IT infrastructure breakdown |
| Pandemics | Disruptions in labor availability and international trade | COVID-19 causing temporary closure of factories |
Evaluation Methods for Supply Chain Risk Management Effectiveness
| Evaluation Method | Description | Advantages |
| --- | --- | --- |
| Risk Assessment | Identifies potential risks and assesses their impact on the supply chain | Helps in prioritizing risks for mitigation efforts |
| Performance Metrics | Monitors key performance indicators to evaluate supply chain risk management effectiveness | Provides quantifiable data for measuring improvement |
| Scenario Analysis | Assesses different supply chain risk scenarios and their potential impacts | Helps in developing contingency plans and enhancing preparedness |
| Supplier Audits | Evaluates suppliers' risk management practices and compliance with regulations | Ensures supplier accountability and enhances supply chain resilience |
| Simulation Modeling | Uses computer simulations to analyze complex supply chain risks and their consequences | Provides insights into potential system vulnerabilities and optimization opportunities |
| Benchmarking | Compares supply chain risk management practices with industry best practices | Identifies areas for improvement and facilitates knowledge sharing |
Similar interview questions:
What methods can be employed to control risks in the supply chain process?

Could you explain different strategies for effective supply chain risk management?

What are some of the best practices for managing supply chain risks?

What steps should be taken to mitigate risks within the supply chain?

What is the best approach to handle risks in the supply chain?

How can risk within the supply chain be effectively curbed?

What techniques are recommended for countering risk in the supply chain?

Could you outline procedures to oversee risk in a supply chain?

How can we implement risk management within our supply chain?

Can you detail the actions for controlling unforeseen hazards in the supply chain operation?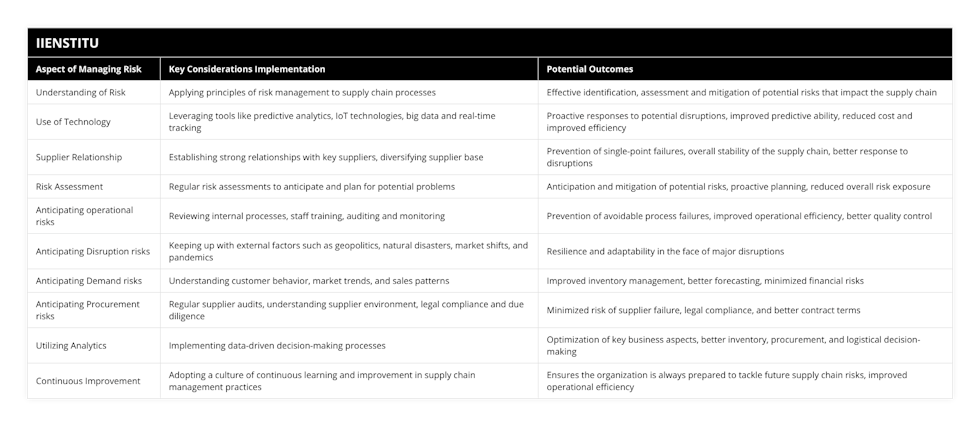 how to manage risk within the supply chain
interview question

Amara Weiss
Institute Secretary, Author
I am Amara Weiss and for many years I have worked in the field of education, specifically in the area of technology. I firmly believe that technology is a powerful tool that can help educators achieve their goals and improve student outcomes. That is why I currently work with IIENSTITU, an organization that supports more than 2 million students worldwide. In my role, I strive to contribute to its global growth and help educators make the most of available technologies.
Related Posts
Our team of experts is passionate about providing accurate and helpful information, and we're always updating our blog with new articles and videos. So if you're looking for reliable advice and informative content, be sure to check out our blog today.