Human Resources Management
A Comprehensive Overview of Employee Benefits
21 February 2023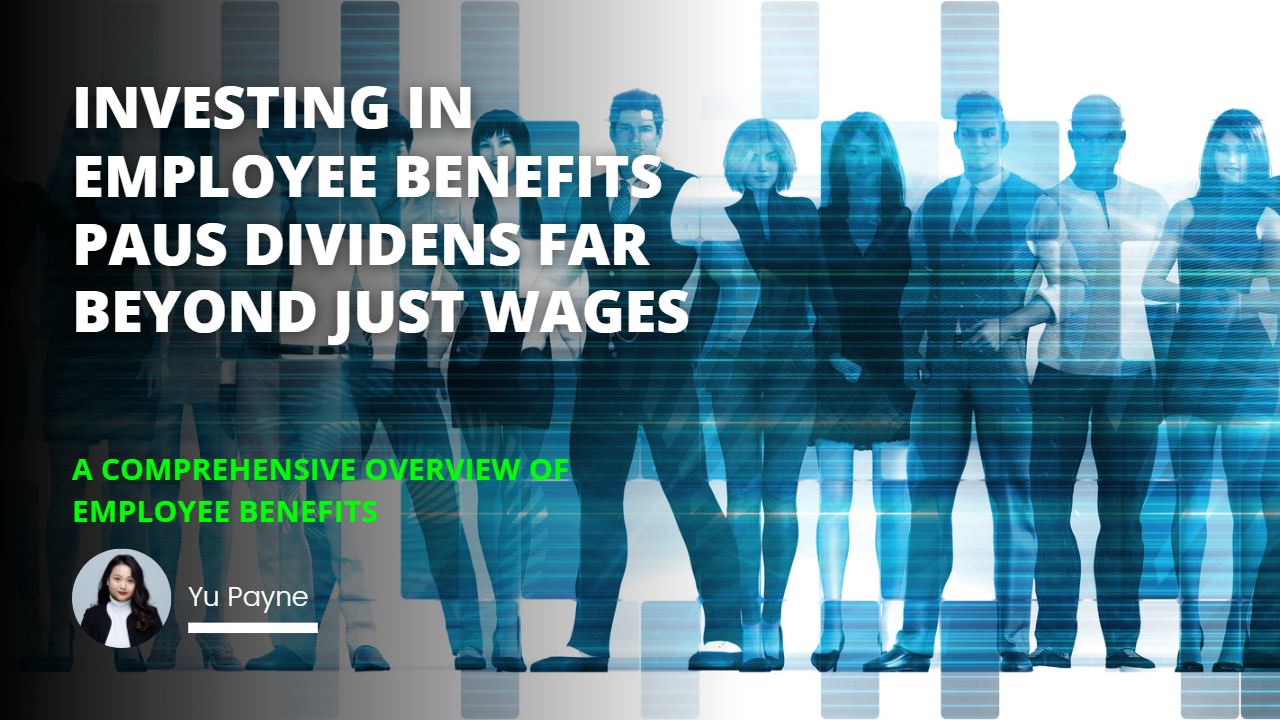 | Type of Benefit | Function | Examples |
| --- | --- | --- |
| Healthcare Benefits | These benefits assist with employees' health expenses. | Health, vision, and dental plans, prescription drug coverage, long-term care insurance, and healthcare spending accounts. |
| Retirement Benefits | These benefits help to secure employees' financial future after career completion. | Employer contribution plans like 401(k)s and 403(b)s, individual retirement accounts (IRAs). |
| Time Off and Leave Benefits | These benefits offer employees time off work for various reasons. | Paid vacation time, sick leave, family and medical leave, paid holiday time, maternity and paternity leave, and bereavement leave. |
| Professional Development Benefits | These benefits give valuable opportunities for career advancement and skill enhancement. | Tuition reimbursement, educational opportunities, workshops and seminars. |
| Physical Health Benefits | These benefits support employees' physical health. | Fitness and gym memberships, on-site wellness centers, health coaching, and meals. |
| Mental Health Benefits | These benefits support employees' mental well-being. | Access to therapy, financial planning, and mental health awareness training. |
| Financial Benefits | These benefits help employees with their personal financial needs. | Savings plans, employee discounts, and matching donations for charitable causes. |
| Work-Life Balance Benefits | To promote a balance between employees' work and personal life. | Flexible schedules, remote working options, and on-site childcare. |
| Benefits Evaluation | This is the assessment of the cost and value of providing benefits to employees. | Analysis of financial costs, determination of benefits value, the impact on employee morale, loyalty, and productivity. |
| Benefits for Organizations | These are the advantages an organization can gain from offering benefits. | Recruitment and retention of top talent, improved customer experience, enhanced brand credibility, and boosted morale and productivity. |
Overview of Employee Benefits

Types of Employee Benefits

Benefits for Employee Well-Being

Evaluating the Cost & Benefits of Employee Benefits
Employee benefits can play an essential role in the success of any organization. Employee benefits attract and retain top talent and can also be a motivating factor when it comes to providing a great customer experience.
In addition, an organization with a comprehensive employee benefits package can also enjoy improved morale among its staff, creating an environment of loyalty and motivation. In this blog post, we'll explore a comprehensive overview of employee benefits, the goals they can help organizations meet, the different types of benefits associated with employee well-being, and considerations for evaluating the overall value of a benefits package.
Overview of Employee Benefits
Employee or fringe benefits or perquisites are any non-monetary compensation made available to employees as part of their employment agreement. Gifts can come in various forms, including health insurance, retirement plans, time off and leave benefits, and professional development opportunities.
Benefit Goals in Organizations
Organizations provide benefits for various reasons, such as recruiting and retaining top talent and improving customer experience. Gifts also play an integral role in promoting employee well-being and forming a sense of loyalty between the employer and employees. In addition, employee benefits can also add credibility to an organization's brand and help boost morale and productivity.
Types of Employee Benefits
Organizations may provide various benefits to their employees, depending upon the size and structure of the organization. Some of the most common employee benefits include healthcare, retirement, and time off and leave benefits.
Healthcare Benefits
Healthcare benefits are a common employee benefit and typically range from health, vision, and dental plans, to prescription drug coverage, long-term care insurance, and even healthcare spending accounts.
Retirement Benefits
Retirement benefits are an essential part of any employee's financial future. Expected retirement benefits may include employer contribution plans such as 401(k)s and 403(b)s and other retirement savings accounts such as individual retirement accounts (IRAs).
Time Off and Leave Benefits
Employees may also have access to time off and leave benefits, such as paid vacation time, sick leave, and family and medical leave. In addition, depending on the organization, employees may also have access to paid holiday time, maternity and paternity leave, and bereavement leave.
Professional Development Benefits
In addition to healthcare and retirement benefits, organizations may also offer employees professional development benefits. This can include tuition reimbursement or other educational opportunities. Professional development benefits can also be career planning or personal development workshops and seminars.
Benefits for Employee Well-Being
In addition to the above, organizations may also provide benefits to promote employee well-being and work-life balance. These are often the most valuable benefits, fostering greater employee engagement and productivity.
Physical Health Benefits
Organizations may offer physical health benefits, such as fitness and gym memberships, on-site wellness centers, health coaching, and sometimes even free meals.
Mental Health Benefits
Mental health benefits are becoming increasingly popular in the workplace, with employers offering resources and support for employees' mental health needs. This can include access to therapy, financial planning, and mental health awareness training.
Financial Benefits
Organizations may also offer financial benefits, such as savings plans, employee discounts, and matching donations for charitable causes.
Work-Life Balance Benefits
Work-life balance is a significant consideration for employees today. Benefits such as flexible schedules, remote working options, and on-site childcare may be included in a comprehensive employee benefits package.
Evaluating the Cost & Benefits of Employee Benefits
When considering the costs of employee benefits, it's essential to evaluate both the costs and the value to determine whether the benefits are worth the investment.
Organizations should consider the financial costs associated with each type of employee benefit, such as the cost of health insurance and premiums for retirement plans. Once the charges have been determined, the organization can decide which benefits are the most valuable and cost-effective.
Assessing the Value of Employee Benefits
It is also essential to consider the value of the employee benefit in terms of its impact on employee morale, loyalty, and productivity. In addition, organizations should consider how each gift contributes to the overall success of their organization, as well as the potential value of these benefits in terms of competitive recruitment and retention.
Conclusion: Employee benefits can play an essential role in the success of any organization. Benefits can be a powerful tool in attracting and retaining top talent and boosting employee morale and loyalty while helping organizations reach critical goals such as reducing turnover and increasing customer experience. Organizations should consider the costs and potential benefits of each type of employee benefit and evaluate the value of each benefit to identify the most cost-effective and valuable package to offer their employees.
Investing in employee benefits pays dividends far beyond just wages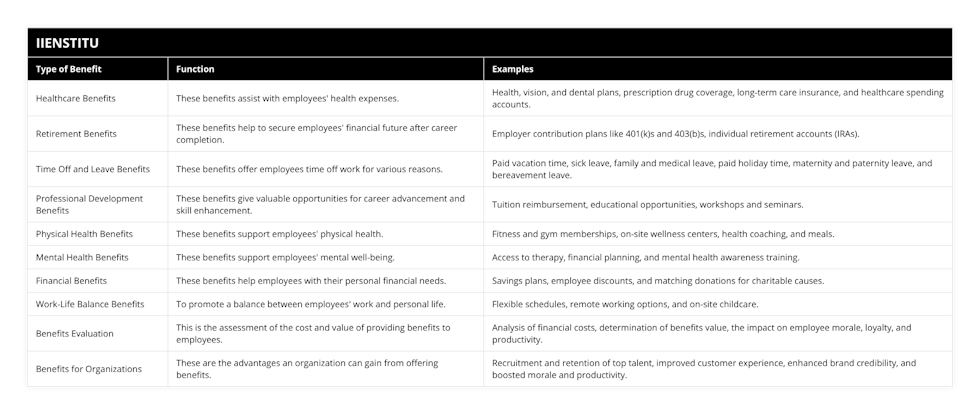 Employee benefits
fringe benefits
non-monetary compensation
health insurance
retirement plans
time off
leave benefits
professional development
customer experience
morale
loyalty
motivation
health
vision
dental plans
401(k)s
403 (b)s
IRAs
vacation time
sick leave
family and medical leave
maternity and paternity leave
Bereavement Leave
tuition reimbursement
physical health benefits
mental health benefits
savings plans
employee discounts
matching donations
flexible schedules
remote working options
on-site childcare.
Yu Payne
Blogger
Yu Payne is an American professional who believes in personal growth. After studying The Art & Science of Transformational from Erickson College, she continuously seeks out new trainings to improve herself. She has been producing content for the IIENSTITU Blog since 2021. Her work has been featured on various platforms, including but not limited to: ThriveGlobal, TinyBuddha, and Addicted2Success. Yu aspires to help others reach their full potential and live their best lives.
Related Posts
Our team of experts is passionate about providing accurate and helpful information, and we're always updating our blog with new articles and videos. So if you're looking for reliable advice and informative content, be sure to check out our blog today.