Human Resources Management
The Rising Importance Of Employee Relations In HRM
13 November 2022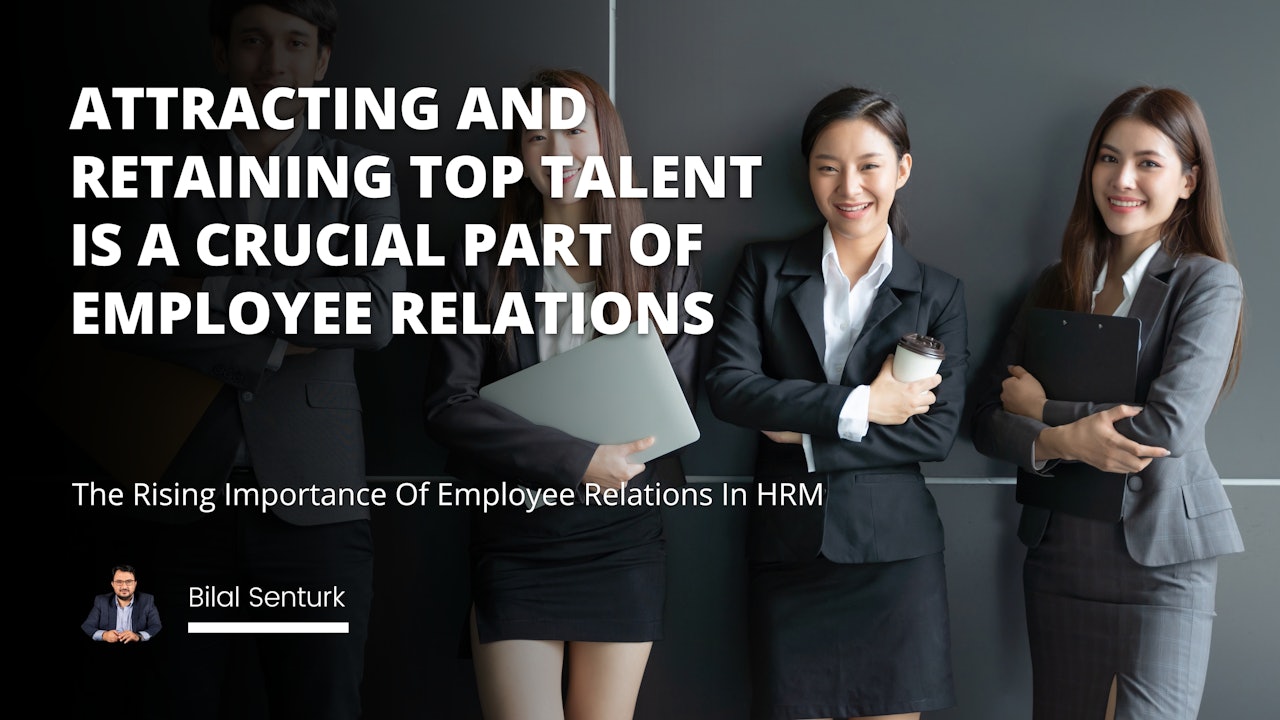 | Aspect of Employee Relations in HRM | Importance in Today's Workplace | Effective Strategies for Employers |
| --- | --- | --- |
| Communication | Facilitates timely updates regarding company policy or job roles and improves employee trust and dependability towards employers. | Open and regular communication. Ensure employees are kept updated and continuously seek feedback on job satisfaction. |
| Conflict Resolution | Inevitable part of workplace dynamics. Handling conflicts constructively can improve communication and trust within the workforce. | Address conflicts promptly and fairly. Employ conflict resolution techniques involving two-way respectful communication. |
| Trust and Respect | Builds employee loyalty and reduces turnover rates. Employees feeling valued countributes to satisfaction and productivity. | Transparent management practices and sincere recognition of employee's work can improve trust levels. |
| Remote Work | Promotes work-life balance but might impede strong working relationships and may lead to feelings of isolation. | Promoting virtual team activities and ensuring regular check-ins with remote teams for improved coordination and relationship building. |
| Employee Diversity | Inclusion of breadth and depth of experiences and ideas. Manages the challenges of managing a diverse workforce. | Diversity training, maintaining an inclusive work culture and fair employment practices. |
| Performance Management | Directly impacts productivity and employee satisfaction levels. | Regular performance reviews, objective feedback, recognitions and rewards and employee career development plans. |
| Recruitment and Onboarding | First step towards establishing strong employee relations. Influences the retention and performance levels of new hires. | Effective onboarding programs, clear job descriptions, and a transparent recruitment process. |
| Employee Experience | Influences overall employee productivity, retention rates and the workplace environment. | Focus on creating a positive and vibrant workplace culture. Provide meaningful work and encourage employee engagement activities. |
| Workplace Issues | Directly impacts employee morale, trust and can affect productivity if not handled properly. | Establish clear policies and procedures. Employ an open-door policy and encourage employees to voice concerns. |
| Work-Life Balance | Affects employee health, productivity and consequently, company performance. | Promote flexible work hours and remote working options. Encourage time-off policies and support employee well-being programs. |
There has been a recent shift in the role of HRM within organizations. Traditionally, human resources management was responsible for administering employee benefits and ensuring compliance with employment law. However, in recent years, the role of HRM has shifted to focus more on developing and maintaining positive employee relations.
This shift is due in part to the changing workforce, which is now more diverse and mobile than ever before. In order to keep up with these changes, organizations are realizing the importance of having a strong HR department that can effectively manage employee relations.
The role of employee relations in HRM
Employee relations is an important aspect of HRM. It includes the ways in which HRM practitioners interact with employees, as well as the policies and procedures that govern those interactions. Employee relations also encompasses the employee experience, from recruitment and onboarding to performance management and career development.
By establishing and maintaining positive employee relations, HRM practitioners can create a more engaged and productive workforce. In turn, this can lead to improved organizational performance and better business outcomes.
The changing landscape of employee relations
Employee relations is a broad term that encompasses the various ways in which employees interact with their employers. In recent years, there has been a shift in the landscape of employee relations, as more and more employees are working remotely. This change has brought with it both benefits and challenges.
On the one hand, remote work can promote a better work-life balance and provide employees with greater flexibility. On the other hand, it can make it difficult to build strong working relationships and can lead to feelings of isolation. As the workplace continues to evolve, it will be interesting to see how employee relations continue to change.
How to manage employee relations effectively
Employee relations is a broad term that encompasses many different aspects of the employer-employee relationship. In order to manage employee relations effectively, employers need to be aware of the different factors that can affect the relationship. These include communication, trust, respect, and conflict resolution. By taking the time to foster a positive work environment and build strong relationships with employees, employers can create a more productive and enjoyable workplace for everyone.
One of the most important things that employers can do to manage employee relations effectively is to communicate openly and frequently with employees. This includes letting employees know about changes in company policy or updates to the job description. It also involves regularly seeking feedback from employees about their job satisfaction and how they feel the company is doing overall. When employees feel like they are being kept in the loop, they are more likely to trust and respect their employer.
Another key element of effective employee relations management is conflict resolution. Conflict is inevitable in any workplace, but it doesn't have to be destructive. By handling conflict in a constructive way, employers can help to improve communication and build trust between employees. When conflicts are resolved quickly and fairly, employees are more likely to feel respected and valued by their employer.
By taking the time toCommunicate openly with employees on a regular basis seek feedback from them on job satisfaction levels, companies can go a long way towards establishing strong employee relations. A positive work environment and strong relationships between employees and employers lead to a more productive and enjoyable workplace for everyone involved.
Benefits of strong employee relations
Employee relations is the area of HR that looks after the well-being of employees and deals with workplace issues. A strong employee relations function ensures that employees are happy and productive, which in turn positively impacts the bottom line. There are many benefits to having strong employee relations, including reducing turnover, improving communication, and fostering a positive work environment.
When employee relations is strong, employees feel valued and appreciated, which leads to higher levels of motivation and engagement. This results in lower levels of absenteeism and presenteeism, as well as higher levels of productivity. Strong employee relations also leads to improved communication, which can prevent misunderstandings and conflict.
Finally, a positive work environment fosters creativity and innovation, which can benefit the company as a whole. Therefore, it is evident that there are many advantages to having strong employee relations.
Challenges faced by employers when it comes to employee relations
Employee relations can be a challenge for any employer. After all, it is the employer's responsibility to ensure that their employees are treated fairly and with respect. However, employers must also balance this with the need to maintain a productive workplace. Employee relations can be further complicated by the fact that employees may have different backgrounds and opinions. This can make it difficult to create a cohesive work environment.
Additionally, Employment law is constantly changing, making it hard for employers to keep up with the latest requirements. In order to effectively manage employee relations, employers need to have a clear understanding of both the law and the needs of their employees.
Tips for building positive relationships with employees
As a manager, one of your most important responsibilities is to build positive relationships with your employees. There are many benefits to having a good relationship with your staff, including increased productivity and morale, and reduced turnover. Here are some tips for building positive relationships with your employees:
Get to know them as people. Take an interest in their lives outside of work. Ask about their families, hobbies, and passions.

Communicate regularly and openly. Let them know what your expectations are, and give them regular feedback on their performance. Encourage open communication by creating an environment where employees feel comfortable speaking up.

Be fair and consistent in your treatment of employees. Show that you are committed to principles of fairness and equality in the workplace.

Respect their time and boundaries. Avoid putting employees in uncomfortable situations or making unreasonable demands on their time.

Support their professional development. Help them to identify their goals and provide opportunities for them to grow professionally.
By following these tips, you can build positive relationships with your employees that will benefit both you and them.
You should now have a good understanding of the role employee relations plays in HRM, how it has changed over time and how you can manage it effectively. Strong employee relations are beneficial to both employers and employees and so it is important to try to build positive relationships.
Although there can be challenges when managing employee relations, by following the tips mentioned earlier, you can overcome these obstacles. If you would like to learn more about HR management, join our course today!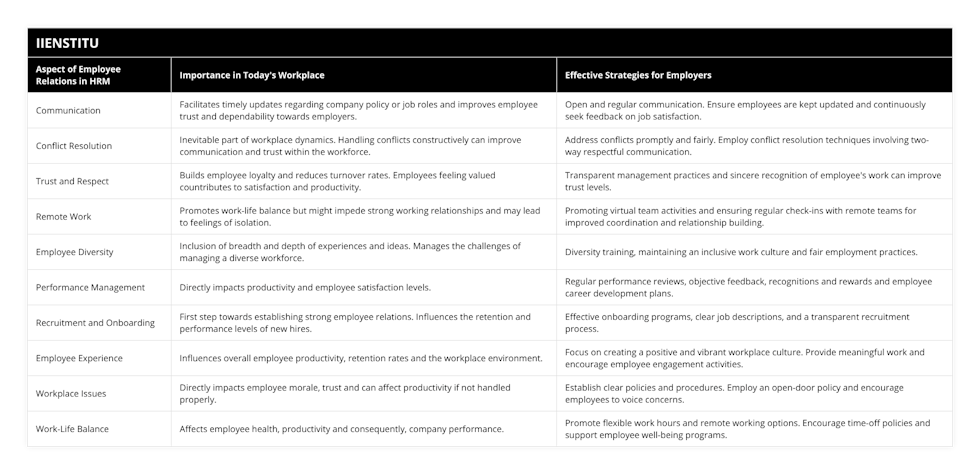 Bilal Şentürk
Blogger
He completed his undergraduate studies at Celal Bayar University, Anadolu University and Istanbul University, and a Master's degree with thesis on Human Resources Management at Yıldız Technical University and Business Management at Beykent University. He is currently writing a doctoral thesis on human resources and consulting businesses on human resources.
Related Posts
Our team of experts is passionate about providing accurate and helpful information, and we're always updating our blog with new articles and videos. So if you're looking for reliable advice and informative content, be sure to check out our blog today.