Human Resources Management
The Impact of Unionization on Organizations
19 February 2023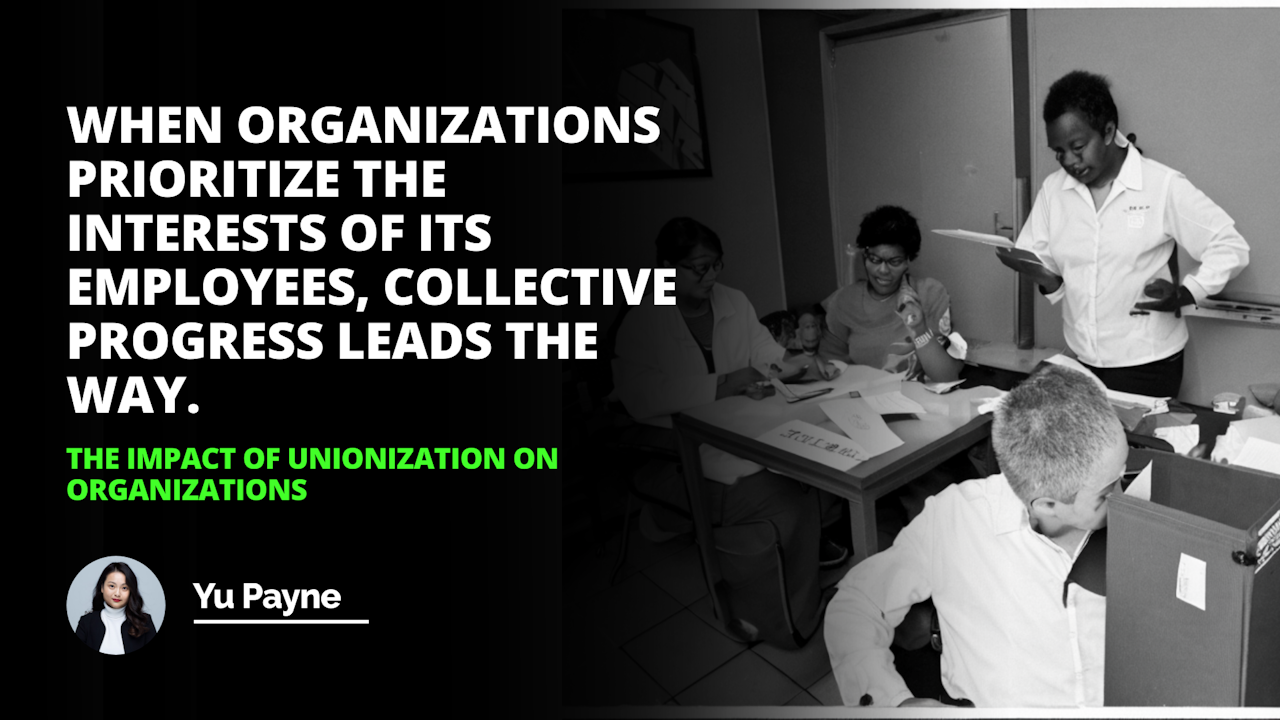 | Aspects of Unionization | Positive Impacts | Negative Impacts |
| --- | --- | --- |
| Job Satisfaction | Increased job satisfaction among union members through better work conditions and benefits | Potential dissatisfaction among non-union members |
| Workplace Safety and Welfare | Improved workplace safety standards and welfare due to unions advocating for their members | Possibility of labor disputes and strikes that can disrupt work environment |
| Wages and Benefits | Increased wages, access to health insurance, and retirement plans due to collective bargaining | Increased labor costs for organizations |
| Access to Resources | Union members have access to key resources like legal representation and job protection | Additional costs for organizations in terms of resource allocation |
| Organizational Agility | Maintaining a steady employee base due to loyalty and commitment | Union rules can decrease organization's nimbleness to market changes |
| Union-Employer Relations | Promotes better employer-employee relationship | Potential for adversarial relationships leading to legal costs and proceedings |
| Hiring Processes | Opportunity for careful selection of suitable employees for union membership | Hiring process made complicated due to union rules and stipulations |
| AFSCME | Successfully negotiated improved wages and benefits for its members | N/A |
| Air Canada | Successfully negotiated matters such as pension and vacation days | N/A |
| Mitigation Strategies | Use of effective union-employer relations management and improved hiring processes | Potential delay and cost of implementing these strategies |
Unionization has long been a significant factor in workplaces around the world. Unionization is part of a single union or the collective bargaining unit formed between a group of workers or employees and employers or an employer.
The primary purpose of unionization is to provide numerous job and workplace protections, such as increased job security, better wages, better working conditions, vacation and sick days, and more. Unionization has a long history, starting in the 19th century, and is still relevant today. In this blog post, we explore the impact of unionization on organizations, looking into both the positive and negative effects of unionization, mitigation strategies, and examples of successful unionizations.
Research on Organizational Impact
There have been numerous studies and surveys conducted on the impacts of unionization on organizations. Some positive effects of unionizing include increased job satisfaction, improved workplace safety and welfare, increased wages and benefits, and improved access to health insurance and retirement plans. Additionally, unionized employees have more access to resources, such as legal and job protection, which can help to reduce workplace grievances.
Unfortunately, there are some potential adverse effects of unionization on organizations. For instance, unionization can lead to increased labor disputes, strikes, delays in production, and possible legal costs. Additionally, union rules and regulations can make it difficult for organizations to adapt to changes in the market, leading to fewer opportunities for innovation and reduced agility.
Potential Mitigation Strategies
Fortunately, organizations can use some potential strategies to mitigate the negative impacts of unionization. One of the most important strategies is ensuring effective union-employer relations management. This can be done through employee engagement and training, which can help to create a more collaborative and open relationship between management and union representatives.
Furthermore, improved hiring processes can ensure that workers suitable for union membership are hired for the organization. Finally, organizations should also focus on providing enhanced wages and benefits for their employees to reduce the need for such workplace benefits to be negotiated through the union.
Examples of Successful Unionizations
There are numerous examples of successful unionization efforts in organizations. For instance, the American Federation of State, County, and Municipal Employees (AFSCME) is the largest union in the United States and has leveraged its collective bargaining power to negotiate improved wages and benefits for its members. Additionally, Air Canada is one of the many airline unions in the country, and its unionized members have successfully negotiated various uses, including pension and vacation days.

Conclusion: Unionization can have both positive and negative impacts on organizations. The positive effects of unionization include increased job satisfaction and improved workplace safety and welfare. The adverse effects can include increased labor disputes, delays in production, and potentially higher legal costs.
There are specific strategies that organizations can consider to mitigate the potential negative impacts, such as improved hiring processes and improved wages and benefits. However, further research is necessary to understand unionization's implications better and explore possible mitigation strategies.
When organizations prioritize, the interests of their employee's collective progress lead the way.

unionization
collective bargaining unit
job security
wages
working conditions
vacation
sick days
19th century
job satisfaction
workplace safety
benefits
health insurance
retirement plans
legal protection
grievances
labor disputes
strikes
delays
production
legal costs
union rules
employee engagement
training
hiring processes
wages
benefits
County
Municipal Employees
Air Canada
pensions
vacation days
mitigation strategies
research
Yu Payne
Blogger
Yu Payne is an American professional who believes in personal growth. After studying The Art & Science of Transformational from Erickson College, she continuously seeks out new trainings to improve herself. She has been producing content for the IIENSTITU Blog since 2021. Her work has been featured on various platforms, including but not limited to: ThriveGlobal, TinyBuddha, and Addicted2Success. Yu aspires to help others reach their full potential and live their best lives.
Related Posts
Our team of experts is passionate about providing accurate and helpful information, and we're always updating our blog with new articles and videos. So if you're looking for reliable advice and informative content, be sure to check out our blog today.