Human Resources
The Allure of a Job in Human Resources
13 August 2023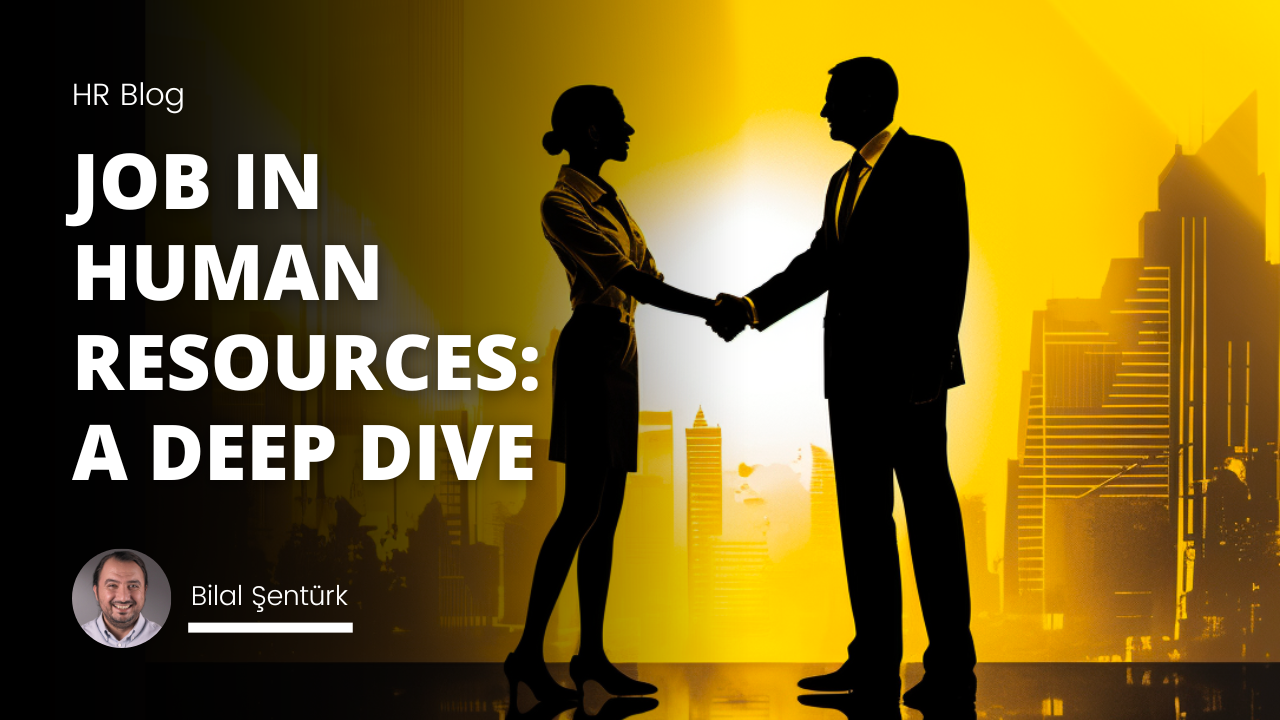 | HR Role | Responsibilities | Key Skills |
| --- | --- | --- |
| Recruiters | Identify and attract top industry talent | In-depth industry knowledge, good judgement, excellent communication |
| Training and Development Specialists | Create training programs to foster employee growth | Employee development knowledge, creativity, excellent communication |
| HR Managers | Steer overall strategy and functionality of the HR department | Strategic planning, great leadership, interpersonal skills |
| Compensation and Benefits Managers | Streamline salary structures and administer benefits | In-depth knowledge of compensation structures, negotiation, good judgement |
| Labor Relations Specialists | Deal with unions or collective bargaining topics | Understanding of labor law, negotiation skills, excellent communication |
| Employee Relations Managers | Navigate employment policies in unionized and non-union environments | Excellent knowledge of employment law, negotiation skills, decision-making |
| Payroll Managers | Ensure accurate and timely payroll processing | Financial acumen, attention to detail, understanding of payroll systems |
| Recruiting Managers | Oversee recruitment and hiring functions | Strong leadership, industry knowledge, excellent communication |
| HR Professionals | Understanding individuals, forging strong relationships, driving company's success | Superb communication, thorough decision-making, interpersonal skills |
| Human Resources Career | Interacting with all sectors and industries, managing the company's most valuable asset: its people | Wide knowledge base, adaptability, excellent communication, people management |
Human resources (HR) is a domain that touches every sector and industry. It's where the business meets its most valuable asset: its people.
Suppose you've ever wondered about a job in human resources. In that case, this comprehensive yet simple guide will give you an insight into the world of HR and its significance in managing human resources.
What is Human Resources?
Human resources, often abbreviated as HR, is the division of a business or organization that manages all aspects related to its people. This includes hiring, training, benefits administration, performance management, and more. Essentially, it's about ensuring that the right people are in the right jobs, happy, productive, and aligned with the company's goals.
The Importance of Managing Human Resources
Every successful company recognizes the value of its employees. Managing human resources is all about creating an environment where employees can thrive. This means:
Hiring the right talent.

Offering competitive salaries and benefits.

Ensuring a healthy work environment.

Providing growth and development opportunities.
When a company is adept at managing its human resources, it benefits from increased productivity, lower turnover rates, and a more engaged workforce.
Job Roles in Human Resources
Recruiters: Their primary task is to identify and attract the industry's top talent, ensuring that the organization always has access to skilled professionals.

Training and Development Specialists: These experts create training programs to foster employee growth and competence.

HR Managers: They play a pivotal role in steering the overall strategy and functionality of the HR department.

Compensation and Benefits Managers: Their focus lies in streamlining salary structures, orchestrating health plans, and administering other perks that employees receive.

Labor Relations Specialists: These professionals deal with unions or collective bargaining topics, ensuring harmony between the workforce and the organization.
Further refining the variety of HR roles:
Labor Relations Directors or Employee Relations Managers: These managers navigate employment policies in unionized and non-union environments. They are instrumental in negotiating, drafting, and executing labor contracts addressing issues like wages, benefits, and standard practices of unions and management. Additionally, they play a critical role in managing labor complaints and coordinating grievance processes.

Payroll Managers: At the helm of an organization's payroll department, they guarantee accurate and timely payroll processing. They orchestrate payroll procedures, liaise with the accounting department through reports, and iron out payroll discrepancies.

Recruiting Managers or Staffing Managers: Entrusted with the recruitment and hiring functions of the HR wing, these managers often lead a team of recruiters. Some might also undertake recruitment for high-tier roles personally. Crafting a sound recruiting strategy is their responsibility, ensuring the organization's staffing needs are met and attracting the finest talent in the industry.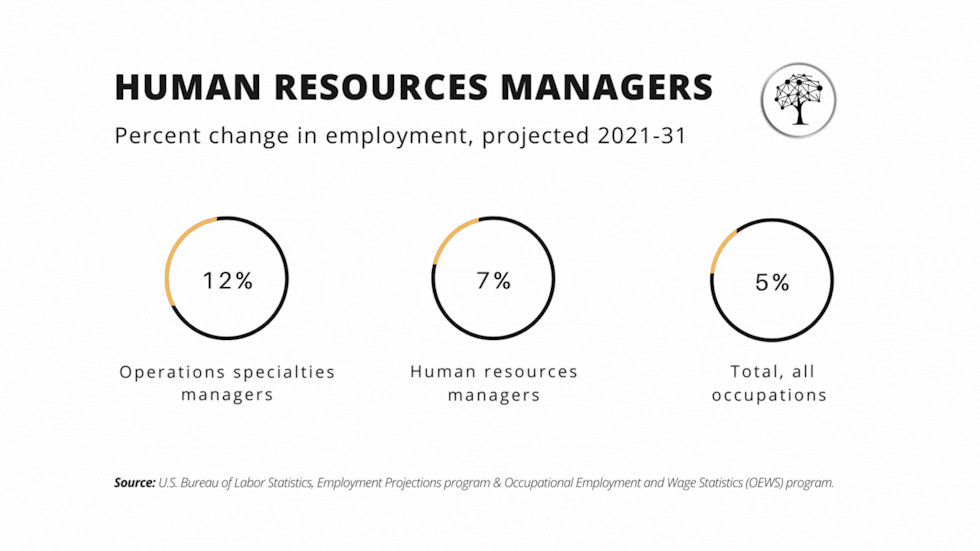 Statistics on Jobs in Human Resources
Drawing from recent findings by the U.S. Bureau of Labor Statistics:
Projected Growth: Employment for human resources managers is expected to see a 7% increase between 2021 and 2031. This growth rate is faster than the average of many other professions, indicating a steady demand for HR professionals.

Earnings: As of May 2021, the median yearly wage for human resources managers stood at $126,230. To give a broader perspective, half of the professionals in this role earned more than this figure, while the other half earned less. In the end, the top 10% of HR managers earned upwards of $208,000, whereas the bottom 10% earned below $75,000.

Scope of Data: The Occupational Employment and Wage Statistics (OEWS) program provides annual data for over 800 job titles. Their comprehensive reports cover national statistics, state-specific figures, and data for metropolitan and non-metropolitan regions. For a deeper dive into state and area-specific employment and wage stats for HR roles, the OEWS data maps are a valuable resource.
Why Consider a Job in Human Resources?
Choosing a job in human resources extends far beyond paperwork and company policies. It's deeply intertwined with understanding individuals, forging strong relationships, and driving a company's success. But what truly sets an HR professional apart? Let's delve into the essential qualities:
Communication Skills: Excelling in HR means speaking, writing, and listening. Clear communication is pivotal, whether giving impactful presentations, directing staff, or simply explaining policies.

Decision-making Skills: As challenges arise, HR managers need to weigh the pros and cons of various solutions and chart out the most beneficial course of action. This involves a blend of intuition, experience, and analytical skills.

Interpersonal Skills: Since HR is all about people, the ability to interact seamlessly, collaborate on teams, and nurture working relationships is indispensable. Every interaction, whether with a recruit or a senior manager, matters.

Leadership Skills: An HR manager isn't just a member of a team but often its helm. Coordinating work activities, guiding staff, and ensuring the department meets its objectives requires strong leadership and motivational skills.

Organizational Skills: With many tasks to handle simultaneously, ranging from recruitment processes to employee training programs, impeccable organizational skills are necessary. This ensures efficiency, timeliness, and effectiveness in all operations.
Related Course: Online Leadership Course
If you resonate with these qualities, if a passion for people drives you, and harbor a deep-seated desire to create a meaningful impact, then a career in HR is your calling.

human resources
hr
business
organization
hiring
training
benefits administration
performance management
employees
talent
salaries
work environment
development opportunities
productivity
turnover rates
recruiters
training specialists
hr managers
compensation
benefits managers
labor relations
unions
collective bargaining
u.s. bureau of labor statistics
employment growth
median annual wage
job analysis
relationships
paperwork
policies
problem-solving
job in human resources
management of human resources
human resources
Bilal Şentürk
Blogger
He completed his undergraduate studies at Celal Bayar University, Anadolu University and Istanbul University, and a Master's degree with thesis on Human Resources Management at Yıldız Technical University and Business Management at Beykent University. He is currently writing a doctoral thesis on human resources and consulting businesses on human resources.
Related Posts
Our team of experts is passionate about providing accurate and helpful information, and we're always updating our blog with new articles and videos. So if you're looking for reliable advice and informative content, be sure to check out our blog today.